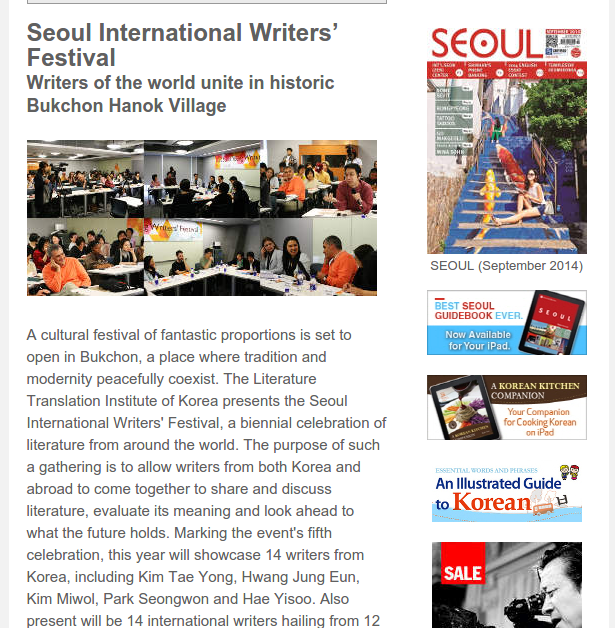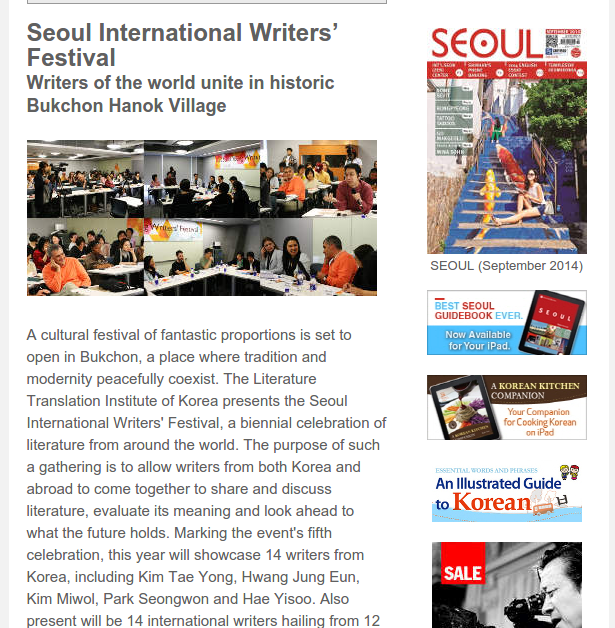 Sep. 18, 2014 / Issue No. 650

Translator Wanted: Seoul Selection is looking for full-time and part-time Korean-to-English translators to work on our various translation projects. Those interested should send a resume and cover letter to hankinseoul@gmail.com.

Seoul International Writers' Festival
Writers of the world unite in historic Bukchon Hanok Village

A cultural festival of fantastic proportions is set to open in Bukchon, a place where tradition and modernity peacefully coexist. The Literature Translation Institute of Korea presents the Seoul International Writers' Festival, a biennial celebration of literature from around the world. The purpose of such a gathering is to allow writers from both Korea and abroad to come together to share and discuss literature, evaluate its meaning and look ahead to what the future holds. Marking the event's fifth celebration, this year will showcase 14 writers from Korea, including Kim Tae Yong, Hwang Jung Eun, Kim Miwol, Park Seongwon and Hae Yisoo. Also present will be 14 international writers hailing from 12 different countries, including Pulitzer Prize nominee Susan Choi from Indiana, Mongolian writer G. Ayurzana, quirky Californian writer Daniel Levin Becker, Chinese poet Yuan Tian and French poet Claude Mouchard.

Visitors will be able to witness a variety of readings and discussions. Those unfamiliar with a particular language need not worry since the festival will provide interpretation in English for all non-English readings and discussions, along with festival anthology booklets containing English and Korean translations of all non-English works. During the Free Talk sessions, teams of Korean writers and international writers will discuss each other's works, as well as share their views on literature and creative composition. Audience members will be able to ask the authors questions and will be gifted with a collection of essays titled "Eros and Dream."

VENUE: W Stage, Bukchon Changwoo Theater, Gallery NaMu
PERIOD: Sep. 21–27
MORE INFO: http://siwf.klti.or.kr
GETTING THERE: See this link.


---

AROUND THE WEB

A miscellany of high-quality hyperlinks from the week, courtesy of SEOUL editor-in-chief Robert Koehler.

---

EVENTS

2014 European Jazz Festival

The 2014 European Jazz Festival is the perfect way to experience the unique sounds and atmosphere of European jazz in Seoul! Join 13 bands hailing from nine different countries for three nights of groovy fun. The festival was introduced to Korea last year, finally offering Seoulites a plethora of jazz musicians from various European countries all in one event. Although often grouped into a single category, European jazz actually reflects a variety of styles and interpretations, with each country boasting its own unique culture and musical texture. Despite being born in the United States, jazz quickly spread to continental Europe through the two World Wars, developing a different flavor in each nation. See how the jazz of Europe has evolved over the past half-century into its own unique set of sub-genres. The festival will feature some of Europe's most recognized jazz veterans, including solo pianist John Taylor from the U.K., pianist Bobo Stenson from Sweden, and Swiss artist Thierry Lang (who made a splash in Korea in the '90s with his album "Private Garden"). Joining them will be Anders Jormin, another musician making an impression on jazz fans in Northern Europe.

VENUE: BBCH Hall
PERIOD: Sep. 19–21
ADMISSION: KRW 40,000–80,000
GETTING THERE: A short walk from Exit 5 of Apgujeong Station, Line 3.

2014 Disney in Concert

Are you one of those people who loves songs from Disney movies, no matter how old you get? Disney in Concert offers the perfect concert experience for those who love to sing along to classics like "Beauty and the Beast" and contemporary hits like "Let it Go." Since the studio's first animated feature in 1937, "Snow White and the Seven Dwarfs," Disney has captured the hearts of both children and adults worldwide with a brilliant blend of emotional music and enrapturing storytelling. The music in this magical concert will be performed by the Ditto Orchestra, a group of about 70 young musicians who've been trained around the world, forming a dynamic ensemble that isn't afraid to jump between genres. The orchestra will be led by conductor Adriel Kim, who began playing the violin at 8 years old before debuting at age 13 with the Seoul Philharmonic Orchestra. After studying in Vienna, he performed with the Vienna Radio Symphony Orchestra in 2007. A talented musician in his own right, Kim won first prize at the Pietra Ligure International Violin Competition in 2000. Watch him and the Ditto Orchestra perform Disney classics that are sure to bring out your inner child.

VENUE: Olympic Park
PERIOD: Sep. 20–21
MORE INFO: T. 02-1577-5266, www.olympicpark.co.kr
ADMISSION: KRW 30,000–160,000
GETTING THERE: Olympic Park Station 올림픽공원역 (Line 5), Exit 3

Mindungsan Eulalia Festival

At 1,118.8 meters, Mt. Mindungsan in Jeongseon, Gangwon-do, is not the tallest mountain in Korea, but is still fairly unique; rather than the lush forests found atop other peaks around the peninsula, its summit is almost devoid of trees (hence the mountain's name, which means "empty mountain"), covered instead by great fields of Eulalia grass. In September, the treeless expanses transform into great silver and gold grasslands of reeds waving in the wind like a silver sea. It's really quite a spectacular sight.
Most visitors to the festival come to hike up to the giant fields of reeds. There are plenty of other things to take in at the festival, though, with cultural performances, concerts, rock climbing contents, photo exhibits and much, much more.

VENUE: Jeongseon, Gangwon-do
PERIOD: Sep. 19–Oct 26
MORE INFO: T. 033-591-9141
GETTING THERE: Buses to Jeongseon depart from Seoul's Dong Seoul Bus Terminal (Travel time: 3 hours, 40 minutes). From Jeongseon, take a local bus to Nam-myeon.

RASKB: Seonunsa Temple and an Onggi Potter

The RASKB will visit an ancient temple, Seonunsa, in the province of Jeollabuk-do. In springtime Seonunsa is celebrated for the flowering of the forest of native Korean camellias standing just behind it. In September, a special festival celebrates the blossoming of another flower, the Lycoris radiata or red spider lily, which has always bloomed here but has recently been planted in large quantities. This delicate red flower, belonging to the daffodil family, blooms in early autumn while the leaves flourish in winter and early spring. This has inspired ideas of a sad love story since flowers and leaves are condemned never to meet. The red of the flowers contrasting with the surrounding green of trees and lawns makes for wonderful photographs. We will visit the temple and have some free time allowing each one to enjoy the natural beauty of the spot.

VENUE: Seonunsa Temple, Jeollabuk-do
DATE: Sep. 21
MORE INFO: See this link
COST: KRW 69,000–82,800
GETTING THERE: See link above.


---

EVERYDAY KOREANS

Strolling around Bukchon Hanok Village. Photographed by Robert Koehler.

NOTIFICATIONS

Seoul Selection's Free Book Giveaway – Our free book give-away continues! Check out the list in last week's newsletter here.

Seoul Selection Offline Bookshop Sale – One of the greatest repositories of Korea-related English-language books anywhere, Seoul Selection is offering a 10% sale on any and all books published by Seoul Selection purchased from our OFFLINE bookshop next to Gyeongbokgung Palace.

Looking for Translators – Seoul Selection is looking for a few good translators (Korean to English) for general translation work. Those interested should send a resume and cover letter to Kyehyun at atoz@seoulselection.com. Experienced translators only.

Seoul Selection eBooks – You can purchase some Seoul Selection titles in ebook format via Amazon.com (for Kindle) and Apple's iBookstore. Titles include Ask a Korean Dude, Moon Tides, Doing Business in Korea, Once Around the Sun, and seven volumes of our Korean Film Directors series: BONG Joon-ho, IM Kwon-taek, KIM Jee-woon, LEE Chang-dong, LEE Man-hee, PARK Chan-wook, and SHIN Sang-ok.

Send Your Event Info – If you would like to advertise any upcoming events you are organizing, please send us the press release material at pubco@seoulselection.com by the preceding Friday in order for it to appear in the following Tuesday's issue.

Freelance Contributors Wanted – SEOUL Magazine needs writers who are fluent in both Korean and English. Writers should have a strong interest in Korean culture and be able to interview Koreans. Send your resume and writing samples to english@seoulselection.com.

We Buy & Sell Used Books – Seoul Selection buys and sells used books in English. Unlike our regular selection of publications that specialize in Korea-related topics, our Used Book section carries books on all subjects. It's all part of our effort to make life easier for the English-speaking community.

SEOUL (September 2014)


Buy Books at Seoul Selection's ONLINE Bookshop!




---

---

RECOMMENDED


East Meets West: A DYNAMIC APPROACH TO KOREA 1

---

NEW BOOKS


Survival Korean


Folk Tales from Korea


Hangeul Master


The year my hair fell out


Conservation and Management of the World's Petroglyph Sites


---

NEW DVDs


Her Lovely Heels


Thread of Lies


Miss Granny


Bel Ami
Copyright © , All rights reserved.
Our mailing address is:
https://magazine.seoulselection.com/wp-content/uploads/2014/10/스크린샷-2014-10-06-105013.png
628
615
rjkoehler
https://magazine.seoulselection.com/wp-content/uploads/2018/01/Seoul-logo.png
rjkoehler
2014-10-06 01:50:00
2014-10-06 10:51:43
SEOUL Weekly: Seoul International Writers' Festival