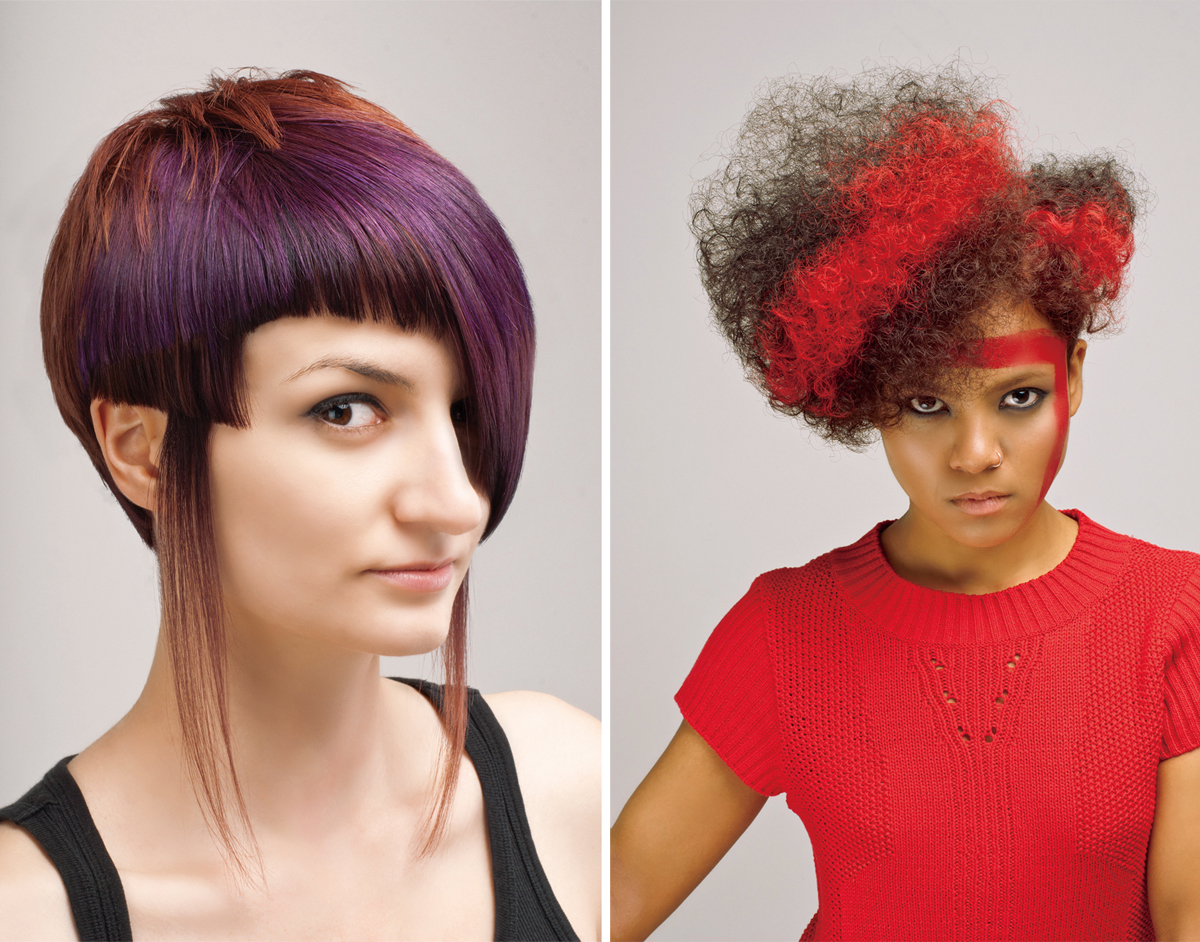 [box_dark]Hair-Raising
Recommended Beauty Salons in Seoul[/box_dark]
Written by Deanne Nguyen
Getting a haircut in a foreign country can be a linguistic leap of faith, but it doesn't have to be so biblically brave. In this cosmopolitan capital, place your trust in the hands of many artistically adroit beauty salons, beyond chains like Juno and stores in Itaewon. The following salons offer basic cuts under KRW 60,000 as well as the top-notch quality of Korean-style service; be ready to sink into the chair of your next favorite pastime.
[box_info]
Gentlemen Only 
Catering exclusively to men[/box_info]
Nothing N Nothing (Hongdae)
The men's only barbershop, with its retrofitted leather chairs and fifties-era pop art, exudes crimson cool. Most salon styles go for modern flash, but Nothing N Nothing dials it back to rockabilly repose, from the greaser pompadour to the signature "Mad Men coif." Never to skimp on final flourishes, the dexterous barbers will also meticulously shave sideburns (and eyebrows) cheekbone sharp.
FYI> Basic Cut: KRW 35,000 (30,000 cash for stylist Daniel, 45,000 for head stylist Donald)
English spoken: Yes
[divider]
Evanstyle (Hongdae)
Boasting an eclectic clientele ranging from DJs to indie artists and models to rock stars, Evanstyle has even had master designer Evan S make a few TV appearances, solidifying himself as the go-to guy for K-pop hair who cannot be ignored. The salon's industrial warehouse-style space in Hongdae, equipped with pool tables and darts to ease waiting, also hosts extremely cool holiday parties. While Evanstyle is a men's only salon, it does offer discounts for women depending on the stylist and length. Read a detailed review by Elle on cuteinkorea.com
FYI> Basic Cut: KRW 33,000
English spoken: Depends on location (Apple speaks English in Hongdae branch)
Appointment only: 02-312-7273 (Salon), 010-6214-2043 (Apple)
evanstyle.co.kr
[box_info]Price Points   Affordable Designer Styles[/box_info]
Hair & Joy  (Hongdae) Expat Favorite
The well-known expat favorite owes its fame to friendly bilingual staff and affordable pricing. While most salons in Itaewon tend to overcharge foreigners, the London-trained owner Johnny keeps pricing competitive with other salons. It also carries foreign haircare products such as Tea Tree and Bed Head.
FYI> Basic Cut: KRW 30,000 (women), 25,000 (men)
English spoken: Yes
Appointment (same day possible): 02-363-4253
hairandjoy.com
[divider]
2L Story
This is one case in which language knows no bounds. While the staff is not confident of their English ability, they will craft you a cut that suits your face shape and hair texture to the level of Gangnam salons. Though a bit off the path, 2L Story was hand crafted by the stylists themselves from the ground up, showcasing their dedication to detail and commitment to urban design.
FYI> Basic Cut: KRW 15,000
English spoken: Limited to none
T. 02-2295-2121
Wangsimni Station 왕십리역 (Lines 2,5, Bundang), Exit 6.
You might need the address (Seongdong-gu, Haengdang-dong, 19-54, 2nd Floor #2
성동구 행당동 19-54 2층 2호).
[box_info]Concept Fun   Limited English, But Full of Charm[/box_info]
OrangHair (Ewha)
Simply by entering, you are transported to childhood fables you've never read simply by entering. Don't let the limited level of English here intimidate; let the rabbit usher you in and emerge transformed by a shire-esque adventure.
FYI> Basic Cut: KRW 25,000
English spoken: Depends on location, limited at Ewha Womans University branch
Appointments: 1588-8050~3 (Ewha)
www.oranghair.com
[divider]
Barbie Salon (Baebang)
The world's first Barbie salon franchise opened in Seoul just last year and also launched a branch in Suwon, Gyeonggi-do, but this is surprisingly not as gimmicky as it sounds and affordably fun on a family budget. Stocked with exclusive Barbie hair products, this salon is worth at least a drop-in. Read a detailed review from Elle on cuteinkorea.com
Basic Cut: KRW 15,000
English spoken: Limited
Appointments: 02-597-5800
www.barbiehair.co.kr
Bangbae Station 방배역 (Line 2), Exit 4.
[box_info]Go-to Specialists    Perms, Coloring and More[/box_info]
Soonsiki (Hongdae)
One of the top beauty salons in Hongdae is the tenacious Soonsiki. Fearless in every trendy style and texture, it follows a designer caste system, matching each to a specialized role, price and a bouquet of other beauty services such as hair and nails. Soonsiki's "specialist designers" are experts on dyeing non-Asian hair, even from grey to pink. Extra discounts for customers include 20 percent for foreigners, 30 percent for perms between 10am and 1 pm, and 5 percent simply for making an appointment.
FYI> Basic Cut: KRW 25,000 (women), 20,000 (men)
Basic Dye/Bleach: 52,000
English spoken: Yes (DK, 010-8484-6054)
Appointments: 02-326-5982~3
www.soonsiki.com
[divider]
Hair of Zio/Suin's Hair (Apgujeong)
First, the offerings of chocolate, cola or tea should be enough to ensure a second visit to this salon. Second, the superior consultation in English from owner Suin will floor you as a convert. Popular among K-pop stylists for trends such as ombre dyes, perms and natural looking extensions, her salon seamlessly adjusts chemical recipes for all hair types. Making an online appointment is both user friendly and convenient.
FYI> Basic Cut: KRW 25,000 (women), 20,000 (men)/ Basic Perm: 200,000 (long hair)
English spoken: Yes
Online appointment: sooins.net,
T. 02-544-5547 (directions)
Website: www.sooins.net
Yeoksam Station 역삼역 (Line 2), Exit 7. Go straight and when you get to the Cha Hospital turn right, and go straight until you can see the CU Convenience Store on the opposite side of the road. Walk up the street beside the CU Convenience Store and you'll see the salon your left.
[box_info]The Celebrity Experience   Feel Famous for a Day[/box_info]
Brand M (Cheongdam)
Considering Jinhee's training pedigree—certificates from both London Vidal Sassoon and Tony&Guy—the master designer is unsurprisingly an avid collaborator with the domestic fashion scene and frequently sought after by celebrity and socialite clientele alike. Jinhee (aka Marie) loves a challenge, whether avant-garde coloring or finicky curls. Her salon Brand M also offers wedding consultation and other beauty services. Drop by the posh cubic salon for a VIP transformation.
FYI> Basic Cut: KRW 55,000 (Designer)
English spoken: Yes (Marie)
Appointments: 02-512-3798
www.brandm.co.kr
GO> Cheongdam Station 청담역 (Line 7), Exit 2. Take a right at Chungwoo Building and walk down two more blocks, and take a right again. Brand M is on your right.
Lee Ka Ja Hair Bis (Apgujeong)
With branches in the U.S., China and several throughout Seoul, this award-winning salon chain established in 1972 boasts celebrity sightings, including Big Bang's Taeyang and hip-hop artists Dynamic Duo, whose autographed murals greet customers at the foyer. Not all the staff speak English, but are intuitive to their clients' needs sans vocabulary. Oh, and the head massage during shampooing pays for itself.
FYI> Basic Cut: KRW 44,000
English spoken: A little depending on location (ask for Pete or Gogeon)
Appointment via phone or online (same day possible)
T. 02-518-0077 (salon), 010-3596-2869 (Pete)
[box_light]
Phrase Worthy
머리 (길게/짧게) 잘라주세요—Please cut my hair (long/short).
머리 다듬어주세요—Please trim my hair.
파마 해주세요—Please give me a perm.
염섹해주세요—Please dye my hair.
앞머리—bangs/fringe
층—layers
숱—thinning
옆/위/뒤—Side/top/back
와, 아주 좋아요!—Wow, I love it!
이런 스타일 아닌데요.—This isn't what I wanted.
[/box_light]
https://magazine.seoulselection.com/wp-content/uploads/2013/12/Djurdja-33_2.jpg
942
1200
cyn
https://magazine.seoulselection.com/wp-content/uploads/2018/01/Seoul-logo.png
cyn
2013-12-31 11:10:08
2013-12-31 11:10:08
HAIR-RAISING