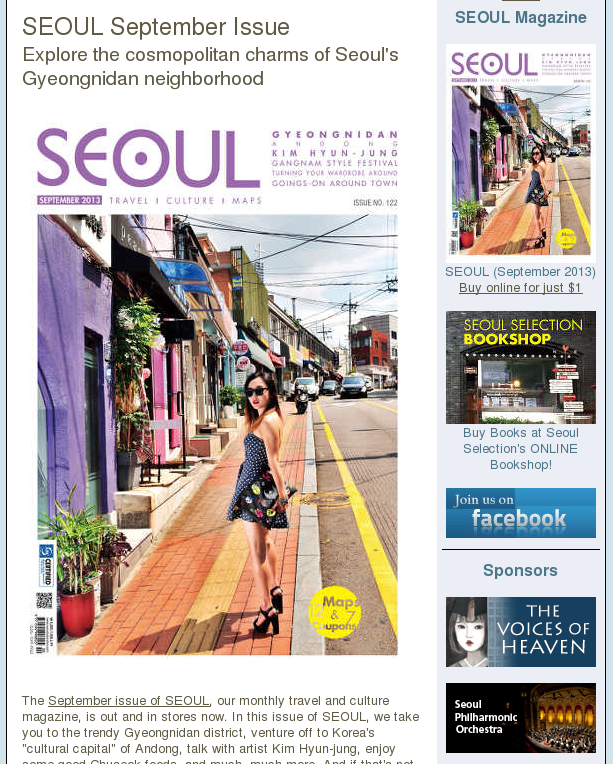 Aug 27, 2013 / Issue No. 595
Copy Editor Wanted: Seoul Selection is looking for a copy-editor for an economy-related publication. This is a part-time, give-you-work-as-it-comes-in gig. Applications should be native English-speakers with an econ background. Korean language skills preferred. If you're interested, send a resume to planner@seoulselection.com.
Explore the cosmopolitan charms of Seoul's Gyeongnidan neighborhood
The
September issue of SEOUL
, our monthly travel and culture magazine, is out and in stores now. In this issue of SEOUL, we take you to the trendy Gyeongnidan district, venture off to Korea's "cultural capital" of Andong, talk with artist Kim Hyun-jung, enjoy some good Chuseok foods, and much, much more. And if that's not enough, there's always our Goings On Around Town, our broad-ranging roundup of the month's concerts, festivals, performances and other events.
Enjoy an evening of Bach with violist Richard Yongjae O'Neill's ensemble DITTO. The festival will also be the last time pianist Ji-yong performs with the group—a member of the ensemble since 2009, he is leaving to concentrate on his solo career.
VENUE: Concert Hall, Seoul Arts Center
PERIOD: Aug 31–Sep 1
ADMISSION: KRW 30,000—80,000
MORE INFO: T. 1577-5266, www.sac.or.kr
GETTING THERE: Nambu Bus Terminal Station 남부터미널역 (Line 3), Exit 5. Transfer to shuttle bus, or green bus No. 4429.
The 16th Seoul Fringe Festival
Seoul's biggest independent art festival, Seoul Fringe Festival has been held annually since 1998. It is a space where alternative art and culture is produced and exchanged. It also creates a rich cultural ground through open and democratic participation. About 140 individual artists and artistic groups will be participating in this year's festival, the theme of which is "Meeting People Through Art."
VENUE: Hongdae area
PERIOD: Aug 29–Sep 14
MORE INFO: T. 02-325-8150, www.seoulfringefestival.net
GETTING THERE: Hongik University Station, Line 2
Featuring an all-star Korean cast, including former SES lead vocalist Bada in the role of Esmeralda, the Korean language version of the hit Franco-Canadian musical returns after a four-year absence. Based on the novel by Victor Hugo, the musical tells the tale of the hunchback Quasimodo and the beautiful gypsy Esmeralda.
VENUE: Blue Square
PERIOD: Thru Nov 17
ADMISSION: VIP: KRW 130,000, R: KRW 110,000, S: KRW 80,000, A: KRW 60,000
—Tickets: http://ticket.interpark.com/global
MORE INFO: T. 02-541-3184, http://bluesquare.kr
GETTING THERE: Hangangjin Station (Line 6), Exit 2
Every Wednesday evening, the National Gugak Center hosts a performance of Korean traditional chamber music and dance. The four-man Daum Uri Sori Ensemble will perform on Sept 4
VENUE: National Gugak Center
DATES: Sep 4/11/25, 7:30pm
ADMISSION: KRW 10,000
MORE INFO: T. 02-580-3300, www.gugak.go.kr
GETTING THERE: Nambu Bus Terminal Station 남부터미널역 (Line 3), Exit 5. Transfer to maeul bus No. Seocho 12 or green bus No. 4429.
Special Exhibition Memorial for Ven. Sungchul
This special exhibit marks the 20th anniversary of the death of Ven. Sungchul, one of the most important figures in 20th century Korean Buddhism. Some 50 works of calligraphy and paintings based on the works and sayings of Sungchul will be on display. A photo exhibit is planned as well.
VENUE: Seoul Calligraphy Art Museum, Seoul Arts Center
PERIOD: Aug 30–Sep 15
MORE INFO: T. 02-2198-5372, www.sac.or.kr
GETTING THERE: Nambu Bus Terminal Station 남부터미널역 (Line 3), Exit 5. Transfer to shuttle bus, or green bus No. 4429.
Mt. Hallasan
Hallasan dominates the landscape of Jeju-do. Photo by Arnab Sen.
*Click the photo to see a full-size version at our website.
NOTE: If you have a photo you would like to see in our Everyday Koreans section, please sent it to story@seoulselection.com. Photos should be AT LEAST 950px wide. Send a one-line bio, too.

Tell Us About 'Your Korea': If you're a longtime resident of Korea and would like to share your story in KOCIS's KOREA Magazine, shoot an email with your story idea to book@seoulselection.com.
Looking for Translators – Seoul Selection is looking for a few good translators (Korean to English) for general translation work. Those interested should send a resume and cover letter to Kyehyun at trans@seoulselection.com. Experienced translators only.
Seoul Selection eBooks
– You can purchase some Seoul Selection titles in ebook format via
Amazon.com
(for Kindle) and Apple's
iBookstore
. Titles include
Ask a Korean Dude
,
Moon Tides
,
Doing Business in Korea
,
Once Around the Sun
, and seven volumes of our Korean Film Directors series:
BONG Joon-ho
,
IM Kwon-taek
,
KIM Jee-woon
,
LEE Chang-dong
,
LEE Man-hee
,
PARK Chan-wook
, and
SHIN Sang-ok
.
Send Your Event Info
– If you would like to advertise any upcoming events you are organizing, please send us the press release material at
book@seoulselection.com
by the preceding Friday in order for it to appear in the following Tuesday's issue.
Freelance Contributors Wanted – SEOUL Magazine needs writers who are fluent in both Korean and English. Writers should have a strong interest in Korean culture and be able to interview Koreans. Send your resume and writing samples to book@seoulselection.com.
We Buy & Sell Used Books – Seoul Selection buys and sells used books in English. Unlike our regular selection of publications that specialize in Korea-related topics, our Used Book section carries books on all subjects. It's all part of our effort to make life easier for the English-speaking community.
Buy Books at Seoul Selection's ONLINE Bookshop!
History of Korean Architecture
26 Years
Conversations with Ban KI-Moon- What the United Nations Is Really Like: The View from the Top
Pays lointains, Pays voisins: La Corée
Exchange Rate and Foreign Exchange Policies in Korea
A Single Shard
Native Speaker
Boomerang Family
Miracle in Cell No. 7
6.25 Korean War
Masquerade
New World
Publisher: Hank Kim / Editor: Robert Koehler
Seoul Selection reserves all intellectual property rights on information provided in this newsletter. Some event information has been provided by the Korea Foundation. The IPRs are protected by pertinent laws
https://magazine.seoulselection.com/wp-content/uploads/2013/08/export2.png
764
613
rjkoehler
https://magazine.seoulselection.com/wp-content/uploads/2018/01/Seoul-logo.png
rjkoehler
2013-08-28 14:37:54
2013-08-29 13:17:23
SEOUL Weekly: SEOUL September Issue