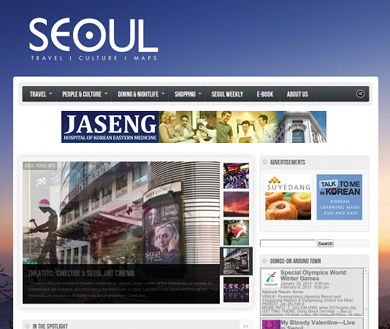 Feb 6, 2013 / Issue No. 566
Happy Lunar New Year
We here at Seoul Selection would like to wish you all a happy and healthy Lunar New Year!
New SEOUL Magazine Website
Seoul Selection is pleased to announce that we're
rebooting our magazine website
. The new and improved site includes event information, articles from
SEOUL Magazine
, and useful visitor and expat information. It is easier to use, and features better social network service intergration. We welcome suggestions from our readers.
Chicago Symphony Orchestra
The Chicago Symphony Orchestra, a hallmark American orchestra once headed by maestro Daniel Barenboim, will be invited to Korea for two concert engagements on Feb 6 and 7. Its current resident music director Riccardo Muti is set to captivate the local audience with a program that includes Busoni's suite from Trandot, Brahms's Symphony No. 2, Verdi's Overture to I Vespri siciliani, Mendolssohn's Symphony No. 4 Italian, and Beethoven's Symphony No. 3 Eroica. Founded in 1891, the symphony makes its home at Orchestra Hall in Chicago and plays a summer season at the Ravinia Festival.
VENUE: Concert Hall, Seoul Arts Center
PERIOD: Feb 6–7, 8pm
ADMISSION: R: 360,000 won, S: 280,000 won, A: 200,000 won, B: 130,000 won, C: 70,000 won
MORE INFO: T. 1577-5266, www.clubbalcony.com
GETTING THERE: Nambu Bus Terminal Station 남부터미널역 (Line 3), Exit 5. Transfer to shuttle bus, or green bus No. 4429.
Joseph and the Amazing Technicolor Dreamcoat
Come see this production of Andrew Lloyd Webber and Time Rice's beloved musical, based on the Biblical story of Joseph. The Korean cast includes Song Chang-ee, Sun-kyong Kim, Choi Jung-won and Lisa.
VENUE: Charlotte Theater
PERIOD: Feb 12–Apr 14
ADMISSION: VIP: 130,000 won, R: 110,000 won, S: 90,000 won, A: 70,000 won
Tickets: http://ticket.interpark.com/global
MORE INFO: www.charlottetheater.co.kr
GETTING THERE: Jamsil Station 잠실역 (Line 2, 8), Exit 3. Walk straight beside Lotte Dept. Store and cross the road. Walk straight and turn right.
Celebrate the Lunar New Year with Korean traditional music and dance with Korea's leading traditional arts troupe.
VENUE: National Gugak Center
PERIOD: Feb 10–11
MORE INFO: T. 02-580-3300
GETTING THERE: Nambu Bus Terminal Station 남부터미널역 (Line 3), Exit 5. Take maeul bus No. Seocho 12 or green bus No. 4429 and get off at the National Gugak Center.
Japandroids—Live in Seoul
Japandroids is a two-piece band from Vancouver, BC, consisting of Brian King and David Prowse. Originally intending to be a trio, the boys decided to skip the extra members and do all the work themselves. As a result, the Japandroids are a set of drums, a guitar, and a vocal duo optimized to sounds like a five-piece band that you've never heard before.
Japandroids released their critically acclaimed debut album Post-Nothing via Polyvinyl in 2009. Then, King and Prowse toured extensively throughout 2009–2010, playing over 200 shows in more than 20 countries, and quickly gained notoriety for their extremely energetic live performances.
VENUE: V-Hall
DATE: Feb 14, 8pm
ADMISSION: 40,000 won (35,000 won in advance)
scstickets@gmail.com
MORE INFO: http://supercolorsuper.com
GETTING THERE: Hongik Univ. Station 홍대입구역 (Line 2, A'REX Line), Exit 9.
A Taste for Freedom—Korean Independence Activists
Come see nine paintings of Korean independence activists by Mathieu Deprez at the Garage Gallery, not far from the Hyatt Hotel on Gyeongnidan Road.
VENUE: The Garage Gallery
PERIOD: Feb 12–27
ADMISSION: Free. Hours: 11am–10pm
GETTING THERE: Noksapyeong Station, Line 6
RAS-KB Tour: Seoraksan National Park & Waterpia
The RAS will once again offer its very popular excursion to the magnificent Mt. Seoraksan in Gangwon-do. In addition to the usual magnificent beauty of this scenic area, participants will have the option of enjoying the Cheoksan hot springs on the first night and extending the pleasure on the second day at the Seorak Waterpia, a large-scale hot-spring resort. For those who would rather enjoy hiking in the mountains, two options are proposed.
DATE: Feb 10–11
COST: 248,000 won for members and 278,000 won for non-members
GETTING THERE: See link above.
Seoul City Hall
Seoul City Hall. Photo by Robert Koehler.
*Click the photo to see a full-size version at our website.
NOTE: If you have a photo you would like to see in our Everyday Koreans section, please sent it to story@seoulselection.com. Photos should be AT LEAST 950px wide. Send a one-line bio, too.

Tell Us About 'Your Korea': If you're a long-time resident of Korea and would like to share your story in KOCIS's KOREA magazine, shoot an email with your story idea to book@seoulselection.com.
Update Your Shopping Mall ID – Seoul Selection encourages you to change your ID and password for our online bookshop and shopping mall at Seoulselection.com. The old IDs and passwords no longer work following our recent upgrade.
Looking for translators – Seoul Selection is looking for a few good translators (Korean to English) for general translation work. Those interested should send a resume and cover letter to Eugene at planner@seoulselection.com.
Seoul Selection eBooks
– You can purchase some Seoul Selection titles in ebook format via
Amazon.com
(for Kindle) and Apple's
iBookstore
. Titles include
Ask a Korean Dude
,
Moon Tides
,
Doing Business in Korea
,
Once Around the Sun
, and seven volumes of our Korean Film Directors series:
BONG Joon-ho
,
IM Kwon-taek
,
KIM Jee-woon
,
LEE Chang-dong
,
LEE Man-hee
,
PARK Chan-wook
, and
SHIN Sang-ok
.
Seoul Selection via Ingram
– Seoul Selection now has a direct wholesale distribution agreement with
Ingram Book Group
, the world's largest wholesale distributor of publisher content. By choosing to allow Ingram to represent our material, we have opened our titles to a wider audience. Our titles will be available for order through Ingram at more than 35,000 distribution channels worldwide. Ask your local bookstore to have Seoul Selection titles available!
Send Your Event Info
– If you would like to advertise any upcoming events you are organizing, please send us the press release material at
book@seoulselection.com
by the preceding Friday in order for it to appear in the following Tuesday's issue.
Freelance Contributors Wanted – SEOUL magazine needs writers who are fluent in both Korean and English. Writers should have a strong interest in Korean culture and be able to interview Koreans. Send your resume and writing samples to book@seoulselection.com.
We Buy & Sell Used Books – Seoul Selection buys and sells used books in English. Unlike our regular selection of publications that specialize in Korea-related topics, our Used Book section carries books on all subjects. It's all part of our effort to make life easier for the English-speaking community.
SEOUL
(January 2013)
Arirang of Korea : Han, Sorrows and Hope
Arang and the Magistrate
Bee-bim Bop!
Traditional Natural Dyeing
Korea Witness: 135 Years of War, Crisis and News in the Land of the Morning Calm
STORYTELLING ASIA Delhi
Cours de coreen
One Step Forward
Spring, Snow
The Spies
A Company Man
Traffickers
Publisher: Hank Kim / Editor: Robert Koehler
Seoul Selection reserves all intellectual property rights on information provided in this newsletter. Some event information has been provided by the Korea Foundation. The IPRs are protected by pertinent laws
https://magazine.seoulselection.com/wp-content/uploads/2013/02/yamb_20130206091309.png
329
390
rjkoehler
https://magazine.seoulselection.com/wp-content/uploads/2018/01/Seoul-logo.png
rjkoehler
2013-02-06 10:34:23
2013-02-13 16:56:04
Issue No. 565: New SEOUL Magazine Website