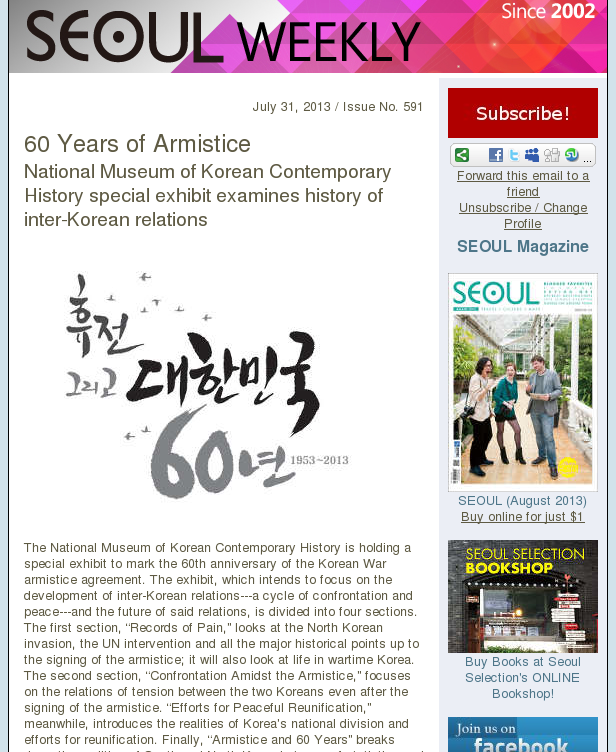 July 31, 2013 / Issue No. 591
National Museum of Korean Contemporary History special exhibit examines history of inter-Korean relations
The National Museum of Korean Contemporary History is holding a special exhibit to mark the 60th anniversary of the Korean War armistice agreement. The exhibit, which intends to focus on the development of inter-Korean relations—a cycle of confrontation and peace—and the future of said relations, is divided into four sections. The first section, "Records of Pain," looks at the North Korean invasion, the UN intervention and all the major historical points up to the signing of the armistice; it will also look at life in wartime Korea. The second section, "Confrontation Amidst the Armistice," focuses on the relations of tension between the two Koreans even after the signing of the armistice. "Efforts for Peaceful Reunification," meanwhile, introduces the realities of Korea's national division and efforts for reunification. Finally, "Armistice and 60 Years" breaks down the realities of South and North Korea in terms of statistics and looks at the inter-Korean relationship from a variety of viewpoints.
The special exhibits hopes to reinforce the value of freedom and peace by showing the scars of war and allows visitors to think about the future of inter-Korean relations.
The exhibit will be accompanied by academic seminars, associated educational programs and cultural events.
PERIOD: Thru Sept 1
VENUE: National Museum of Korean Contemporary History
ADMISSION: Free
MORE INFO: http://www.much.go.kr
GETTING THERE: Exit 2, Gwanghwamun Station, Line 5
LTI Korea's 2013 Korean Literature English Essay Contest
Help promote Korean literature… and perhaps win a tablet PC in the process
The Literature Translation Institute of Korea is hosting its 3rd Korean Literature English Essay Contest. The annual Korean Literature English Essay Contest was launched in 2011 as part of celebrations to mark the 10th anniversary of LTI Korea. This contest, which began with the aim of promoting English translations of Korean literature, is open to foreign residents (students and general public) in Korea.
The three texts selected for this year's contest are Knife Marks by Kim Ae-ran, The Glass Shield by Kim Junghyuk, and Unfinished Words by Yoon Sung-hee. Participants are required to choose one of the aforementioned set texts and submit an essay written in English. An application form and the three designated texts in the form of PDF files are available (click the link below to download). Submissions will be accepted from September 1 (Sun) to September 30 (Mon), and the winners will be announced on October 31 (Thurs).
The Awarding Ceremony will be held in November 2013. The winner of the Grand Prize as well as three recipients of the Award of Excellence will be presented with their certificates and prizes. Grand Prize: Tablet PC; Award of Excellence: E-Book Device.
MORE INFO
: See
this link
to download the an application form and pdf copies of the selected works.
Starlight, Moonlight Concert
A series of traditional concerts and performances will take place August 7–11 at the Starlight, Moonlight Concert at the outdoor stage of the Seoul Namsan Traditional Theater. The program will showcase two different genres. A musical production based on Korean folktales will be staged on August 7, 8, and 11, while the nights of August 9 and 10 will be devoted to Korean traditional music presented by the Seoul Metropolitan Traditional Orchestra. In an effort to enliven the atmosphere, organizers will provide Korean rice wine (makgeolli) for visitors to taste.
PERIOD: Aug 7–11
VENUE: Seoul Namsan Traditional Theater
ADMISSION: KRW 10,000
MORE INFO: www.sejongpac.or.kr
GETTING THERE: Chungmuro Station 충무로역 (Line 4), Exit 4 [Map 4, D4]
Jisan World Rock Festival
Iconic rapper Nas and punk pop band Weezer are playing the Jisan World Rock Festival, which will be held Aug 2–4 in Icheon, southeast of Seoul. Catch them with other headliners like the Dandy Warhols, Switchfoot, Deerhoof, and Placebo. Funk masters Jamiroquai, led by frontman Jay Kay, will be a highlight on the list of performers that includes Korean rock acts like Crying Nut, No Brain, and Lowdown30. Heating up the event are DJs of global acclaim, including DJ Shut Da Mouth, DJ Conan, Bagagee Viphex 13, and Big Ear Crew.
PERIOD: Aug 2–4
VENUE: Jisan Forest Resort, Icheon, Gyeonggi-do
ADMISSION: 3-day pass: KRW 250,000, 2-day pass: KRW 180,000, 1-day pass: KRW 125,000
—Tickets: http://ticket.interpark.com/global
MORE INFO: T. 02-644-1200, www.jisanworldrockfestival.com
GETTING THERE: Take a bus from Dong Seoul Bus Terminal to Icheon. Transfer to bus no. 12 and get off at Jisan Mart.
Incheon Pentaport Rock Festival
The month of rock in Korea would not be complete without the Incheon Pentaport Rock Festival, which is looking much more impressive than previous years' nu-metal-heavy lineups. Slated for Aug 2–4, the 2013 edition will feature Fall Out Boy, Testament, Steelheart, Skid Row, and four British rock bands: Suede, Mamas Gun, Glasvegas, and The Big Pink. This year, the venue has moved to Songdo International City, which can be accessed conveniently via Seoul's metropolitan subway system and intercity bus routes.
PERIOD: Aug 2–4
VENUE: Int'l Business District, Songdo, Incheon
ADMISSION: 3-day pass: KRW 165,000, 2-day pass: KRW 143,000, 1-day pass: KRW 99,000
—Tickets: http://ticket.interpark.com/global
MORE INFO: T. 02-3775-1588, http://pentaportrock.com
GETTING THERE: Int'l Business District Station 국제업무지구역 (Incheon Line), Exit 1
Cuban Culture and Arts Festival
The Korean Ministry of Foreign Affairs and Trade and the Korea Foundation present the 2013 Cuban Culture and Arts Festival. Under the theme "The Passion of Caribe, Enjoy Cuba!," the festival serves as a precious opportunity to appreciate the cultural richness of Cuba. Performers include Buena Fe, Habana Compas Dance, and Cesar Lopez & Habana Ensemble.
VENUE: Yongsan At Hall and Hankuk University of Foreign Studies
PERIOD: Aug 2—5
MORE INFO: www.cubafestival.kr
Sanjeong Lake, Pocheon
Mist, mountains, water and rocks at Sanjeong Lake, Pocheon. Photo by Robert Koehler.
*Click the photo to see a full-size version at our website.
NOTE: If you have a photo you would like to see in our Everyday Koreans section, please sent it to story@seoulselection.com. Photos should be AT LEAST 950px wide. Send a one-line bio, too.

Tell Us About 'Your Korea': If you're a longtime resident of Korea and would like to share your story in KOCIS's KOREA Magazine, shoot an email with your story idea to book@seoulselection.com.
Looking for Translators – Seoul Selection is looking for a few good translators (Korean to English) for general translation work. Those interested should send a resume and cover letter to Kyehyun at trans@seoulselection.com. Experienced translators only.
Seoul Selection eBooks
– You can purchase some Seoul Selection titles in ebook format via
Amazon.com
(for Kindle) and Apple's
iBookstore
. Titles include
Ask a Korean Dude
,
Moon Tides
,
Doing Business in Korea
,
Once Around the Sun
, and seven volumes of our Korean Film Directors series:
BONG Joon-ho
,
IM Kwon-taek
,
KIM Jee-woon
,
LEE Chang-dong
,
LEE Man-hee
,
PARK Chan-wook
, and
SHIN Sang-ok
.
Send Your Event Info
– If you would like to advertise any upcoming events you are organizing, please send us the press release material at
book@seoulselection.com
by the preceding Friday in order for it to appear in the following Tuesday's issue.
Freelance Contributors Wanted – SEOUL Magazine needs writers who are fluent in both Korean and English. Writers should have a strong interest in Korean culture and be able to interview Koreans. Send your resume and writing samples to book@seoulselection.com.
We Buy & Sell Used Books – Seoul Selection buys and sells used books in English. Unlike our regular selection of publications that specialize in Korea-related topics, our Used Book section carries books on all subjects. It's all part of our effort to make life easier for the English-speaking community.
Buy Books at Seoul Selection's ONLINE Bookshop!
Park Chung-Hee: from poverty to power
Don't Cry Mommy
Into This World
STORYTELLING ASIA : Istanbul
DMZ Peace Tour Map – DMZ: Land Coexisting with Peace
Taekwondo for Kids
Practical Korean: Your Guide to Speaking Korean Quickly and Effortlessly in a Few Hours
Bloody Fight in Iron-Rock Valley
Good Friends
Bittersweet Joke
Hur Jin Ho Director's Collection
Nobody's Daughter Haewon
Publisher: Hank Kim / Editor: Robert Koehler
Seoul Selection reserves all intellectual property rights on information provided in this newsletter. Some event information has been provided by the Korea Foundation. The IPRs are protected by pertinent laws
https://magazine.seoulselection.com/wp-content/uploads/2013/07/export2.png
752
616
rjkoehler
https://magazine.seoulselection.com/wp-content/uploads/2018/01/Seoul-logo.png
rjkoehler
2013-07-31 11:45:11
2013-08-29 13:07:23
SEOUL Weekly: 60 Years of Armistice