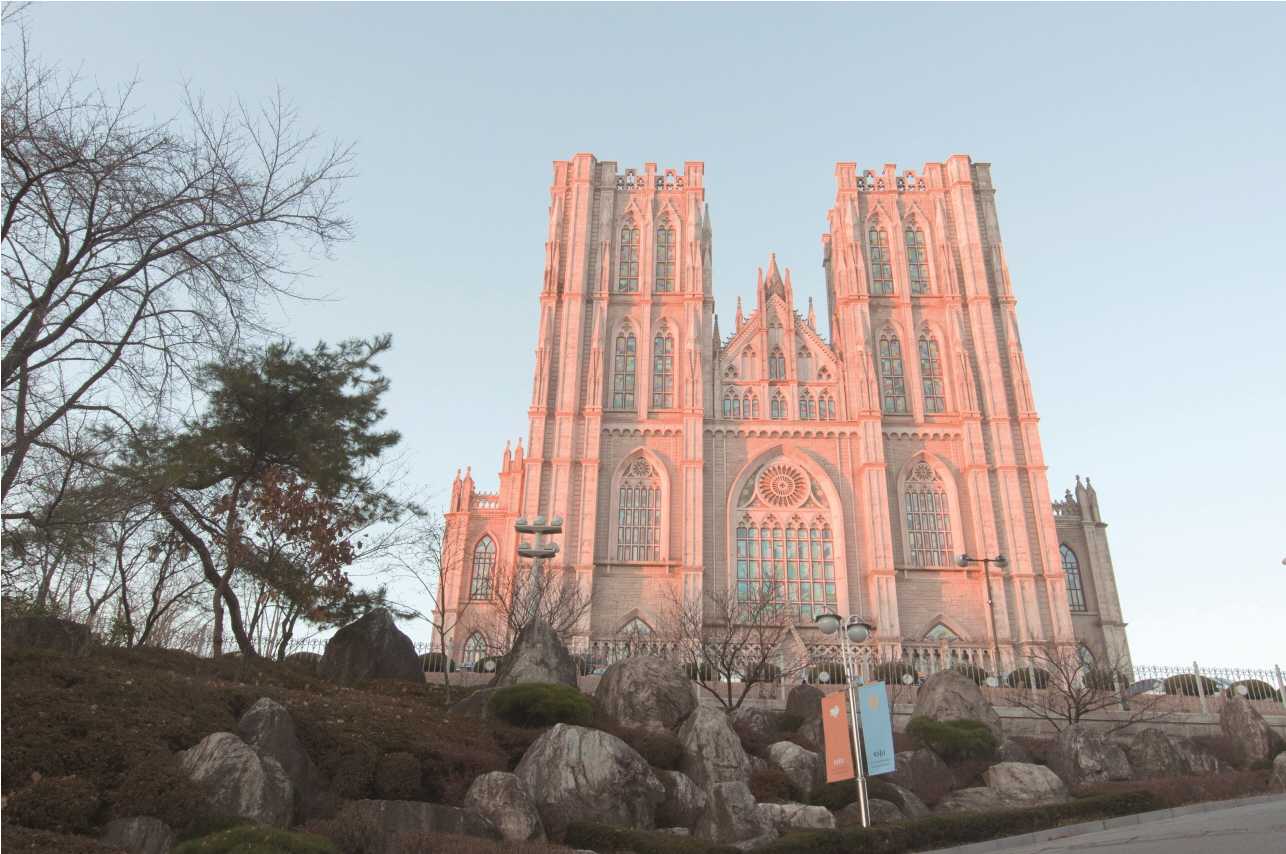 Coping with Seoul's winter, and visiting one of its lesser-known historical sites.
Treatment, Prevention
With the city now firmly nestled in the depths of winter, colds and flus lurk just a poorly aimed cough or sneeze away, leaving you with two options for coping: treatment and prevention. For the former, there's Kyung Hee University and its attendant medical center, which is particularly well-known for its oriental medicine program and its research on Eastern medicine's application to Western techniques. Among other accomplishments, Kyung Hee doctors performed the world's first drug-free anesthesia, using only acupuncture, in 1972.
As the saying goes, however, an ounce of prevention is worth a pound of cure, and what better way to keep from getting sick than by just avoiding winter altogether? A perfect place to hibernate is in one of the many restaurants lining Pajeon Alley, where it would be all too easy to just skip January, February, and, why not, March completely. Pajeon, a savory, crispy pancake of green onion and octopus, is one of Korea's best winter comfort foods. You can find it just about anywhere in Seoul, but rarely is it as cheap, delicious, or generous as it is in Hoegi. With a boisterous atmosphere, hot floors, satisfying food, and the kindling of warm friends and warm conversation, these restaurants—some open 24 hours—will keep winter at bay, whether for three minutes or three months.
Final Resting Places
Hoegi is also home to an obscure but captivating historical site: the tombs Yeonghwiwon and Sunginwon, the burialsites of Lady Eom and her grandson Yi Jin, respectively. Lady Eom was a favored concubine of Emperor Gojong, and after the murder of Empress Myeongseong by Japanese assassins, she helped him escape to the Russian legation. Interested in Western education, she went on to found several schools.
Sadly, there's far less to say about Yi Jin. His father, Uimin, the last Joseon imperial crown prince, was taken hostage and sent to Japan at the age of 11 under the pretext of "studying abroad," a wicked bit of political spin. Only nine months after being born to Uimin and his wife, Japanese Princess Masako Nashimoto, however, Yi Jin died during a visit to Korea under what are often referred to as suspicious circumstances.
Both burial sites feature graceful, austere memorial halls that front hills, atop which are burial mounds surrounded by stone guardians and lanterns. Befitting the nature of the site, the grounds are peaceful and filled with trees, including a red hawthorn that's Natural  Monument No. 506 and estimated to be 150 years old.
Kyung Hee University 경희대학교
and Kyung Hee Medical Center 경희의료원
Exit 1
Left onto Hoegi-ro 회기로, Right on Kyung Hee-dae-ro 경희대로
Pajeon Alley 파전골목
Exit 1
Left on Hoegi-ro 회기로, Left on Hoegi-ro-28-gil 회기로28길

크게 보기
Yeonghwiwon and Sunginwon 영휘원과 숭인원
Exit 1
Left onto Hoegi-ro 회기로, Left on Hongneung-ro 홍릉로
FYI>
Feb–May 9am–6pm, Jun–Aug 9am–6:30pm,
Sep–Oct 9am–6pm, Nov–Jan 9am–5:30pm; Closed Mondays
Admission: Adults 1,000 won, Children aged 7–18, 500 won
T. 02-962-0556
eureung.cha.go.kr

크게 보기
Written by Charles Usher
Photographed by Meagan Mastriani
https://magazine.seoulselection.com/wp-content/uploads/2013/02/KyungHeeUni3.jpg
854
1286
rjkoehler
https://magazine.seoulselection.com/wp-content/uploads/2018/01/Seoul-logo.png
rjkoehler
2013-02-25 16:55:20
2015-04-03 14:48:06
Hoegi Station