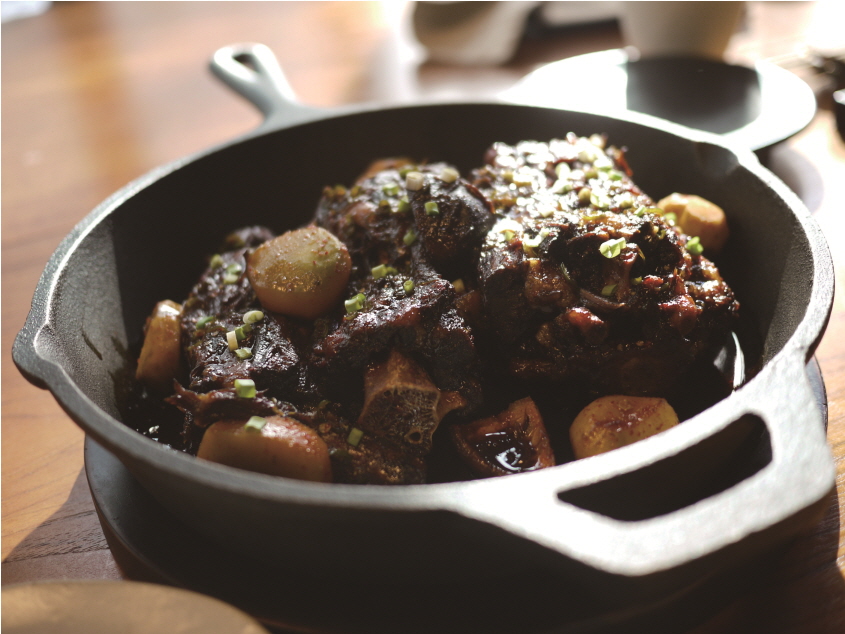 O'neul the Korean Cuisine | 레스토랑 오늘
(Itaewon)
Written and photographed by Daniel Gray
O'neul the Korean Cuisine offers refined Korean cuisine using local ingredients and modern techniques. The interior is impressive, with wood paneled walls, marble stairs, and rustic pottery. The many large windows let in plenty of light as well. The restaurant is located in Dongbinggo, which used to be the ancient area for ice production and storage. The food showcases the natural bounty of the land and the skill of the chefs. The meal starts with a black sesame porridge, which has a buttery and calming flavor to it. The rice has a just-out-of-the-steamer bite to it, and the soups have stocks with flavors that have been gently coaxed out. The white ox bone stock for the yukgyejang is clear here, and it is flavored with tender strands of beef and onion— a refined twist for the normally red stew. The kimchi jjigae with mackerel, which had aged 3-year-old kimchi in it, was robust in flavor and quite good for the cold winter day. My main course was the braised oxtail, which came out in a large cast-iron pan. The sauce was a savory soy reduction that made the beef fall from the bone. To finish, I had a green waffle made from mugwort, sweet rice, and ice cream. This was surprisingly quite good. It is nice to know there is a restaurant that can definitely walk the tightrope between modern and traditional Korean cuisine.
FYI>
Hours: lunch 12pm–3pm, dinner 6pm–10pm
Price: 20,000–40,000 won per person for lunch,
100,000 won + per person for dinner
T. 02-792-1054
(1-54 Dongbinggo-dong, Yongsan-gu, Seoul | 서울시 용산구 동빙고동 1-54)
GO>
Itaewon Station 이태원역 (Line 6), Exit 4. Walk along Bogwang-ro and turn right nearby Bogwang-dong Office. Walk 200m along the road and cross the road in front of Brunei Embassy. The restaurant is located behind it.
https://magazine.seoulselection.com/wp-content/uploads/2013/02/P1530927.jpg
634
845
rjkoehler
https://magazine.seoulselection.com/wp-content/uploads/2018/01/Seoul-logo.png
rjkoehler
2013-02-18 22:55:28
2018-02-13 16:31:54
O'neul the Korean Cuisine