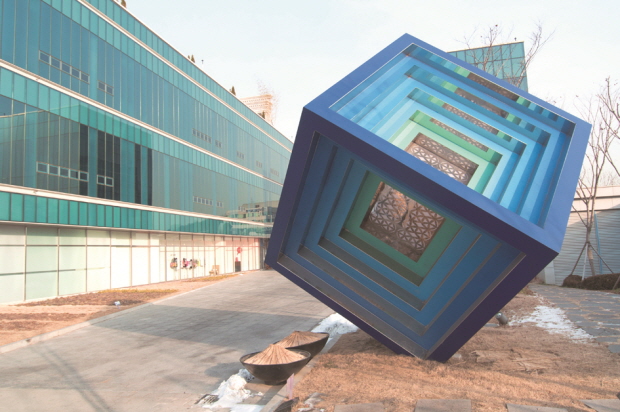 Itaewon reinvents itself as an arts and culture destination.
One of the most dramatic changes that Seoul has gone through in the past few years has been the transformation of Itaewon from an area of scruff and grime into one of the trendiest, must culturally fresh parts of town. This is particularly true of the areas around its edges, like Hangangjin.
Cultural Cornerstones
If anything can be said to have kick-started this transformation, it was likely the arrival of the Leeum, Samsung Museum of Art 삼성미술관 리움 in 2004. The museum is divided into three sections, the first of which, Museum 1, houses traditional Korean art. Here three dozen national treasures form part of the collection of celadon, paintings, and Buddhist art displayed in galleries that are nearly completely dark save for subtle spotlights illuminating individual vases and scrolls, creating a solemn, almost religious feel. The Leeum's modern art collection is found in Museum 2, where works by artists little known outside the country mingle with those of international heavyweights like Willem de Kooning, Cindy Sherman, and Damien Hurst. The third section is where visitors will find the Samsung Child Education and Culture Center and the museum's special exhibitions. Until February 8 the latter is dedicated to Anish Kapoor, three of whose sculptures can also be found in the outdoor sculpture garden.
Hangangjin's second cultural cornerstone is the Blue Square 블루스퀘어 performing arts complex. Korea's largest performing arts hall, it has space for both musicals and concerts as well as cafés, restaurants, and souvenir shops. Until March 24, you can catch the perennial favorite The Phantom of the Opera.
Nouveau Neighborhood
The rest of Hangangjin is filled with places that are creating an increasingly upscale, increasingly stylish neighborhood. Exhibit A is the fact that Japanese fashion label Comme de Garcons 꼼데가르송 chose to open their Seoul flagship store not in Apgujeong, but here. And down the street from its 400,000 won hoodies is Beaker, which pairs a Williamsburg aesthetic with Cheongdam prices: Band of Outsider flannels, bike accessories, and 33,000 won bottles of artisanal shampoo.
Neighborhood dining options reflect Itaewon's multicultural vibe and the prevalence of embassies in the area: Brazilian churrascarias, Japanese izakayas, Spanish tapas joints, and plenty more. Bars and cafés are plentiful. One of the latter that particularly stands out is Take Out Drawing 테이크아웃드로잉, where in addition to getting organic, fair-trade coffee, you can view the work of local artists who have received one of the two-month residencies the café offers.
Leeum, Samsung Museum of Art | 삼성미술관 리움
Exit 1
Right on Itaewon-ro-55-gil 이태원로55길
FYI> Hours: 10:30am–6pm, closed Mondays, New Year's Day, Seollal, and Chuseok
Admission: Adults–Permanent Exhibition 10,000 won, Special Exhibition 8,000 won, Daypass 14,000 won; Kids, Seniors, Handicapped–Permanent Exhibition 6,000 won, Special Exhibition 5,000 won, Daypass 8,000 won (9,000 won for kids)
T. 02-2014-6901, leeum.samsungfoundation.org

크게 보기
Blue Square | 블루스퀘어
Exit 2 or accessible directly from the station
FYI> T. 1544-1591 www.bluesquare.kr
Take Out Drawing (Hannam Branch) | 테이크아웃드로잉(한남동점)
Exit 3 Straight on Itaewon-ro 이태원로
FYI> Hours: 11am–midnight
T. 02-797-3139, www.takeoutdrawing.com

크게 보기
Written by Charles Usher
Photographed by Meagan Mastriani
https://magazine.seoulselection.com/wp-content/uploads/2013/01/BlueSquare2.jpg
412
620
rjkoehler
https://magazine.seoulselection.com/wp-content/uploads/2018/01/Seoul-logo.png
rjkoehler
2013-01-28 13:34:05
2015-04-03 14:53:26
Hangangjin Station