In creating new dishes for PyeongChang 2018, the celebrity chef brings together flavors and forms both local and international
There are very few Korean chefs who have been as prominent on both the local and international level as Edward Kwon. He's one of Korea's most recognizable chefs, with multiple restaurants, TV shows and guest appearances. He now leads Pyeongchang's culinary welcome to hundreds of thousands of Olympic visitors. Kwon helped design ten new fusion dishes drawing on local specialties to make dishes that would appeal to a wide range of people, from locals to international travelers and athletes, all while preparing his own new Korean restaurant in Seoul.
Hometown foods, international flavors
Pyeongchang is more than just an Olympic venue to Chef Kwon. Born in Yeongwol and raised in Gangneung, he knows the area well.
About a year and a half ago, the province of Gangwon-do asked him to make ten dishes to represent Pyeongchang to the Olympics. "I was surprised, and I thought the idea was great so I researched different products," he says. "Apples, local beef and dried pollock get a twist to be more modern. Once the dishes were finalized, we trained local restaurants in the Pyeongchang area to produce them. Most travelers go to see beautiful scenery or entertainment, but besides that, they go to eat food. As we say, 'Even sightseeing in the Geumgangsan Mountains is better after a meal!'"
The dishes themselves display Chef Kwon's international training and creativity, turning local buckwheat noodles into a pasta, bibimbap into a delicately plated salad, and chocolate, cheese and citrus meld into the guise of one of Gangwon-do's famous potatoes.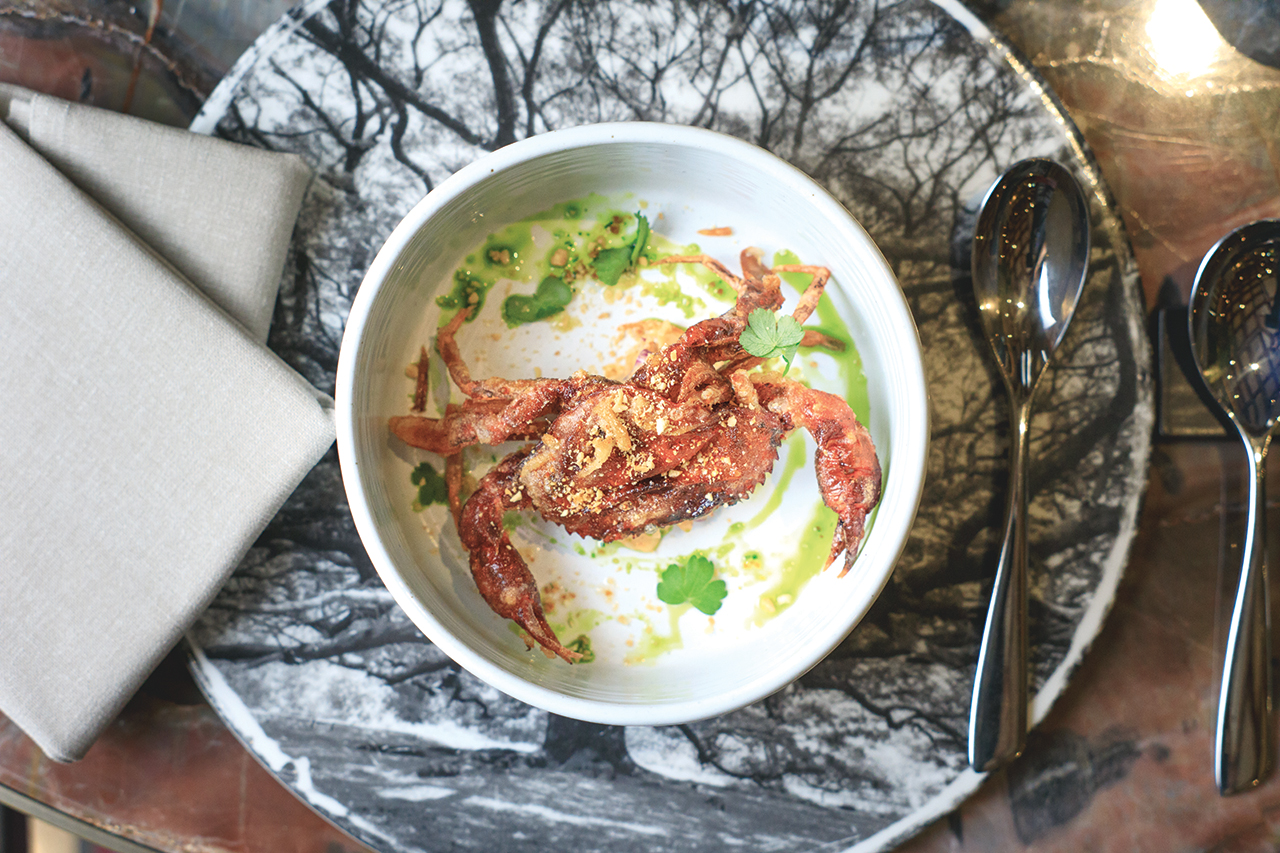 Fusion food for globalized palates
Creating the dishes proved to be a challenge. "When they asked me for 10 dishes, I thought it was easy," says Kwon. "It was not easy at all! I've created many menus. This was one of the most difficult to create, even though I grew up there and know the products."
Getting the right balance between the local and the international proved especially difficult. "I felt almost guilty trying to put a twist on the dishes! It felt like things were too Italian, too French, too European," he says. "It took three months for me to do what I could usually do in a day. I felt like I'm getting older and older. I sent it off and they sent it back — they thought it was too 'Koreanized.'"
Kwon explains that fusion food means you need to know a lot about a lot of things if you hope to make it all come together. In provincial areas, however, residents often find integrating local foods and concepts into international dishes to be, well, provincial. "I asked what [Gangwon-do residents] wanted. They said, 'Make us pasta!' I thought, 'Are you serious?' The people running these restaurants are sixty, seventy years old and they're more globalized than me."
In his element
Chef Kwon has a new venue for showing off more traditional Korean food, though, in his new restaurant, Elements.
Located adjacent to his French restaurant LAB XXIV, Elements serves set menus with remarkable polish and clever twists that still hew to their Korean origins. Soft shell crabs from Jeju are fried and plated with water parsley oil and a South Asian-tinged coleslaw. Rice and soup share space with delicate, briny pollock roe dressed with sesame oil but also with a mild, fresh tomato kimchi, while a silky savory egg custard enrobes meltingly soft abalone. While the restaurant caters to a broad range of customers, including solo diners, private rooms are available for groups to enjoy Korean barbecue grilled for them by one of the chefs. Despite the luxurious setting inside the Le Meridien hotel in Gangnam, Kwon made sure to keep the independent restaurant's prices extremely reasonable.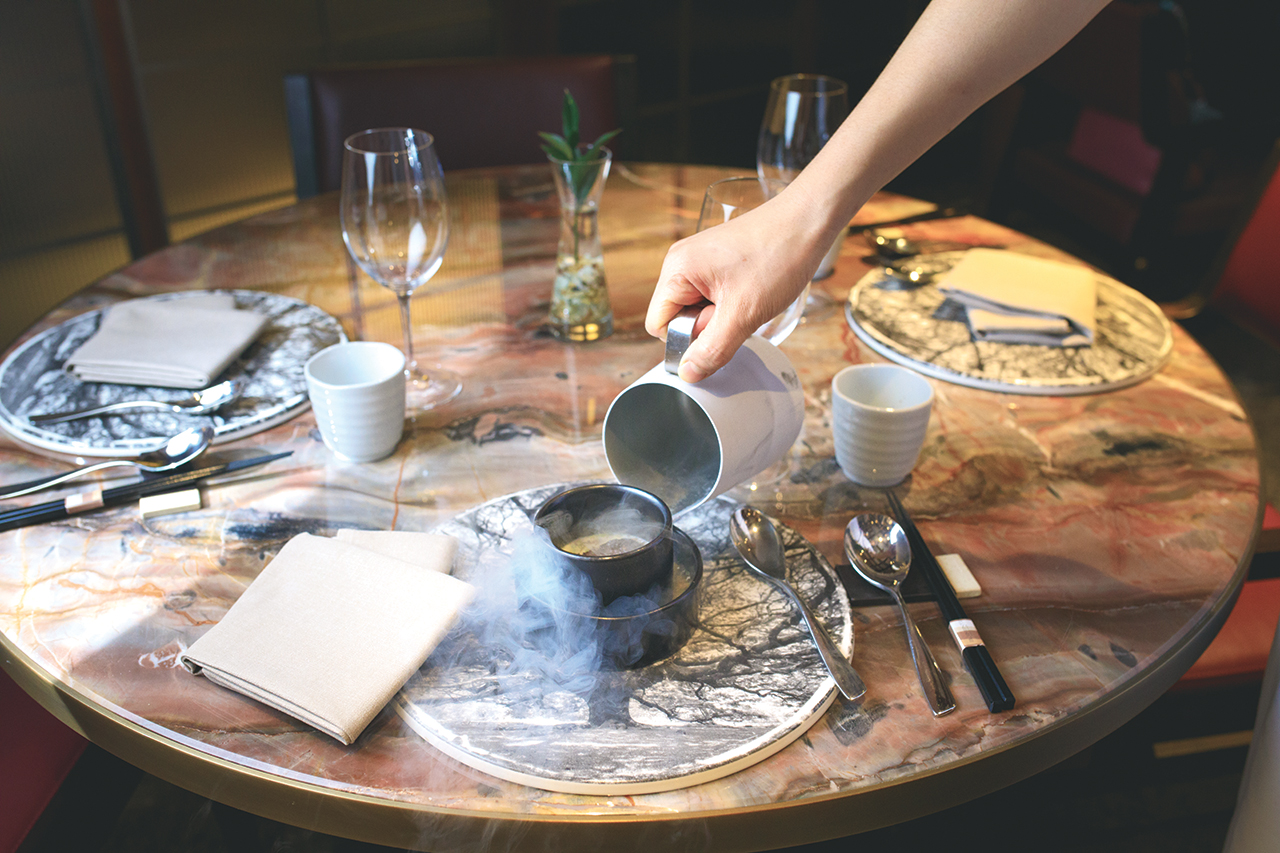 Respecting the roots
In preparing his dishes, Kwon adopts a careful approach to preserve the original flavors of the Korean foods. "I think Korean food should be globalized, but now I think that if you're proud of the food, you don't need to touch the original taste and flavor. It's a risk," he says. "Maybe some people don't like it or think that it's not trendy. Call it 'Asian' or 'Modern Asian' or whatever, but as soon as you say something is specific, is 'Korean,' you need to be very careful."
Kwon reminds us that you should preserve the food's roots. "Respect where it comes from, the taste and flavor," he says. "If you just follow the trends, in a few years you'll end up with no fruit, because the tree has no roots anymore."
More Info.
Elements  Le Meridien Seoul 엘리멘츠 르메르디앙 서울
Floor F, 120 Bongeunsa-ro, Gangnam-gu, 06124, 02-511-4523
Written by Jennifer Flinn
Photographed by Greg Samborski
https://magazine.seoulselection.com/wp-content/uploads/2018/02/061-LAB-XXIV-Chef-Edward-Kwon.jpg
853
1280
rjkoehler
https://magazine.seoulselection.com/wp-content/uploads/2018/01/Seoul-logo.png
rjkoehler
2018-02-07 10:20:54
2018-02-07 10:20:54
Edward Kwon Goes for the Gold