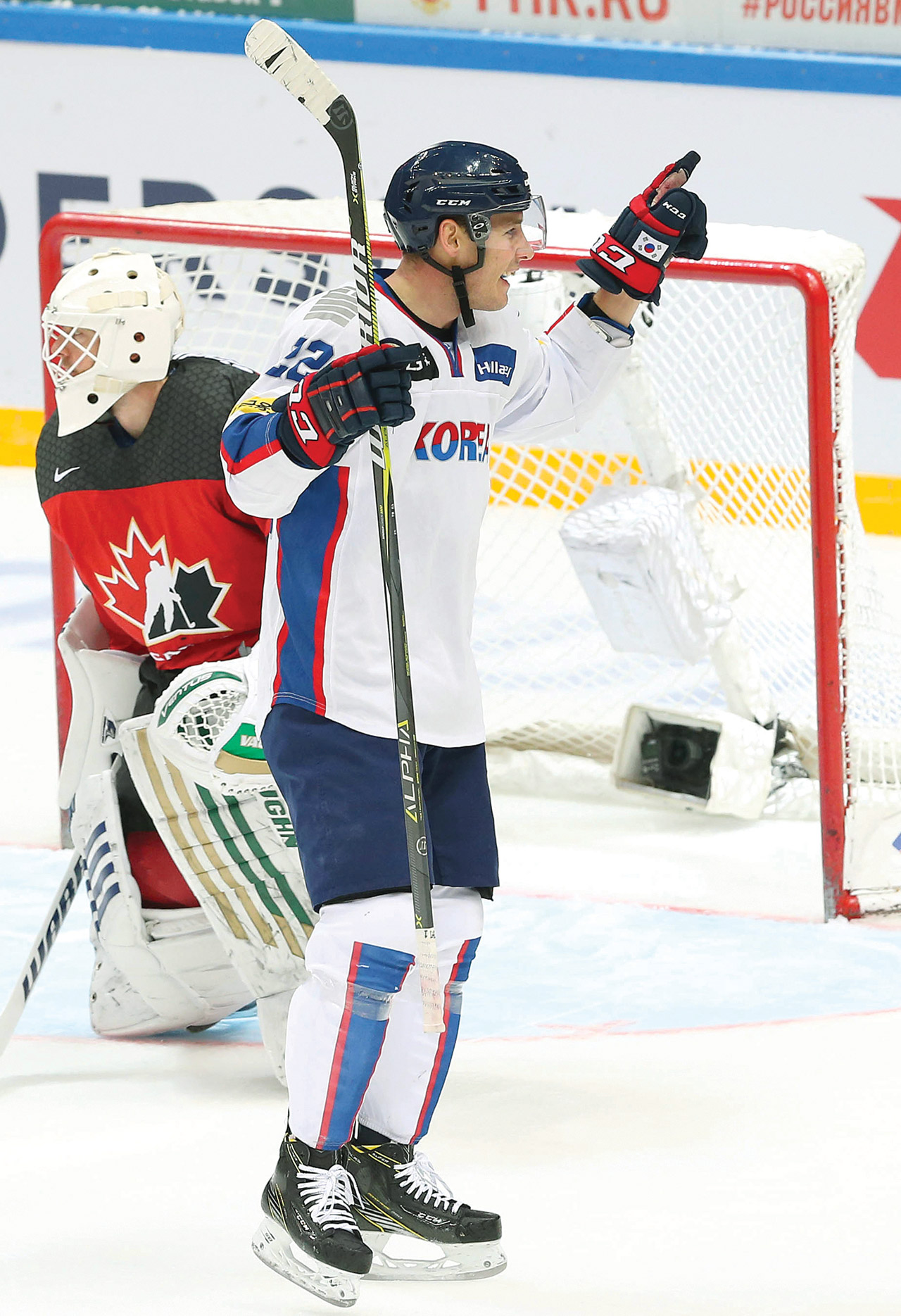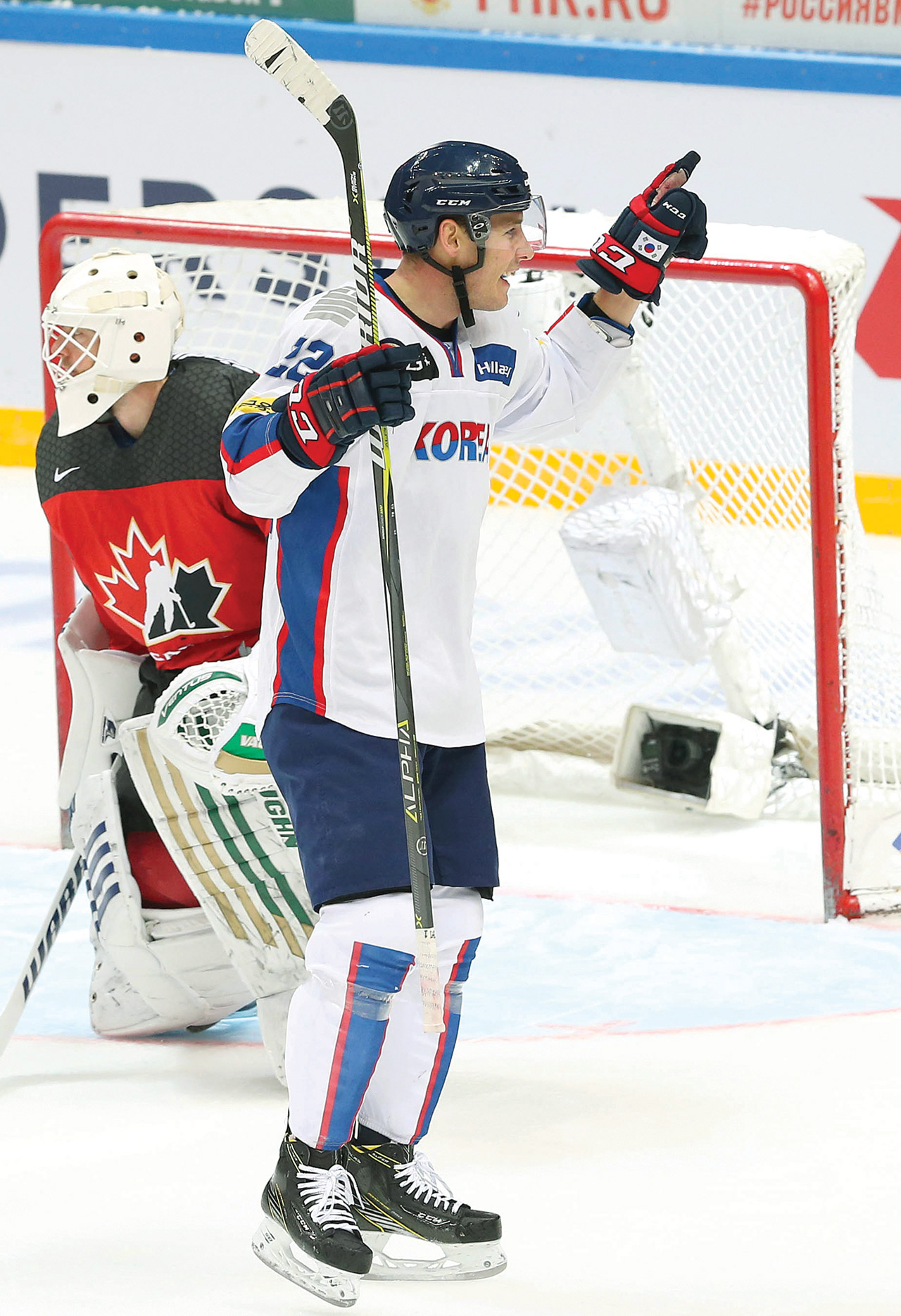 Korean national team player Mike Testwuide revives his love for hockey in Korea 
Mike Testwuide has a unique profile. He is an American-born Korean ice hockey player whose name is among the 25 athletes in the South Korean men's hockey team for the PyeongChang 2018 Olympic Winter Games.
A natural-born hockey talent from Colorado, Testwuide is now stationed in the new Korean Olympic training center in Jincheon, located about 100 kilometers south from Seoul, to train as an Olympic hockey player.
"Being at this facility allows us to completely focus on training without distractions. Basically, it's eat, sleep, hockey … repeat. Three of my favorite things," Testwuide says just three weeks prior to the PyeongChang Winter Olympics.
Becoming a Korean
Hockey has been the love of Testwuide's life since the age of eight, when he played the sport for the first time. The sport led him to venture abroad to the country in which he had never imagined living. The former American Hockey League star joined Anyang Halla, a Korean professional hockey team in 2013. The 30-year-old hockey player, now playing for another Korean team, High 1, hadn't even known there was a hockey league here.
Coming to Korea, however, turned out to be one of his best decisions. "It has revived my love for hockey and has given me the experience of a lifetime," he says. Life in Korea began as an unexpected turn but has opened up a new chance to participate in the Olympics for the first time.
Soon after he joined Anyang Halla, he met Jim Paek, a former NHL defenseman who was appointed to coach the Korean national men's team. Paek suggested that Testwuide consider becoming a Korean citizen so that he could play for the Olympic team.
Testwuide had concerns with possible negative views he would get from the U.S. and Korea. He faced questions from people in both who wondered why he'd want to play for another country.
But he saw no borders in hockey and soon began studying for the naturalization exam, learning Korean history and practicing singing the Korean national anthem. He earned Korean citizenship and joined the Korean national hockey team in 2015. He currently holds dual citizenships in the U.S. and Korea.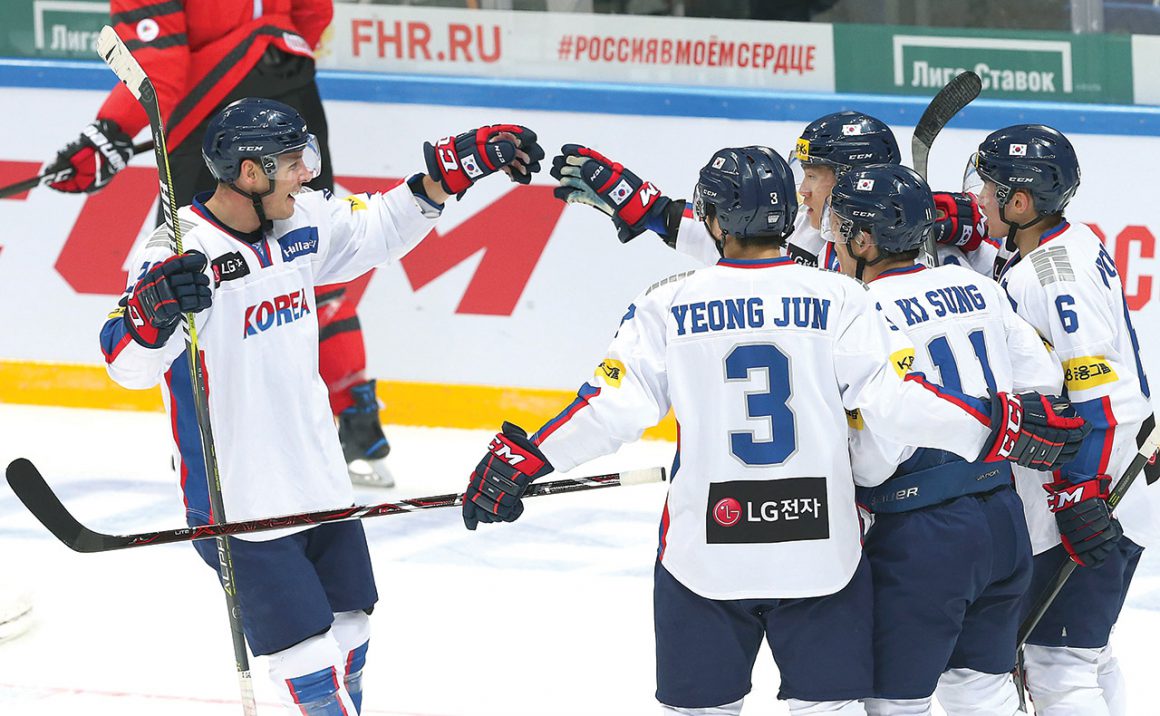 Learning new culture
Life in Korea has given him a unique chance to experience a new lifestyle as well. Testwuide learned to love a culture he wasn't familiar with.
"I'm addicted to Korean food and I love how social everything in this country is," he says. "From coffee shops on every corner, to the abundance of restaurants, to the bar and club scene, you can always be hanging out with friends and having a great time."
He still travels back and forth between Colorado and Seoul. He spends the off-season from April to August in Vail and the rest of the year in Ilsan, where he is currently based. "My hometown in Vail, Colorado, and Seoul are maybe two of the most different places on earth so I get a great balance of lifestyles," he says. "Seoul satisfies my craving for city life while Vail satisfies my love of the outdoors."
Athletic prowess
Testwuide thinks his Korean name, Kang Tae-san, best reflects his identity as a hockey player. He was given the name by Anyang Halla fans who came up with several Korean names for foreign players at the team.
"I chose Kang Tae-san, meaning 'big strong mountain.' I believe it suits who I am, where I'm from, and how I play hockey," he says. "I am one of the biggest guys on the team and I play a strong style. I am also from the Rocky Mountains in Colorado. The name seemed fitting to me."
Testwuide's strong physique, childhood training as a ski racer and an eye for strategy qualify him to be a solid forward whose main responsibility is to score goals and lead the team for a win.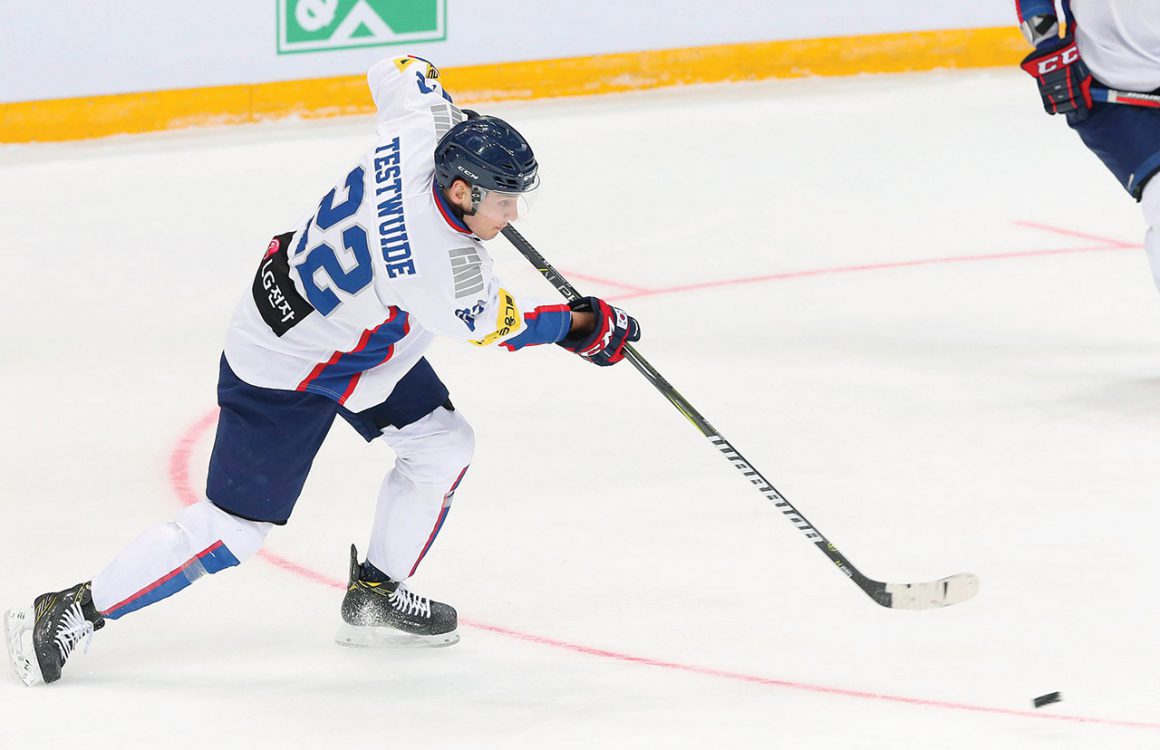 Building the strongest Olympic team
Since he and six Canadian players joined the Korean men's ice hockey team, the national squad has shown remarkable results in international games. The team was promoted to the upper-level competition for the first time in 2017 at the International Ice Hockey Federation (IIHF) World Championship. Previously, it had played in lower divisions, suffering five losses in 2014. The team's world ranking has surged to 21st, the highest since the men's hockey team was established in the 1970s.
The Winter Olympics in Pyeongchang are the first for both Testwuide and Korea. The country gets an automatic entry in the Olympic Games as a host country. Testwuide stresses, however, that the result is also the fruition of the hard work and dedication of the Korean team over the past five years.
He says, "We have prepared for this for a really long time and we couldn't be more excited that the time is finally here. Getting to play on the world stage is truly a dream come true."
The Korean women's hockey team has also received unprecedented attention, but for another reason. South and North Korea have agreed to create a joint women's ice hockey team. Testwuide admits he has mixed feelings about the recent decision.
"We get to see the women's team on a regular basis and know how tight they are as a team. They have worked very hard to get where they are and I know they want to play as a South Korean team," he says. "I also think it is a bit unfair that it is happening only a few weeks from the games. On the contrary, I think it is an amazing opportunity for the relationship to continue in the right direction between the two nations. I want to wish them good luck and can't wait to watch them on the ice."
Testwuide feels confident about his hockey and his team more than ever.
"I believe I am playing some of the best hockey of my life right now," he says.
The Korean team is scheduled to compete with some of the strongest contenders in ice hockey such as the Czech Republic, Switzerland and Canada in the Olympics in February.
"We are going into the Olympics with a winning mindset. We are a confident team and know that we can play with the best in the world. We will most likely be the most prepared team there because we have been able to spend so much time playing together over the last few years. I predict great results!"
---
More Info
Instagram: @MikeTestwuide
Written by Wooyoung Lee
Photographs courtesy of the Korea Ice Hockey Association
https://magazine.seoulselection.com/wp-content/uploads/2018/01/AQ6T0060마이키.jpg
1869
1280
cyn
https://magazine.seoulselection.com/wp-content/uploads/2018/01/Seoul-logo.png
cyn
2018-02-05 13:50:41
2019-11-04 15:15:21
Quest for Olympic Gold