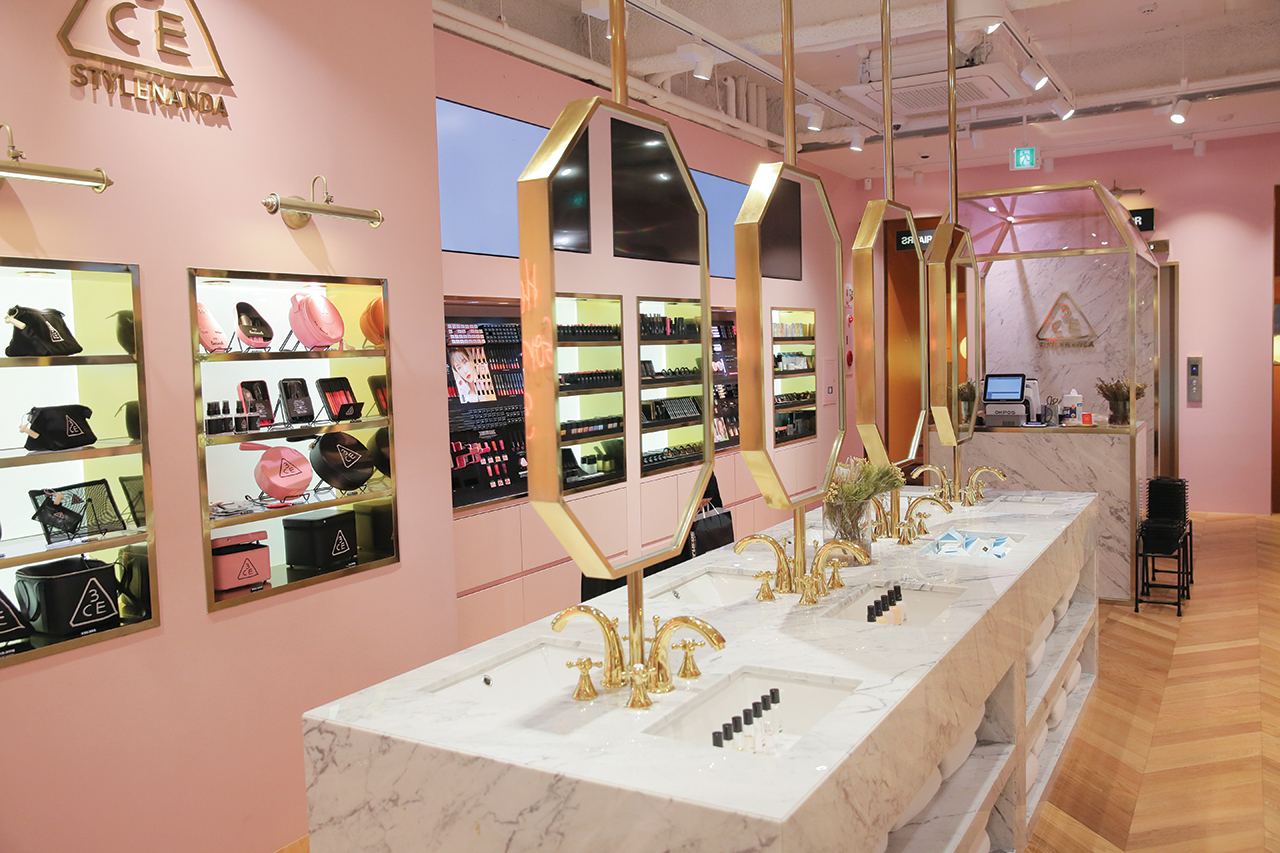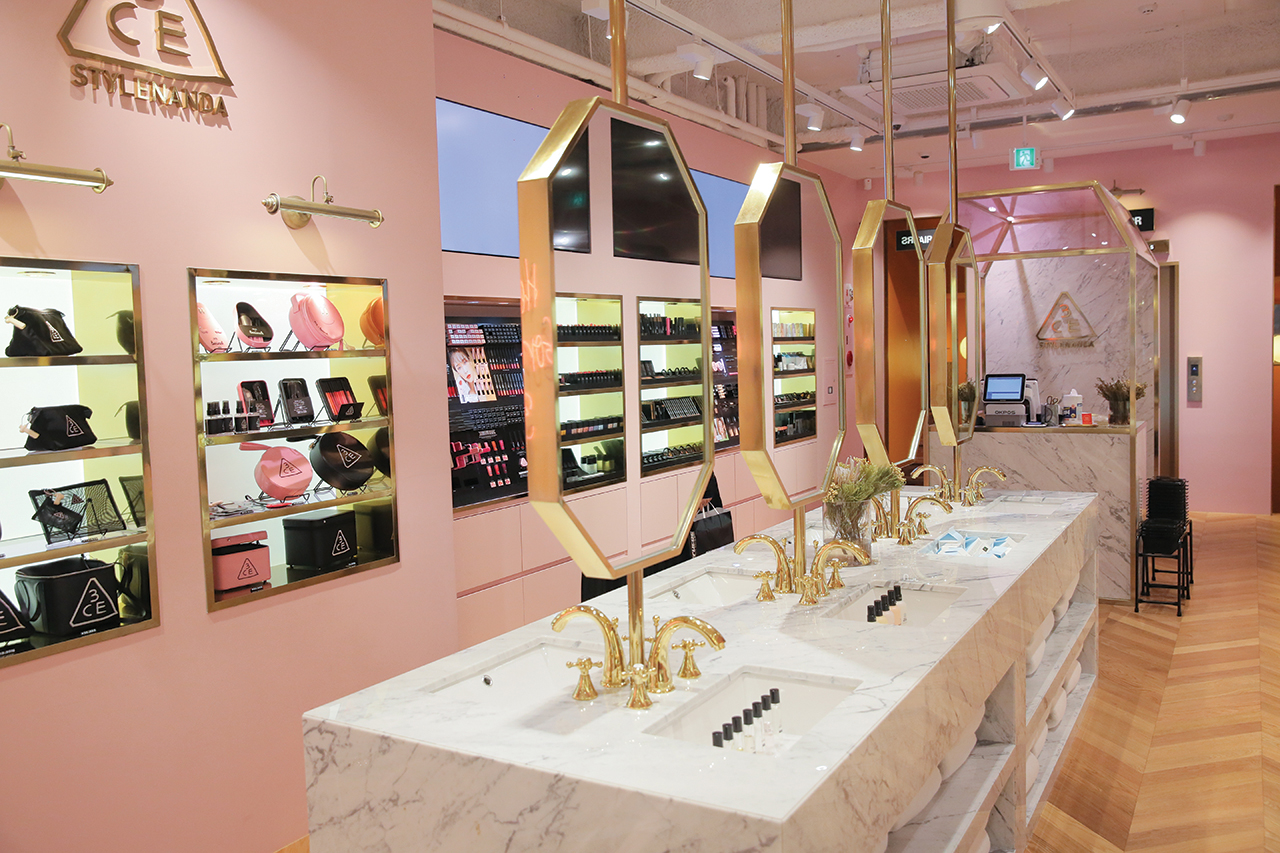 'One-stop shops' give you more than just a shopping experience
Seoul is well known for its plethora of quirky animal cafés, but these days "one-stop shops" are making waves in locales that actually have some style. Seoul's dog, cat, raccoon, sheep and Hello Kitty cafés may have offered novelty Instagram opportunities, but were not necessarily known for serving up much in the way of flavor.
"One-stop shops," however, offer everything you'd find in a fashionable clothing, accessory, or cosmetics store, but with an added twist. Whether it be an adjacent café, restaurant or art exhibition, these shops are the perfect solution for those days when a simple shopping spree is just not enough.
While these stylish cross-over stores are popping up all over Korea, they are best visited in the capital. Seoul's retailer game is strong. Ditch the meerkats and venture through Myeong-dong, Hannam-dong and Garosu-gil for our first picks in this fantastic new trend.
MYEONGDONG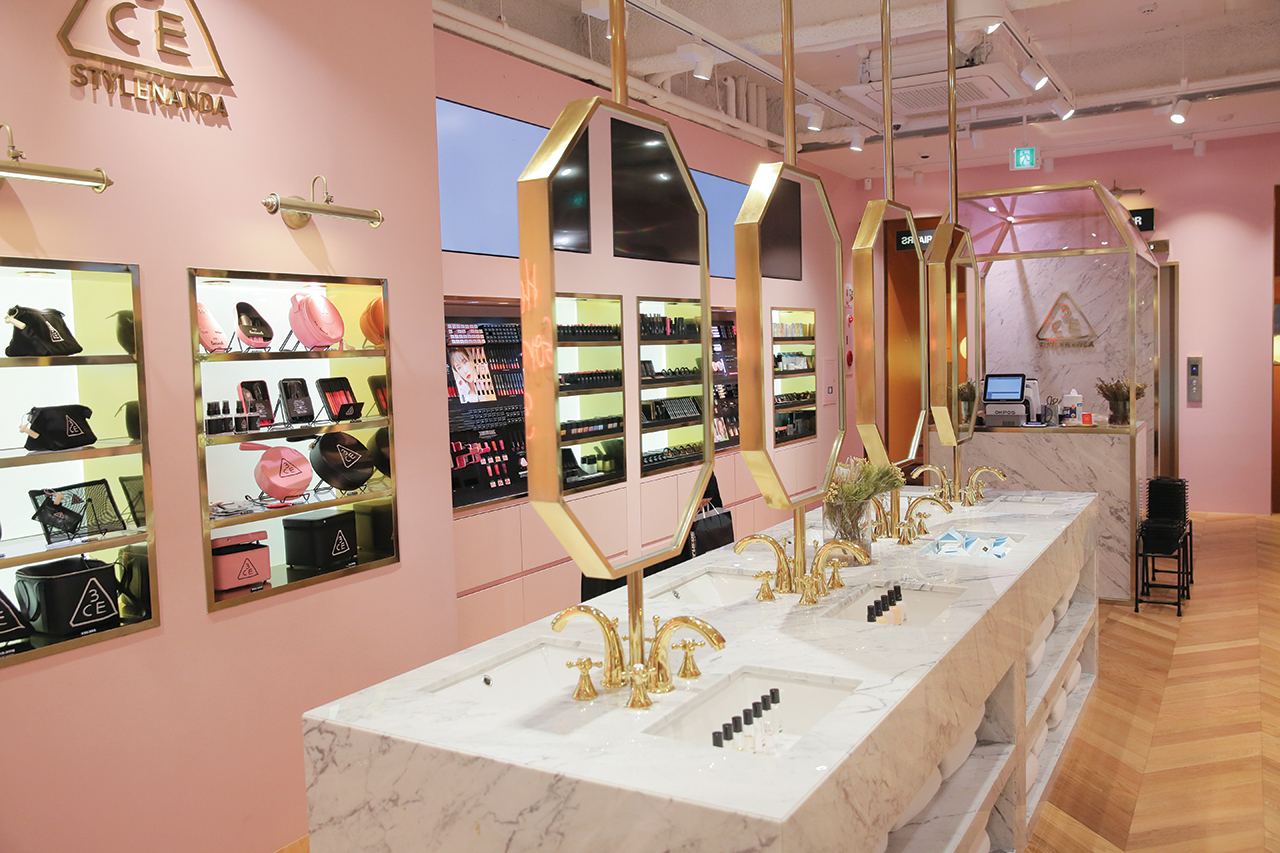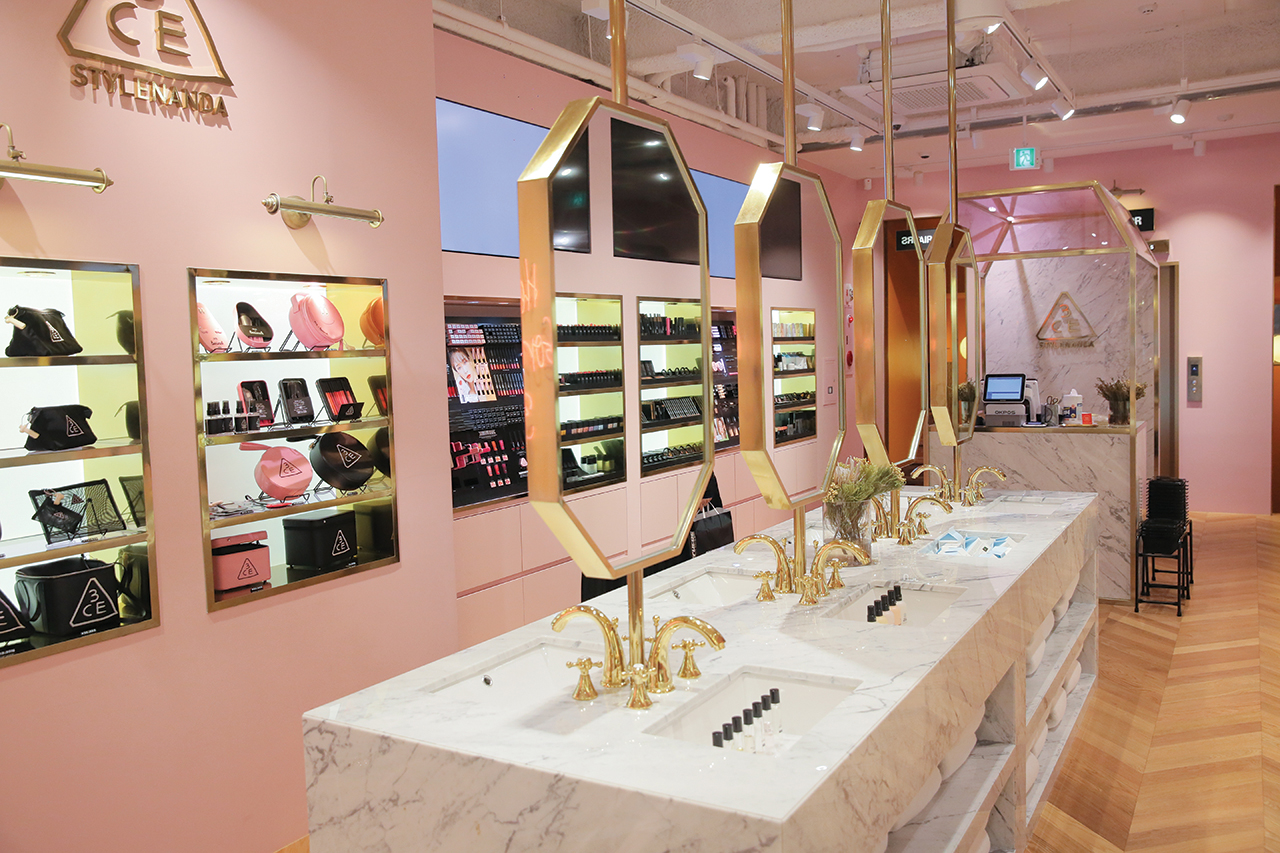 Style Nanda Pink Hotel & Pink Pool Café
Style Nanda's new flagship store is called the "Pink Hotel." Eccentrically reminiscent of Wes Anderson's Grand Budapest Hotel, each floor is styled like a different part of an actual hotel. This multi-level store has it all – and for a good price.  While clothing tends to be "free size," there are a variety of sizing options for jeans and shoes. Accessories and make-up are plentiful, with Style Nanda's 3CE line of cosmetics located on the first and second floors. The store designers have missed no details in this pink, gold, luxurious location, from the artistic hotel key display in the lobby to the wacky, tiled vibe of the coffee shop. The Pink Pool Café offers an extensive menu of espresso-based beverages, hot-chocolates, milkshakes, fresh fruit and vegetable juices, ades and teas, as well as a signature collection of slushies topped with colorful cotton candy.
37-8, Myeongdong 8-gil, Jung-gu | 02-752-4546 | Monday–Sunday ,11 a.m.–11 p.m.
Innisfree & Green Café
Beyond the massive ground floor of natural beauty products from "the Hawaii of Korea," Jeju Island, you'll find the second and third floor of this impressive store dedicated to the Green Café. Lush, green shrubbery adorns the walls and tables, while the combination of green tones and wooden furniture makes one feel like they're dining in a forest, rather than one of the most saturated parts of the city. Go for the sheet masks, stay for the healthy eats. The Green Café offers natural juices and layered salads as well as sweet Jeju treats like green tea bingsu (and tiramisu) and volcanic rock bread. Bonus(es): The store also boasts a Virtual Reality Experience, and the fourth floor is a handy space for travelers to leave luggage for the day. If you need a break from flashing lights, beckoning retailers and greasy street food, this is the place to go.
13, Myeongdong-gil, Jung-gu | 02-776-0117 | Monday–Sunday, 9 a.m.–11 p.m.
GAROSUGIL
Gentle Monster
The Gentle Monster store in Garosugil (alongside the ones also in Gangnam, Bukchon, Busan and Daegu) is like its very own art gallery. Each location of the sunglasses shop, known for its quirky and colorful styles in metallic and acetate, has its own artistic concept. Whether or not you're not in the market for a pair of designer sunnies (styles vary in price but average around KRW 250,000), the shops themselves are works of art and well worth a visit. Snap a selfie with curved wooden walls and dynamic, modern sculptures supporting the accessory styles.
23, Apgujeong-ro 10-gil, Gangnam-gu | 070-5080-0196 | Monday–Sunday, 12 p.m.–9 p.m.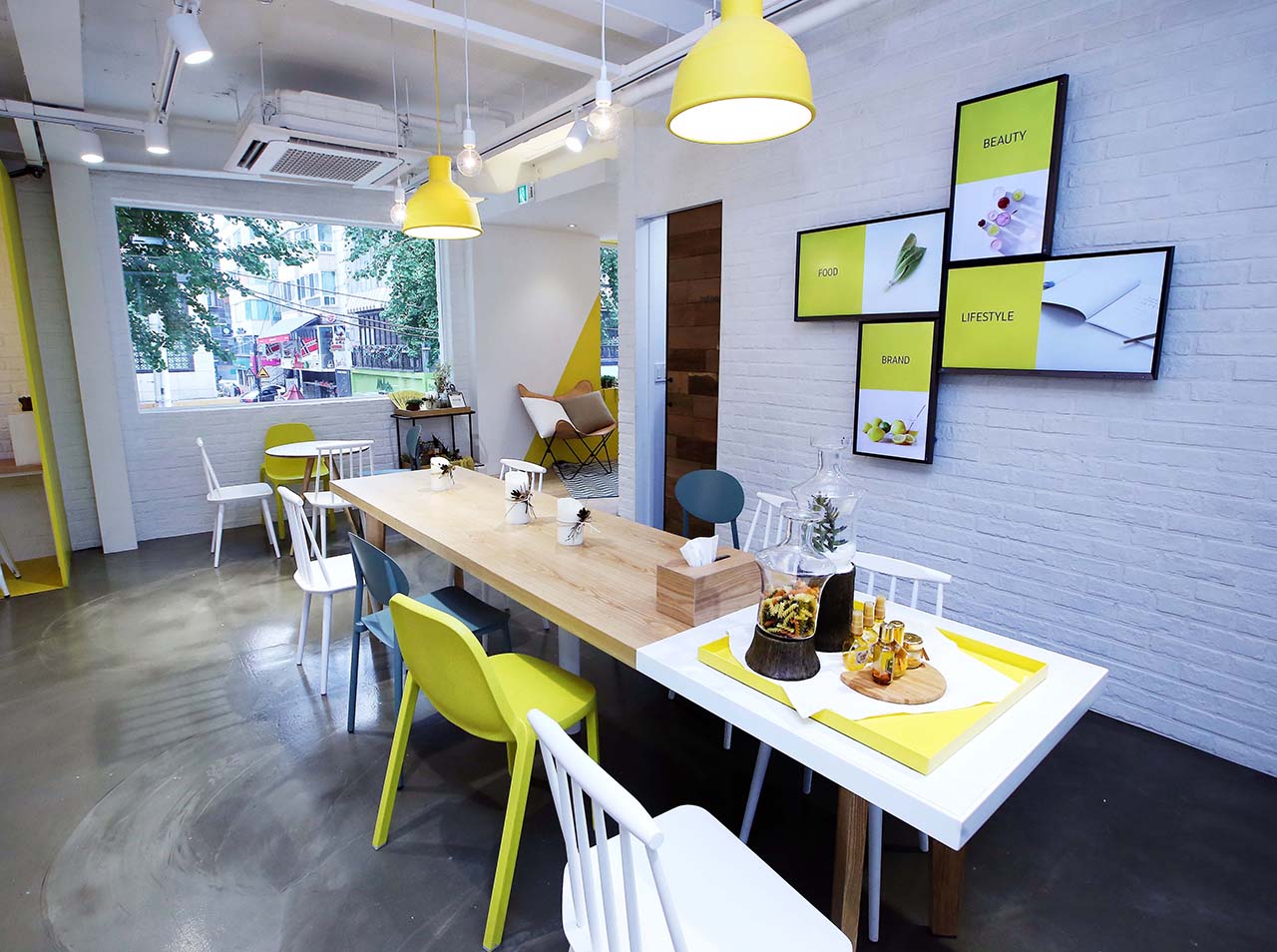 Skinfood & Skinfood Café
While Skinfood may sound like something straight out of "Hannibal," the brand actually offers a delightful selection of plush cosmetics and skincare, with store interiors themed along seasonal scents. Skinfood brands itself as "the first cosmetic brand to root itself in food." This store-cum-café offers a place to shop for skincare, alongside a coffee shop well aligned with the brand vision. The café is also a surprisingly more affordable alternative to many of the surrounding eateries in the glitzy Garosugil neighborhood. What's more – the food is good! Think tons of avocado and real red velvet cake.
37 Apgujeong-ro 12-gil, Gangnam-gu | 070-8668-4191 | Monday–Sunday, 11a.m.–10 p.m.
HANNAMDONG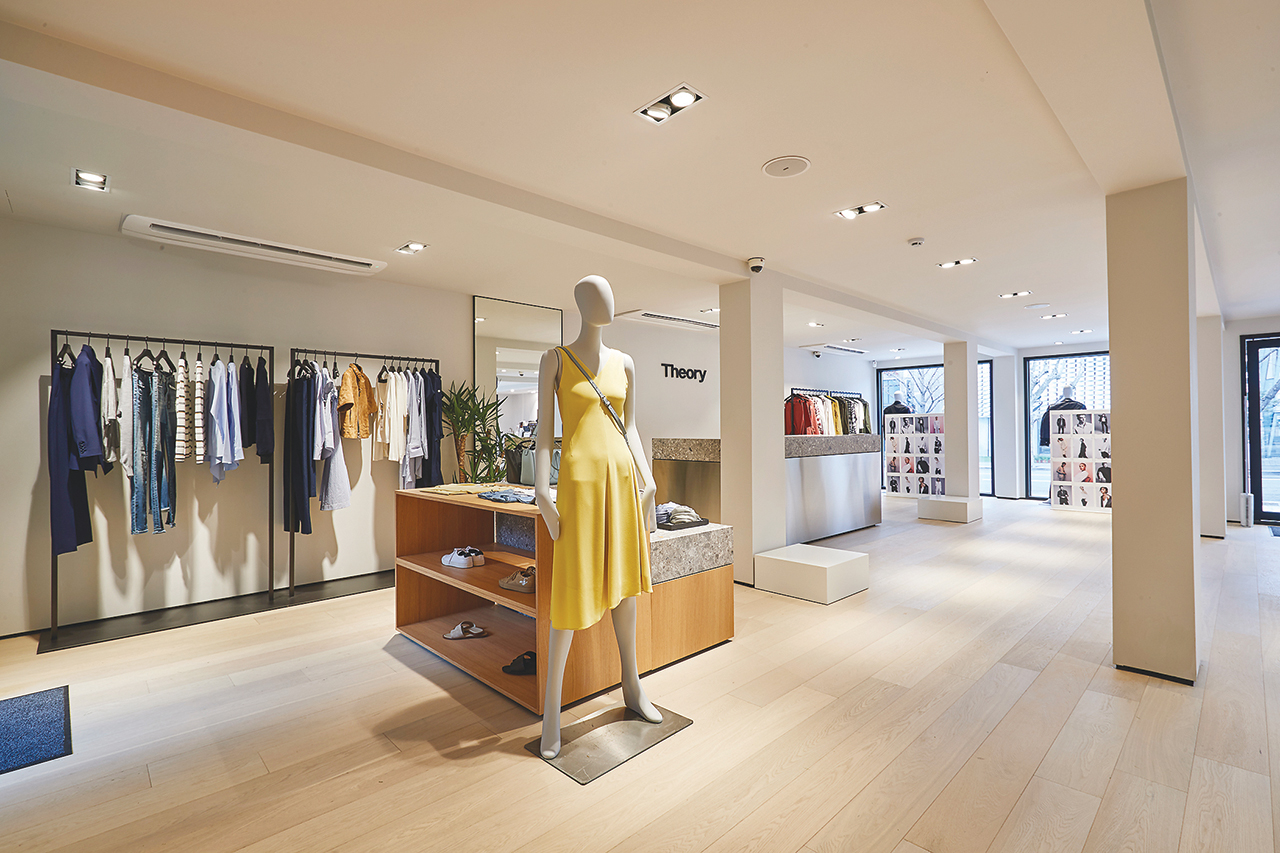 Theory
Theory is American brand of men's and women's sophisticated styles. Seoul now joins Paris, London, Tokyo, Shanghai and Hong Kong with its own pop up Theory shop in Hannam-dong. Styled as a giant shipping container, the shop itself offers a variety of basic, tailored pieces for the urban professional. As simple as their apparel, the location also offers a peaceful garden café. Enjoy your java on their AstroTurf in the back-yard where, if you're lucky, you may also catch a movie showing. As the brand states, "We're popping up in Seoul: Visit our new concept store to shop the latest collection and chill out with a cup of coffee on our outdoor patio."
255, Itaewon-ro, Yongsan-gu | 02-544-0065 | Monday–Sunday, 11 a.m.–8 p.m.
Written by Kate Carter Hickey Instagram: @torontoseoulcialite
https://magazine.seoulselection.com/wp-content/uploads/2017/09/스타일난다-명동-플래그십-스토어-9.jpg
853
1280
rjkoehler
https://magazine.seoulselection.com/wp-content/uploads/2018/01/Seoul-logo.png
rjkoehler
2017-09-12 14:54:30
2017-09-25 15:36:58
Seoul Stores with More