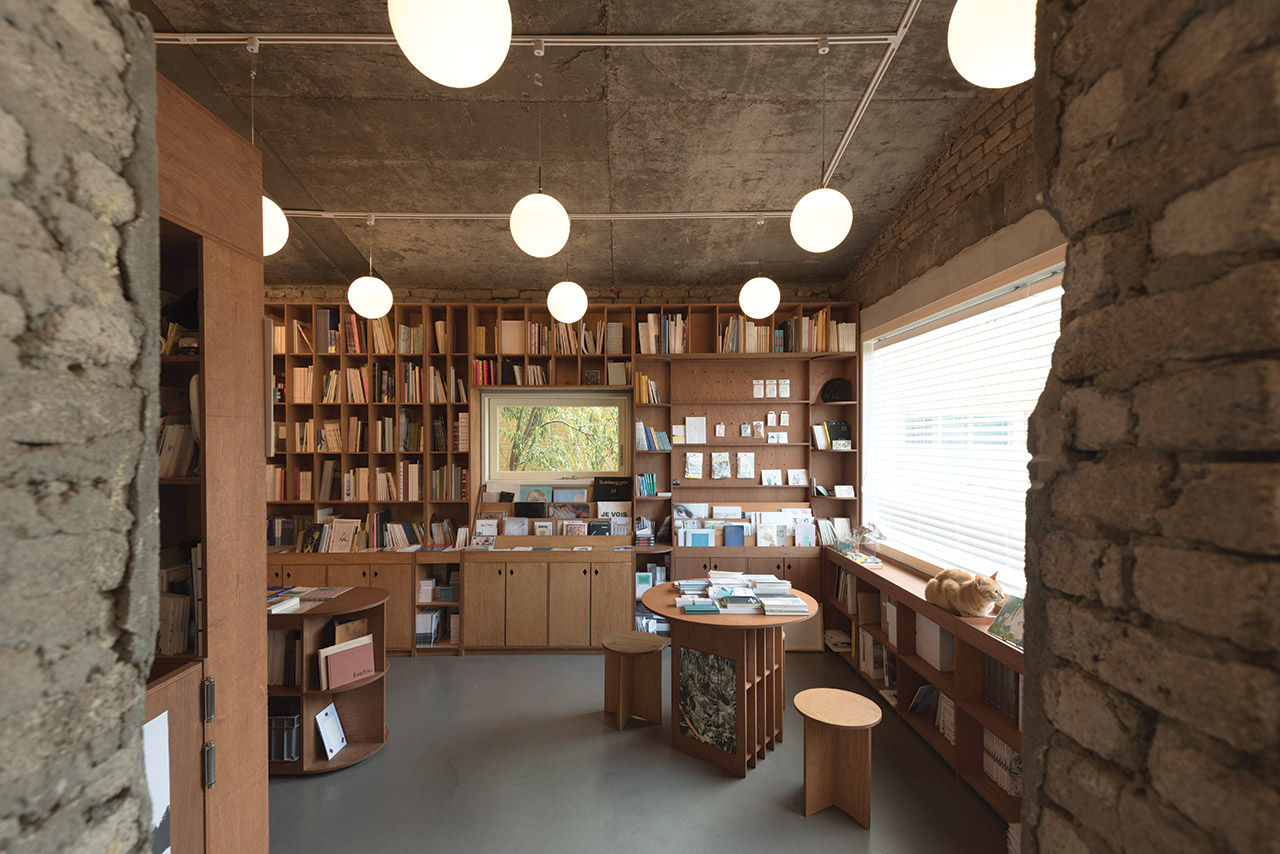 Independent bookstores and publishers are building new platforms for expression and communication
Books are making a comeback in Korea. In a nation where people seemingly prefer smartphones over books, neighborhood bookshops are attracting foot traffic all over the city. Among online bookshops and large chain bookstores that dominate the book industry, clusters of independent bookstores are forming a market of their own. Independent bookstores not only provide hard-to-find books, they also challenge the traditional role of the bookstore and experiment with new modes of book production and sales. In other words, they are more than places to just buy books; they are incubators for creative approaches and new opportunities. Located largely in trendy neighborhoods of Seoul, independent bookstores are becoming new cultural hot spots.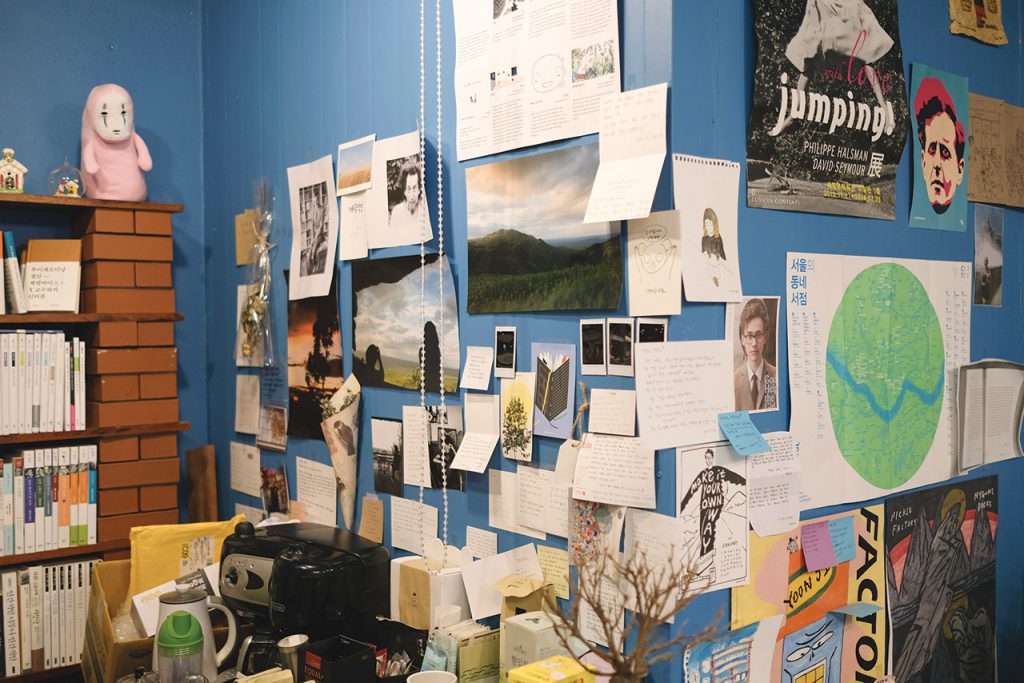 Different over better
Steve Jobs, the late CEO of Apple, once told his employees, "Better is not enough. Try to be different."
This philosophy fuels the independent bookstore boom. Independent bookstores represent spaces "independent" from mainstream standards. Instead, they reflect the bookshop owner's taste and curatorial skills. While large chain stores gravitate towards best-selling titles and focus on sales, small bookshops boast carefully curated book collections that include titles uncommon in chain stores.
In a city full of trend-savvy and experience-oriented residents, independent bookstores are an exceptional alternative to the cool café next door. Young people flock to these bookstores for an enhanced reading experience. After a grueling day at work, visitors can relax and find solace in books that speak to them.
Many of these shops are in the trendiest neighborhoods like Hongdae, Seochon and Itaewon. The owner's sensibility is evidenced through the books on the shelves, as well as through the space and interior design. Consumers find satisfaction not only in the beautiful books, but also through sharing their unique purchases and experiences through social media. These experiences encourage visitors to seek out remote brick-and-mortar bookshops rather than succumbing to the convenience of online shopping.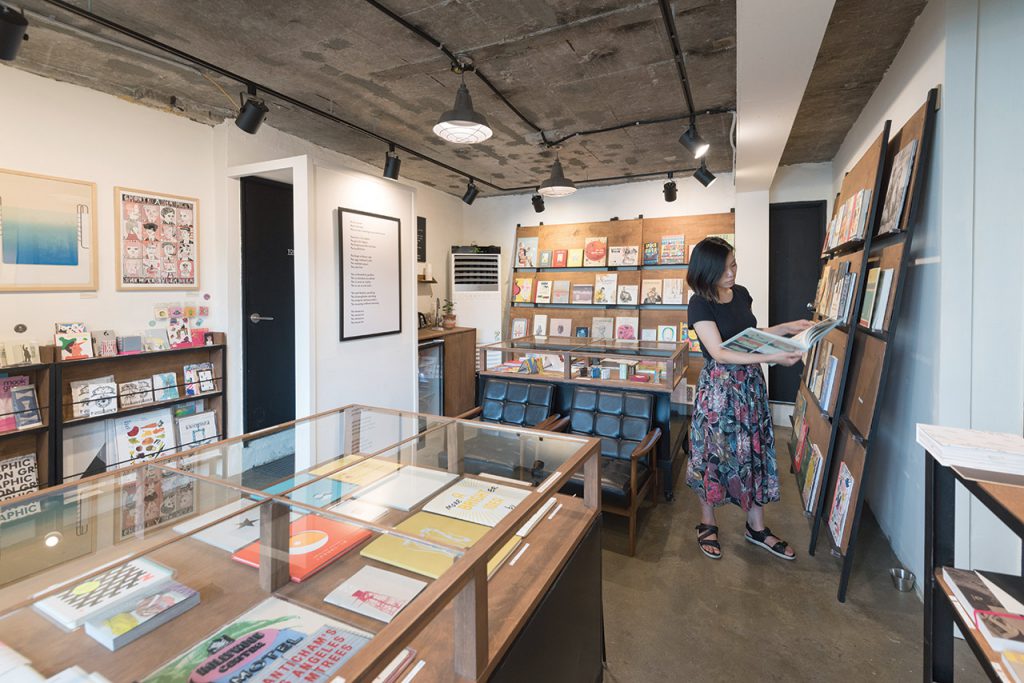 Some independent bookshops are so-called "concept bookstores" with specific foci. Themed bookshops with events and workshops elevate book shopping into a cohesive cultural experience. Sajeokin Bookshop, the name of which translates as "Intimate Bookshop," is a private, by-appointment store in Mapo-gu that prescribes books to visitors after an intimate conversation with a book curator. In Book and Pub in Mapo-gu, you can enjoy your book over a nice glass of wine. Storage Book and Film in Haebangchon hosts workshops for aspiring book makers. B-Platform, near Hapjeong Station, comprises a bookshop, art gallery and studio space where bookbinding classes take place. Saie in Yeonamdong perks the visitor's wanderlust through a selection of travel books. Cat Bookstore Schrodinger in Jongno-gu carries only cat-related books for cat lovers. The list is endless and will continue to grow to satisfy individuals who crave new stories and experiences.
Do what you love
Bookshops are not, generally speaking, cash cows. They are labors of love, built from scratch by people who chose the trade out of a passion for books and print media. This passion shines through each book placed in their shops.
As resignation reigns among young office workers worn out by Korea's demanding office culture, and a desire grows to do what you love, independent bookshop owners and independent publishers show you can forge your own path by following your heart.
Storage Book and Film, located in Haebangchon, opened in 2012. Before opening the shop, owner Kang Younggyu worked as a bank accountant for eight years. "Even when I was working, I never thought that office life was the answer," he says. "I felt like the answer for my life wasn't there. When I started making my own books, I realized that this was a true passion."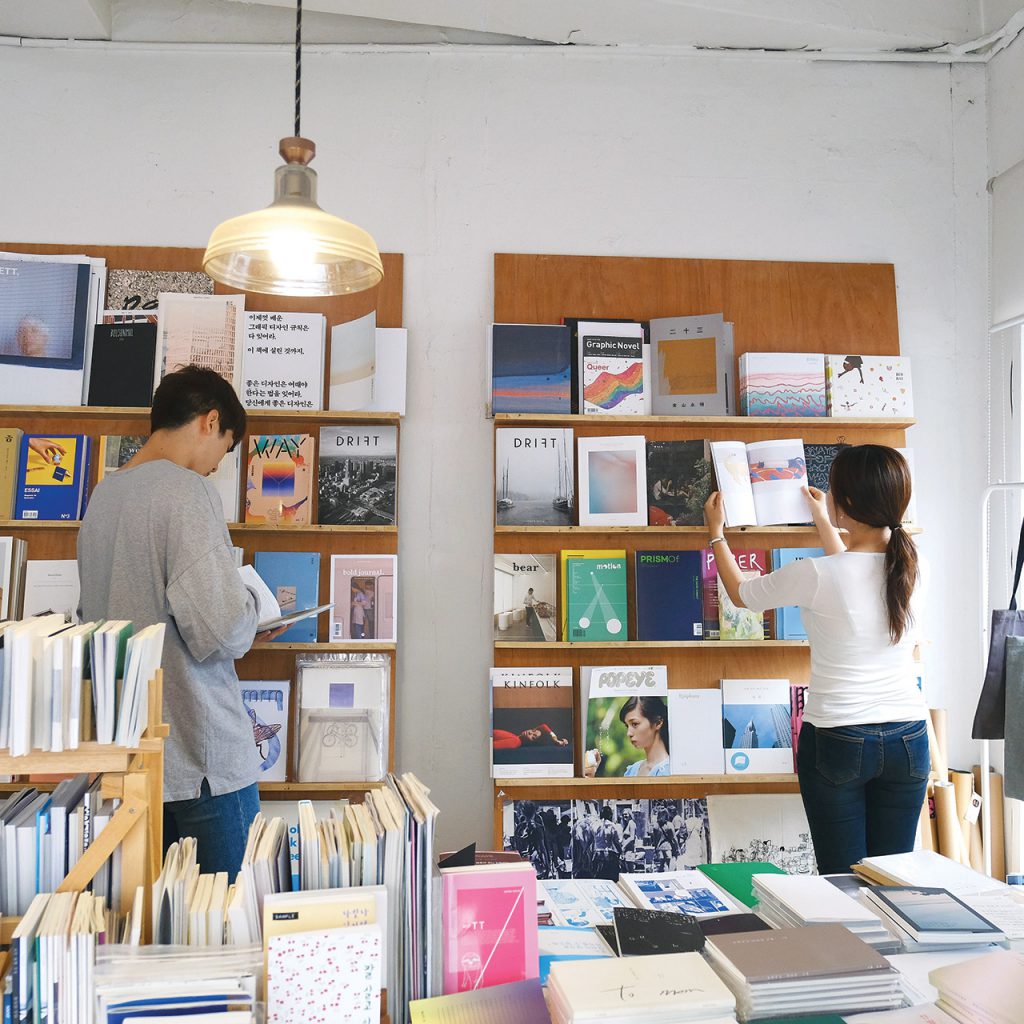 Ko Seong Bae, editor-in-chief of The Kooh, an independent magazine inspired by the Japanese otaku scene, and writer of many independent books, has a background in architecture. "Even when I was working, I wanted to learn things," he says. "One of the many things I did was attending a magazine workshop. I made the first edition of The Kooh there. The instructors advised me not to quit my job, but I did soon after." Now, he is a publisher, editor and marketer all in one.
Kang of Storage Book and Film recalls, "I received little joy from the repetitive office lifestyle. As a bookstore owner, I never know when surprising events or opportunities will come. I find that rewarding and motivational, especially when things get tough."
One such surprise came at this year's Seoul International Book Fair, Seoul's biggest book fair, held in June 2017. Over 200,000 people attended the four-day event. His shop was part of the special section called "The Era of Bookstores." This program highlighted the vibrant local book scene by featuring 20 neighborhood bookstores around Seoul.
Storage Book and Film was one of the most popular booths in the section. "The response was explosive and surprising," says Kang. "I think we were well received because we produce independent publications."  Independent publications are one-of-a-kind products with unique layouts, concepts, design and packaging that challenge the format and content of books seen in large stores. Like the bookstores in which they are often found, independent publications cover topics and ideas that may not be presented in mainstream outlets.
"When I made my photo book in 2011, I realized there were few shops with independent publications," says Kang. "So I opened my own to feature not just my books, but also others. Now many shops in Seoul sell independent publications."
Rise of independent publications
The concept and curation of independent bookstores ultimately reflect the owner's tastes and preferences. Because they themselves want to read or feature certain books, they open bookstores to make these available to people. Likewise, independent publications offer content publishers want to share with readers. To sustain the independent market, the relationship between independent bookstores and independent publishers is critical.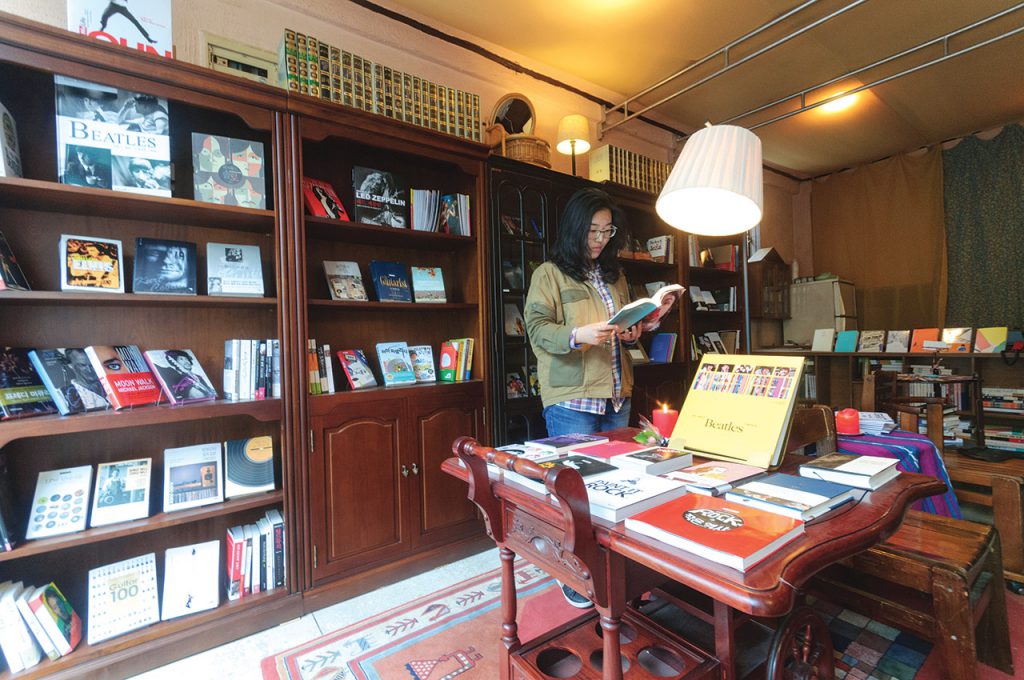 "I don't think independent publishers and bookshops can function without each other," says Ko. "We must collaborate because when bookshops do well, creators do well."
He adds, "We need each other because creators need to sell books and owners must have products to sell. We can help each other do that through quality."
Independent publications engineer a new level of creativity beyond the plain reading experience. Iro, owner of Your Mind, a bookshop and publication located in Yeonnam-dong, has been a pioneer in the niche print market. Iro began selling art books and independent publications online in 2009. The following year, he opened a brick-and-mortar bookstore. For the past eight years, he's hosted a one-of-kind independent festival called the Unlimited Edition (UE). The annual event, which kicked off humbly with just 900 attendees in 2009, grew exponentially over the years with 15,000 visitors last year. Last December, the eighth UE opened at the Ilmin Museum with over 200 vendors consisting of writers, artists, illustrators, photographers, designers and independent publishers. Iro is currently planning the ninth gathering, which will open at the end of the year.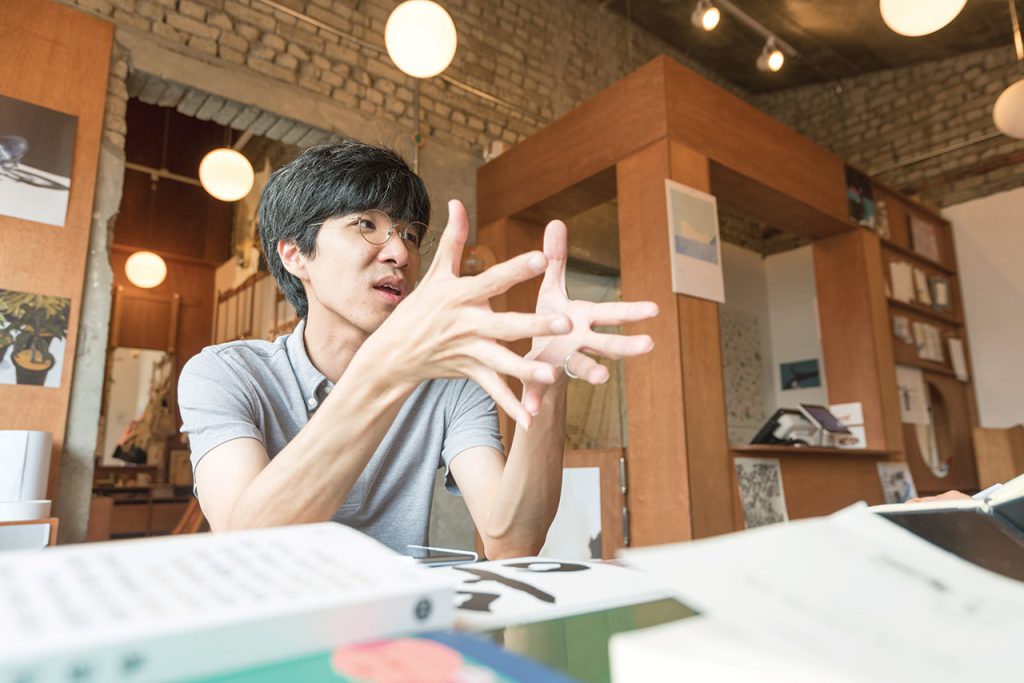 UE began as an attempt to answer a question commonly raised by customers of independent bookstores — who are the people behind these books?
"In a typical bookstore, books include the author's profile. Our books don't have that information, so our visitors choose books purely based on their observation and perception," said Iro. "We knew that people will be curious about the makers, and that the creators will also be interested in the people reading and following their work. What will happen when the person behind the book steps forward? So we started the fair."
While UE is a celebration of underground creators, the Seoul International Book Fair is a mainstream gathering of book lovers. "I was impressed by the public's awareness of terms like 'art books' and 'independent publication.' Back in 2010, people didn't know these terms," says Iro. "But because people who came to the fair were interested in books, they had prior knowledge of things like bookstores' histories."
The growing public awareness of the independent print industry is resulting in dynamic opportunities for its creators. The mix of independent bookstores and independent publications is creating a platform for existing makers to collaborate and for more people to experiment creatively. "The roles of independent publishers are evolving," says Ko. "We're moving from being bookmakers to innovators of cultural content. We are collaborating with magazines to write articles and hosting workshops on book creation in museums. The definition will only continue to expand."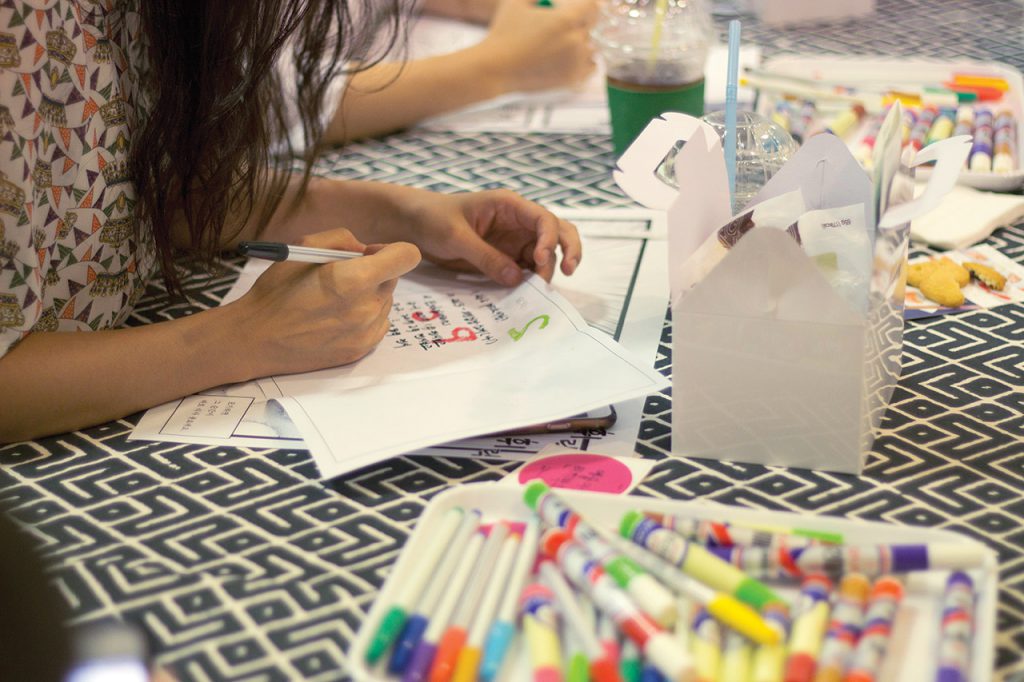 Behind every well-intentioned effort is concern over the sustainability of independent bookstores. While local bookshops are increasing steadily in number, whether they develop over the long haul or die out as a short-lived trend is yet to be seen. Han Gi Ho, head of the Korean Publication Marketing Research Lab, said to the Kyunghyang Shinmun, "There are 160 neighborhood bookstores registered on Google, a number expected to increase to 200 soon."
Among these numbers, however, are untold tales of bookshops that never made it. "There are many stories about new bookstores, but none about the ones that disappeared. There are many that went out of business," says Iro. "That's unfortunate, but I personally want more to open up. It would be great to have more bookstores with more specific characters, personalities and colors."
One value the independent book market shares is freedom of expression, accessible and available to all. For the industry, books and magazines form an expressive outlet. With the right tools and know-how, people who don't have training in design or writing can become one-person publishers. Ko says, "They don't necessarily have to be professionals, but can be anyone with an interest."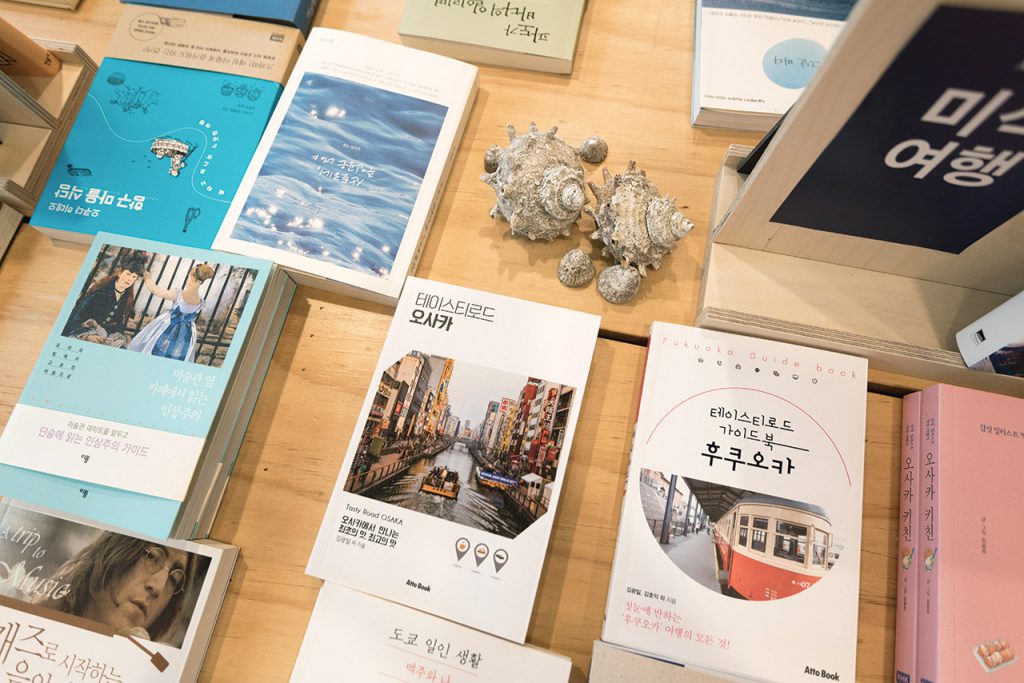 There are, however, concerns regarding the level of quality compared to when only experts made books. Iro is optimistic. "Since book crafting techniques are widespread now, the art can become a trend, sacrificing quality," he says. "But from that pool comes an interesting book once in a while. I enjoy those surprises."
His optimism also stems from his confidence in the larger platform for the independent book market, the city of Seoul. "I love Seoul because you can take chances here," he says "We're opening under-the-radar bookstores featuring works of unknown creators. In cities where such risks are discouraged, people would be more skeptical. I find Seoul fascinating as a platform to explore and try new things, regardless of the risks."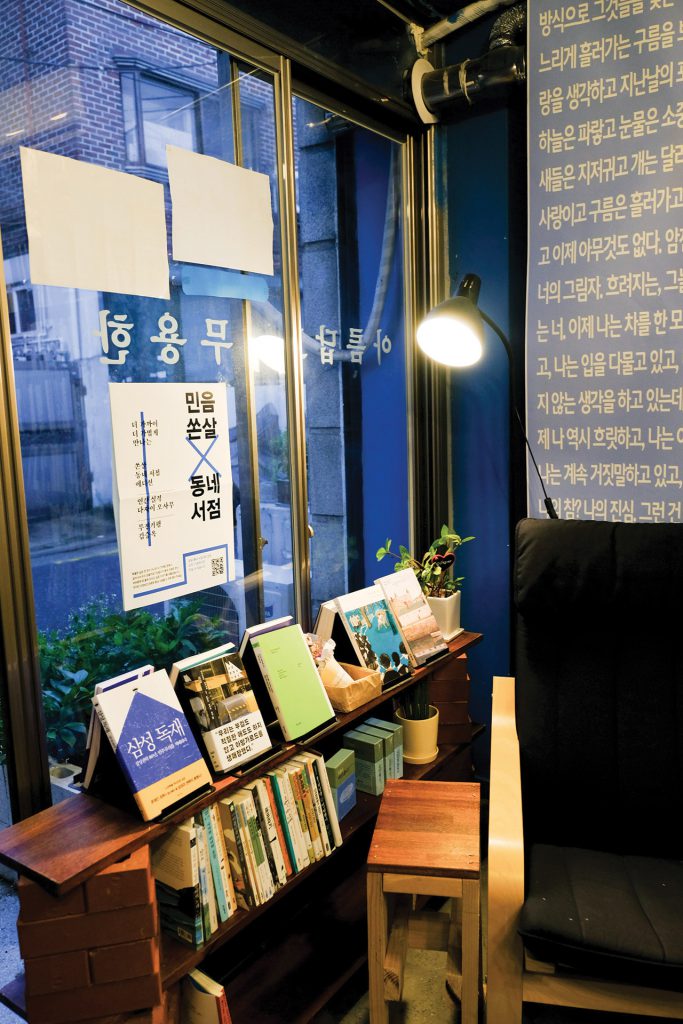 Written by Diana Park
[separator type="thin"]
Unique Bookshops in Seoul
Here is a list of bookstores in Seoul's trendiest neighborhoods
JONGNO-GU
Cat Bookstore Schrodinger
19 Naksan-gil
T. 070-5123-2801
For: cat-related books for all cat lovers
Irasun
7-13 Tongui-dong
T. 010-5420-0908
For: specialized curation of photography books
Seoul Selection Bookshop
105-2 Sagan-dong
T. 02-734-9565
For: English and Korean books about Korean culture and language
The Book Society
22 Jahamun-ro 10-gil
T. 070-8621-5676
For: design and art books, independent publications
YONGSAN-GU
Byeol Check
8 Sinheung-ro 22ga-gil
T. 070-5103-0341
For: used books, independent publications and design products
Goyo Bookshop
18-4 Sinheungro 15-gil
T. 010-7262-4226
For: cultural-savvy literature and poetry books
Storage Book and Film
1-701 Yongsandong 2(i)-ga
T. 070-5103-9975
For: unique independent publications, and workshops about magazine and independent book making
MAPO-GU
Book and Pub
9-60 Yeomni-dong
T. booknpub@gmail.com
For: books, literature gatherings and wine after work
B-Platform
372-7 Hapjeong-dong
T. 070-4001-8388
For: local and foreign picture books, art books, art gallery and bookbinding classes
Chowon Books
488-15 Yeomni-dong
T. 02-702-5001
For: books about music and music-related workshops like songwriting
Liner Note
240-47 Yeonnam-dong
T. 02-337-9966
For: books about music, along with related performances and lectures
Saie
2F, 223-44 Yeonnam-dong
T. 02-325-6563
For: well-curated books about domestic and international travel
Sajeokin Bookshop
60 Seogangro 9-gil
sajeokin_bookshop@naver.com
For: by-appointment, personally prescribed books by a book curator
Your Mind
10-6 Yeonhui-ro 11ra-gil
T. 070-8821-8990
For: tasteful bookshop with art books, independent publications and cats
OTHER DISTRICTS
Amoo Bookstore
152-48 Jeonnong-dong, Dongdaemun-gu
T. 010-8624-7462
For: independent publications, literature selections and drawing and reading classes
Mystery Union
88-11 Ewhayeodae-gil, Daehyeon-dong, Seodaemun-gu
T. 02-6080-7040
For: books and gatherings about mystery
Normal A
2F, Euljiro 121-1, Jung-gu
T. >070-4681-5858
For: graphic novels, independent publications and art books
Prescent 14
1 Yangpyeong-ro 22ra-gil, Yeongdeungpo-gu
T. 02-2679-141
For: enjoying fragrance selections with books
Wit n Cynical
3F, 27-33 Daehyeon-dong, Seodaemun-gu
T. 070-7542-8972
For: a selection of poetry books in a store owned by a poet
Written by Diana Park
https://magazine.seoulselection.com/wp-content/uploads/2017/09/DSC_2096.jpg
854
1280
cyn
https://magazine.seoulselection.com/wp-content/uploads/2018/01/Seoul-logo.png
cyn
2017-09-05 17:15:02
2017-09-12 14:59:41
More Than a Local Bookshop