A monthly exploration of Seoul through the lives of its people
[separator type="thin"]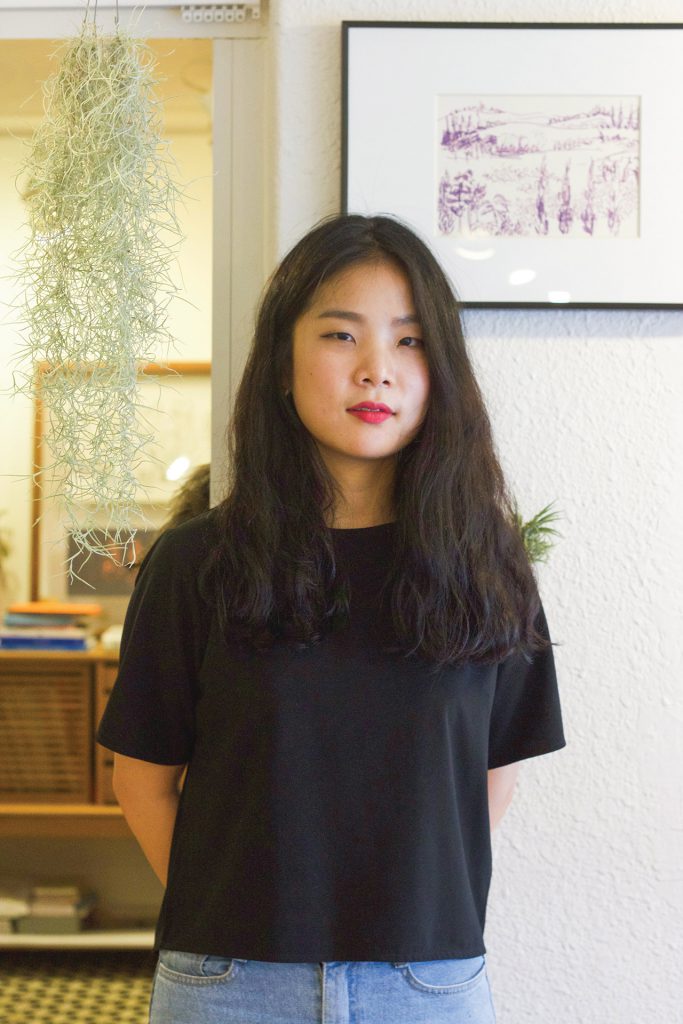 Park Eunhyun
Artist and bookshop owner
Tell us about yourself. I manage a bookshop in Mapo-gu and also work as a freelance illustrator.
Why did you choose your neighborhood? I moved to Mapo-gu for a job. Since then, I've grown fond of its creative atmosphere. I also travel often on my bike. Hongdae has many hills, so biking is the fastest. I'm so content with living here.
What do you like about Seoul? The Hangang River. I especially love Seonyudo Park. It's like an island within the city. I love how I'm looking out to the land from the river. Otherwise, I eat chicken and beer, exercise and visit the convenience store.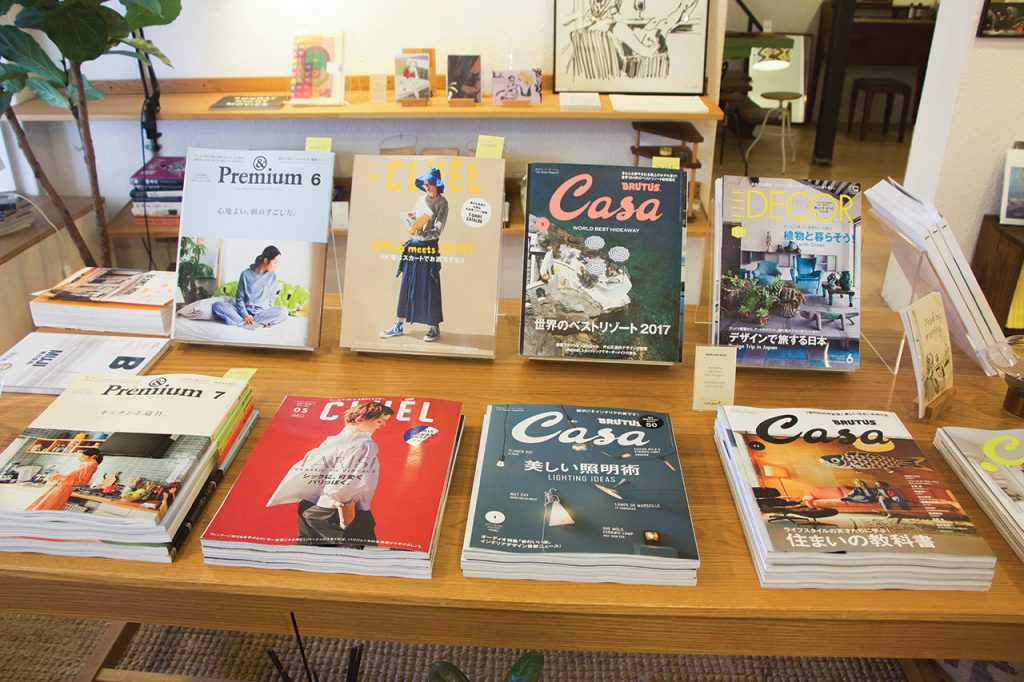 What would you change about Seoul? The expensive housing. Due to gentrification, franchises are replacing local shops. Last year, a café was getting kicked out and people donated funds to keep it.
What is Seoul to you? A picture. Seoul is always changing, so even though I go to a place I've been to, it feels different.
Your thoughts on Korea's view of art? The interest is growing! Many people buy books and collect art items. Even people who didn't study design are making books. So when someone tells me, "I'm interested in art, but I can't make art because I can't draw well," I can say: "Someone may appreciate your style, so go for it!" That kind of acceptance exists now.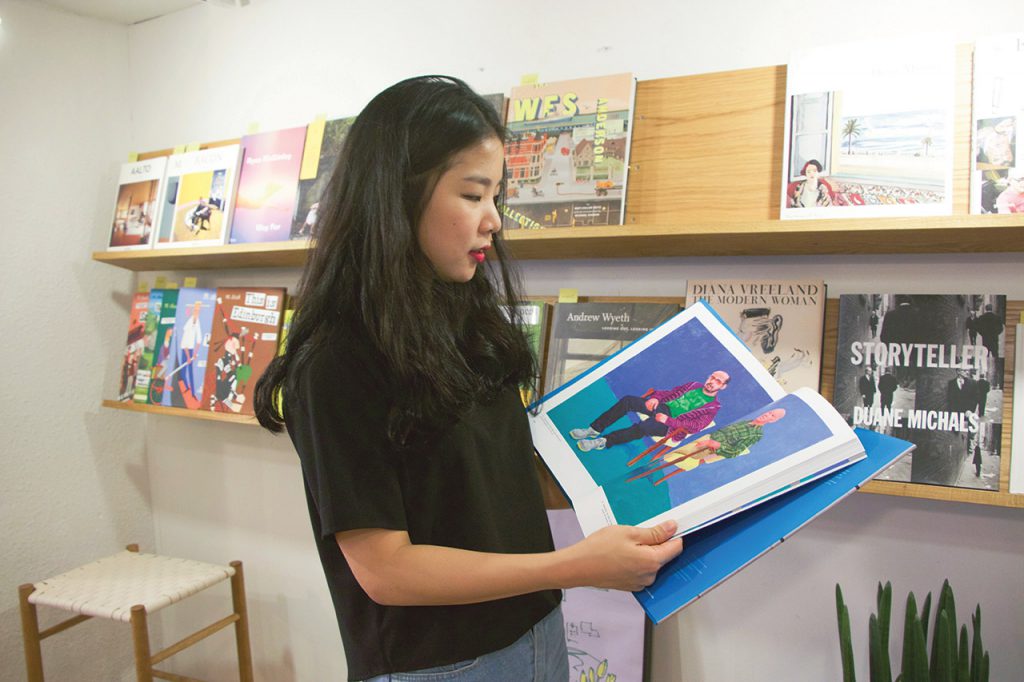 What is the Seoul life you're drawing? People around me think my flexible lifestyle is special. I find that strange. A laid-back life is possible in Seoul, as long as you make space for it.
Instead of getting a TV, my husband and I placed two sofas. We just sit and talk. We chose not to make decisions based on others' opinions. Doing what I love is the life I want to continue to live here.
[separator type="thin"]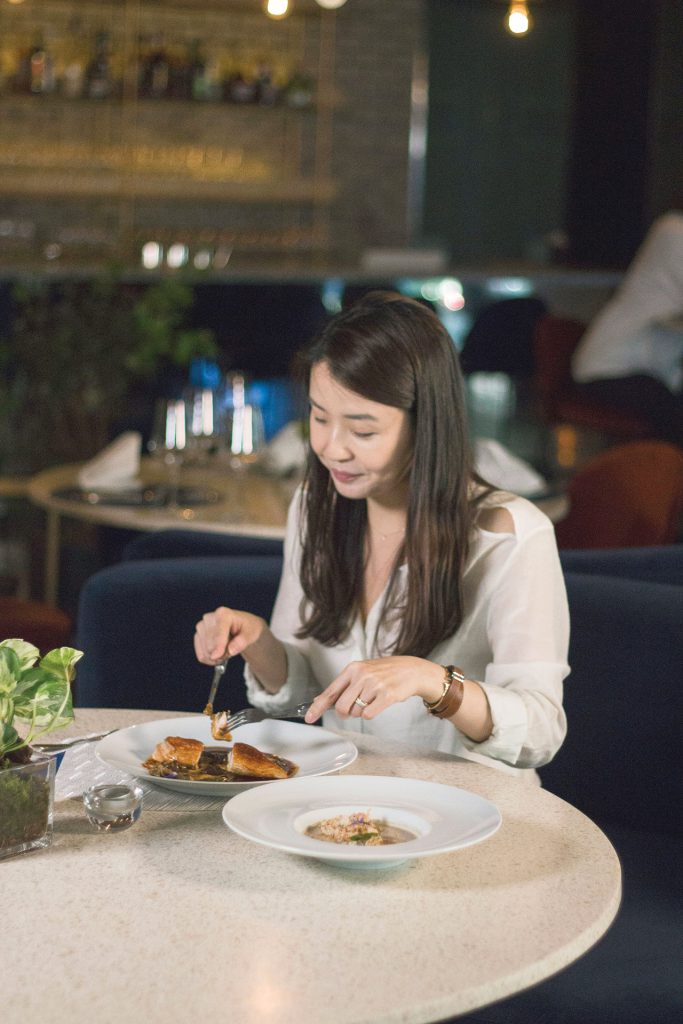 Cynthia Yoo
Professor and food editor
Tell us about yourself and your work. I teach at Kyung Hee University. I also do freelance media work and write about the Korean dining industry. My career has been about building bridges between local Koreans, expats and foreign tourists and finding ways they can learn from each other.
When and how did you move to Korea? I'm from Canada and traveled to Korea from a young age. The real move was in 2009 when I was given the opportunity to teach and start an English language blog with friends.
Where is your favorite neighborhood? I like Seocheon. Though it's blooming, it is still more relaxed and manageable than its cousin Bukchon.
I also think it's important to discover your own neighborhood. I live in Jamsil. It's more famous for late-night drinking establishments and I find it hard to find good restaurants at times. But after searching, I find many places. Go out and discover your own gems because they're out there!
Tell us about the Korean dining scene. There has been a lot of development recently. Many young Korean chefs studied in the best culinary schools and worked at top restaurants abroad. They brought back great ideas on how to innovate the Korean restaurant industry. Also, many Koreans who studied abroad and expats transplanting back raised the bar on what you can expect at a restaurant. That's the evolution in the Korean dining scene.
How has Korea changed during your time here? Korea is huge. I'm always taken aback by the rows of apartments and how many people live here. Many people say Seoul is dynamic and ever-changing. Seoulites always try to catch the next new thing and want to be part of it. That's one of the elements that really define the city.
You're a storyteller. What story is being written in Seoul? So many! Seoul is a city of millions of people, each with their own stories. Seoulites can be individualistic, but can also unite in big historical moments. Big or small, they're all out there!
[separator type="thin"]
Kim Youngboom
Developer
Please introduce yourself. I was born in Daegu and lived in Seoul for 25 years. I'm a developer at an IT company. It's located in Teheranro, one of the most vibrant streets in Seoul.
Tell us about Tehenranro. Compared to office-packed areas like Yeouido or Gwanghwamun, Tehenranro is filled with various businesses from IT, finance to small print shops. It is an incubator for Korea's leading IT companies, and I dreamt of working here as an aspiring developer.
Where is your favorite place in Seoul? Olympic Park. It's one of Asia's biggest parks and is a place I can rest and heal in the middle of the city. It's also in Jamsil and near Seoul's oldest fortress, Mongchontoseong; its tallest building, Lotte World Tower; and the amusement park, Lotte World. When you look around this neighborhood, time will fly.
What do you like the most about Seoul? The nightlife! It's one of the city's defining traits. Where else can you find endless things to do at night like in Seoul?
If there is one thing you want to change about Seoul, what is it? The air quality. I enjoy walking or riding a bike along the river. I hesitate going out nowadays because of fine dust. Even without it, Seoul feels suffocating, being a big city. So if the air were better, I would be thankful.
How is Seoul different from other cities? Compared to other capitals, Seoul possesses a highly concentrated cultural influence. Seoul is the starting place for trends in Korea. Seoul not only represents Korea, but is Korea itself. So traveling in Seoul virtually equals traveling around Korea.
What is Seoul to you? Seoul is my soul! I wasn't born here, but it's influenced me the most. No matter what kind of life I lead, I'll say that my starting point was Seoul.
Every part of Seoul is always changing. It can be tiring to keep up, but I try to enjoy it like surfing over fast currents. Seoul will continue to change, tomorrow and in the days to come.
[separator type="thin"]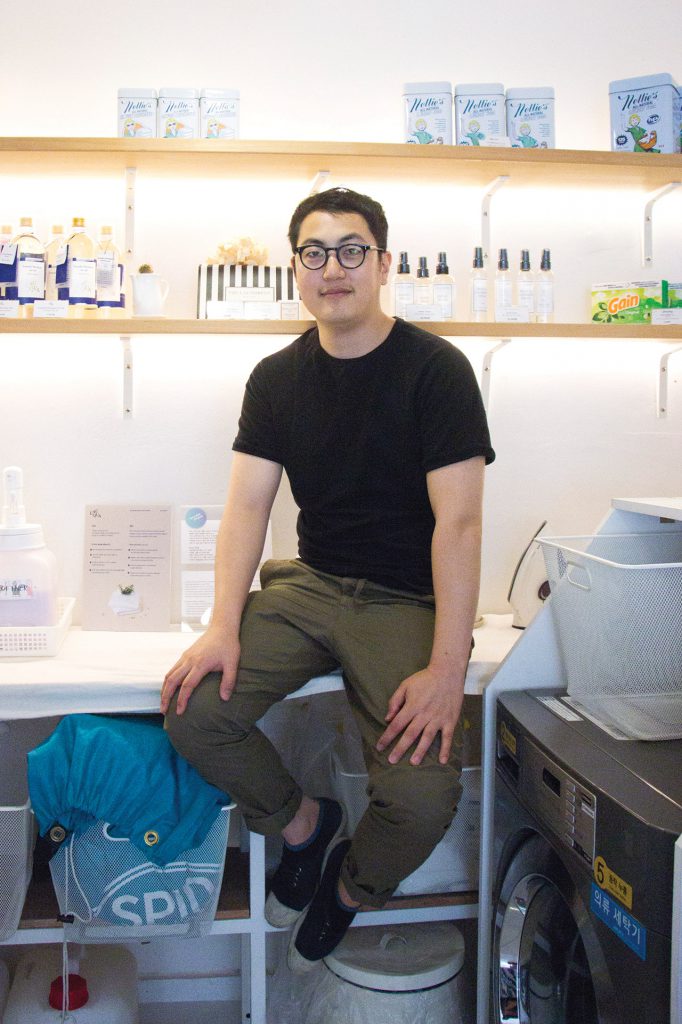 Lee Hyunduck
Laundromat bar café owner
Tell us about yourself. I lived in Seoul for about 10 years. I run a laundromat bar café in Haebangchon (HBC) and do interior design work as a side gig.
What inspired your concept café? I observed that people easily chat while waiting for laundry in Western cities. There aren't many laundromats in HBC. Because many foreigners are here temporarily, they don't want to invest in a machine. I thought opening a laundromat and café would encourage foreigners and locals to enjoy coffee and company while doing laundry.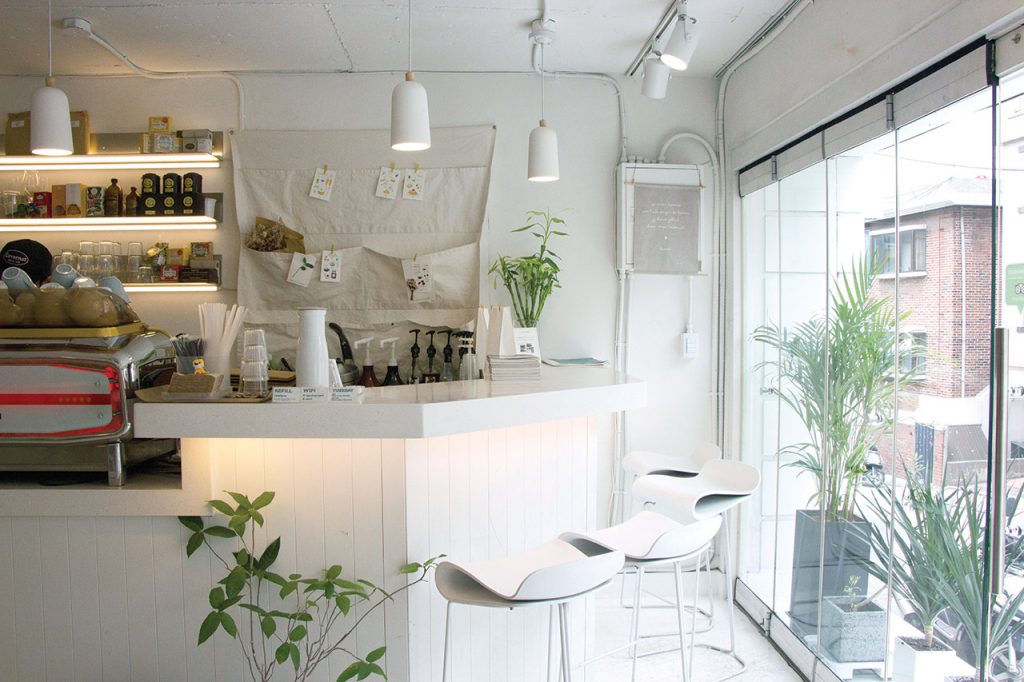 Why HBC? For over 50 years, this area was dying due to inconvenient transportation and the hilly location. Because of the cheap rents, people were able to try new concepts, and this resulted in rows of independent bookstores, concept cafés and one-chef restaurants. HBC is one of the few neighborhoods in Seoul where foreigner and local owned businesses congregate together. Without traveling abroad, you can experience both foreign and Korean indie cultures.
What do you like doing in Seoul? I love taking walks. I'm from the suburbs and I've always loved nature. I live in Huam-dong and enjoy walking through Namsan, away from the busy city.
How is Seoul different from other cities? Seoul has the ability to absorb and reinterpret new cultures. Nowadays, spaces in Seoul don't just imitate foreign examples, but represent looks and moods that are unique to the city. Seendosi and Soosunhwa Hotel in Euljiro are good examples. Their interiors utilize the space in the most "Seoul" way possible.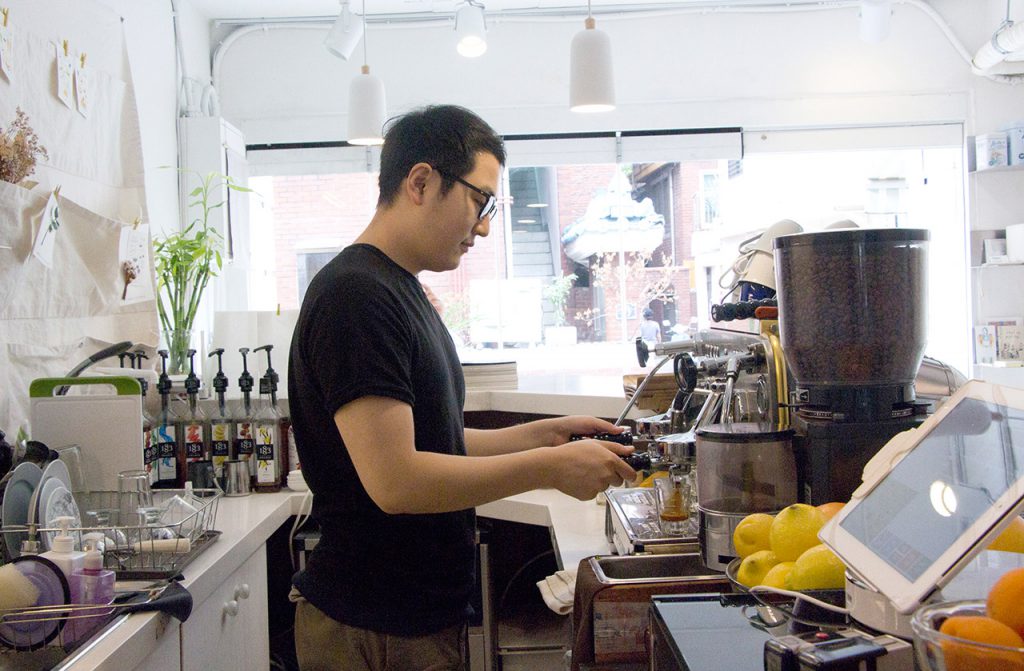 What is to Seoul to you? A platform. I can try different things and meet many people here. It's a base camp for me to eventually support my hometown and surrounding regions, and even expand internationally. I'm fascinated that it attracts so many foreigners. They find fun in things I didn't perceive before, and that allows me to see my own city differently.
Written and photographed by Diana Park
https://magazine.seoulselection.com/wp-content/uploads/2018/01/Seoul-logo.png
0
0
cyn
https://magazine.seoulselection.com/wp-content/uploads/2018/01/Seoul-logo.png
cyn
2017-07-17 13:54:10
2017-07-17 15:30:53
Seoul Stories 2