A monthly exploration of Seoul through the lives of its people.
[separator type="thin"]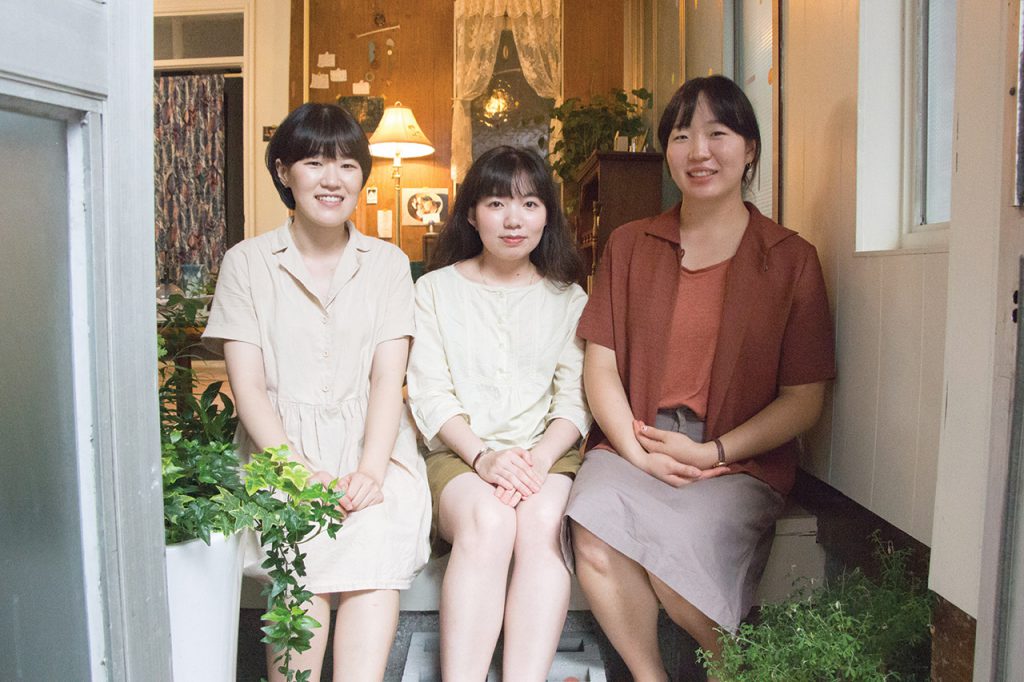 Ma Eunbi, Jo Eunsong, Park Hyejin
Pottery studio owners
How long have you lived in Seoul? Park: I was born in Gwangju and moved to Seoul in elementary school.
Jo: I grew up in Daegu and came to Seoul for college.
Ma: I lived in Seoul my whole life.
Tell us about your business. M: Since last October, we've been running a pottery showroom and teaching classes. We met in college and studied ceramics together. We collaborated for our graduation project and really enjoyed the process. After graduation, we kept in touch and eventually decided to open up Bright Room.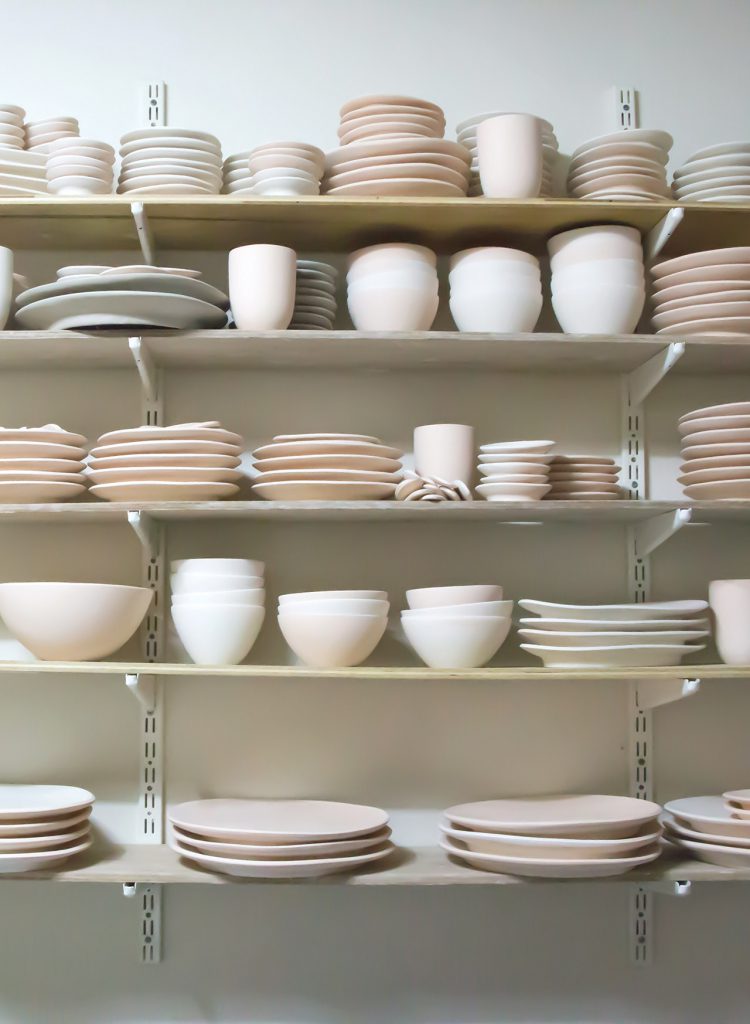 Why did you choose the name Bright Room? M: We got the name from a novel "Bright Room" by French philosopher Roland Barthes. The book talks about how an ordinary image can sometimes speak to us more than a renowned one. In the same way, we laugh a lot over ordinary things when we're together – and we hoped that our small goods can brighten up someone's room as well.
Why did you open it in Mangwon-dong? M: When I first visited the Mangwon Market, I loved the friendly atmosphere with people of different ages. The whole neighborhood is quiet yet vibrant.
J: We're right by an elementary school. The sound of young children brings energy into our workspace. We also love being in a residential area where we are surrounded by people's everyday lives.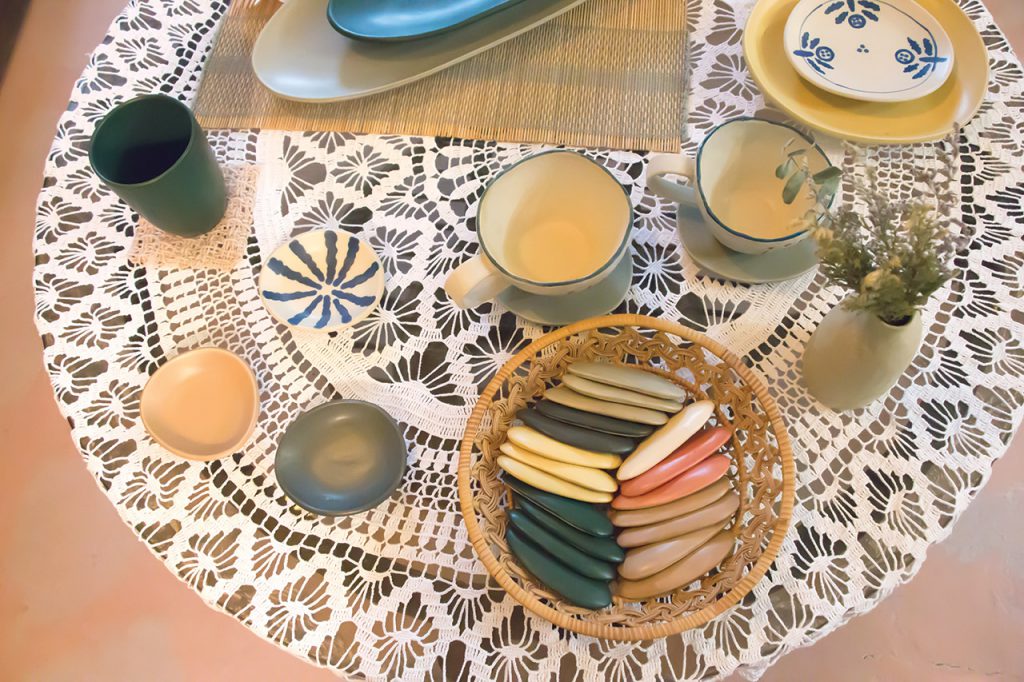 Your thoughts on Seoul? P: I love Seoul. When I was having a hard time in college, riding the bus route around the city from Gwanghwamun encouraged me. I enjoy exotic experiences while traveling, but I prefer Seoul.
J: When I was in Daegu, Seoul was the city of my dreams. I don't see the ppalli ppalli attitude as negative, but as Seoul's signature vigorous and active lifestyle. It's like an extremely large market with lots to see and take in.
M: To me, Seoul is the color blue. It's a place that keeps my mind focused. Even though I'm tired, I'm able to go to work in the morning and find contentment. I'm continuously growing with the city. If I'm elsewhere, I'd be burnt out. If high-rise and aging buildings weren't standing next to each other and were all organized, it wouldn't truly be Seoul. The city is in progress.
[separator type="thin"]
Zach Holmes
Singer-songwriter and producer
Tell us about yourself. I'm a singer-songwriter and producer. I'm from Boise, Idaho.
Tell us about your life in Korea. My wife Megan got a teaching job here in 2008. We lived by the beach in Seokcho for three years, moved to Seattle for three years, and came back to Seoul.
In Seokcho, I had a lot of time to work on my craft. I set up a studio in the house, and wrote over 200 songs. My wife and I grew really fond of the Koreans during that time. We loved the welcoming and joyful environment. In Seattle, we talked about Korea all the time and even our friends knew we would return soon.
When I came back to Seoul, I started working at a music production agency as a songwriter and producer. In 2016, a friend suggested that I make K-pop cover songs videos on YouTube. I eventually participated in the TV show Fantastic Duo for their Exo episode. It was a surreal experience. Since then, I worked with few corporations for advertisement songs and music videos.
What is the difference between Seoul and other cities? Seoulites are full of energy, like they have a mission. They're here because they are trying to live life to the fullest.
What is Seoul to you? Seoul is discovery. There is always something new to discover every minute. I love exploring and Seoul is perfect for that.
Thoughts on your music career so far? I hear myself in theatres and radios. As a musician, you strive to be seen and heard. When I started getting exposure though, I had to rediscover why I'm doing music. My definition of success is not becoming big. That's empty and hallow. I just want to be happy with songs I write and make good music that inspire me.
Future plans? I'm moving down to Jeju for few months with my pregnant wife to do a music project there.
[separator type="thin"]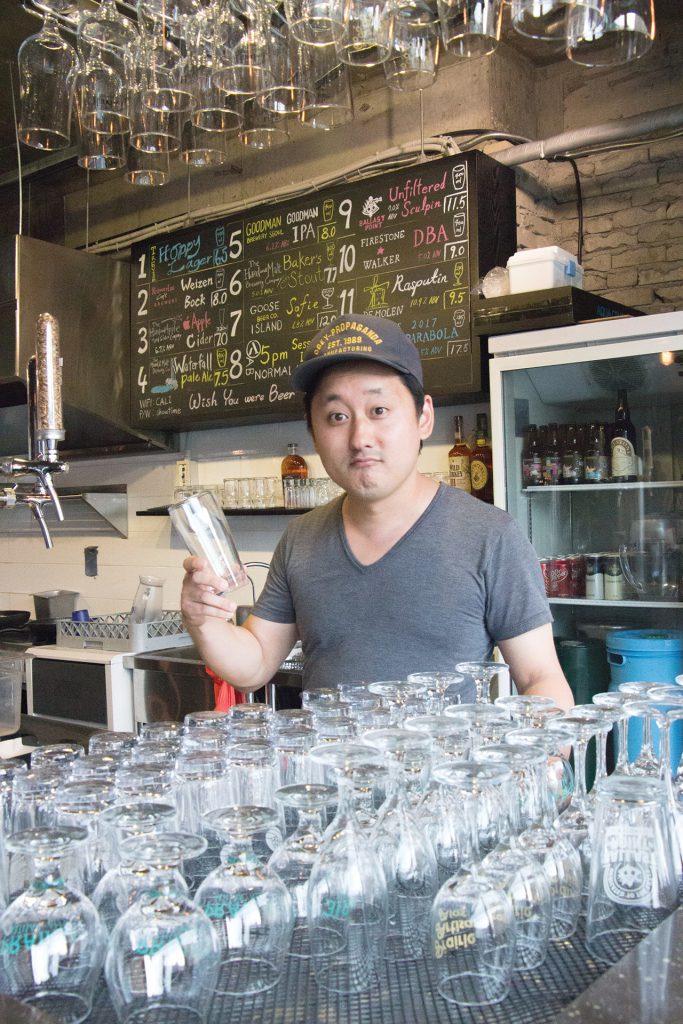 Chuck Chun
Restaurant owner
How did you end up in Seoul? I'm from Orange County, California. In 2013, I came here temporarily to do marketing work for a beauty company. I returned in 2014 to start a private dining service called Chuck's Table at my house. I asked customers about their preferences and cooked surprise course meals. It did well, led to burrito bowl and burger popups in Haebangchon and a restaurant opening in Gyeongnidan in July 2015.
How did your location influence your restaurant? I opened the restaurant in Gyeongnidan because I live here and know the needs of the community. I have a different sense of ownership when I share something here. So when well-intentioned businesses open here, I don't see them as competition, but celebrate the new contribution to the neighborhood.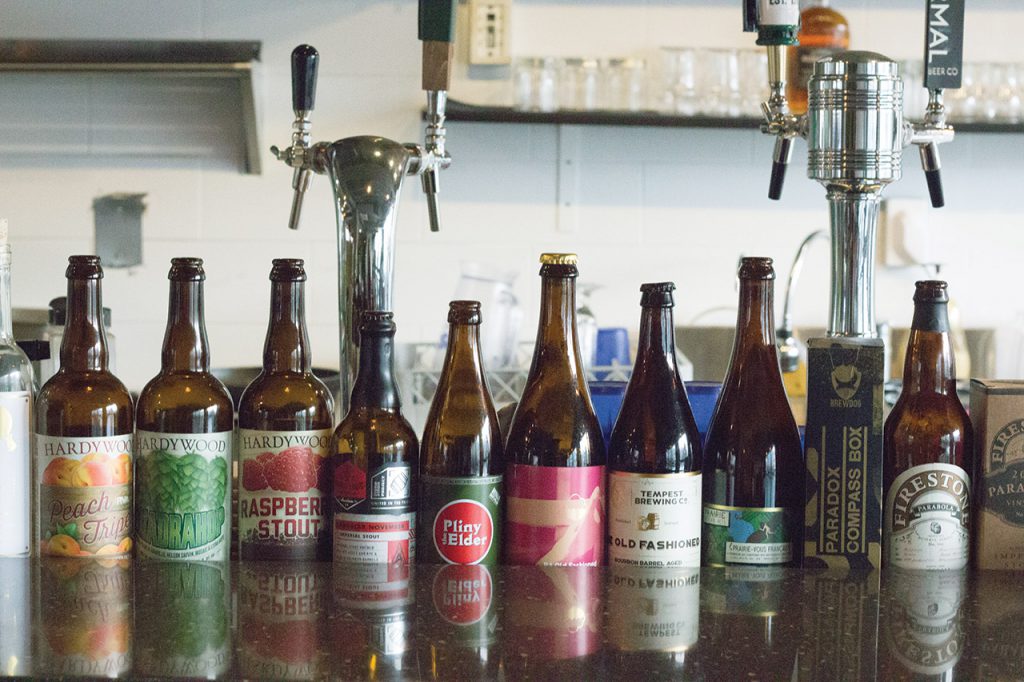 Tell us about your food philosophy. I like food more than most people. My grandma used to own a flour factory in Daejeon back in the day. She ran a government-funded four-story restaurant to feed many people. She told me, "If you decided to work in the food industry, make sure you enjoy feeding people." We focus on people and food quality over money, and that sets us apart from other restaurants.
Thoughts on western food in Korea? The Korean dining scene is getting more diverse. But I feel that foreign restaurants look down on Koreans when their food caters too much to Korean taste. Koreans just need to be taught how to eat foreign ingredients. When you're introduced to something for the first time, you have an aversion because you need time to adjust. We incorporate ingredients like cilantro into our cuisine and people are almost tricked into eating it (laughs). They are pleasantly surprised.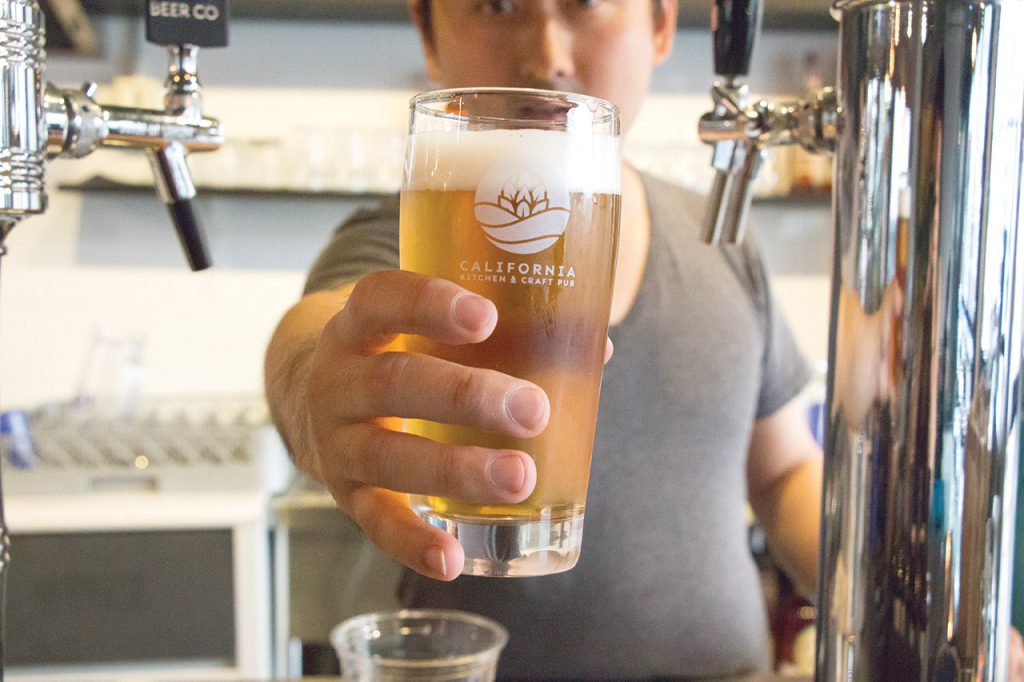 What is Seoul to you? It's hard for me to see Seoul as home. I don't think I'll ever be enamored by it like others. But as long as I'm here, I want to be invested in its people. I don't want to regret from not giving enough and will continue to extend myself to connect with people. Many people come through the restaurant – on their rough and best days – and our restaurant contributes to making Seoul better by serving the people. We make good food, and through that, care for people in a meaningful way.
[separator type="thin"]
John Choi
Music producer
Tell us about yourself. My name is John Choi. I was born and raised in Seoul and work as a music producer. I participate in various projects, including large-scale concert productions, K-drama soundtracks and artist recordings in local and international platforms.
Any experiences of living abroad? In middle school, I lived in Freiburg, Germany, for three years. I attended an international school and made my first international friends. I remember freely roaming the streets, listening to music and buying many CDs. When I listen to the music from back then, it's still excellent. This time was foundational for my future music career.
Where do you work? I do most of my work in Gangnam-gu because many private and entertainment agency-owned music studios are in this area. Studios in Hongdae cater more to indie music.
Your thoughts on music and culture in Seoul? I traveled to many places and I've not yet found a place that rotates through trends as quickly as Seoul. Different types of music play in the streets and stores, and even people who don't really know music are quick to judge. For example, when they go to a café, they evaluate how well the interior and music complement the space. So store owners who lack sensibility and adaptability to trends quickly go out of business.
I find value in observing and adopting these cultural patterns. I pay attention to what people wear and listen to. If I create something I have not lived, I produce an awkward imitation. So when I zone into a specific music genre, even my style changes accordingly.
Any passions other than music? I'm passionate about the youth. I occasionally speak at youth gatherings about my life and work to aspiring musicians and producers. I am thankful for the opportunity to help them because I didn't have these kind of resources when I was growing up.
Words for aspiring musicians and producers? You can't just be stuck in a studio and make music to become successful. You need to network and meet people. Music comes through relationships, and when you work with people, ideas bigger than yourself come to life.
You also have to realize that the music industry is extremely competitive and critical. I have a strong vision that grounds me in times of failure and disappointment. It inspires me to keep doing my best and expand my limits.
Written and photographed by Diana Park
https://magazine.seoulselection.com/wp-content/uploads/2018/01/Seoul-logo.png
0
0
cyn
https://magazine.seoulselection.com/wp-content/uploads/2018/01/Seoul-logo.png
cyn
2017-08-10 17:02:50
2017-09-05 11:59:12
Seoul Stories 3