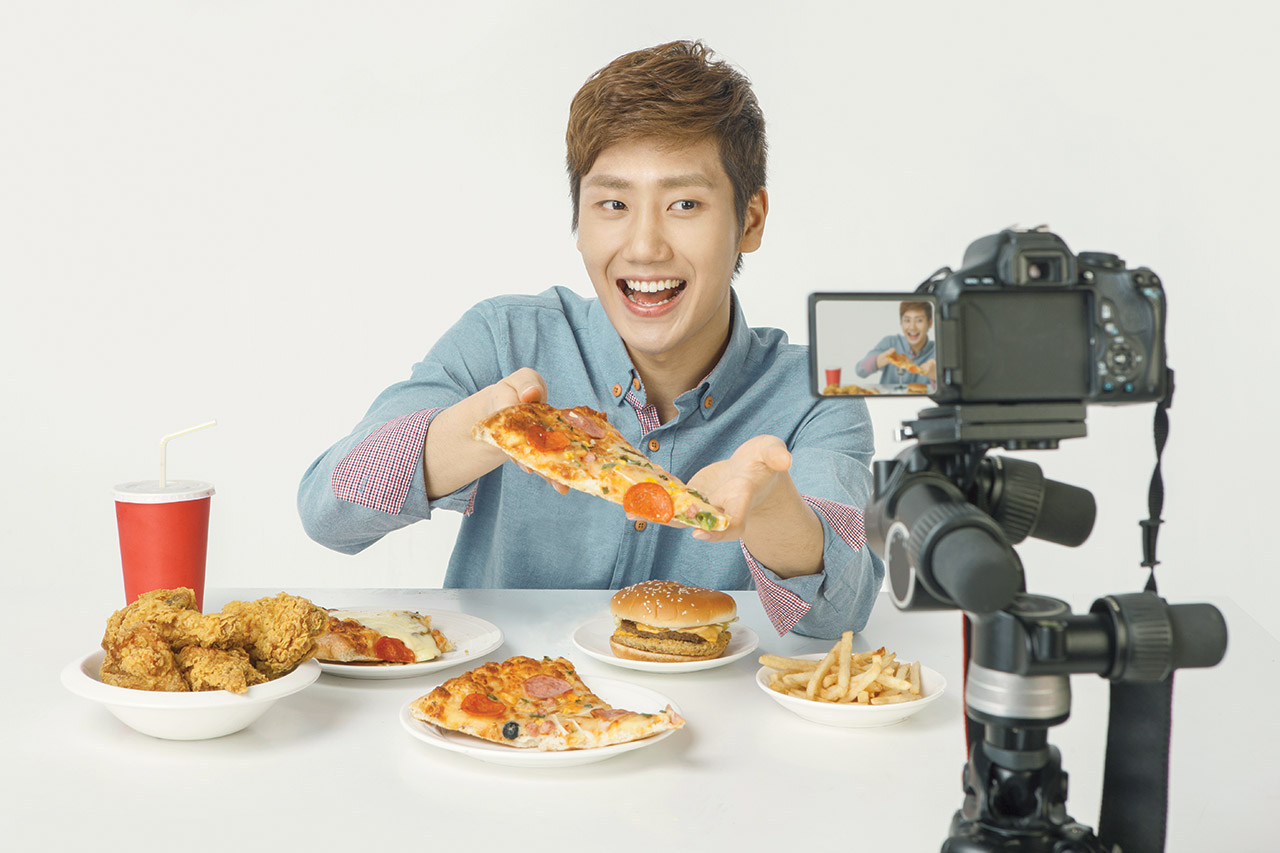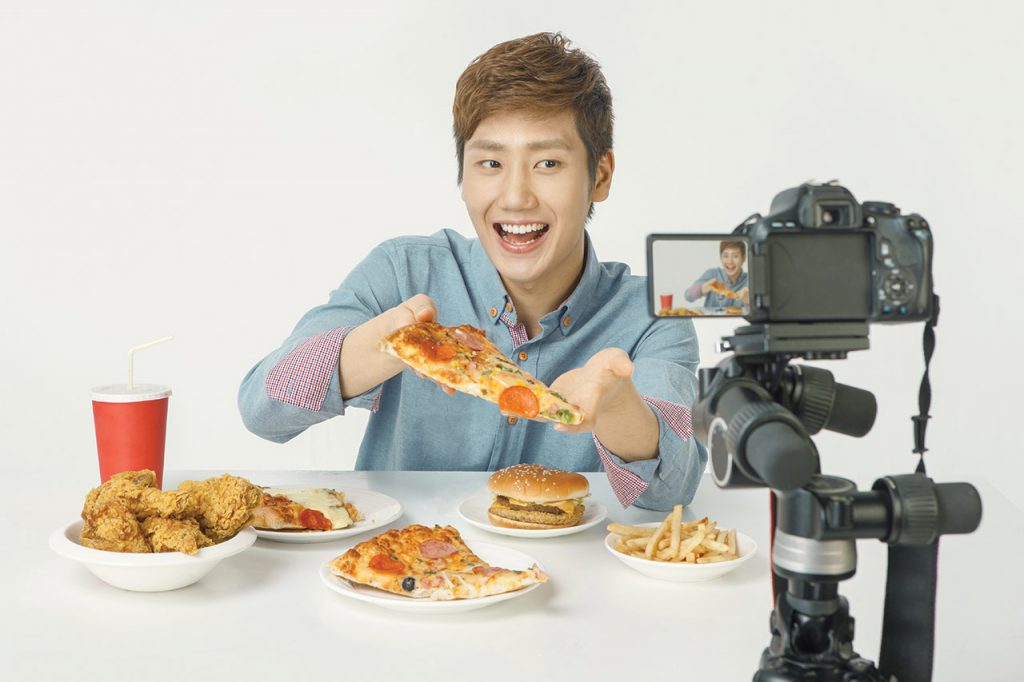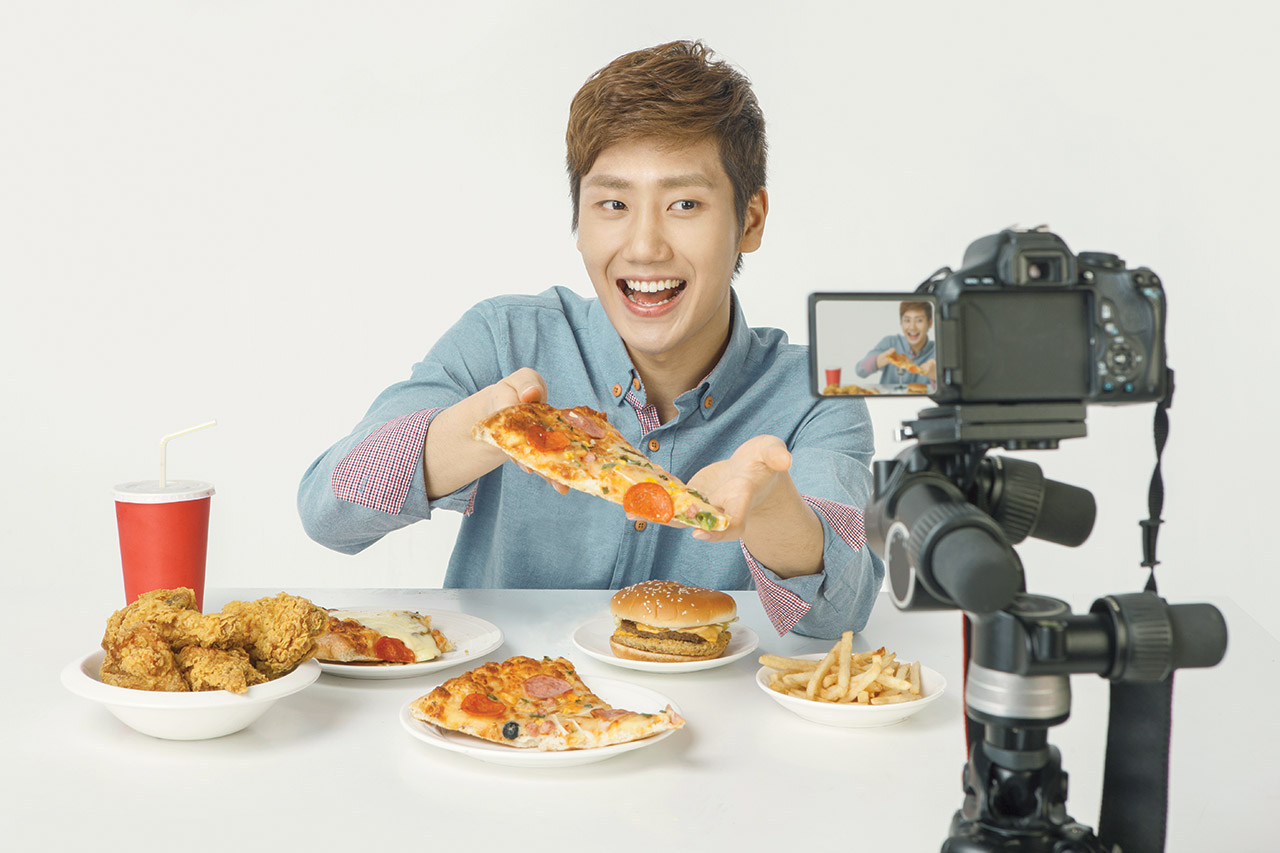 The rise of single-person media reflects changes in an increasingly individualistic society
Wearing a low-cut crop top, Seo Ae-jin dances in a pink plastic bathing tub and dumps a large bag of McDonald's French fries before her. She then drinks ketchup from a bottle, lets it drop from her mouth and rubs it all over her body. What is strange about this scene is not just that it's happened, but that it's become an internet phenomenon, available to the whole, wide world. The video has more than 3.1 million Facebook views since it was posted on Dec. 13, 2015. Seo Ae-jin, better known as Showry, is one of many vloggers making a name for herself in the world of one-person media.
One of the latest trends to hit the Korean entertainment industry, one-person media is as straightforward as it sounds: a video blogger (vlogger) or broadcast disc jockey (BJ) performs in front of a camera or a microphone and is shared on a popular online medium such as YouTube, Facebook, afreecaTV or PotPlayer. Whereas meokbang – broadcasts of people eating – and other entertainment videos have long been popular, channels featuring makeup tutorials, language lessons and makeshift cooking shows are now on the rise as well. What's at the root of the one-person media trend? Could one-person media be the next big thing in Hallyu? And what's out there other than performance art in ketchup and French fries?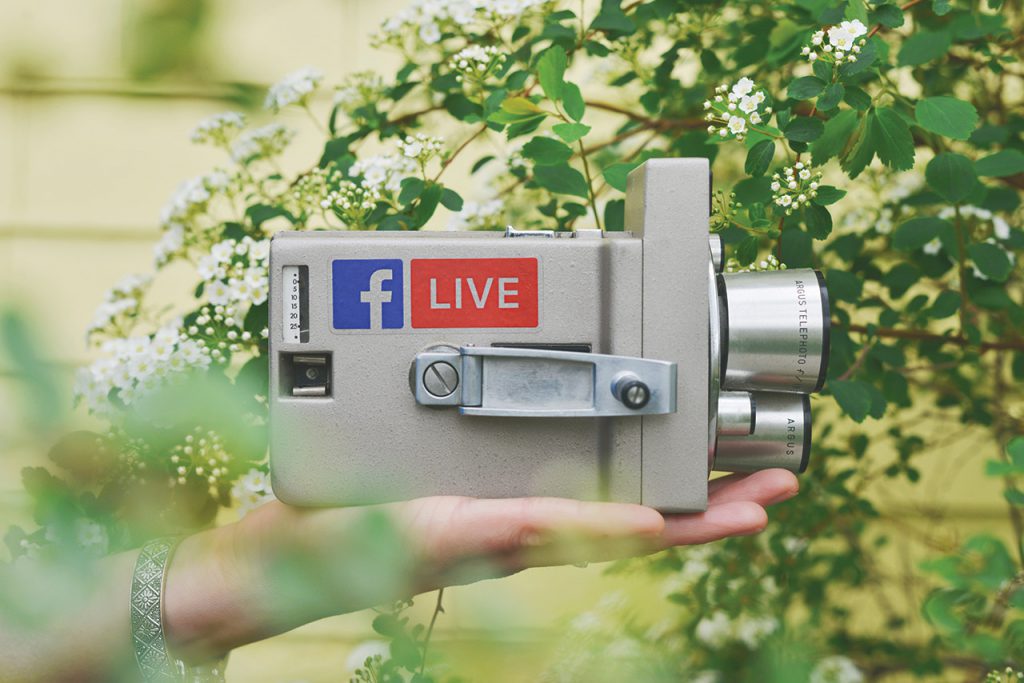 Following the trend of one
As a recent article by Naver entitled "The Evolution of Media Commerce by One-person Media" puts it, "How we consume media is just a product of the times." The number "one" has clearly been increasing in importance in Korea over the past few years. In fact, another common expression for on-person media in Korea has been honbang – hon meaning "alone" and bang from the word for broadcast, bangsong. It is yet another of the hon words to come into use recently, along with honbap, or eating alone, and honsul, or drinking alone. Perhaps it should come as no surprise as the number of single-person households in Korea has reached an all-time high. According to the Ministry of the Interior, there were approximately 7.39 million people living on their own last year. The Naver article points out that if families were gathering in front of televisions to watch shows about other families in 90s, single-person households are tuning into new outlets in search of faces that look more familiar to themselves.
Snack culture
These new outlets are highly relevant to the world of one-person media. Nearly 99.2 percent of all Koreans have Internet access, and more and more of them are accessing it via their smartphones. The most recent 2015 Pew Research Center survey on smartphone ownership and Internet usage reports that 88 percent of all adult Koreans own a smartphone; data usage is also at an all-time high. While further research likely needs to be done on the topic, Park Se-yon, writing in the Sungkyun Times, sees high Internet usage, particularly on smartphones, as being behind "snack culture," a new media trend in which "people enjoy media content for a brief time only, as though eating a snack."
Could the rise of one-person media really be correlated to the demand for lighter, easily accessible content? Video content creator Young Hwang believes it's not as simple as all that. She lists a few factors; namely, the popularity of viral content with the younger generation and the nature of the content that's being watched. "For so-called 'serious content' and longer features like documentaries, people already use a medium that they're more familiar with [like a television or a computer], so yes, people might be using smartphones as a part of this snack culture. Nevertheless, I think that all of this is changing, and there will be continued growth in the depth of viral content."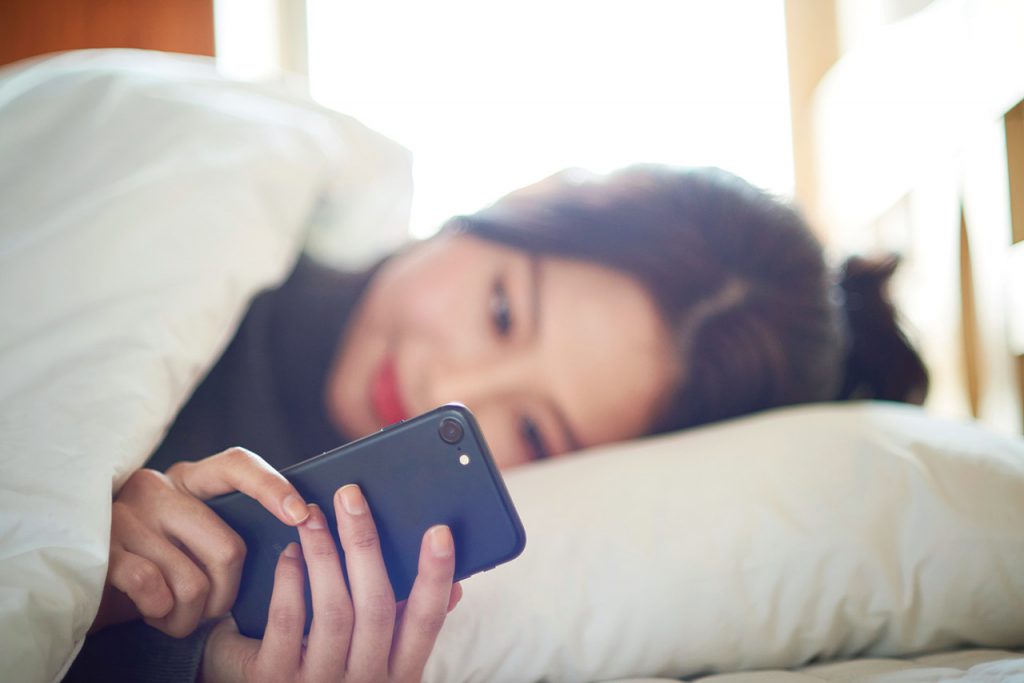 Platforms and profits
The relatively expense-free business model caters towards anyone who believes that they have a good idea. An account on one of these sharing platforms and a smartphone are all you need to get started. Those looking for extra accessories can search online for "one-person media" and discover a plethora of equipment. The online newspaper, iNews24, finds evidence for a growing number of content creators by looking at the increased amount of equipment bought. It quotes research done by online retail company Auction. Sales of microphones and cameras and other video-making equipment from Feb. 27 to March 26 was 333 percent higher than during the same time period last year.
When it comes time to post, one only needs to look at where content is most viewed. According to an analysis of online video viewership conducted by the Korea Information Society Development Institute last year, YouTube was the leading video service with 88.6 percent usage among those studied. Facebook and Navercast followed with 30.9 percent and 24.2 percent, respectively. Not only is it pertinent to point out that individual users can post videos simply by having an account themselves, users can even profit financially by massing enough viewers to gain attention. On YouTube, users with at least 10,0000 total views can choose to make money via advertising. Another popular platform called afreecaTV allows fans to send money in the form of "star balloons" to the content creators' accounts. In fact, a 2016 article from Quartz reports, "the top meokbang earners can earn as much as USD 10,000 a month by some accounts, not including sponsorships." Of course, no matter the platform you're using, gaining enough of a viewership can give you the potential to market yourself to businesses looking for influencers.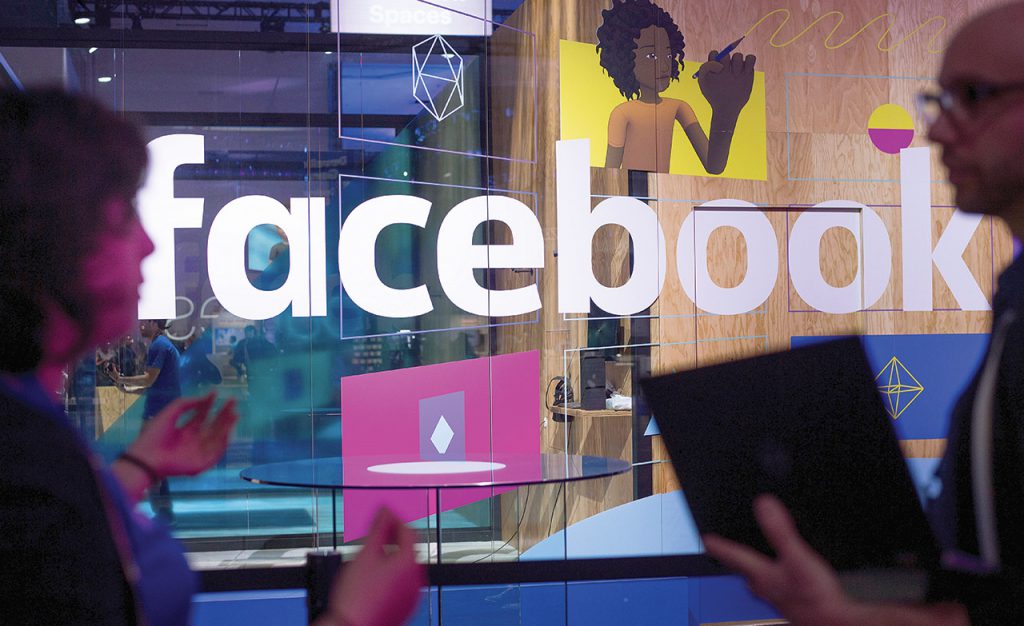 Although it is a tempting scheme to make money for tech-saavy but unemployed millennials, many creators seem to have motivations that extend beyond the financial. Kazakhstani-Korean Alina Shamsutdinova, whose YouTube channel is under Alina Makgeolina, has yet to profit from her video posts, but she enjoys creating the Korean beauty product reviews nonetheless. Shamsutdinova, who is living in Korea for the first time, says that not only does vlogging allow her to share her Korea experience with friends back home, but that it's fun to have her own platform where she can freely create whatever she wants.
Even full-time comedy vlogger An Jaeuok, who runs the Facebook page An Jaeuok's Funny Life, defines one-person media by the freedom of expression that it offers. An actually started his channel when traditional means of making it as a comedian hadn't worked in his favor. "The videos I made started to become really popular when people would tag their friends. And the best part of my job is when I get a message or a comment saying I really made someone laugh or lifted their spirits." An believes that content creation, particularly by one-person media creators, is only beginning to grow.
The growing diversity of single-person media
Just ten years ago, both domestically and internationally, you could equate viral video content with entertainment. One of the most popular one-person media stars of this time was then child-musician Sungha Jung, who posted his cover of "The Pirates of the Carribean" theme song back in 2008. He now has a following of more than 4.5 million subscribers. Since then, the diversity of video content available has grown immensely. Nowadays, you can learn everything from cooking to dancing to how to play video games. With 2.6 million subscribers, beauty blogger Park Hye-min, better known as Pony Makeup, can show you how to look exactly like Taylor Swift in six minutes. Yang Ji-young, a.k.a. Yangdding (YD), simply plays the game Minecraft during his broadcasts on afreecaTV and YouTube; he has nearly 1.8 followers on the latter platform. Language-learning resource Talk To Me In Korean, which once focused on textbooks, is now releasing a new video every few days.
Targeting foreigners interested in Korea might prove to be a successful strategy. Citing Google Korea, the Korea Herald reported last year that among the top 10 YouTube channels in Korea, 80 percent of their total views were from overseas. Canadian English teacher Catherine Sinclair was one such watcher. Although Catherine lives in Korea now, she spent a lot of time watching YouTube videos to research what life would be like once she moved here. "My favorite channel was called Eat Your Kimchi, and I loved their content because they featured so much awesome food I wanted to try [in the future], and they also discussed the social climate."
There are also Korean-Americans like Juli Kim, who currently lives in Chicago and spends somewhere from five to six hours a week on YouTube videos. She lists cooking channel Honeykki as one of the genre video channels she enjoys, but notes she's starting to enjoy video journals more and more. "I like day-to-day vlogs, like the channel Wonny Cosmo or Gosoo's Daily Snap. Vlogs in Korea are fun because I can recognize the places they go. It helps me to connect to the life of a Korean person."
Vloggers as influencers
In line with global marketing trends, Korean brands are using vloggers as influencers in their respective fields. That influence is most noticeable in collaborations with beauty vloggers. Take for instance beauty vlogger Park Su-hye, known as Ssin. With a loyal following of 1.2 million subscribers, she details her makeup preferences and routines. Several of her videos, however, are collaborations with makeup companies such as Missha, Innisfree and Nature Republic. Although they proclaim themselves completely sponsor-free, the videos, which sometimes have over 1 million views, catch the eye of the brands themselves.
Digital agency After Digital writes why vloggers might be even more attractive influencers than celebrities "It's down to the trust they have built within their communities," it says. "Most influencers have spent years growing their following by posting about products they genuinely love and use on a daily basis, and this is worth more."
What lies ahead?
With power vloggers and other one-person media able to make such a huge dent, the ethics of their influence will continue to be looked at as well as the dangers of popular media in a society lacking media literacy. Developments in the world of one-person media, internationally and in Korea, are exciting. The entertainment company conglomerate CJ E&M started a channel strictly devoted to one-person media back in 2017, making its shows available on cable television as well as PC and smartphone. Since 2014, YouTube has even started holding live events where influencers and vloggers gather in person every few months in an event called YouTube FanFest. In Scotland, the City of Glasgow College has even started a college course, How To Be A YouTuber. Will more and more people offer well-thought out, useful information or will the internet become aghast with dancing in French fries? Only time will tell.
[separator type="thin"]
Navigating Korea's Single-Person Media Landscape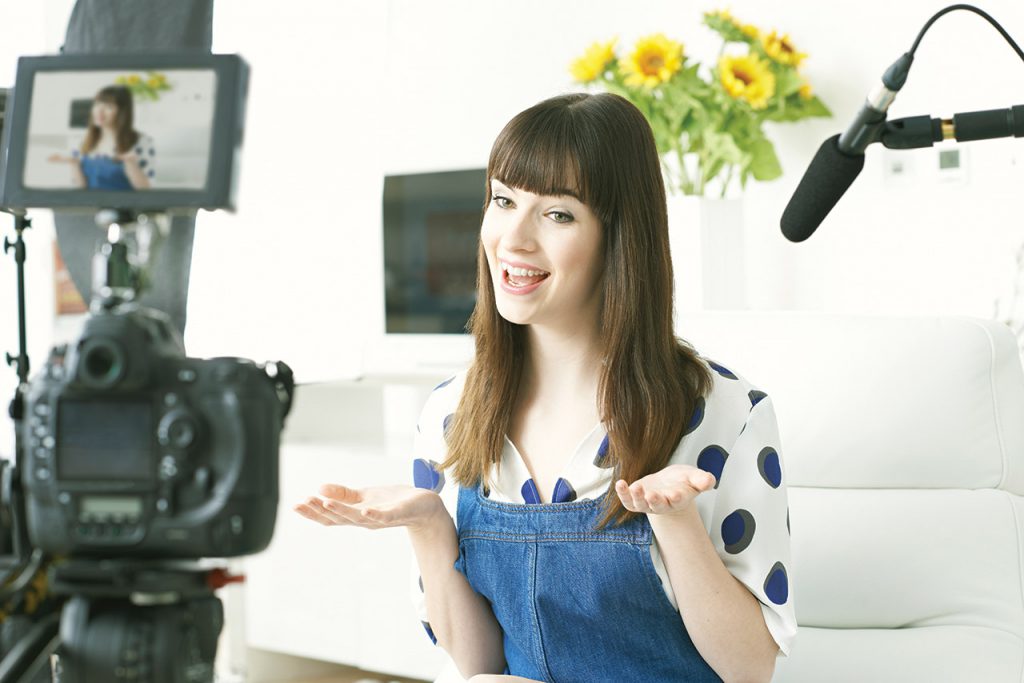 Just glance over the shoulder of a Seoulite on the subway for evidence of Korea's changing media consumption. Smartphone usage is up, technology is ever developing and Korea's single-persona media landscape is widening. Koreans, and young Koreans in particular, are utilizing podcasts, videocasts and other media platforms to tell not only their own stories, but also that of the society in which they live. The candlelight protests that brought down former President Park Geun-hye, broadcast to the world through video and audio shot by countless smartphones, demonstrated the power technology had brought to the individual. While it might seem a bit intimidating to navigate at first, SEOUL is here to help by pointing you in a few right directions.
AfreecaTV Founded in 2005, AfreecaTV is one of Korea's pioneering video streaming services. Though the site at first required users to download a special player to enjoy its services, it now allows users to view ordinary streaming video without any downloads. While the content ranges from direct from television transmissions, video game broadcasts and language lessons, AfreecaTV has generated the most sensation with its broadcasts of people eating, or meokbang. Many of Korea's most famous streamers, such as YANGDDING and Banzz, had their start on AfreecaTV.
Although AfreecaTV has played an important role in the rise of single person media in Korea, a change in policies and the rise of YouTube in Korea has seen to a decline in popularity for the platform in the past few months.
YouTube
The biggest name in the single person media industry, YouTube is also the most international. Founded in 2005 and bought out by Google in 2006, it was, as of April 2017,  the most popular website in the world according to research done by web traffic analysis company Alexa Internet.
Audiences for YouTube have been steadily increasing in Korea. It is now the leading online video-watching platform in the country. With developing features to its live streaming service, YouTube may soon be competition for Twitch, the most popular video platform for gamers.
Multi-Channel Networks (MCN)
A multi-channel network (MCN) may sound complicated, but it's actually a term to describe a third party network that strings together several different channels.
The most well known MCN in Korea is likely DIA TV, a cable channel owned by conglomerate CJ E&M and launched on Jan. 1 of this year. The acronym stands for Digital Influence & Artist TV. The network is CJ E&M's effort to capitalize on the popularity of digital influencers. On the channel, live stream programs air between 8 p.m. to 10 p.m.; edited versions of those videos air at all other times of day. Game commentator Na Dong-hyun and makeup artist Ssin are two big names that have signed to work with DIA TV.
Written by Hahna Yoon
https://magazine.seoulselection.com/wp-content/uploads/2017/07/tip101t009968_.jpg
853
1280
cyn
https://magazine.seoulselection.com/wp-content/uploads/2018/01/Seoul-logo.png
cyn
2017-07-06 15:26:51
2017-09-12 15:15:15
Broadcasting Yourself