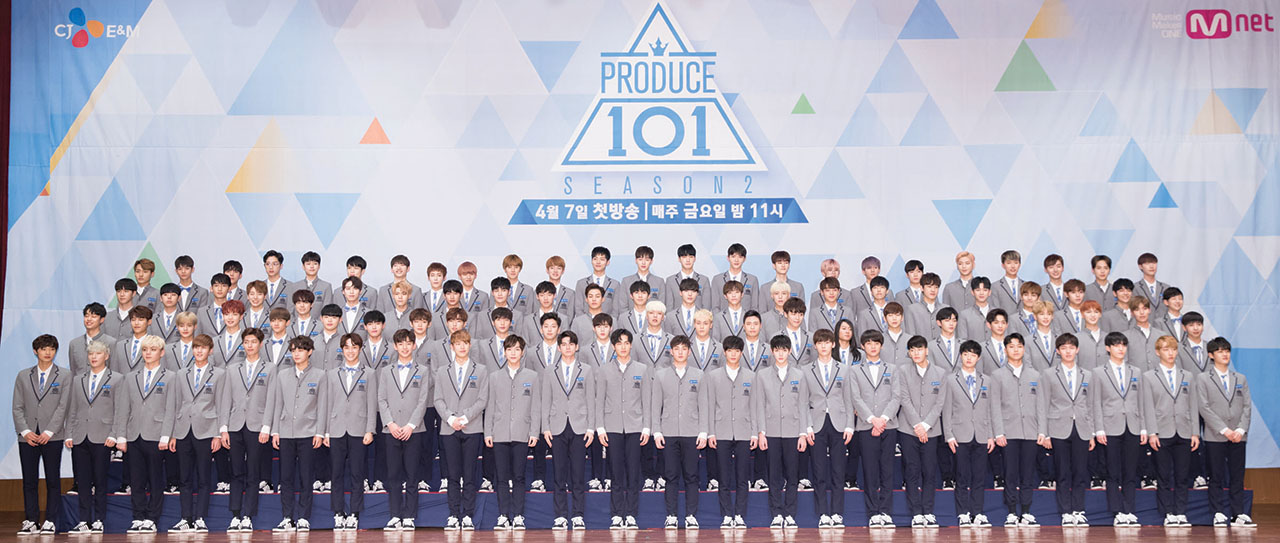 'Produce 101' sets records by leaving the decisions to the audience
Television talent shows are nothing new. As "American Idol," "Britain's Got Talent" and Korea's very own "Superstar K" have amply demonstrated, the right combination of judges, audience participation, performing talent and production value can be ratings gold. It's human drama at its rawest.
Now in its second season, "Produce 101," Mnet's hit singing survival show, is topping charts. It has topped CJ E&M and Nielsen Korea's Content Power Index, a benchmark that judges the popularity of programming based on the media and social media buzz surrounding it, for six weeks straight, making it, in theory, the most popular show in the country. Internet users have viewed clips from the second season posted on YouTube, Kakao TV, Naver TV and elsewhere over 230 million times, setting a record.
"Produce 101" follows a format familiar to fans of the survival genre. Some 101 trainees – women during the first season, men in the second – from several dozen Korean entertainment companies compete to be selected to a newly created boy band. Just 11 slots are available. Once composed, the new band will debut under CJ E&M's record label.
What sets "Produce 101" apart, however, is it's complete reliance on the audience. While conventional talent shows commonly employ scoring systems that depend on scores from the judges and votes from the audience. "Produce 101," on the other hand, has no judges. The audience are, quite literally, the producers. They decide everything, from the new band's members, of course, to its name and songs. Established stars like pop singer BoA and support staff participate, but as mentors, trainers and messengers, not as decision makers. The first season produced the girl band I.O.I., which disbanded in January, but not before winning the Best New Artist award at the Melon Asian Music Awards and the Rookie Artist of the Year award at the Golden Disk Awards.
K-pop from the inside out
By making you, the audience, the producers, "Produce 101" aims to reveal the blood, sweat and tears that go into making a K-pop star. "Countless pop groups debut over the course of a year, but only two or three of them receive public recognition," explains the production team. "We wish to capture the trainees' hard work to realize their dreams of becoming the top pop star in the country, or even a global pop star, regardless of the size of their entertainment company."
To be sure, audiences get to see the effort, energy and determination required to become a pop star. At the same time, it has also shed light on less savory aspects of society. Lookism has reared its ugly head, so to speak, with good looking-but-less talented contestants doing better and more homely contestants taking criticism, particularly online. The show has also given audiences a front-row seat to the country's hyper-competitive society. Trainees transform from happy, confident individuals to quivering messes before our very eyes. The show's focus on rankings doesn't help. The Korea Times quotes a local Internet user, "The level of competition-bound pressure has increased from the first season. I am worried about the trainees who will only become obsessed with the rankings and numbers in the end."
Written by SEOUL staff
https://magazine.seoulselection.com/wp-content/uploads/2017/06/프로듀스101-FULL_004.jpg
543
1280
rjkoehler
https://magazine.seoulselection.com/wp-content/uploads/2018/01/Seoul-logo.png
rjkoehler
2017-07-04 10:24:29
2017-07-04 10:25:01
Citizen Producers