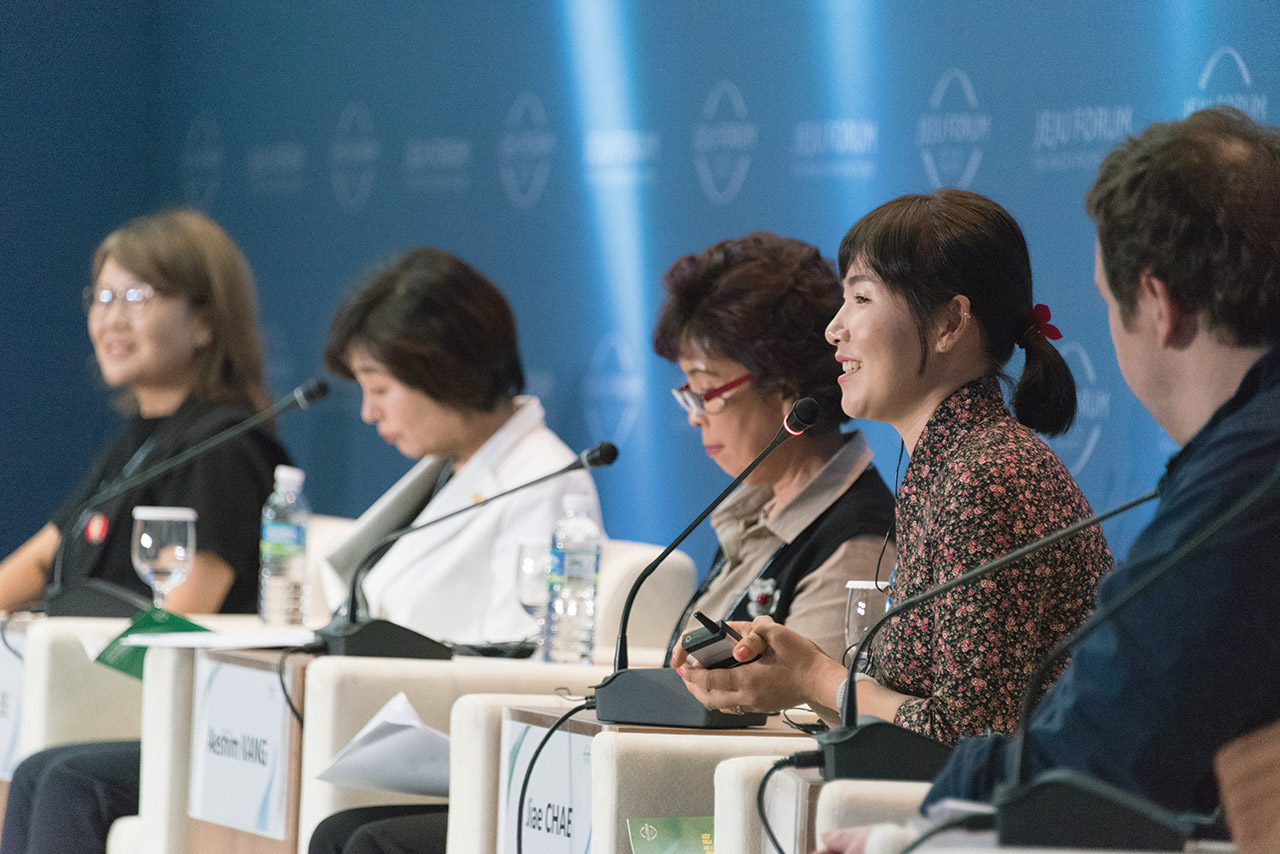 At Jeju Forum 2017, over 5,500 leaders gather to discuss peace and prosperity in Asia
Chae Ji-ae doesn't fit the typical image of haenyeo, the famous diving women of Jeju. While most haenyeo are elderly women, Chae, a former hairdresser who moved from Seoul to Jeju to become a diver, is but a young woman. She represents a new generation of haenyeo.
Speaking as a panelist at a special session of the Jeju Forum for Peace and Prosperity 2017 entitled, "From Babies to Grannies of the Sea: Global Promotion and Sustainability of Jeju Haenyeo," Chae revealed the lessons she learned from the sea.
"I learned to be humble," she said. "I can't be proud because of my college education. Haenyeo have wisdom about nature, like the direction of winds in different seasons. This only come from years of experience and must be respected."
The Jeju Forum for Peace and Prosperity 2017 marked the 12th year for the event, held annually to promote peace in Asia. Over 5,500 leaders and experts from 80 countries gathered at the International Convention Center Jeju from May 31 to June 2 to discuss this year's theme of "Sharing a Common Vision for Asia's Future." While the forum's 75 sessions covered a wide range of global political, environmental and humanitarian issues, it also placed a special focus on the local and cultural, with particular focus on Jeju's haenyeo, who were registered on UNESCO's list of Intangible Cultural Heritage in December 2016.
Haenyeo: a national treasure
The Jeju Forum's session on Jeju's haenyeo tradition was an undeniable highlight of the forum. An exhibit of photographs and a display of equipment used by haenyeo gave attendees a closer look at the lives of the diving women. Brenda Paik Sunoo, writer and photographer of the book, "Moon Tides: Jeju Island Grannies of the Sea," held a book-signing event, too.
Haenyeo came to global attention after being registered with UNESCO at the end of last year. The community of diving women, who hold their breaths for minutes at a time as they search the ocean floor for abalone and other shellfish, has contributed to advancing the status of women in Jeju. They've also promoted environmental sustainability with their eco-friendly harvesting methods and community management of fisheries. Unfortunately, age and the lure of other economic activities has made the haenyeo lifestyle increasingly rare. Today, there are only 2,500 truly active divers, most of whom are elderly.
The haenyeo session urged the public to take action to sustain the community of diving women, a vulnerable yet precious treasure. Lee Sun-hwa, a member of the Jeju Special Self-Governing Provincial Council, explained the haenyeo's irreplaceable value. "The UNESCO recognition restored the haenyeo's dignity," she said. "The true benefit was not necessarily economic for the haenyeo, but that they became an icon for a new kind of feminism." She said that though life as a haenyeo was considered shameful in the past, UNESCO recognition has given them pride in their work and that of their mothers and grandmothers.
"A haenyeo represents a valuable web of stories, life experiences, and wisdom about nature. She represents a kind of a museum." said Lee. "Their stories, especially from elderly haenyeos in their 70s, must be recorded. Not just by students, but scholars from education, culture, and government sectors."
The session spotlighted the haenyeo's efforts to protect Jeju's famously spectacular natural environment. Film director Koh Hee-young showed the resolve haenyeo have to protect the community and Jeju's natural resources with a clip from her film, "Mulsum: Breathing Underwater." In the film, the haenyeo swore off the use of high-tech diving equipment. "There will be no sea creatures left for the next generation of haenyeo," they said. "This is our promise."
The haenyeo are highly active in their local communities, too. Paik Sunoo, who photographed and documented the lives of haenyeo outside of the water, explained that the divers were active in community service. When not working, they serve in senior centers and visit elders to care for them and bathe them. "All Jeju students must learn social responsibility, gratitude and community," she said. "The sea belongs to all of us. We must go together."
After the session, the attendees and panel speakers gathered for a brief tour of the Beobhwan Haenyeo School, guided by its director, Kang Ae-shim. Kang showed participants around the school, discussing its history. The school has trained over 9,500 students from Jeju and beyond.
German-born Korean media personality Daniel Lindemann, who participated as a speaker on the youth panel, said he was surprised to find out about the haenyeo school. "It's very important to sustain the haenyeo culture and its economy, as many haenyeo have difficulty keeping a steady income," he said. "Supporting them both culturally and economically should be a necessity."
Park Jin, President of the Asia Future Institute, also attended the tour. He said, "Let the haenyeo remain as the most beautiful and meaningful part of Korean culture."
Peace and dignity on a healthy planet
The Jeju Forum's headline act was former U.S. Vice President and Noble Peace Prize Laureate Al Gore, who kicked off the forum with a special session on the challenges and opportunities of climate change. Pointing to climate change as a factor in political instability and humanitarian crises, he assured listeners that changes are in the works, including international efforts to promote the use of renewable energy. Passing the baton of social responsibility to the audience, he concluded, "Political will to act is itself a renewable resource."
The forum's early sessions tackled weighty issues related to world peace and global prosperity. Participants especially focused on North Korea, whose nuclear and missile programs grievously worry the international community. In a prerecorded address, President Moon Jae-in stressed that the neglect of ongoing violations of human rights in North Korea negates the push for peace. "As human rights are universal values, we will work hard to improve the human rights of North Koreans," he said. "We will work with the international community to encourage the North Korean authorities to improve their policies and systems."
Lee Hong-koo, former Prime Minister, expressed hope for inter-Korean dialogue. "South and North Korea made major movements toward reconciliation in 1991," he said. "I hope that these measures will furnish the basis for a dialogue."
One session dealt specifically with the issue of North Korean human rights. Participants stressed that without improvements in North Korea's human rights situation, substantive peace and prosperity might prove elusive.
Michael Kirby, Former Chairman of the U.N. Commission of Inquiry on Human Rights in the DPRK, explained that peace was not an absence of war, but rather the internal peace of human existence that came from living in peaceful countries. He said, "Prosperity cannot be obtained if people face human rights violations that exist in North Korea."
Speakers encouraged listeners to act. Lee Jung-hoon, South Korea's ambassador-at-large on North Korean human rights, despaired that systemic oppression in North Korea has been allowed to continue over three generations. "We're running out of time with North Korea being nuclear," he said. "We need to recognize the urgency of the problem."
Likewise, North Korean defector and activist Lee Hyeon-seo called on the world to turn its eyes toward North Korea, saying, "The North Korean human rights tragedy must become one of the international community's most pressing issues."
The forum addressed wider regional issues, too. In his address, President Moon pledged to make Korea a nation that opens a way for common prosperity and peace in Asia. Jeju Governor Won Hee-ryong, too, reemphasized the value of unity in fulfilling the forum's vision. At a forum of former world leaders, he said, "Peace and prosperity in Asia cannot be possible without cooperation among different countries."
The role of the youth
This year's Jeju Forum was especially inclusive, with new sessions created to broaden participation. "Before, our agenda included only peace and prosperity, but we've broadened the sessions with cultural topics like the haenyeo and youth," explained Jeju Forum Program Assistant Kang Na-gyeong. "We've also expanded the audience of the forums to include students and professors."
In the youth session, many international leaders gathered to discuss the role of youth as a driving force in bringing positive changes in the world.
While participants recognized the vulnerability of the youth, they also emphasized the need to protect and nurture them.
Puan Maharani, Coordinating Minister for Human Development and Culture of Indonesia, said the government must develop education and create the right environment to protect their rights. She also noted how development of communication technology today has created an environment in which young people can voice their opinions and influence government policies.
Youth can also play a crucial role in effecting political change. Hamat Bah, Minister for Tourism and Culture of Gambia, explained how the youth of his country played a crucial role in bringing democracy to his country after a prolonged period of dictatorship. He said, "They voiced the dictator's injustice through social media, murals, street rallies and campaigns."
Speakers also emphasized the role of creativity in unleashing young people's potential. Eduardo Mendez, Executive Director of Simon Bolivar Music Foundation in Venezuela, pointed to the role that El Sistema, Venezuela's renowned youth music program, played in helping vulnerable youth. He said, "Participating in the orchestra and choir gave vulnerable students opportunities to become leaders through community consciousness, healthy competition and understanding differences."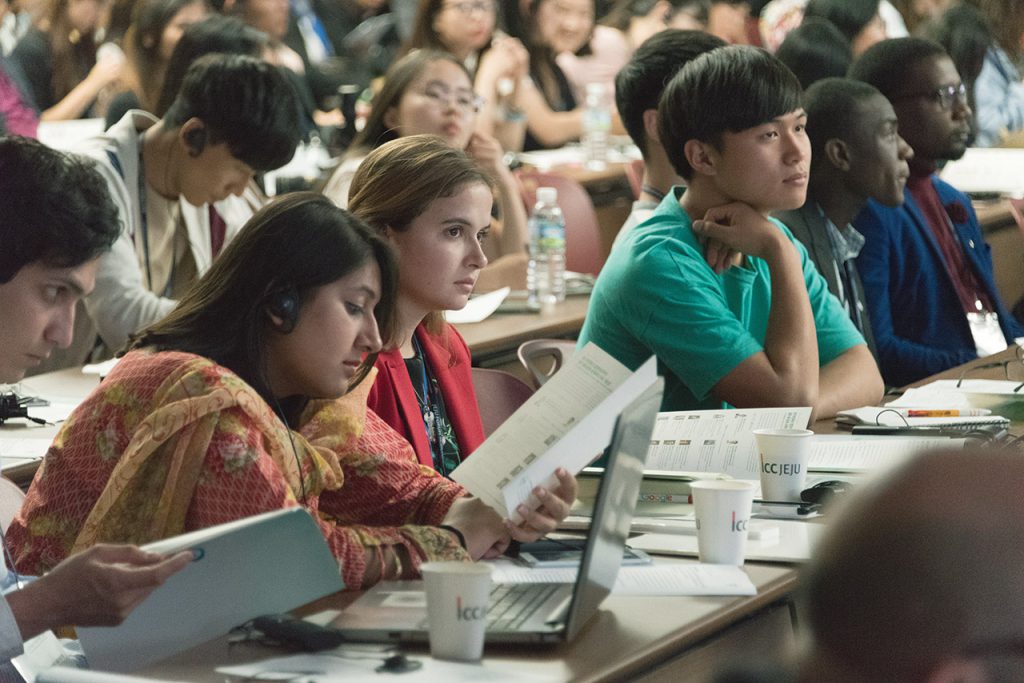 Umair Mushtaq, Communication Manager of Pakistan's Little Art youth arts program, explained that art develops the potential of the youth and deepens the understanding of the value of peace.
Speakers also underscored the importance of intergenerational communication, cooperation and unity in fostering the youth. Shin Hwajeong, Representative of social enterprise Jejudo Joa, which works with artists to create art using the garbage that washes up on Jeju's beaches, said her work was a great example of the Jeju community working together to educate and bring change. Both the nurturing of the young and honoring of the old are necessary to propel the forum's vision, particularly in Jeju, she said.
Written by Diana Park
https://magazine.seoulselection.com/wp-content/uploads/2017/07/DSC_8624.jpg
854
1280
cyn
https://magazine.seoulselection.com/wp-content/uploads/2018/01/Seoul-logo.png
cyn
2017-07-06 15:30:45
2017-07-06 15:30:45
Better Together