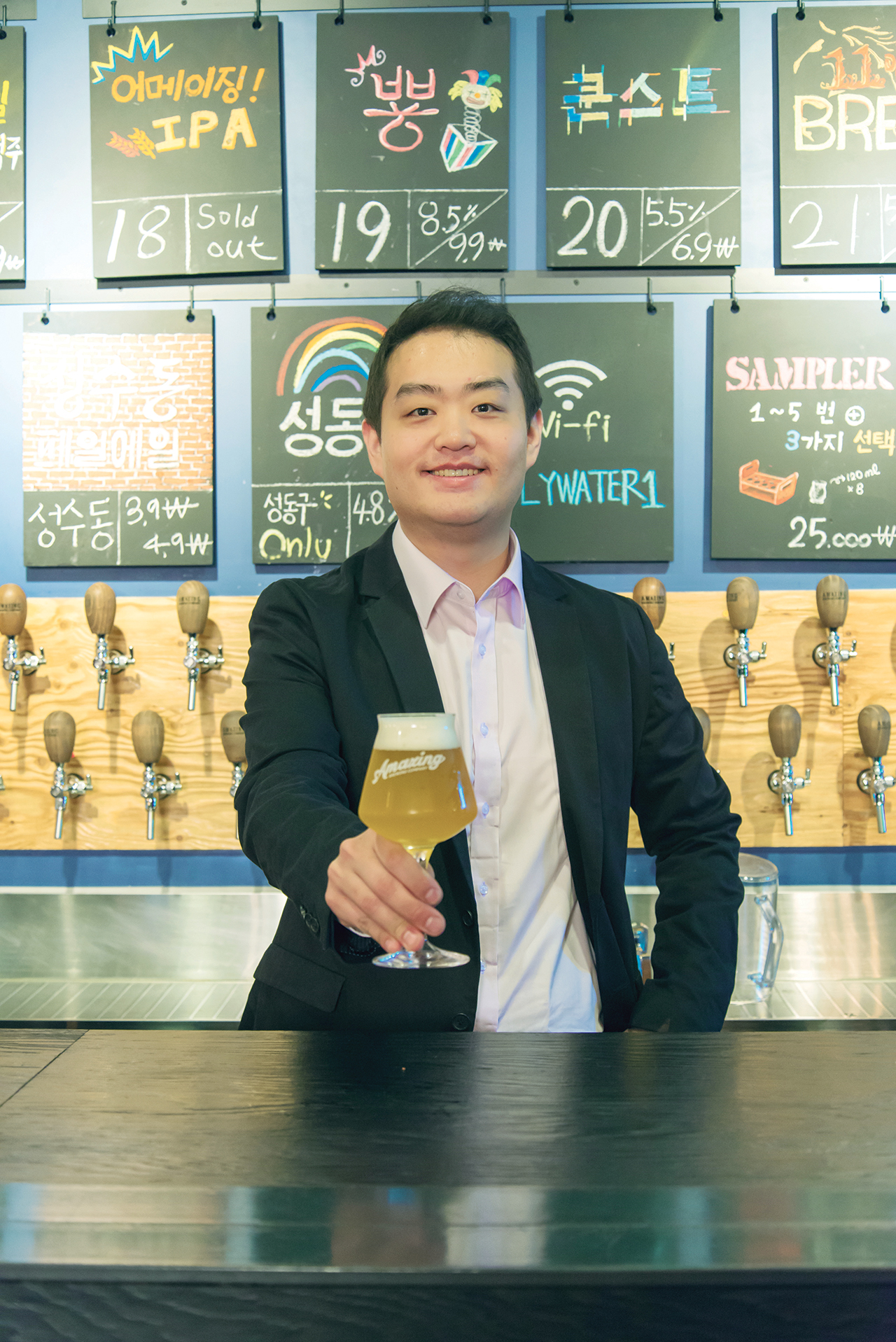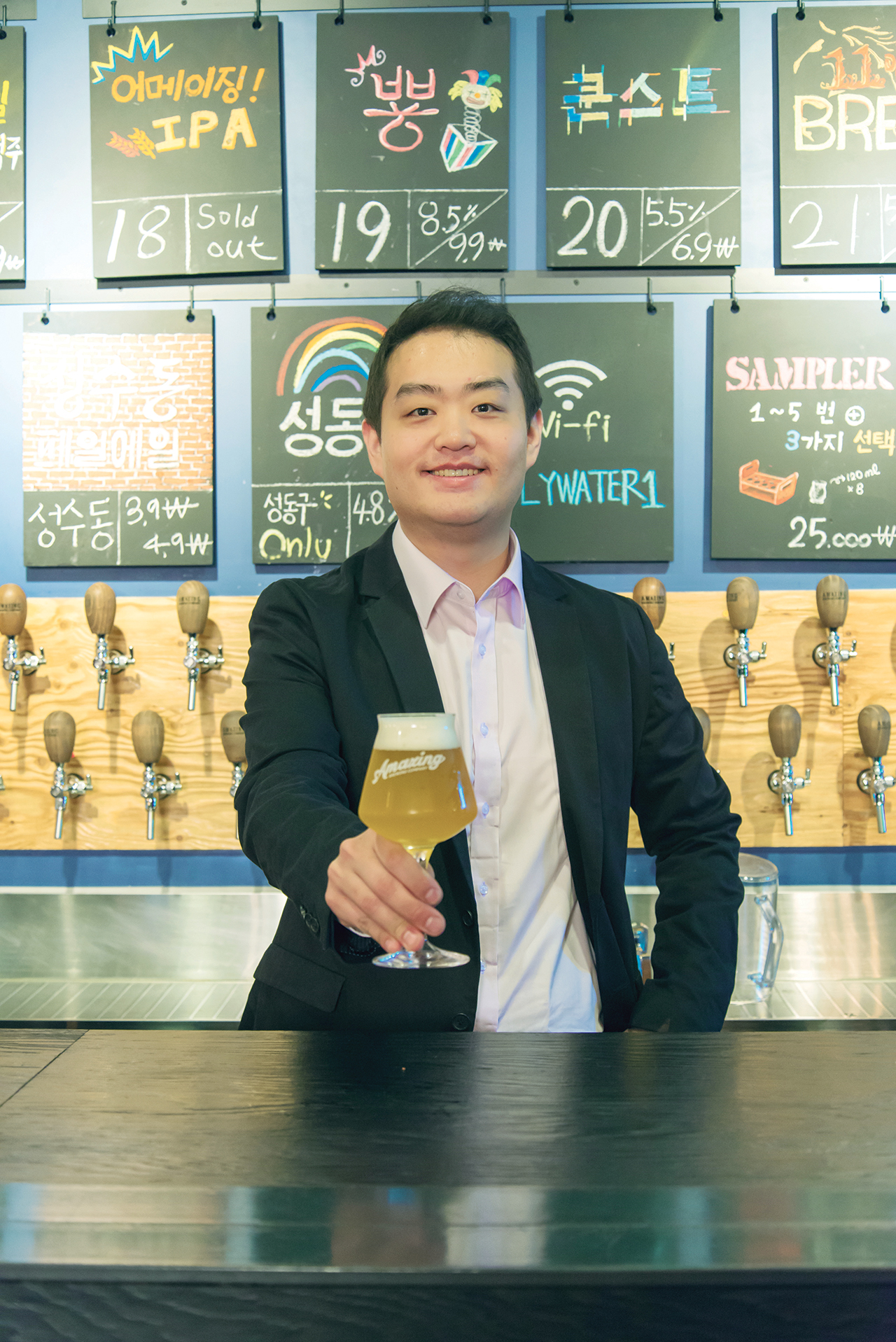 Steven Park's Amazing Brewing Company makes craft brews for a crafty neighborhood
Nearly all of Steven Park's stories have two versions: There's a clear, official story he tells with the confident air of a master brewer and successful businessman, and the follow up "real" version, delivered with a rakish grin and a good-natured chuckle. Relaxing into a lounge chair outside the converted factory that houses the brewery and bar, the stories flow out of the head brewer like beer from one of the Amazing Brewing Company's wall of taps.
How did Park become one of Korea's foremost brewmasters in the first place? "Ok, so here's the official story: I like to make stuff. I wanted to make something," he begins earnestly, then cracks a smile. "Honestly, there was this girl. There's always a girl, and she wanted a particular beer that wasn't available here in Korea, so I decided to make it for her." Park's enthusiasm for beer making outlasted the relationship, taking him from home brewing in the dorms at KAIST while working on his MBA to winning nationwide competitions in the span of just a few months, and eventually to a partnership at the head of one of Seoul's most celebrated brew pubs. He's collected accolades for his stouts, admiration for his sours and prizes since he first started throwing his home brews in the ring.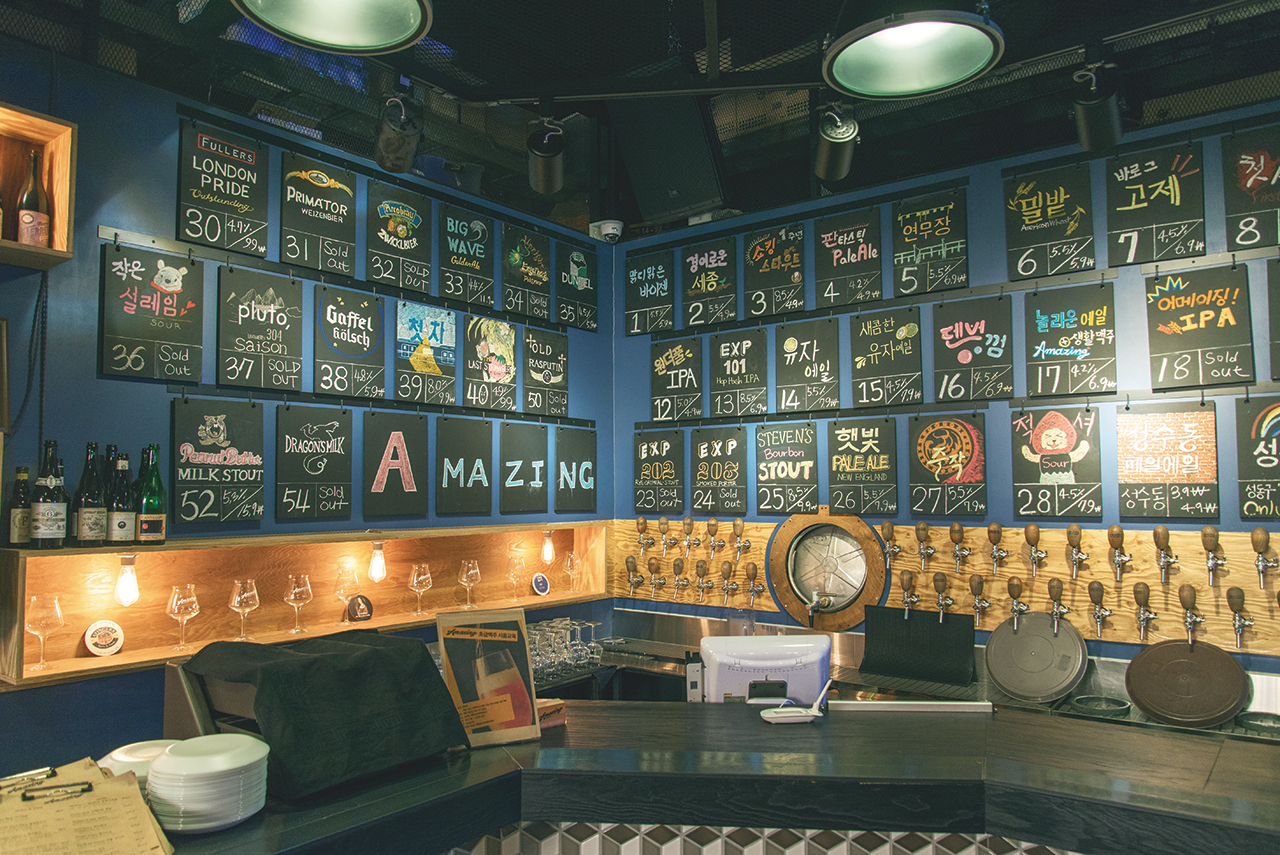 The Amazing Brewing Company is barely more than a year old, but already has become a center for beer aficionados despite being the smallest commercial brewery in Korea. Founded by Park and certified cicerone "TK" Kim, the brewery started in a converted factory from 1959 in the up-and-coming Seongsu-dong area, a warren of factories and workshops interspersed with hip coffee shops, restaurants and boutiques.
"Officially, we decided to open in Seongsu-dong because it's such a crafty area. Everyone makes stuff here," says Park. "But the real story is we started here because were were brewing in TK's garage. He lives nearby and it makes it easy to manage, and we have good memories of being here."
Handcrafted beers, handcrafted space
The brewery and the neighborhood certainly suit each other, combining a quirky, easy-going vibe with a little grit. Park is especially proud to have designed virtually everything himself, and the hands-on ethos carries over into everything on hand. "All the equipment and design is made by us."
This handcrafting of the space and equipment has an added, secret benefit. The entire operation can be broken down in a few hours and moved, with equipment built for mobility. "We can move everything in eight hours — that's how long it took to set up the brewery equipment when we moved in," Park adds. The whole process of getting the brewery up and running took only a few months. It's a key part of their approach to being a "nanobrewery" where the small scale rules the day, and where every bit of equipment, every ingredient and every bit of labor matters. The love carries over into a hands-on approach for the crafting of beer that larger operations can't manage.
"We're more like a big home-brewing set-up than a normal brewery, so we have to be innovative. Most breweries don't, but here, everything is done by hand," Park gestures to the gleaming equipment. "We don't even have any agitators, so we do all our mixing by hand."
The handcrafting and attention pays off in an astonishingly huge range of beers for such a small operation. Stouts with a seductive coffee nose, bright and fruity yuja ale, clean and refreshing lagers, and the bracing tang of sours can be called forth from the dozens of taps in the pub and matched with bar foods ranging from traditional favorites like onion rings and steaks to more gourmet fare like hazelnut crostini with maple cream cheese and bacon or even corn ice cream.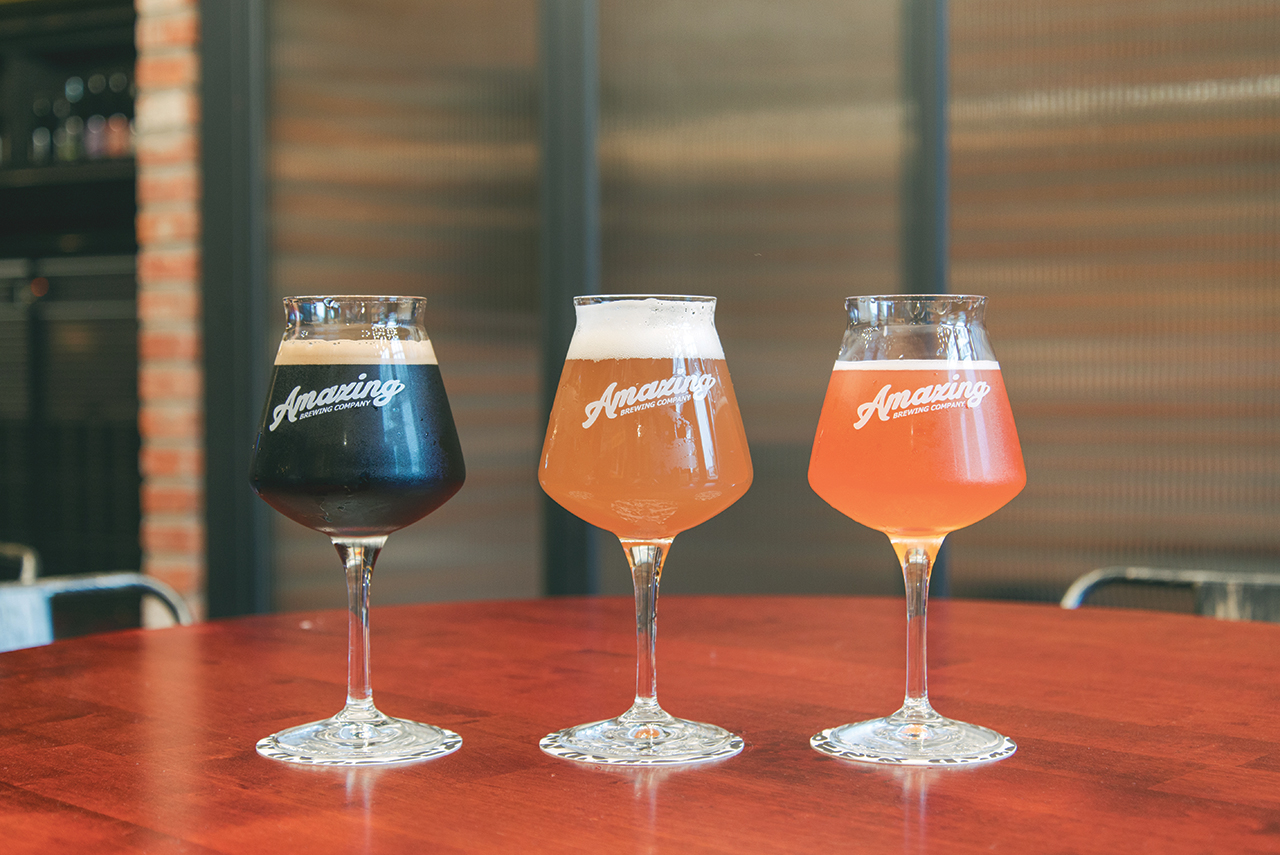 Park's not above taking a little time in the kitchen, either, or rolling out the barbecue in the courtyard. As the weather gets hot, he has some solid advice for finding the right drink to cool off with: "Something like an ale with light alcohol, low hops and some fruit is good for summer. You want something easy to keep drinking with your friends, a kind of 'table beer.' But Korean food is more spicy, saltier, so a lager works. For summer, I suggest a sour — they're good for thirst quenching. Saisons are good, too." But Park emphasizes that the most important elements of a good summer drink are the company you keep and the atmosphere.
Park's philosophy toward brewing is simple and straightforward. "Making beer is making a recipe. If you can cook, if you can wash dishes, you can make it, but you have to understand the ingredients and techniques. You have to be able to expect the outcome." The payoff is in interesting, exciting beer, but also the simple pleasure of a job well done.
"I just want to do what I'm good at and brew a lot of different beers."
More Info
Amazing Brewing Company 어메이징브루잉컴퍼니
4, Seongsuil-ro 4-gil, Seongdong-gu   02-465-5208
Written by Jennifer Flinn
Photographed by Henry Kim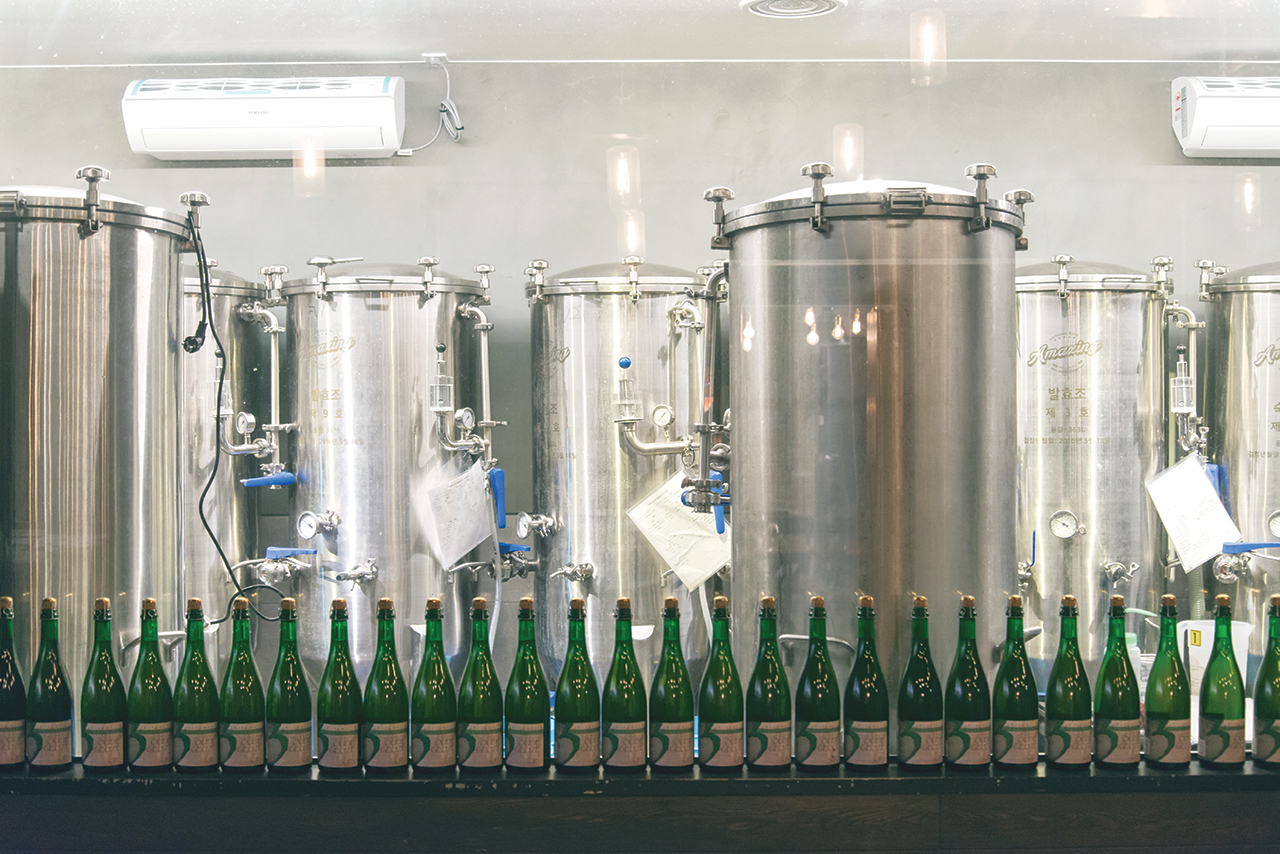 https://magazine.seoulselection.com/wp-content/uploads/2017/06/20170511-_DSC8618.jpg
1917
1280
rjkoehler
https://magazine.seoulselection.com/wp-content/uploads/2018/01/Seoul-logo.png
rjkoehler
2017-06-08 18:25:45
2018-02-13 16:23:39
Truly Amazing