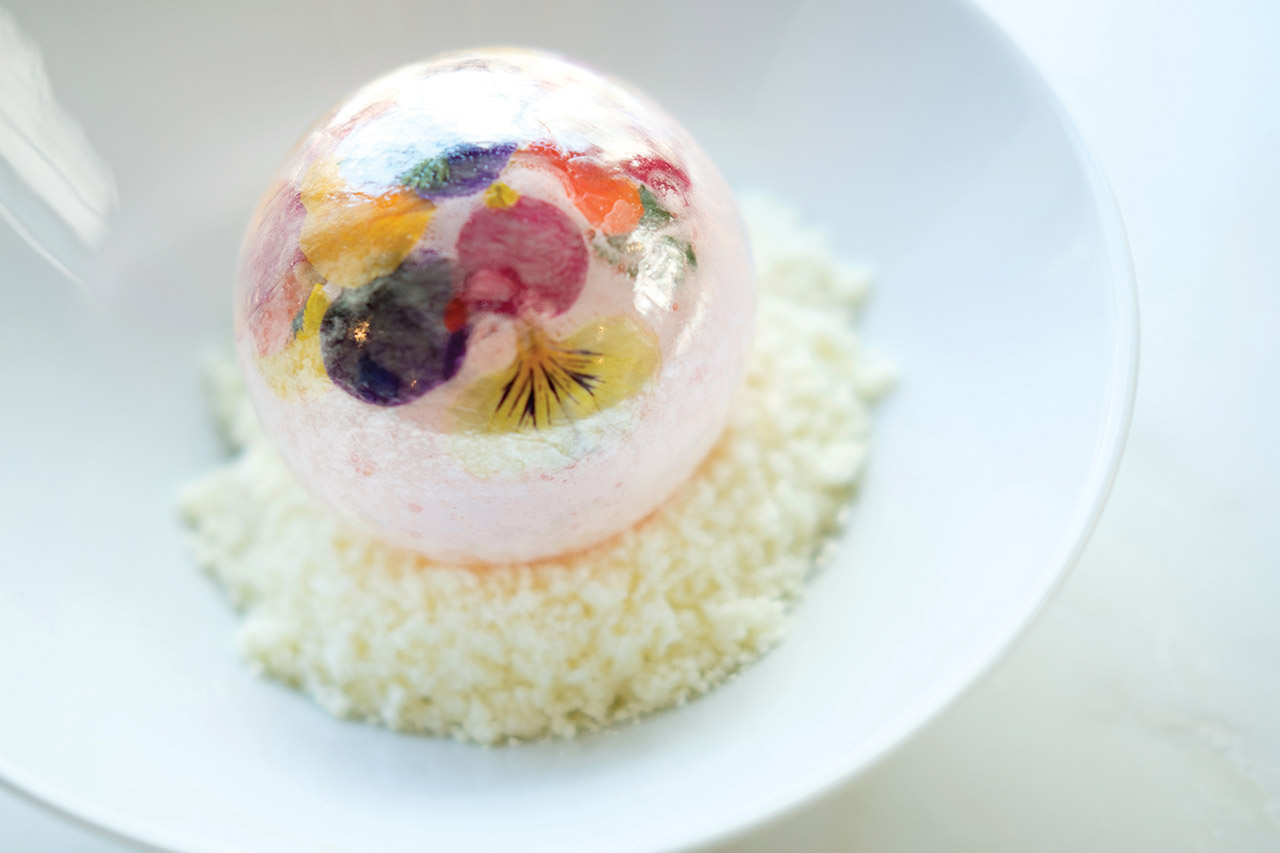 Spring is in the air and our thoughts turn to all things fresh and lovely, including dessert. From fine dessert tasting courses to Spanish specialties, there's a lot of choice here to satisfy your sweet tooth.
Autrui 오트뤼
This new dessert cafe opened earlier this year. It's the second venture for Chef Park Jun-woo, a first runner-up winner of Master Chef Korea. Fans may remember his first outing in Seochon with his dessert cafe, Aux Petits Verres and dining bar, Aux Grands Verres. The dining space was too small, so Park decided upon the new Yeonhui-dong location to open a French restaurant, Alter Ego, on the second floor and Autrui, a dessert cafe, on the first.
Park's inspiration for the name, Autrui, was a philosophy course he took in college. His new French restaurant, Alter Ego, is a larger and more ambitious version of Aux Grand Verres, and he wanted to name the dessert cafe in line with that theme and used Autrui, which means "the other" in French. Autrui's signature desserts are the lemon tarts, chocolate tarts and seasonal fruit tarts popular during the Aux Petits Verres days. These tarts boast thin but crispy pastry shells filled to the brim with zesty lemon cream in the case of the lemon tarts, and a rich ganache made from three Belgian chocolates make the chocolate tarts irresistible. Another must-try are the éclairs made with classic crème pâtissière.
Yeonhui-dong 연희동
89-8, Yeonhui-ro, Seodaemun-gu
T. 02-332-1898
@alterego.autrui
www.facebook.com/alterego.autrui/
SONA 소나
Owner chef Hyun ah Seong studied at the Culinary Institute of America and got her start at Michelin-starred Joël Robuchon and Aquavit before returning to Korea to open her own dessert cafe. The shop's simple motto, "make desserts better," is superbly realized in the wide array of pastries and desserts available. The cafe aims to bring the quality of desserts served in fine dining establishments to a wider public in a more casual setting. SONA is unique from other dessert cafes in that it offers dessert tasting menus that displays Chef Seong's creativity and flair.
One such example is her signature "Champagne Snowball" dessert, which is almost too lovely to eat. A light pink sugar ball encases rose sparkling foam, topped with flower petals and olive oil powder. The delicate snowball rests on creamy strawberry panna cotta, fresh strawberry slices, cheese cake snow and milk snow. This extraordinary dessert resembles the holiday snowballs children grew up with. Chef Seong also developed a haejang drink to help customers recover from hangovers. Her "Gingerfloat" uses homemade ginger ale, honey, egg yolk and bananas to relieve fatigue.
Garosu-gil 가로수길
201 40, Gangnam-daero 162-gil, Gangnam-gu
T. 02-515-3246
@sonadessert
www.facebook.com/sonadessert/
sonasona.modoo.at
Crema Catalana 크레마카탈라나
Crema Catalana is the brainchild of restaurateur Jang Uk, who ran a fine dining establishment called Restaurante SONIM for three years. Crema Catalana was the featured dessert for each course meal served there. Even after the restaurant closed, customers came up to Jang Uk asking about the dessert. That response was part of the reason Jang Uk decided to open this small cafe in Hannam-dong.
Crema Catalana is a traditional Catalonian dessert that fits Jang's philosophy about classic cooking. The dessert only uses egg yolks, fresh cream, sugar and a variety of natural ingredients to create unique versions of Crema Catalana. Gelatin is not used in the dish. Jang is proud of the high quality of ingredients used to flavor the desserts. For instance, the Vanilla Crema Catalana uses Madagascar vanilla beans with cinnamon to enhance its scent, and the Salt Crema Catalana uses bay salt aged for seven years with saffron to add depth to its flavors. The popular Green Tea Crema Catalana is made with very fine green tea imported from Japan. If you happen to arrive at this corner cafe, grab a stool by the sunlit window and try the Crema Catalana with an espresso, guaranteed to make the world a little more sweet and lovely.
Hannam-dong 한남동
26, Hannam-daero 18-gil, Yongsan-gu
T. 02-792-6210
@spanish_dessert
www.facebook.com/spanishdessert/
UNAS 우나스
UNAS is a dessert cafe and baking studio run by Pâtissier Eun ah Lee and her husband and partner, Hoyoung Nam. Chef Lee studied at Le Cordon Bleu in London and worked at the Hyatt Regency and Maman Gâteaux here in Seoul. Her attention to detail and elegant flavors are evident in the signature desserts. Her interpretation of tiramisu is a trio of dark squares made with espresso gel, mascarpone cheese mousse and feuilletage. Another exquisite dessert is the "Amor Ispahan", Chef Lee's homage to the celebrated pastry chef, Pierre Herme. The lovely dessert takes your breath away and boasts complex flavors from lychee and yogurt mousse, raspberry jam, rose cream, white chocolate pistolet, raspberry crunch and ganache, and pistachio biscuit.
UNAS is not only popular for its beautiful desserts and pastries, but also for its elegant and warm decor. There's a sizeable terrace open to customers during the warmer months, and the cafe itself is lined with floor to ceiling windows, filling the space with bright sunshine. The interior mixes incongruous design elements like stainless steel and unvarnished wood that reflect the creativity found in the desserts and people of UNAS.
Nonhyeon-dong 논현동
318, Dosan-daero, Gangnam-gu
T. 02-3445-0387
@unas_seoul
www.facebook.com/unasseoul/
unaskitchen.com
Written by Cynthia Yoo
https://magazine.seoulselection.com/wp-content/uploads/2017/04/004-_DSF6435.jpg
853
1280
cyn
https://magazine.seoulselection.com/wp-content/uploads/2018/01/Seoul-logo.png
cyn
2017-05-12 09:26:51
2017-05-12 09:26:51
Everyone Gets Their Just Desserts