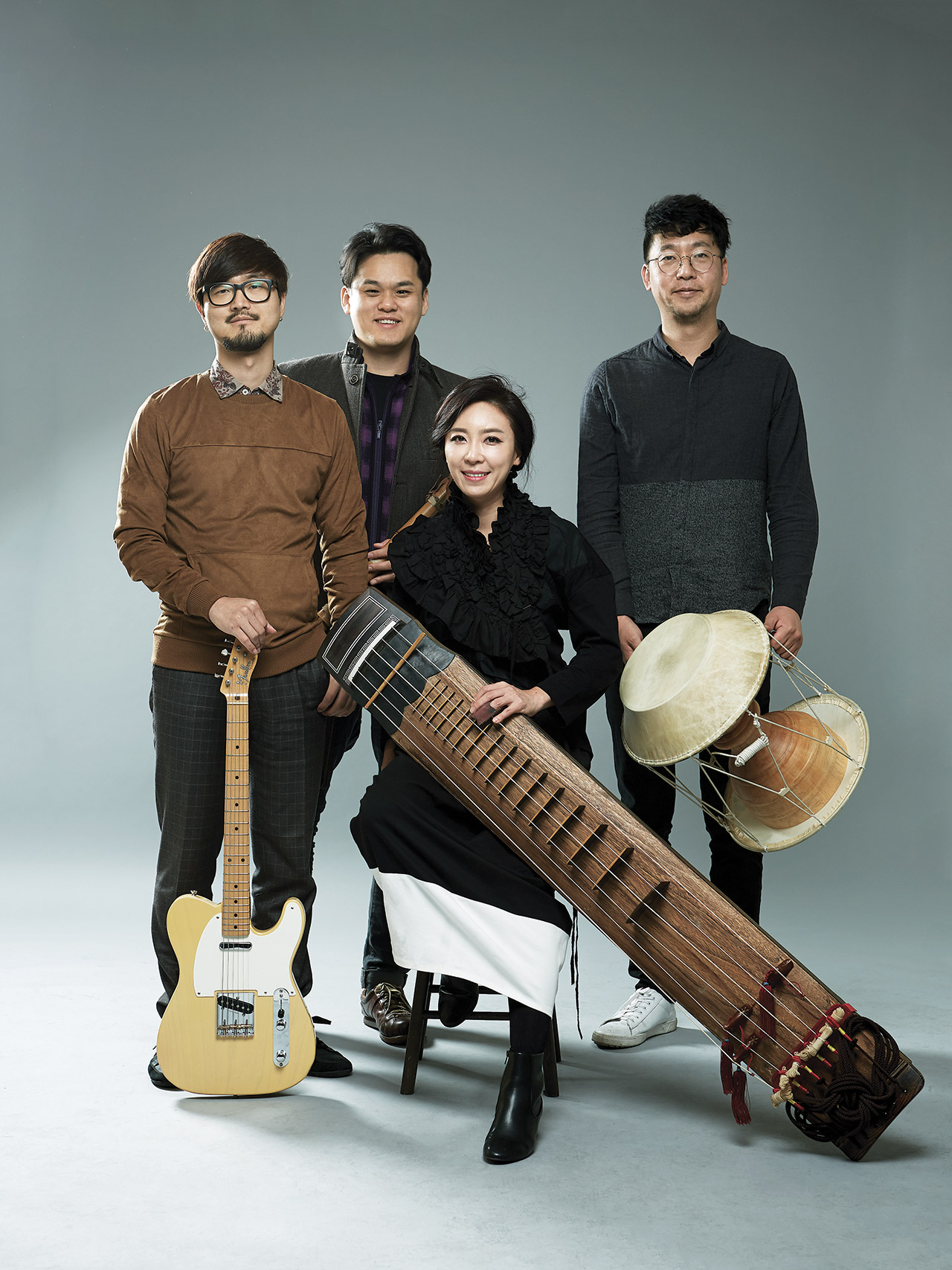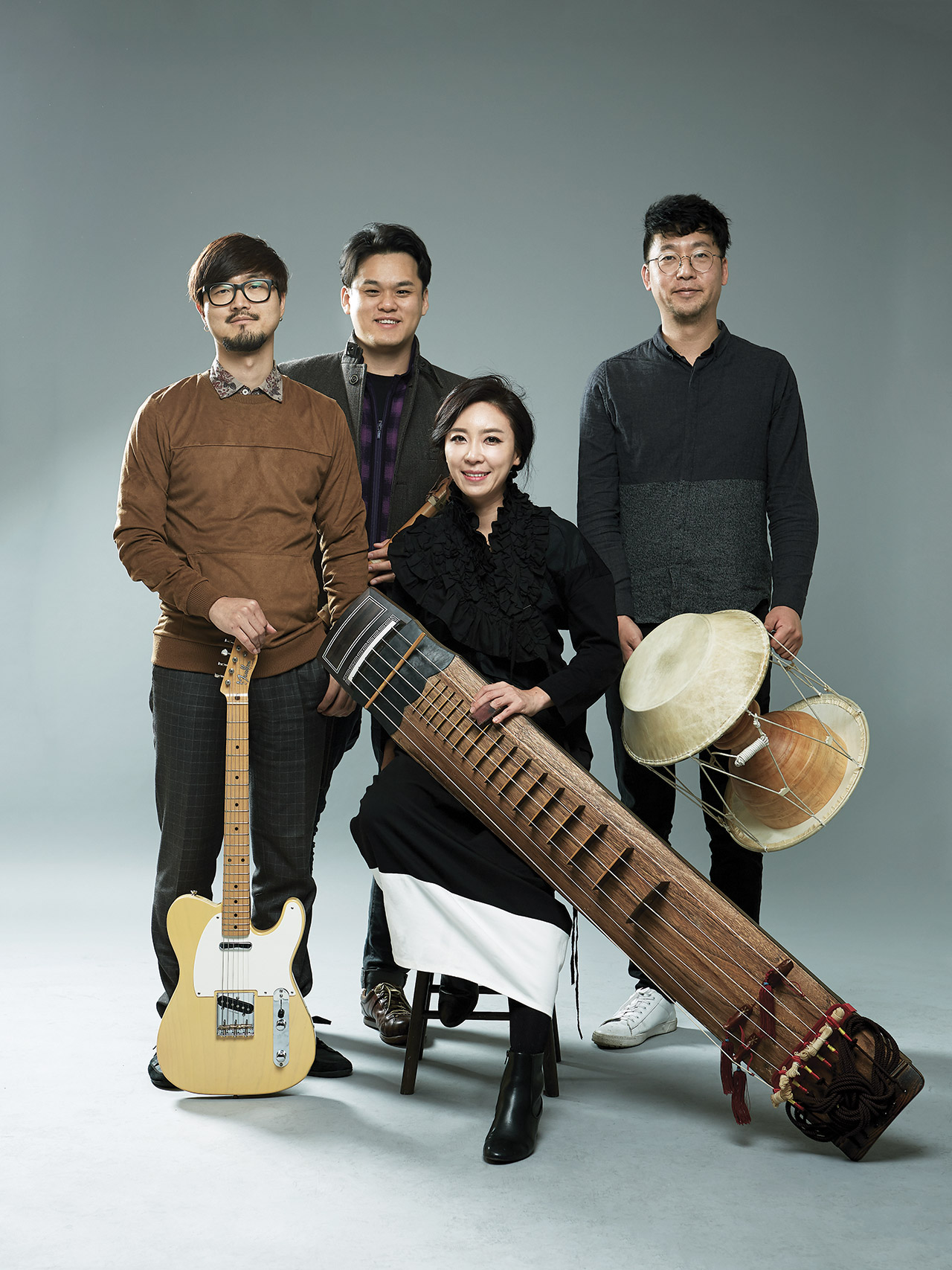 Black String brings Korean traditional music to a global audience
At first glance, the four members of the Korean music ensemble Black String might seem like ambassadors of sorts, bringing Korean sounds to a global audience with an unusual blend of Korean traditional music and contemporary jazz. But dig deeper, allow the music to speak for itself, and you will see one-of-a-kind pioneers paving a completely new road into the global music arena.
A genre beyond borders
Black String consists of three Korean traditional musicians and a jazz guitarist: Heo Yoon Jeong on the geomungo, Heo Aram on the daegeum, Hwang Min Whang on the janggu and Jean Oh on electric jazz guitar. The artists collaborated at a Korea-UK joint music project called UK Connection in 2011 before going on to form the group.
The name Black String is more than just an English translation of the word geomungo. Black represents the deep, mysterious side of the universe in Eastern philosophy; Korea's string instruments convey choppy, more natural expressions than their Western counterparts. Together, Black String represents the unfathomable and endless possibilities of both the East and West.
Similarly, the ensemble's music is more than the intersection of the jazz and traditional Korean genres. As shown in the decision to combine an unlikely pair of genres, there is more to the group than meets the ear. Though the four mainly pursue Korean sounds with jazz elements, they also experiment with music that doesn't fit neatly into either genre.
Their objective is clear.
"Our music can't be bound by genre, and we don't ever want it to be," says Heo, who leads the group. "We call our music borderless contemporary Korean music."
A dance to dispel ghosts
In October 2016, Black String was one of 30 teams selected to perform at the World Music Expo, or WOMEX, in Spain. The show was a great success, and the band members were enthused to see their music gain further exposure to a world audience.
Earlier in the year, they had signed a contract with ACT, one of Europe's two largest jazz record labels (the other being ECM), agreeing to produce five full-length albums. Black String is the first Korean traditional music band to sign with the German label, and its members are excited about the opportunity to promote their music to more people across the globe.
On October 4, Black String released its long-anticipated first album, "Mask Dance." Heo identified a Korean traditional practice as the main inspiration for this album: A traditional Korean mask dance, called cheoyongmu, was originally a method of driving out evil spirits. In 2009, the art form was inscribed on UNESCO's Representative List of the Intangible Cultural Heritage of Humanity.
A cheoyongmu mask contains many expressions, Heo explains, even non-Korean expressions. Similarly, the album consists of multiple, mysterious layers with avant-garde music as well as improvised tracks that explore different variations on jazz and Korean traditional music sounds.
It's not every day that one hears such a variety of genres in a single album – one reflecting an identity that is distinctly Korean yet dynamic and borderless at the same time.
Beyond the homeland
As a Korean music ensemble with a global audience, Black String navigates ways to stay true to its Korean roots while transcending national and cultural boundaries. The four musicians have an incredible ability to relate to a global audience through the universal channel of music.
Heo speaks highly of the audience members she has been fortunate enough to meet in Europe.
"People we meet at world music festivals have decades of experience and exposure to different genres of world music," she says. "Their attitude toward new music is open-minded and free."
She complains that there is less freedom in Korea's music culture, saying, "Koreans don't have many opportunities for exposure to (the same) variety of music (as people in) Europe, and even the scope of Western music in Korea is very narrow."
For Korea-based musicians and artists, climbing the ladder of a global platform may confer increased opportunities to share their culture. But, though a love of one's homeland is honorable, Heo says Black String's utmost priority is its art.
"Art should come from freedom," she elaborates. "When you're pressed down by something, what (you) want doesn't come out. Though we're thankful for the support and the role our music is playing, we're not making music for that alone."
Lee also emphasizes the value that Black String places on having fun while making music, saying the musicians' experience affects that of the listeners.
"What's important is not for what should we make music, but the how," he says. "If we created for a specific purpose, the result would be one-dimensional. When we enjoy what we make, people are able to have diverse experiences through our music."
Echoes of present
Through their music, the members of Black String want to transform unfamiliar sounds into relevant echoes of contemporary life.
"People invest money and time to see art because they want to forget reality and temporarily enter into fantasies," Lee observes. He emphasizes that he wants Black String's music to remind the audience of that.
"Traditional music is beside us in the present time," he says. "It's not remnants of the stories in the past but coexists with the present to create fantastical experiences."
Oh shares that he too lacked awareness about traditional music in Korea.
"In Seoul, diversity is more one-sided than we think," he says. "Before (I joined Black String), I was in a culture where I didn't have much exposure to Korean traditional music. For a foreigner, this may be a small growth in music awareness, but as a Korean, this must be an integral part."
Journey ahead
Black String will be kicking off 2017 with tours in America. In January, the band will tour four cities over a week. In spring, it will perform at Jazzahead!, an international jazz festival in Germany, an experience the four are especially looking forward to after the positive response at WOMEX. The days ahead are bright for the ensemble, and things are just getting started.
Black String is cultivating a unique way of telling Korea's story through music – one that not only engages Koreans in a new way, but inspires people worldwide. While discussing the meaning of Black String, Heo described an art activity in which a child produces a crayon drawing, paints over it with black paint, and peels off the paint with a toothpick to reveal the many colors underneath.
"Black is not the absence, but the coexistence of many colors," she concludes.
One thing is for sure. Black String is not just another addition to the sweeping wave of Korean pop culture. The ensemble brings an unprecedented combination of the best of both worlds, traditional music and jazz, to pull the heartstrings of people worldwide. Perhaps this connected channel of borderless sounds will bring to life the world that John Lennon once called on us to imagine: "Imagine all the people sharing all the world."
Written by Diana Park
https://magazine.seoulselection.com/wp-content/uploads/2017/01/161103-블랙스트링-0006.jpg
1707
1280
cyn
https://magazine.seoulselection.com/wp-content/uploads/2018/01/Seoul-logo.png
cyn
2017-03-24 10:28:06
2017-09-22 11:39:09
Melodious Colors Beneath a Pool of Black