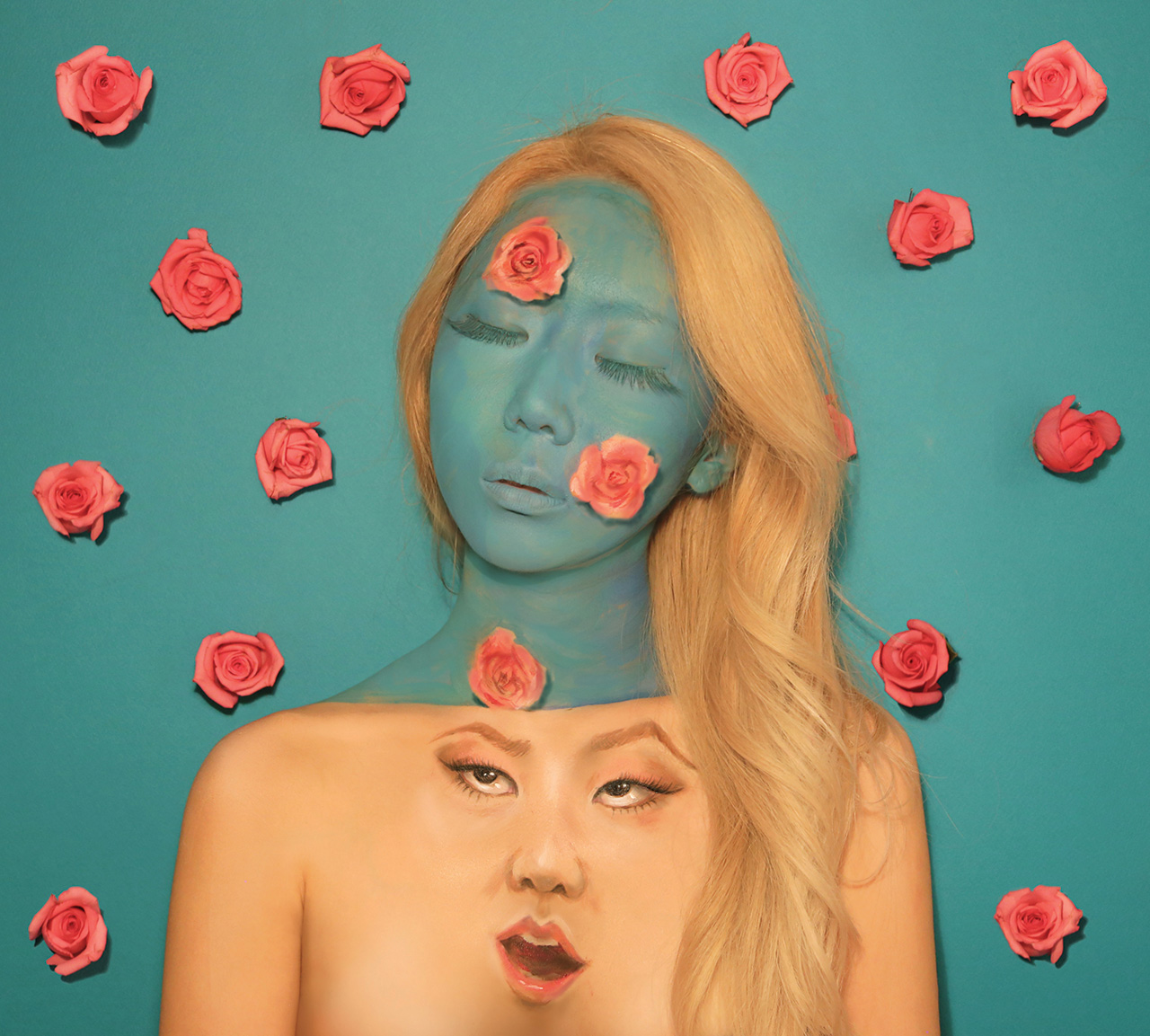 Illusion artist Yoon Dain explores human depth by making herself a canvas
Take a quick glance at artist Yoon Dain's workspace and for a moment, you might feel as if you've stepped into the makeup corner at the department store. A large mirror stands next to a canvas and a paint set that looks more like an eye-shadow palette colorfully complements a muted NARS blush and Bobbi Brown cosmetic set. Although a viral sensation on the likes of big-name beauty platforms such as Cosmopolitan, Glamour, Teen Vogue and Refinery 29, Yoon's makeup skills go deeper than a matter of surface aesthetic. In fact, she had not even started wearing makeup until two years ago. "In Korea, women conventionally don't start wearing makeup until they're twenty, and I wanted to adhere to that," says the smiling 22-year old Yoon, now in her fourth year at Korea National University of Arts.
With Yoon's work, and perhaps with Yoon herself, there is more than meets the eye.
From BoA to illusion art
Often labeled illusion art, Yoon's artwork is a series of photographs that show Yoon herself as a painted figure. You can see them on her Instagram account @designdain, which currently has over 81,000 followers. A post uploaded on Aug. 27 with the caption "show your true colors," for example, shows Yoon's face interwoven into a rose-patterned turquoise wall. Or is it her face drawn onto her chest? It's difficult to say. "There was something Magritte and surrealist about it, even if it wasn't my intention," says Yoon.
"Ever since I was younger, I knew I wanted to go into art," says Yoon when asked about her relationship with the field in general. "There was no question about it. I was obsessed with drawing replications of people and doing it exactly and precisely. In elementary school, I remember completely perfecting this drawing of BoA, who I was really into."
Films, specifically horror films, are also on her list of influences. "There was a point in my life I was watching one a night! And since I really liked the makeup in them, I began to see the characters by their makeup."
The desire for self-expression
As art became a profession in addition to a passion, Yoon found ways to integrate her love of people, characters and makeup into one. "I worked as a theater makeup artist, a makeup artist for films and as a stylist, but I realized I didn't want to work behind the scenes," she adds. She wanted to be a part of the expression and part of the story, but she found that portion of herself unfulfilled – even when modeling. "I realized I was telling a story of someone else's clothes – not my own release."
When asked what she wanted to express, she often says it's the "multi-dimensional perspectives that humans possess." Starting last year, Yoon found a way into her own story by painting her face onto her hand and taking a photo of it as it overlapped on her head. Pressed further, she adds, "Because I was so interested in people; and because I had gotten hurt from people, too, I realized that people are so different each time you meet them." On top of that, having sharp features and what many Koreans may describe as "a strong first impression" was a source of that specific desire of expression. In search for the appropriate outlet, she wanted something that could offer a new perspective each time you looked at it and began to ponder trick art. "You look at trick art and wonder what it is. To truly know, you look at it again and again, and I wanted this kind of 'looking for truth' to happen with people as well."
Technical difficulties
Yoon began to experiment with painting on herself by using a mixture of body paints with acrylic. Initially, she tried the body paint on a model, but found that the expression aspect did not quite fit in. She has portraits where she is painted into indoor objects and portraits that take place outdoors (specifically one with her face as a cloud and one where she is interwoven into a red brick wall). "Because daily life is the only inspiration I really have, I really wanted to do one with a blue sky and a white cloud – but of course, that means I couldn't really do it until the weather was right," Yoon says. Then, there are the technical difficulties and limitations behind her work. Since she cannot paint with her left hand, her right hand cannot be in portraits. Yoon works completely on her own – painting (for hours at a time), taking photos (and realizing the contrast when looking in the mirror and on the camera) and editing. "Once I painted myself using acrylic only and it was really painful – especially because it took so long," Yoon says as she rubs her shoulder gently.  "I haven't yet started to worry about my skin, but I suppose that will start someday."
Insta-fame
While Yoon enjoyed her friends' analysis of her pictures and the discussion surrounding the images, she little anticipated how much the pictures would explode in popularity once on Instagram. "I was never terribly active on social media and when the pictures started to get attention, I realized how quickly pictures can spread and be reposted – especially on a global platform like Instagram," explains Yoon, who's now reached the envy of many a power Instagrammer hopeful. "I was contacted by the Daily Mail via email and then Mashable did a story on me, too and it went from there."
Audiences abroad seem particularly focused on the surrealism of her pictures and the details behind her work, while locals are often curious about her source of inspiration and the reactions of her inner circle. Some local reporters even compared her work to a certain scene in Han Kang's novel The Vegetarian – a book she's only read since the comparison. "I thought it was so beautiful and seductive, the way that body painting was portrayed in the novel," says Yoon. In response to the comments she receives on social networks, she says, "A lot of the reactions are just comments like 'wow,' but I particularly remember the ones that say they see my potential as an artist, and that's really heartwarming."
An invitation to look again
Since Yoon has gone viral, she's gotten several interview requests, offers to do commercials as well as other artists contacting her for possible collaborations. For now, she is planning to have a solo exhibition during the spring of next year, contemplating incorporating other artists into her work and hopes to go to grad school one day as well. "I would like the opportunity to use the skills for a great purpose, if the chance arose," she says. "Something that's not just about me, but for society. How could I channel my personal expression into a greater good? That's something I think about, too."
Although makeup and body paint are two tools often used to conceal and mask, it's ironically striking that Yoon is able to use these tools to attempt to reveal a deeper meaning about human nature. While audiences look forward to her next work, they can busy themselves looking at her work again and again. After all, you may find something new in each observation.
Audiences abroad seem particularly focused on the surrealism of her pictures and the details behind her work, while locals are often curious about her source of inspiration and the reactions of her inner circle.
[separator type="thin"]
More Info
Instagram: @designdain
Written by Hahna Yoon
Photographed by Tim Franco
https://magazine.seoulselection.com/wp-content/uploads/2016/10/show.jpg
1153
1280
cyn
https://magazine.seoulselection.com/wp-content/uploads/2018/01/Seoul-logo.png
cyn
2016-12-19 10:02:45
2016-12-19 10:02:45
More than Meets the Eye