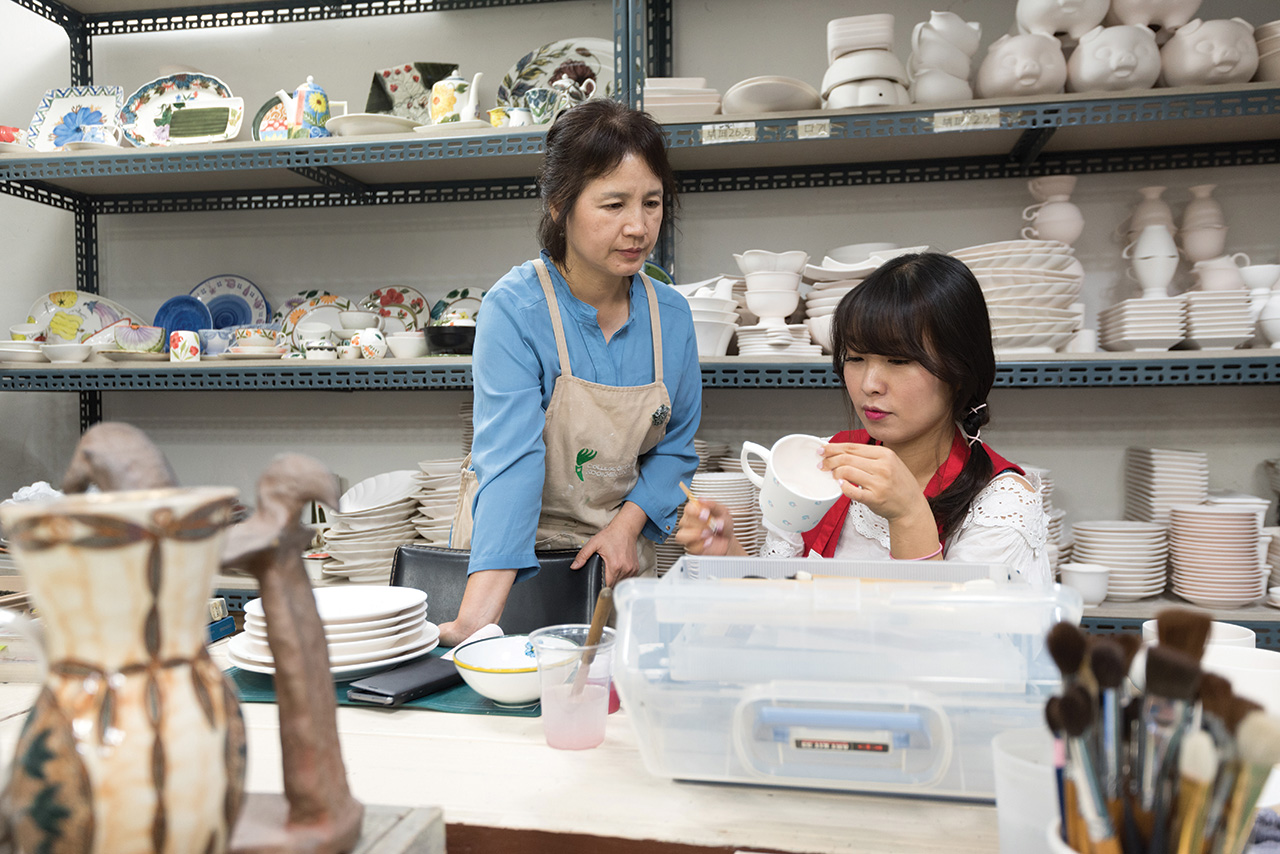 Koreans embrace the DIY lifestyle
Why wear Chanel No. 5 – or any branded good for that matter – when one can wear a personalized creation?
Do-it-yourself styling and decorating is now a popular way of expressing personal tastes in Korea, and have become possible through increasingly accessible one-day classes that teach all kinds of craftworks.
The trend was first made obvious perhaps with IKEA Korea's successful launch in December 2014.
When the Scandinavian furniture retailer, despite the naysayers' forecast, drew crowds of customers to its 59,000-square-meter sales space, Koreans proved they enjoy the experience of being involved in product assembling and making.
Around same time, one-day classes began to surge in number. These classes provide lessons on how to make handmade goods spanning sweets to portable belongings to interior design props.
Connecting with objects through personal touch
Being involved in the making of something lends special value and meaning to the object. The object carries with it the memory of the time spent creating it and reflects the individual taste of the maker.
Uncle Candle, a fragrance shop in the Hongdae neighborhood, opened in the same month as IKEA Korea. The shop invites visitors to cocktail their personal choice of scents and put them into a candle, diffuser, plaster air freshener or perfume.
The secluded shop in a corner street near Sanwoolim Theater immediately caught on with young people. Groups of ten sometimes sign up from companies and schools, treating the experience as a substitute to afterwork drinking sessions in the evolving culture of Korean office life.
According to the store manager Lee Boo-hyeong, the appeal of his shop lies in "the chance to create something personalized, something that reflects the maker's colors."
Many of his customers come to make presents for others, hoping that the thought and time that go into a handmade gift will more effectively convey gratitude and love than products plucked from display shelves.
Lee said people could enroll in his class through social commerce. The online platform helps bring in younger students who are active in mobile transactions.
Kim Hee-hyen, 24, was a walk-in customer. She and her three friends had simply wandered into Uncle Candle by chance as they were exploring the neighborhood. "We were drawn by the scents," Kim said, motioning towards the countless sample fragrance bottles neatly lined up for show. "All we did throughout the day was jump from one restaurant to another. We were too stuffed to eat anymore, and this seemed like a fun and affordable way to spend time."
Another customer, Lee Hyo-ram, 26, was a fan of the DIY workshop boom. He had experience making rings, bracelets and perfume, sometimes with his girlfriend of two years and sometimes by himself when he wanted to surprise her.
It began with the couple bracelet, Lee said. He and his girlfriend set out to make leather bracelets with each other's initials as charms. It was a unique date unlike the usual dinner-and-movie routine. "It's not everyone's cup of tea, I get that, because not everyone likes craftwork. But for us, this was a chance that helped us learn more about each other," said Lee. "The sides of us that were not obvious before became prominent while we were focusing on making something together. We came to know each other better."
When it was their anniversary, Lee went alone to a metal jewelry workshop, where he hammered engravings into silver plates and bound them into rings for both himself and his girlfriend. Lee sheepishly said that handmade bands did not make the prettiest pair of rings, but his girlfriend was moved that Lee had secretly put in the effort.
Both Lee and his girlfriend work long hours. DIY workshops have become a way they spend quality time together over weekends. "We want the time we spend together to be meaningful," Lee said, adding that the next DIY objects he would like to try are mood lights and glass blowing.
Uncle Candle's manager Lee recalled how, before the emergence of one-day classes, DIY was relatively inaccessible. When buying through wholesale, DIY ingredients had to be purchased in bulk. This meant that people often bought more than what they really needed, making DIY an unnecessarily expensive activity.
Another obstacle was the scarcity of instructors. For a long time, DIY was limited to the zealous and talented lot who took regular classes or taught themselves. But now with classes that require only one or two hours to make a fragrant candle, DIY culture is more accessible than ever before.
Social changes spawn the spread of DIY
In one of the major streets in the same neighborhood of Hongdae is a small semi-basement ceramics studio fully equipped with a kiln. Kwon Sook-ja, general manager of the first Cerawork ceramics painting shop, was immersed in painting on a hand-sized dish on a Saturday afternoon. From her brush tips, blue flowers blossomed and landed on the white unbaked ceramic surface.
Kwon has been out on the ceramic painting frontier for eight years with the shop. During those years, she provided lessons for teenage students who wished to pursue a college degree in ceramic art, or for married women who wanted to cultivate productive hobbies. Kwon's students now, however, are much more diverse. On sunny days, Kwon opens up outdoor classes for one-day visitors.
"In the past, it was mainly art majors who pursued ceramic painting, as a detailed line of expertise," Kwon said, having majored in ceramic art herself. "But now, people are more exposed to art and colors than ever before. The heightened consumption of art in daily life has allowed the average person without previous training in the field to be able to create tasteful ceramic paintings."
One-day class takers can choose to paint whatever they like on cups and plates of various sizes. If they are not sure what they want to draw, Kwon provides them with sample line sketches, after which the visitors only have to fill in the colors. Once the class is over, the painted ceramics are baked in the studio's kiln and delivered to the participants' home in four to ten days. These short classes require pre-reservation. Walk-ins are rare.
Increasingly, office workers are signing up for group classes, Kwon said. Korea's tough new anti-graft law, known as the "Kim Young-ran Law" after the lawmaker who sponsored it, is indirectly affecting the DIY market since coming into effect on Sept. 28. A week after the law kicked off, local news channel YTN reported in its morning news that the anti-graft law is having positive social effects as it helps to cut down on the number of afterwork late night drinks for public officials.
Instead of the alcohol consumption, self-management activities are beginning to gain traction, according to YTN. Making use of the free hours in the evening, more office workers are signing up for classes to learn sports, computers and foreign languages. DIY classes are also a popular choices among those who wish to hone creativity.
The ability to craft something on one's own is a valuable skill to people in any stage of life – especially for those who are wary of chemical-based products.
Housewife Bang Jung-lim, 50, who has been making her own shampoo for eight months now, says that she can trust what she makes. Among her acquaintances, Bang sees that newly married women are especially interested in DIY organic products. The trend has become even more conspicuous following a recent scandal involving toxic chemical humidifier disinfectants that took the lives of its users.
Bang says she was always interested in body care products. Early this year, she enrolled in a certificate course for DIY hair care, where she learned and earned the license to make organic hair products. Bang believes her scalp condition has improved since she started using her homemade organic product. Bang's husband, son, sister and friends are all using her creations.
"The best part about homemade skincare products is that they can be personalized for the exact needs of the user's skin condition," said Bang, while the downside can be the nuisance of having to keep certain products always refrigerated lest they go bad. Bang said she wants to gradually expand her DIY cosmetics range to soap, body care, skin care and deodorant.
Your cup of soju
If one can make shampoo at home, concocting a cocktail is an easy task.
Soju, the iconic South Korean hard liquor, is either taken straight up or mixed with beer in a 1:3 ratio. Since the dawn of flavored soju in March 2015, however, sweetened soju cocktails have risen in demand at restaurants and bars. Some people, meanwhile, simply mix their own drink with tested-and-proven soju cocktail recipes that are searchable on Korean portal sites.
One of the popular tips advise mixing soju and Sprite in a 1:1 ratio and adding ice cream, preferably the popsicles "Screw Bar," "Melona" or "Jaws Bar."
Those who like the Kahlua Milk cocktail can try mixing soju and coffee in a beer glass in a 1:5 ratio.
Mixing Gatorade or Powerade, any sort of sweet energy drink and soju in a 2:2:1 ratio is another popular recipe online.
These do-it-yourself cocktails effectively transform your kitchen into a private bar. In the increasingly nuclear family structure of Korea, DIY soju cocktails may be the answer to affordable and satisfying alone time.
More information
For people who are curious to learn more about the DIY phenomenon in Korea, a day at the upcoming Songdo DIY Self-interior Show would be a dive.
The show is slated to run from Nov. 25 to 27 at Songdo Convensia in Incheon.
The exhibition will introduce environmentally friendly DIY, from carpentry to wall painting to knitting and glass blowing; all types of do-it-yourself tricks and tips imaginable for home interior will be shared at the show.
Being involved in the making
of something lends special value and meaning to the object. The object carries with it the memory of the time spent creating it and reflects the individual taste of the maker.
[separator type="thin"]
More Info
Calligraphy Class
Call Lee Hyun Yook
at T. 010-5389-2139
CERAWORK
T. 02-3141-0021
B1 333-18 Seogyo-dong, Mapo-gu
Uncle Candle
T. 02-323-8819
330-5 Seogyo-dong, Mapo-gu
Written by Lim Jeong-yeo
[wc_box color="secondary" text_align="left"]
'You Can Do It'
Sarah Kang of ceramics workshop SARAH'MICS realizes a life's dream by helping others unleash their creative energies
When Sarah Kang returned to Korea after a decade as a flight attendant with Emirates, she decided to pursue a lifelong dream. "I majored in ceramics," she explains. "I always dreamed of opening my own ceramics studio, but I was an airline flight attendant for 10 years." She joined her friend's ceramics studio, and when that friend got married and moved to a different city, she took over the studio in its entirety.
And that's how ceramics studio and classroom SARAH'MICS was born.
At her comfy workshop in a quiet residential area of Sinchon, the irrepressibly ebullient Kang teaches a variety of regular and one-day classes, including regular classes for adults and one-day classes for adults and children. She can even teach in English. Students in her two- or three-hour main classes learn how to make cheese plates, tea sets, coffee mugs and other personalized ceramic works.
Kang's students can be broken down into two general groups: office workers and other people looking to escape the daily grind, and design-related people like interior designers and fashion designers who already have a nose for the arts. She says, "What they all have in common is that they want to make something for themselves."
Indeed, with the DIY craze really starting to take root in Korea, one-day classes have never been so popular. People are discovering their own creative instincts, insists Kang, even if they don't necessarily recognize it at first. "As they shop around, they see something they like and they think, I could do it. I could make it."
She thinks the trend has legs, too. "I watch all over the world. It has only been two or three years since the DIY thing caught on in Korea," she explains. "It's just starting. Now it's getting popular for people to open their own studio or one-day class."
In addition to giving her students an outlet for their creative energies, Kang's classes also provide them with a sense of accomplishment. Many students initially are skeptical of their ability to create anything you'd want to bring home, but when they touch the clay, they realize just how easy ceramics can be. "Most of the students discover an eternal hobby," she says.
Kang believes DIY ceramics can be a way to make the local global.  "Using your own inspiration, using your own experience, you can spread your happy energy, inspiration or creative instinct," she says. "Show everybody! Explore your life! I like to say that anything you create becomes your color."
www.instagram.com/sarahmics_studio/http://blog.naver.com/sarahmics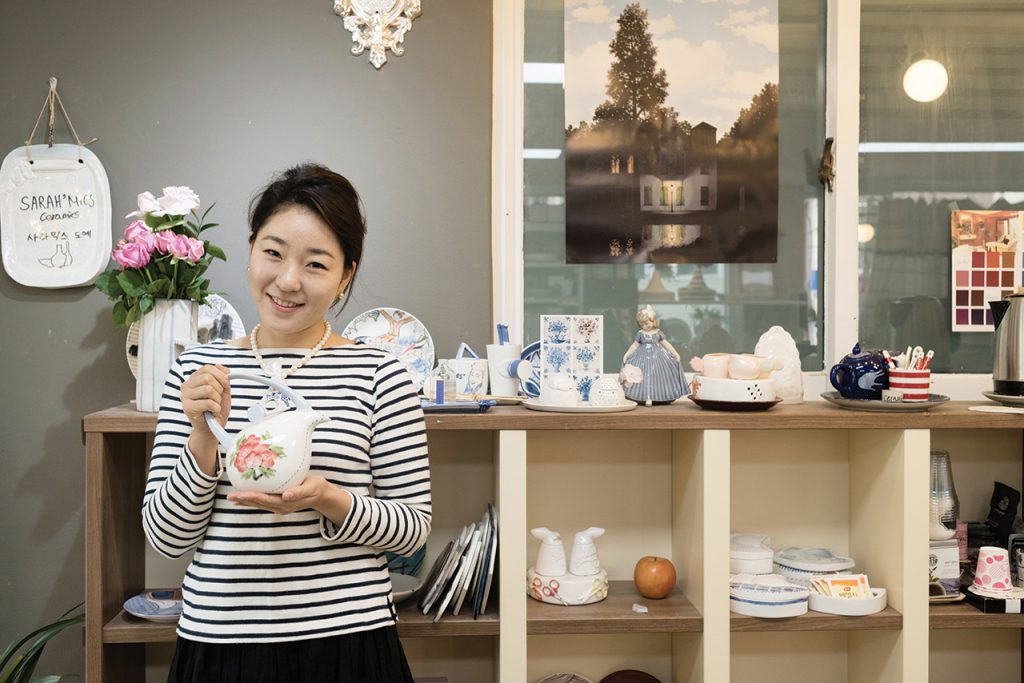 Written and photographed by Robert Koehler
[/wc_box]
https://magazine.seoulselection.com/wp-content/uploads/2016/10/DSC_5348.jpg
854
1280
cyn
https://magazine.seoulselection.com/wp-content/uploads/2018/01/Seoul-logo.png
cyn
2016-12-19 10:01:13
2016-12-19 10:01:13
Do-It-Yourself