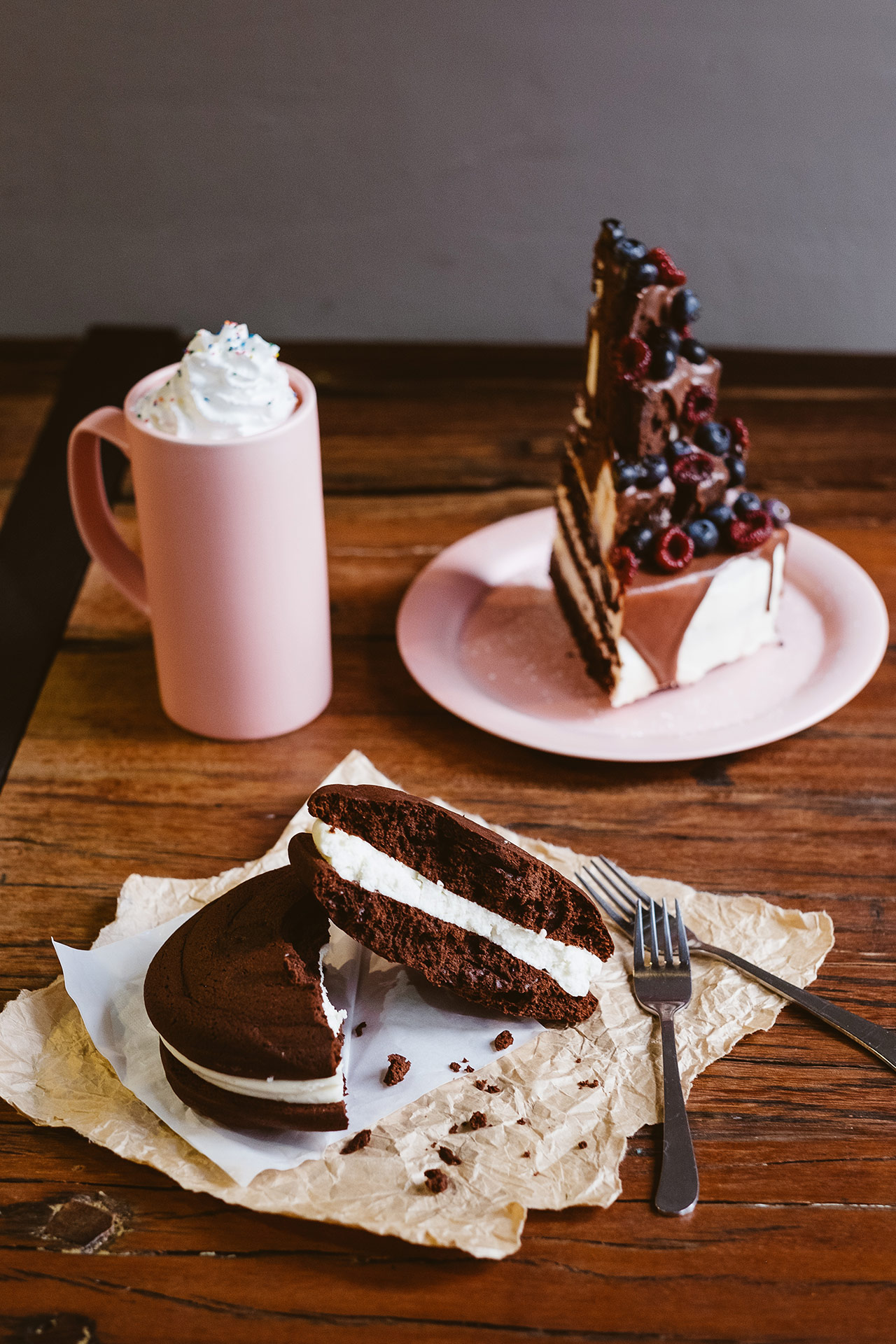 Sweet spots for after-hours sugar binging
If you're a night owl with a sweet tooth, you may know the disappointment of a sugary craving that comes too late for a stop by the local café or bakery. To keep you from raiding GS25's ice cream selection, we've gathered three mouthwatering dessert stops that stay open way past dinnertime. Just make sure that even though it's late, you take a walk after you snack – an old Korean folk tale says that lying down after eating will make you turn into a cow.
The DalDal Café (카페 더달달)
Yeoksam-dong 역삼동      
The DalDal is a multi-story chocolate workshop and café offering handmade sweets crafted by an award-winning chocolatier. With two stories and four different terraces, it's a perfect place to enjoy a late-night bingsu under the stars.
The café is tucked into one of central Gangnam's quiet side streets, inside of a residential home. Right inside the front door is a crowded display of premium chocolate gift boxes, all made on-site and available for custom orders. On the café menu, the year-round signature dish is a refreshingly cool chocolate mousse that comes in rose, mocha and green tea flavors. The summer specialty is a set of fruit-and-chocolate shaved ice bingsu. The towering concoctions are topped with ice cream, Oreos, berries and fruit sauce, but filled with crunchy granola rather than the traditional sweet red bean, which helps set off the other flavors.
A quaint wooden theme runs throughout the café, with the concentric circles of tree rings being the chosen motif of most tables, and chipped, vintage recessed-panel doors serving as an accent. Upstairs, a peek inside the chocolate workshop reveals a vintage baker's table covered in carving tools and hunks of half-sculpted chocolate. Those interested in making their own can sign up for classes. There are even separate tracks for hobbyists versus budding experts – this is an option, though, that's only available during the day.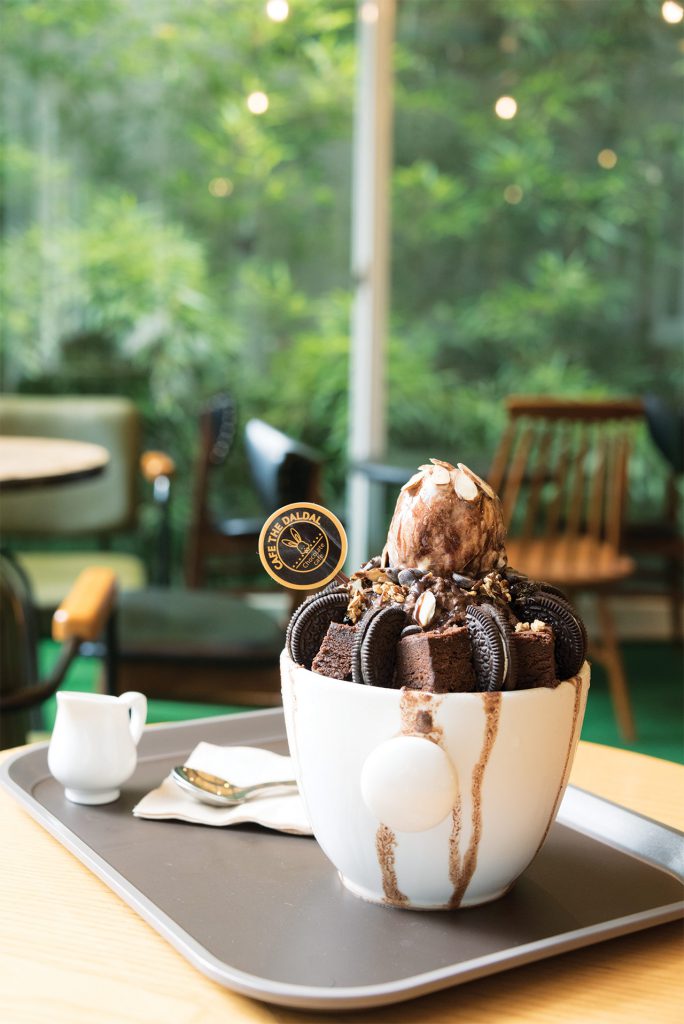 Hackney (해크니)
Yongsan-dong 용산동        
In 2011, Hackney was one of the first in the city to kick off the trend of chic, minimalist dessert cafés that soon had Gangnam and Itaewon overflowing with coolly spartan sweet shops. But to understand the fruits of true minimalism, a visit to the original is in order.
Hackney's owners are ruthless perfectionists, meaning the menu is short but impeccable. Currently, it offers four unnervingly symmetrical, precisely balanced cakes and one elegantly floppy tiramisu, plus a selection of gourmet teas (made by TWG and Mariage Frères) and imported Australian coffee (called Dukes, with fresh beans flown in once a week).
The tiramisu, served whole and uncut, is like a Vienna coffee in dessert form, all milky cream and bitter espresso at once but with neither taste diluting the other. The flavors in the cakes are similarly discrete, allowing you to distinguish exactly what's inside – whether it's hazelnut glaze and banana, or cream cheese and carrot.
Hackney is named after the London borough, as Haebangchon's hyperlocal urban atmosphere reminded the founder of his favorite neighborhood overseas. Given its location, Hackney's terrace is perfect for late-night people-watching, as well as sweet treats.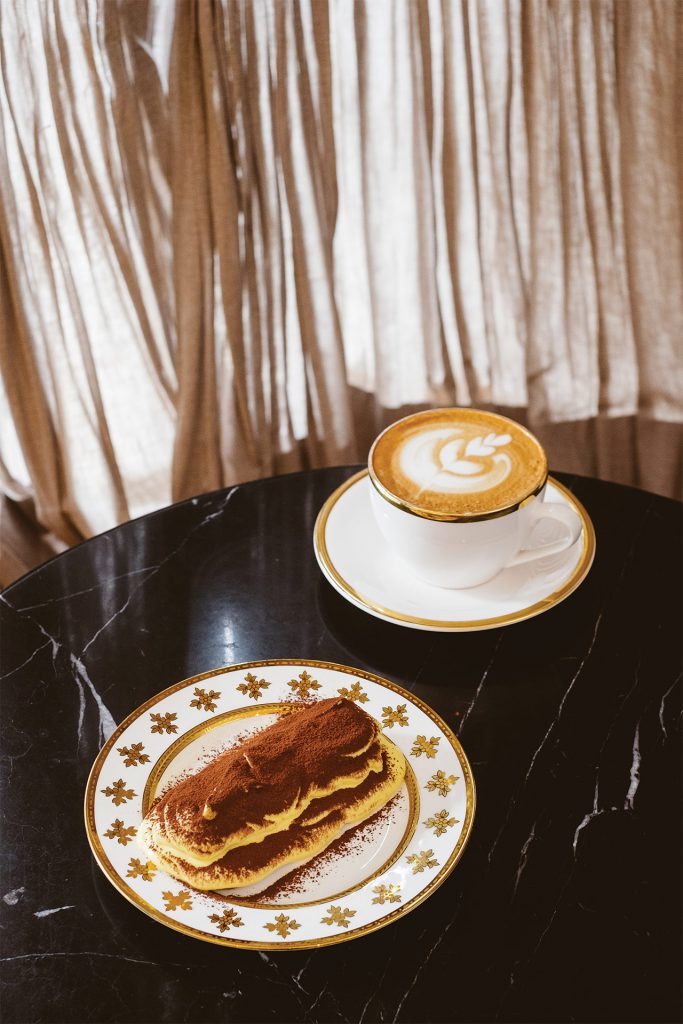 Conversation (컨버세이션) 
Sinsa-dong 신사동         
On Garosu-gil, the most happening place on a recent Monday night was not a bar or lounge, but a cake shop. Conversation has been open for less than two months and yet is already one of the most talked-about places in Gangnam, as the daily crowds can attest.
Conversation is the brainchild of chef Nina Gudkova, who is rumored to be a genius who bakes cakes but doesn't actually eat them. She is Russian, but the cakes on offer are quintessentially American. Hip U.S. baking trends like "naked cakes" that trade frosting for berries, and even classic American recipes like the Pennsylvania Amish dessert staple, the Whoopie Pie, take center stage.
If you've been in Korea a long time, popping a bite in your mouth will be shocking – the cheesecakes are unapologetically cheesy, and the shortcake tastes properly like biscuit, not sponge. The recipes are also creative. The multicultural "Captain America" combines the colors of the Stars and Stripes with the flavors of Latin America's most popular dessert, dulce de leche; on the drink menu, the Bubblegum Latte tastes, a bit disturbingly, just like baseball-card bubblegum.
Conversation's cake slices are huge, with prices to match. Those looking for lighter options can also get away with ordering a fluffy homemade marshmallow or a low-calorie ice cream popsicle. But if you came all this way, why would you not indulge?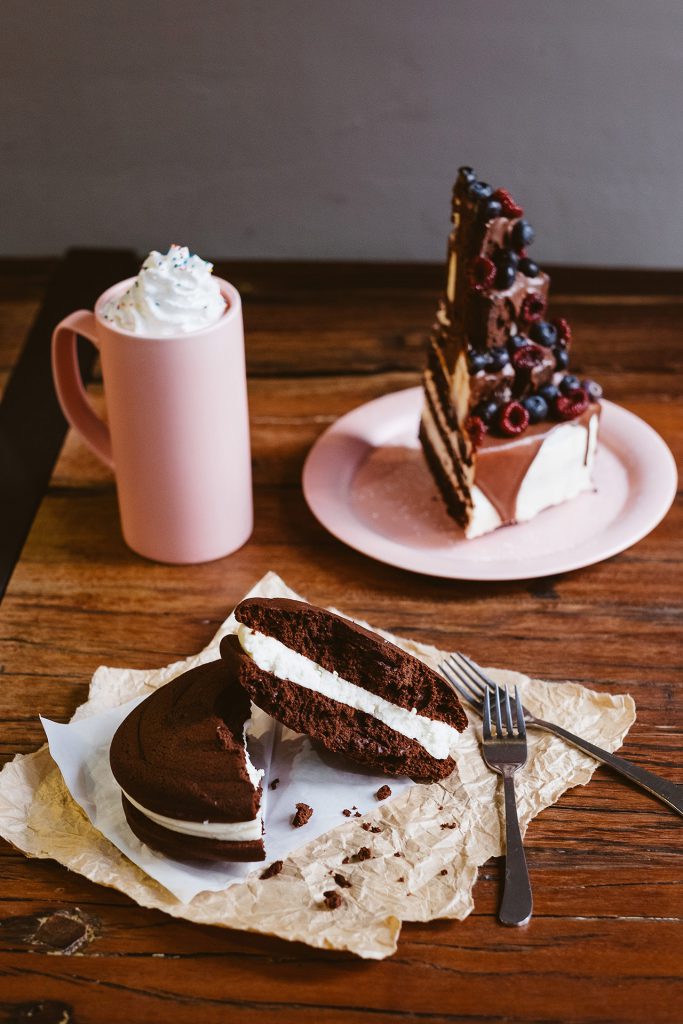 [separator type="thin"]
More Info.
The DalDal Café
38-6 Gangnam-daero 102gil, Gangnam-gu Monday – Sunday 10:30 AM – 12:00 AM
T. 02-562-3737
blog.naver.com/cafethedaldal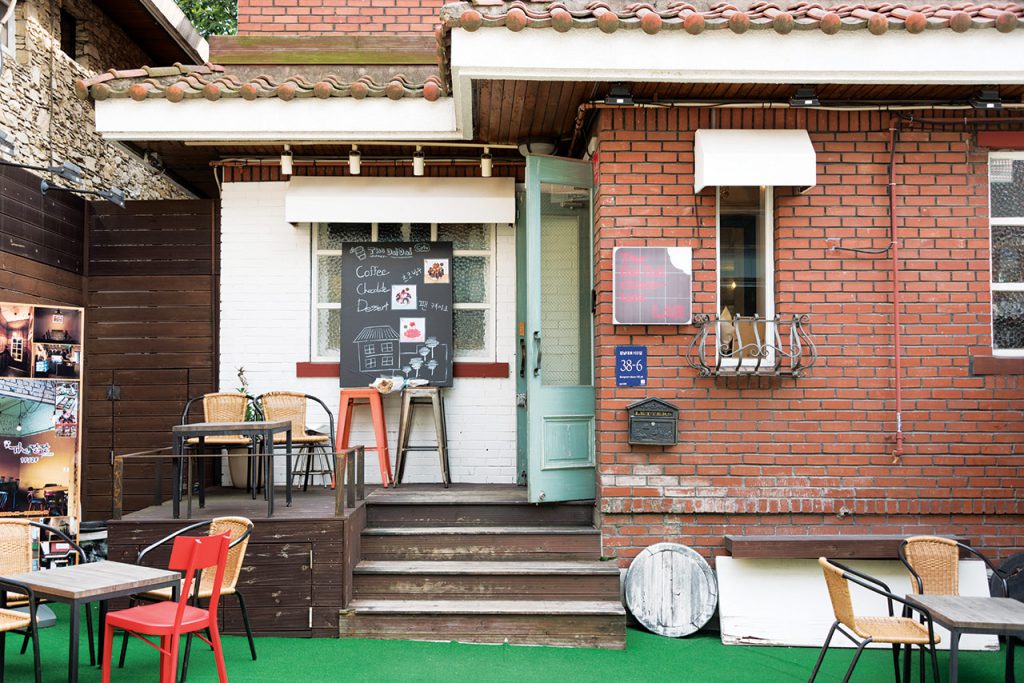 Hackney
34 Sinheung-ro, Yongsan-gu
Monday – Sunday 12:00 PM – 11:00 PM
T. 02-794-2668 (Haebangchon branch)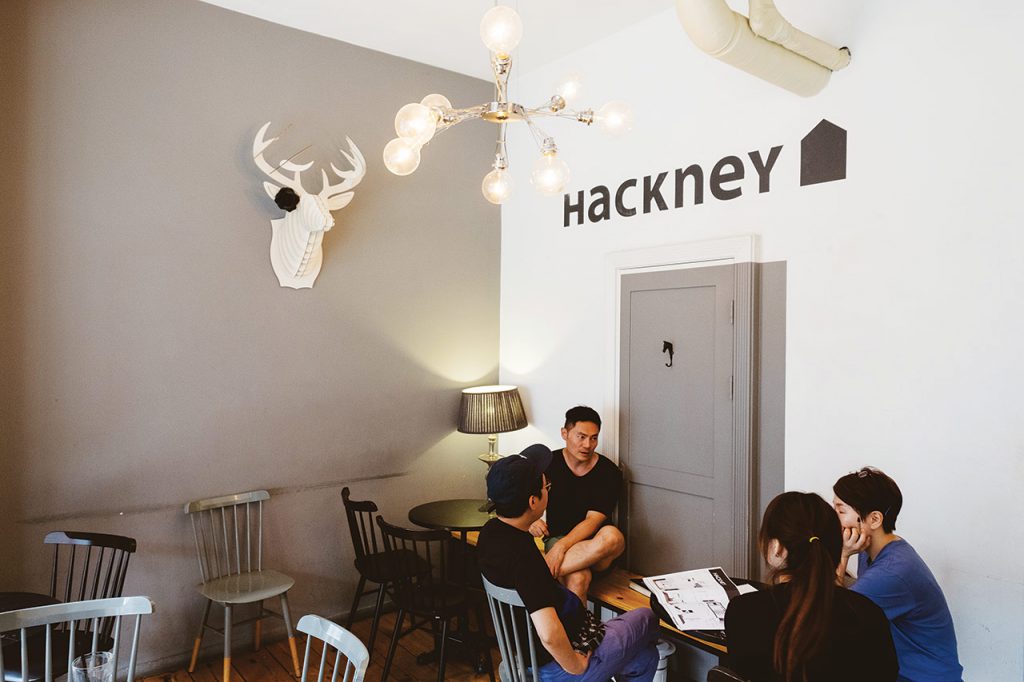 Conversation
36 Dosan-daero 17gil, Gangnam-gu Monday – Sunday 10:30 AM – 10 PM
T. 070-5123-9398 www.instagram.com/conversation_seoul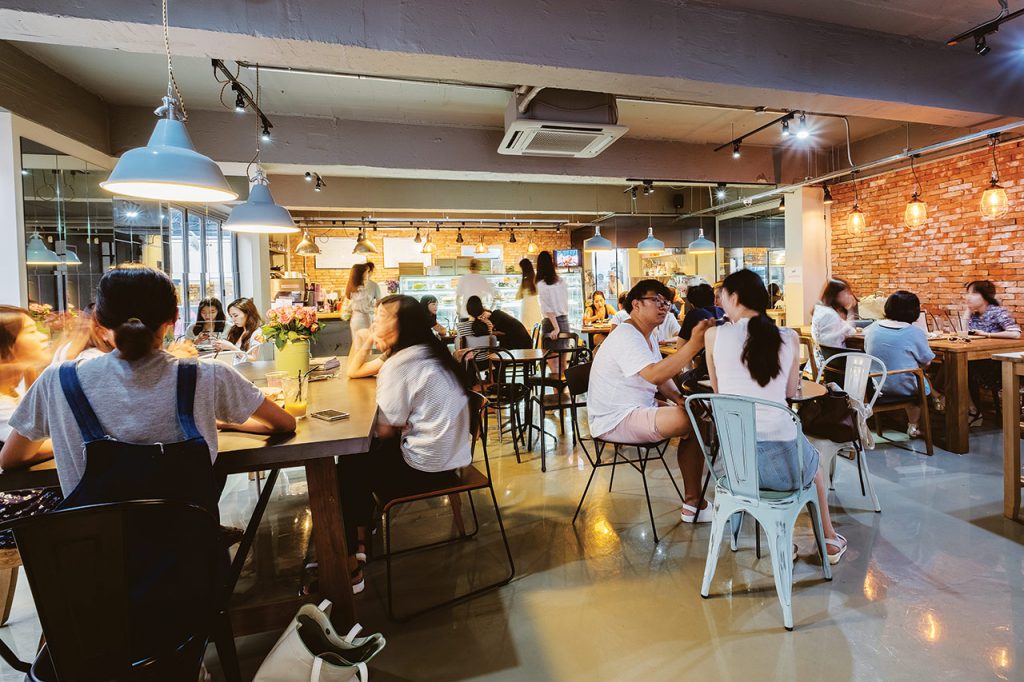 Written by SEOUL Staff
Photographed by Dylan Goldby and Robert Koehler
https://magazine.seoulselection.com/wp-content/uploads/2016/08/026-_DMG9599.jpg
1920
1280
cyn
https://magazine.seoulselection.com/wp-content/uploads/2018/01/Seoul-logo.png
cyn
2016-08-14 17:01:33
2016-08-14 17:01:33
Late Night Desserts