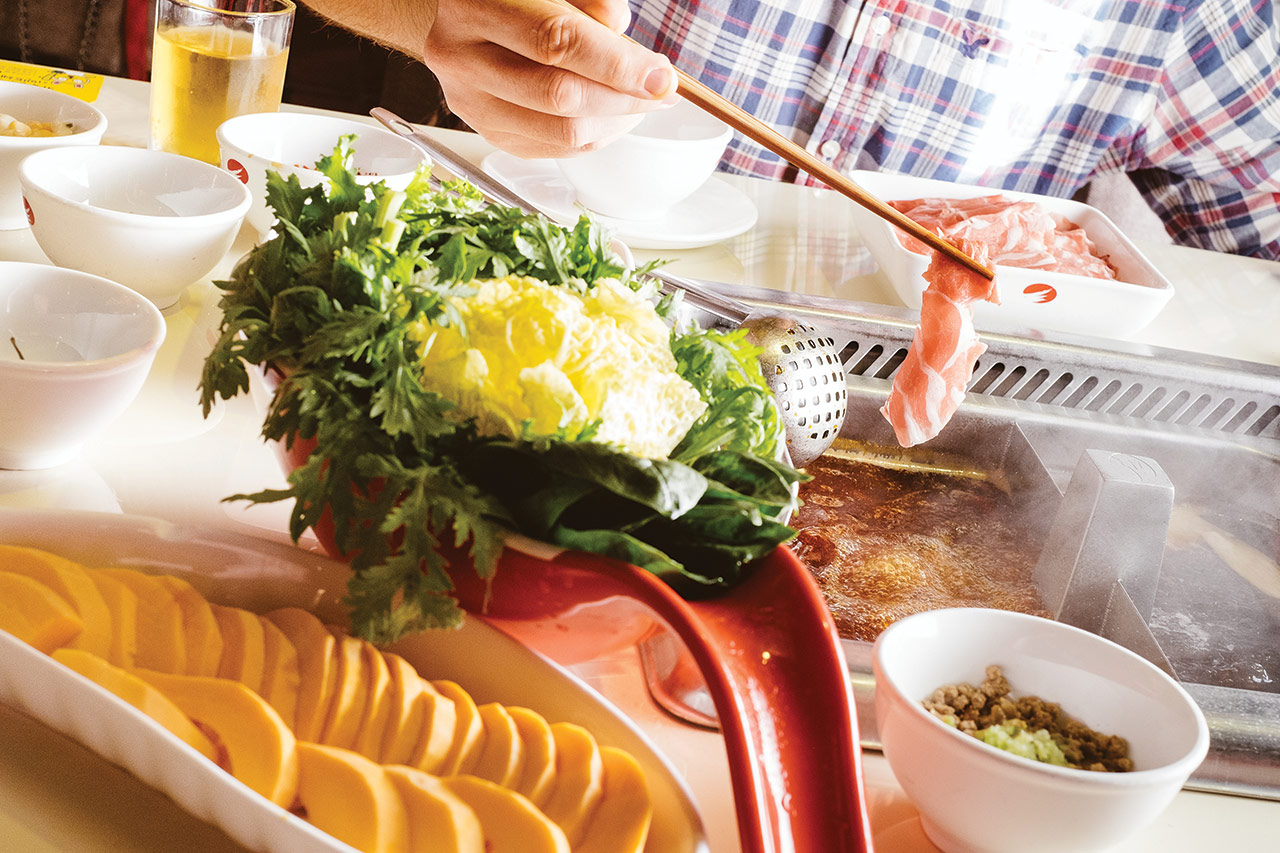 Fight fire with fire
During the dog days of summer, Koreans don't believe it's healthy to cool down with chilled food like naengmyeon or bingsu. They believe in the power of iyeol chiyeol, meaning "fight fire with fire." It's based on an idea from traditional Korean medicine that when the weather heats up, body heat, or gi, rises to the surface and dissipates, leaving the inner organs cold. So it's important to replenish the lost heat by eating hot nutritious food.
Koreans recommend stamina stews like samgyetang and yukgyejang with "rejuvenating" ingredients like ginseng, jujubes and omija. You may have heard that eating a hot tang makes you sweat and helps you cool down. But eating tang with sweat pouring down our backs isn't our idea of a summertime treat. Neither is waiting in hour-long lines for an over priced bowl of samgyetang.
Why let samgyetang shops have all the fun? Here are some delicious hot pot establishments (with excellent air conditioning to boot) that you won't have to wait around the block for.
Hana Shabujung (하나샤부정)
Samseong-dong 삼성동   
Sometimes, you just want a hot pot of your own. At Hana Shabujung, you can enjoy Japanese-style shabu shabu alone at the bar. The word shabu means swish in Japanese and it describes how you swish-swish thin slices of beef and vegetables in the broth very quickly. You don't want to over-cook the ingredients before dipping them in the ponzu or goma sauces.
Hana Shabujung is known for its pork shabu shabu, which is a little unusual in Korea but many regulars get hooked on its flavors and affordable price. Thin slices of meat and a basket of vegetables, mushrooms and fried tofu are part of the set. Once you finish the shabu shabu, udon noodles with broth made from katsuobushi and kelp are cooked at the table to round out the meal. Unlike many shabu restaurants that often cater to business clientele, Hana Shabujung has a cosy feel to it, and you can see that the customers are mostly regulars from the neighborhood.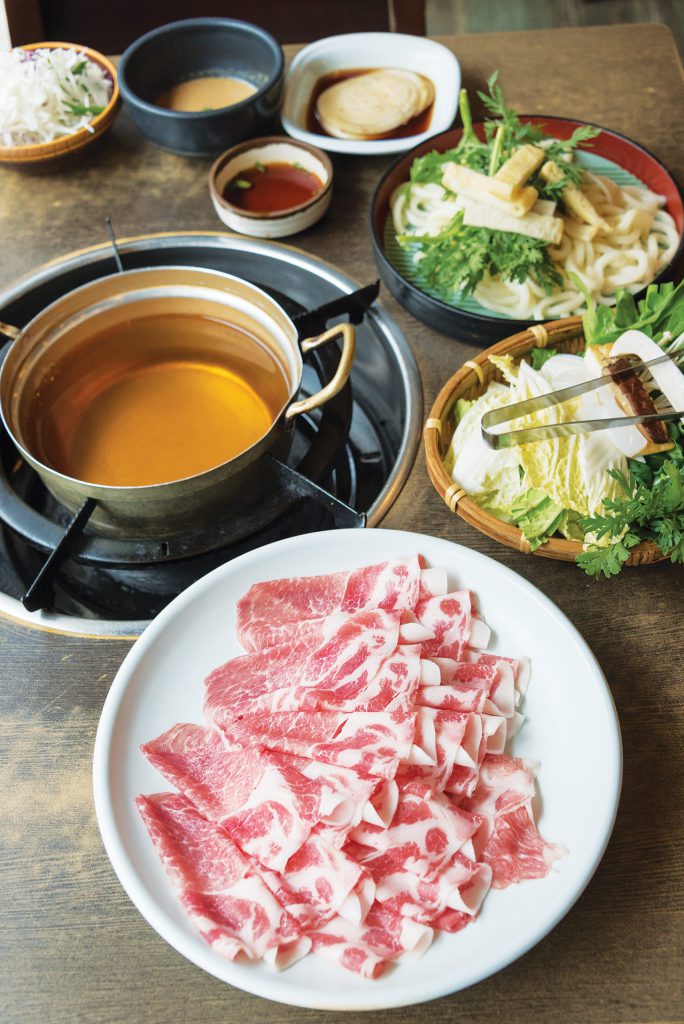 Hai Di Lao (하이디라오)
Myeong-dong 명동
It's getting easier to find more authentic Chinese cuisine in Seoul, with the increase in trade and tourism between the two countries. Many Koreans have discovered Huo Guo or Málà tang in their travels and have fallen for the spicy hot pot distinctive for its "tingling and numbing" sensation from the Sichuan peppers and the huge array of meats, tofu, vegetables and noodles to soak it all in.
With over 145 branches all over Mainland China, Asia and the US, Hai Di Lao is really THE Huo Guo franchise of Asia. What makes them stand out is their service and attention to detail. A server comes to your table with an iPad in hand to explain menu choices. Huo Guo is all about customization, from the selection of your broths (two are recommended, one spicy and one mild), to choice of meats, vegetables, tofu and other ingredients, and there's even a buffet table of over twenty different ingredients to make your own dipping sauces. The noodles are hand-pulled and a noodle master comes to your table to demonstrate his technique. And if you're waiting in line, no worries, there's free popcorn and even a complimentary mani or pedi to make the time go faster.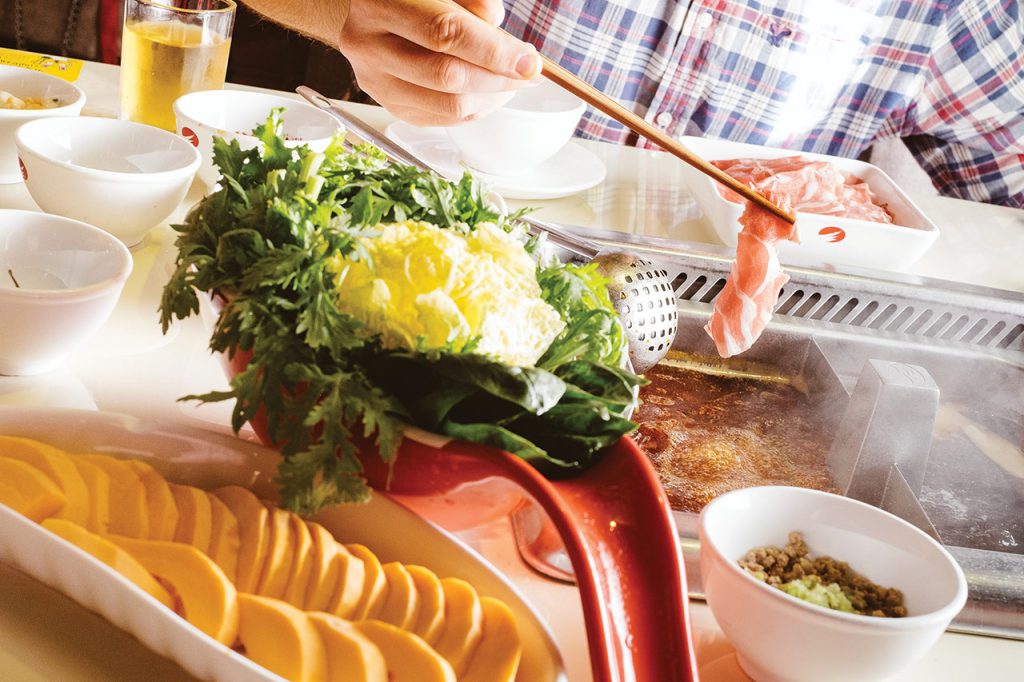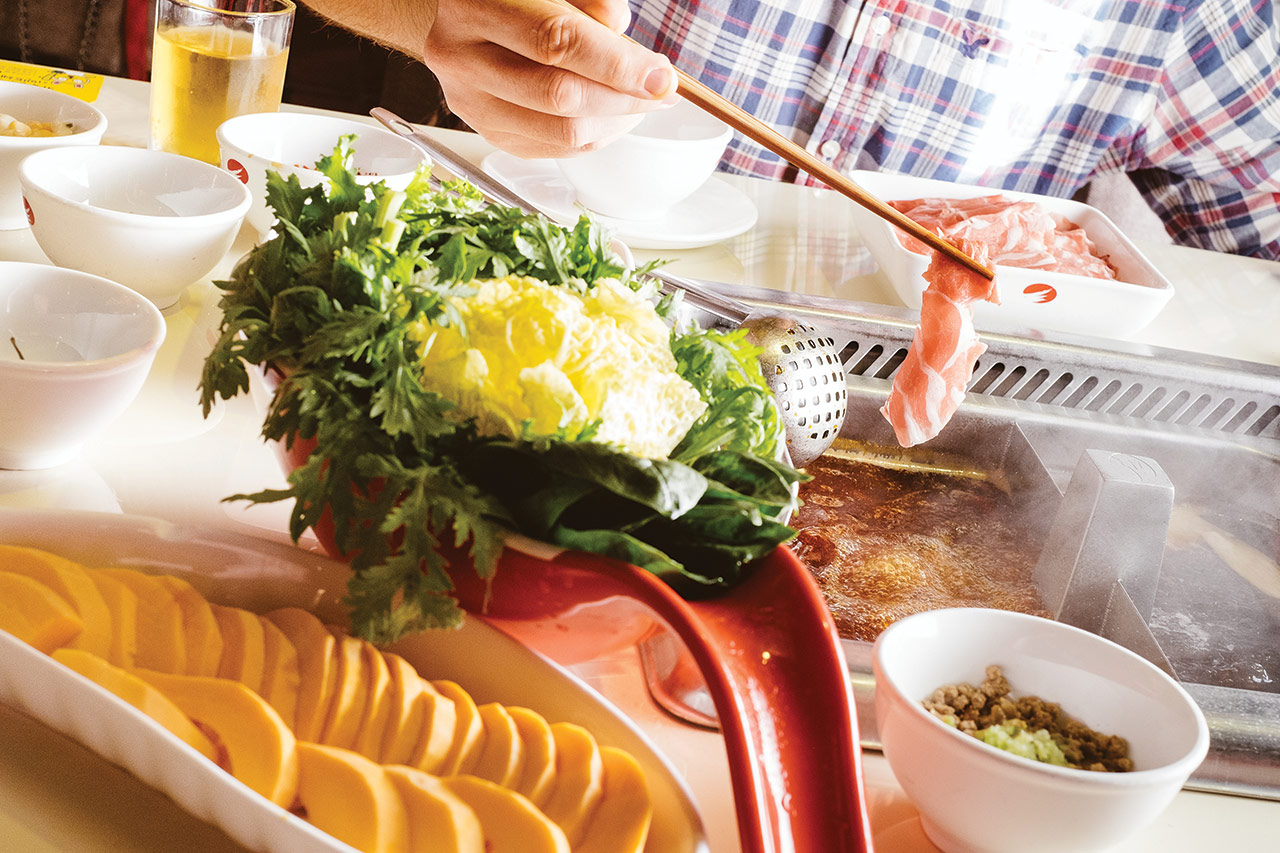 Neungrado (능라도)
Yeoksam-dong 역삼동     
The neologism myeonsplain is a combination of "noodle + explain" (yes, originating from "mansplain"), and it describes a debilitating condition that some Korean foodies suffer from. It's how they try to convert friends to their worship of pyongyang naengmyeon. Neungrado is one such pyongyang naengmyeon favorite but it offers so much more. Its eobokjaengban is really the highlight of the menu. Eobokjaengban is essentially a hot pot with boiled beef slices (pyeonyuk) covered with green leafy vegetables, simmering in a clear beef broth. Neungrado's eobokjaengban arrives as a glorious mountain of crown daisies and perilla leaves, but after the first boil, you'll see the pyeonyuk slices hiding below.
Don't dig in right after the first boil, let it simmer for a while, deepening the flavors of the broth. You can dip the pyeonyuk into the soy sauce seasoning or try them wrapped in the fragrant perilla leaves and crown daisies. Some folks like to add a plate of dumplings into the hot pot. Don't forget to order a bottle or two of liquor. You can always ask for additional broth to make the dish last a little while longer as you drink. The dish is pricey but the medium serving can easily serve two to three people and more if you order mandu or mung bean pancakes.
[separator type="thin"]
More Info.
Hana Shabujung
62 Teheran-ro 81-gil, Gangnam-gu
T. 02-538-7114
Hai Di Lao
78 Namdaemun-ro, Jung-gu
T. 02-6361-8260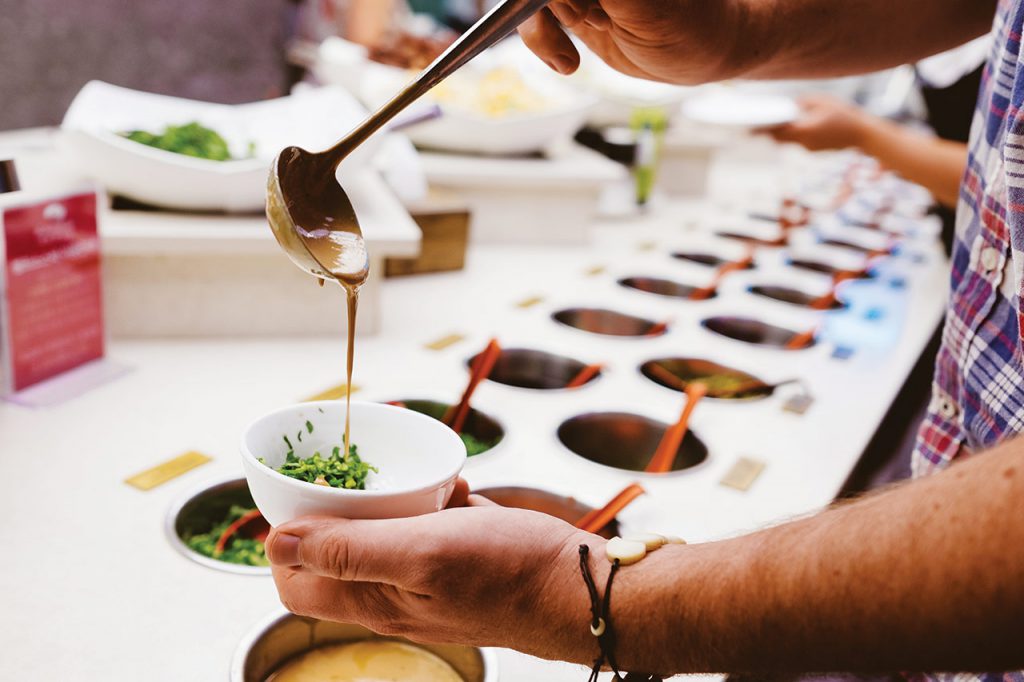 Neungrado
7 Eonju-ro 107-gil, Gangnam-gu
T. 02-569-8939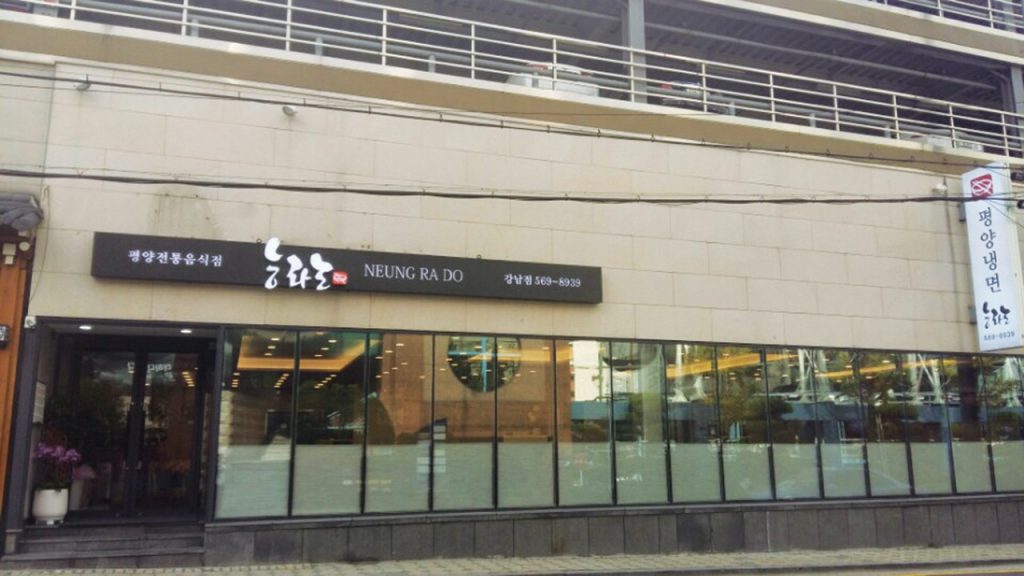 Written by Cynthia Yoo
Photographed by Dylan Goldby and Robert Koehler
https://magazine.seoulselection.com/wp-content/uploads/2016/08/007-_DMG3352.jpg
853
1280
cyn
https://magazine.seoulselection.com/wp-content/uploads/2018/01/Seoul-logo.png
cyn
2016-08-14 17:12:06
2016-08-14 17:12:06
Hot Pot: Iyeol Chiyeol