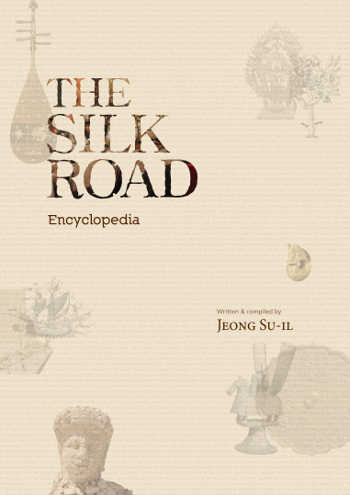 April 18, 2016 / Issue No. 724

'The Silk Road Encyclopedia'




Learn more about one of history's greatest avenues of inter-civilizational exchange

Seoul Selection is happy to announce the release of "The Silk Road Encyclopedia."

Since the concept of the Silk Road as an avenue of inter-civilizational exchange emerged more than 130 years ago, scholars from both Eastern and Western societies have conducted persistent research to advance the field. Still, however, not nearly enough research has been conducted, and scholars present conflicting theories.

This book, written and compiled by Jeong Su-il, a prominent Silk Road expert of South Korea, aims to rectify the common misconception of the Silk Road being a simple trade route and shed light on the aspect of an interconnected global circuit of inter-civilizational exchange. The more than 2,000 entries in this encyclopedia explore all the exchanges that occurred between civilizations as a direct result of the Silk Road, showing artifacts and written records to track the paths of such exchange along the Silk Road and its neighboring regions. To write this book, the author has consulted a wide range of material, including overseas texts concerning Silk Road civilizations, world-renowned travelogues, and data extracted from on-site studies.

Price: KRW 150,000

---

Enjoy SEOUL on the Go: Download our magazine app for your tablet! (iOS, Android)

---


The Fashionable Crowd

Meet the expats

making waves in Korea's fast-moving fashion industry


Lighting Up the World with Wisdom and Happiness
One of Korea's most popular celebrations, the Yeon Deung Hoe (Lotus Lantern Festival) brightens the soul with not only paper lanterns, but community spirit

---

AROUND THE WEB

A miscellany of high-quality hyperlinks from the week, courtesy of SEOUL editor-in-chief Robert Koehler

---

EVENTS

Hyundai Card Curated 22: The Winery Dogs

Come hear American rock band The Winery Dogs in the comfy confines of the 450-person Hyundai Card Understage. Formed in 2012, the supergroup is composed of Dream Theater drummer Mike Portnoy, Mr. Big bassist Billy Sheehan and prolific guitarist and vocalist Richie Kotzen. Their second album, "Hot Streak," released last December, hit No. 2 on the US Billboard Top Modern Rock/Alternative Albums and No. 30 on Japan's Oricon weekly chart, where hard rock songs are a rarity. During this performance, part of a tour to mark the release of "Hot Streak," many Korean fans will be hearing hit songs such as "Oblivion" and "Elevate" for the first time.

VENUE: Hyundai Card Understage
DATE: Apr. 23
MORE INFO: T. 02-331-6301
ADMISSION: KRW 132,000
GETTING THERE: Hangangjin Station (Line 6), Exit 3

Dead Dog in a Suitcase

Based on the Beggar's Opera, John Gay's classic musical satire, Dead Dog in a Suitcase (and other love songs) is busting with wit, wonder and weirdness. An extraordinary Kneehigh cast of actor musicians shoot, hoot and shimmy their way through this twisted morality tale of our times…by turns shocking, hilarious, heartfelt and absurd.

The gorgeous and powerful live score combines trip hop and folk, Renaissance polyphony and psychedelia, and ska, grime and dubstep, echoing Gay's original by plundering the sounds of our times.

VENUE: LG Arts Center
PERIOD: Apr. 21-24
MORE INFO: T. 02-2005-0114
ADMISSION: KRW 40,000-80,000
GETTING THERE: Yeoksam Station (Line 2), Exit 7

Geumsugungga

This modern rendition of the pansori classic "Sugungga" breaks away from the one-singer tradition to feature trio work and a variety of theatrical effects. Kim Myung-gon, the star of the hit Korean film "Seopyeonje" and former minister of culture, wrote the script and performs as one of the singers.

VENUE: Namsangol Hanok Village
PERIOD: May 19-20
MORE INFO: T. 070-7730-0406
ADMISSION: KRW 30,000
GETTING THERE: Chungmuro Station (Line 3 or 4), Exit 3

100 Years of Korean Film in Photos

The Korean Film Archive is hosting a photo exhibit celebrating a century of Korean cinema at Seoul Plaza next to Seoul City Hall. Korea is an undisputed film superpower – the Korean film industry enjoys the seventh highest sales total in the world, and Koreans are the biggest moviegoers in the world per capita – but many of Korea's film classics are still relatively unknown to the general public. This photo exhibit is an opportunity for lovers of cinema to survey the development of Korean film.

VENUE: Seoul Plaza
PERIOD: Thru April 23
MORE INFO: T. 02-3153-2053
GETTING THERE: City Hall Station (Line 1, 2)

"Game"

In British playwright Mike Bartlett's recent drama, "Game," a young couple who are unable to afford a home of their own are offered the chance to live in the house of their dreams, but with one condition – paying customers, hiding behind one-way see-through walls, can watch them even in their most intimate moments, and occasionally shoot them with tranquilliser darts. The Financial Times called it "a knockout." This Korean production is directed by award-winning director Jeon In-cheol.

VENUE: Doosan Art Center's Space111
PERIOD: Thru May 15
MORE INFO: T. 02-708-5001
ADMISSION: KRW 10,000-30,000
GETTING THERE: See this link.

Franz Harary's 'Grand Illusion'

Internationally acclaimed American illusionist Franz Harary brings his show to Korea for the first time ever. The man who once made the Space Shuttle appear to disappear on TV will put on his greatest stage spectacle yet. In addition to being a record-breaking illusionist who packs stadiums throughout the world and a recognized TV personality, Harary is also a much sought-after effects designer for some of rock and pop's biggest stars.

VENUE: Jangchung Gymnasium
PERIOD: Tru April 27
MORE INFO: T. 1577-3363
ADMISSION: KRW 55,000-99,000
GETTING THERE: Dongguk University Station (Line 3), Exit 5

RAS-KB: Magnolias, Rias and Sunsets: Chollipo Arboretum and Taean National Park

Every year, the RAS takes a one-day excursion to Chollipo Arboretum. This year will be no different, but in addition to the arboretum, participants will also try to take in some of the other scenic spots of Taean Peninsula, one of Korea's most beautiful districts.

VENUE: Taean, Chungcheongnam-do
DATE: April 23
ADMISSION: KRW 63,000 for members, KRW 75,000 for non-members
GETTING THERE and MORE INFO: See this link.

---

EVERYDAY KOREANS


Crosswalk on Jongno at sunset. Photo by Robert Koehler of SEOUL.

NOTIFICATIONS

Seoul Selection's Free Book Giveaway – Our free book give-away continues! Check out the list in last week's newsletter here.

Seoul Selection Offline Bookshop Sale – One of the greatest repositories of Korea-related English-language books anywhere, Seoul Selection is offering a 10% sale on any and all books published by Seoul Selection purchased from our OFFLINE bookshop next to Gyeongbokgung Palace.

Looking for Translators – Seoul Selection is looking for a few good translators (Korean to English) for general translation work. Those interested should send a resume and cover letter to Kyehyun at atoz@seoulselection.com. Experienced translators only.

Seoul Selection eBooks – You can purchase some Seoul Selection titles in ebook format via Amazon.com (for Kindle) and Apple's iBookstore. Titles include Ask a Korean Dude, Moon Tides, Doing Business in Korea, Once Around the Sun, and seven volumes of our Korean Film Directors series: BONG Joon-ho, IM Kwon-taek, KIM Jee-woon, LEE Chang-dong, LEE Man-hee, PARK Chan-wook, and SHIN Sang-ok.

Send Your Event Info – If you would like to advertise any upcoming events you are organizing, please send us the press release material at pubco@seoulselection.com by the preceding Friday in order for it to appear in the following Tuesday's issue.

Freelance Contributors Wanted – SEOUL Magazine needs writers who are fluent in both Korean and English. Writers should have a strong interest in Korean culture and be able to interview Koreans. Send your resume and writing samples to english@seoulselection.com.
Copyright © , All rights reserved.
Our mailing address is:
https://magazine.seoulselection.com/wp-content/uploads/2016/04/Silk-Road-Cover_0324_SS_Page_1.jpg
495
350
rjkoehler
https://magazine.seoulselection.com/wp-content/uploads/2018/01/Seoul-logo.png
rjkoehler
2016-04-18 14:06:19
2016-04-18 23:11:26
SEOUL Weekly: 'The Silk Road Encyclopedia'