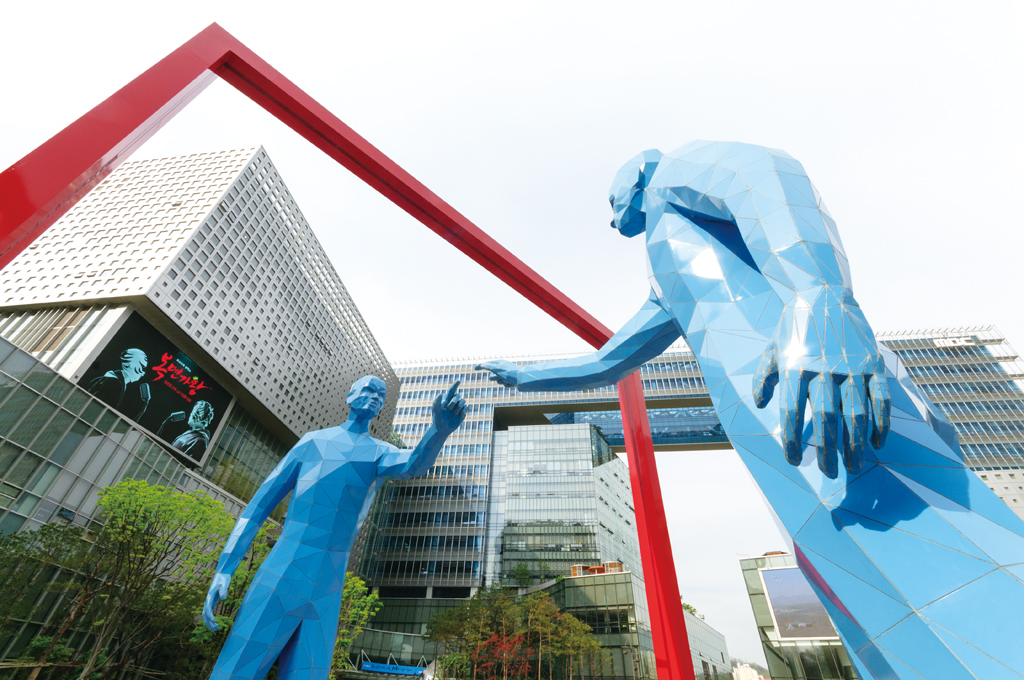 Exploring the city as seen in Marvel Studios' latest blockbuster hit
The eagerly anticipated action-thriller film "Avengers: Age of Ultron" is out in theaters and, given the movie's high-profile film shoots in Seoul during March and April of last year, few were surprised when the city served as a notable backdrop in the film. It's not the first time the Korean capital has appeared in a Hollywood picture, but never before has it featured as prominently in so major a blockbuster.
While Seoulites will easily recognize most of the filming locales, international visitors might be slightly at a loss. Fortunately, most of the spots are easy to find, and are located in fascinating neighborhoods that are worth exploring in their own right.
From cutting-edge to old school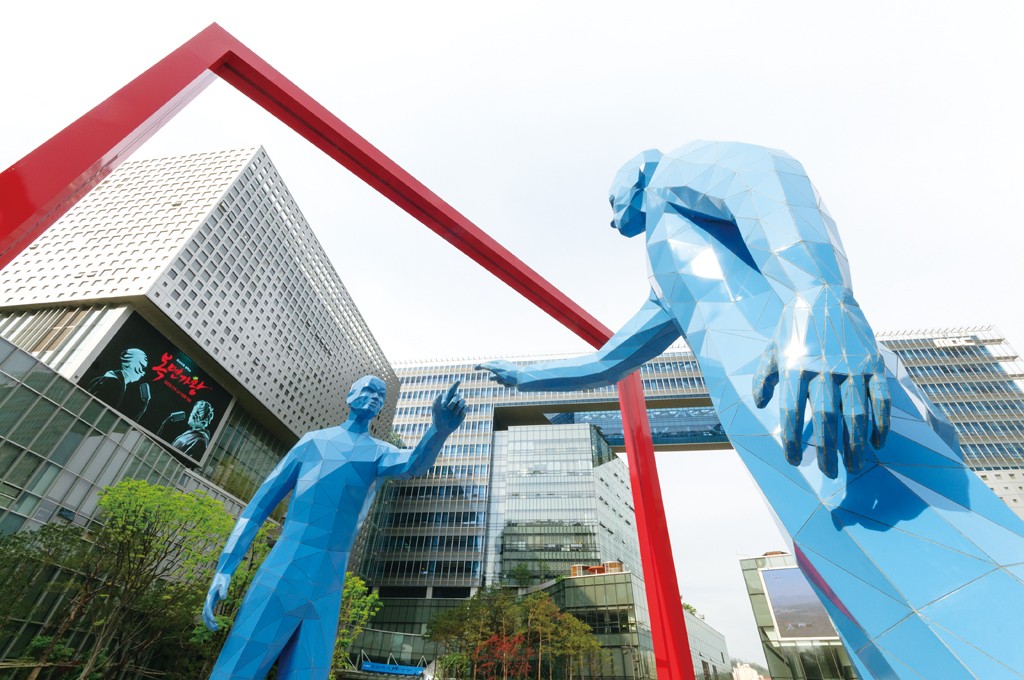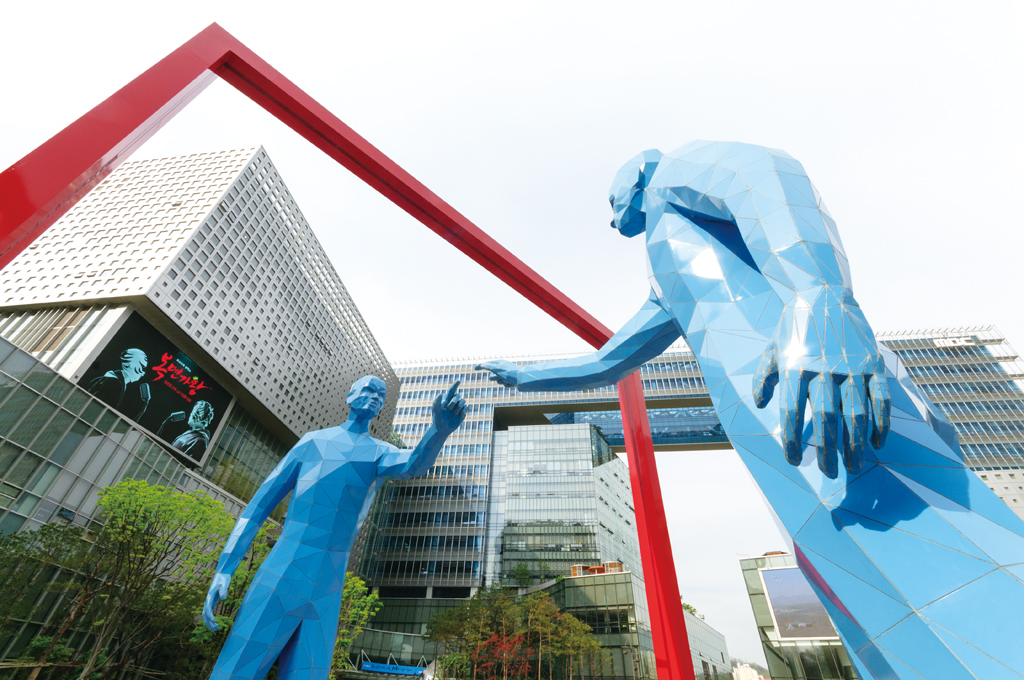 "Avengers" depicts Seoul as a high-tech center, so perhaps it's fitting that we begin our exploration at Sangam-dong's Digital Media City, where tomorrow is very much today. Designed as a hub for Korea's entertainment and media industries, the 570,000-square-meter cluster of futuristic architecture is home to many of Korea's biggest TV channels, including MBC, SBS and YTN. The cutting-edge cityscape of glass and steel appears as if lifted straight from a science fiction movie, appropriately enough. One of the halls, the Digital Pavilion, has interactive exhibits that give you a taste of Korea's tech-savvy future. The massive headquarters of Korean broadcaster MBC has exhibits and hands-on programs as well (T. 02-789-0011 to make a reservation). Be sure to check out "Square M-Communication," a piece of large-scale installation art that resembles a man looking at his own image on a screen. In the film, Hawkeye (played by Jeremy Renner) flies his futuristic Quinjet aircraft directly over the work, which represents how the media promotes humanism and communication.
TIP> For those interested in Korean rather than Hollywood cinematic history, pop into the Korean Film Archive, where there's a museum and, more importantly, Cinematheque KOFA, which runs daily screenings of classic Korean films.
From Digital Media City, hop on the subway (Digital Media City Station, AREX line), transfer to Line 5 at Gongdeok Station and get off at Mapo Station. From there, take a short walk until you reach the Mapodaegyo, a bridge where, in "Avengers," Captain America hangs on to a truck carrying the synthetic body of Ultron. Erected in 1970, the bridge, which connects the district of Mapo-gu north of the river with the district of Yeongdeungpo-gu south of it, offers beautiful views of the skyscrapers of Yeouido – also known as "Seoul's Manhattan" – and the Hangang River. The sunrises and sunsets here can be quite inspiring, with two observation decks from which you can take them in. The bridge is also called the "Bridge of Life," and along the structure you'll find installation art, LED lights and digital signs encouraging would-be bridge jumpers to give life a chance.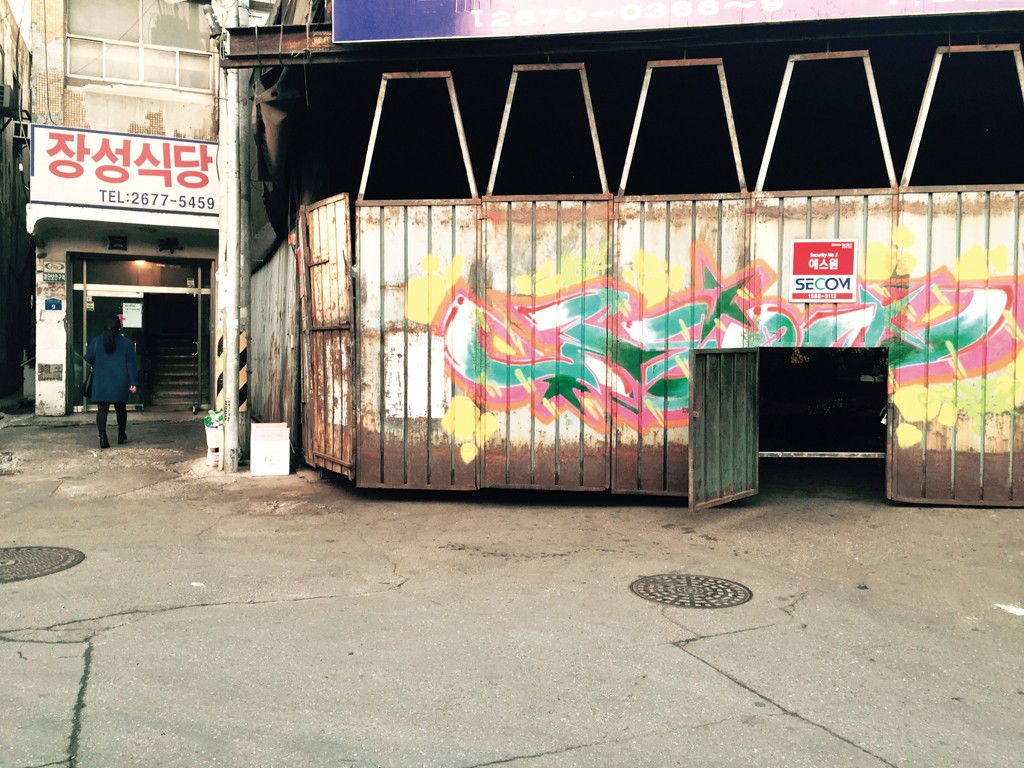 From the Mapo Bridge, head back to Mapo Station and take Line 5 to Yeongdeungpo Market Station. From Exit 4, walk about 20 minutes until you reach the gritty Mullae-dong metalworking district, where the movie's dramatic subway derailment scene takes place. Metalworking shops began to congregate in the neighborhood in the 1960s; today you'll find about 1,700 smiths plying their trade here. Over the last decade, however, young artists have been moving in, attracted by the low rents and industrial atmosphere. As you roam the alleyways lined by grungy metalworking shops, you'll also notice the colorful wall murals and street sculptures added by the more recent inhabitants. Some of the old shops and factories have been converted into studios, cafés and restaurants, too. One old home, for instance, was converted into an especially charming slow-food eatery. Another old workshop, meanwhile, is now a woodwork atelier. Several wine bars have recently moved in as well.
TIP> Seoul Art Space Mullae (T. 02-2676-4300) is part arts-incubator, part exhibit space and part community support center. It's a good place to get an idea of what's happening in the neighborhood artistically.
Madcap driving in the heart of Gangnam Style
Much of Seoul's on-screen time comes in the form of furious car and aerial chases in the Gangnam area and along the Hangang River.
From Mullae-dong, head to Mullae Station, hop on Line 2 and get off at Gangnam Station, the beating heart of Seoul's vibrant Gangnam district, made famous internationally by the Psy song that bears its name. Gangnam Station alone is worth visiting just to appreciate the impressive flow of traffic that passes through one of the busiest subway stations in the world – more than 100,000 people get on or get off a subway here every day. On a Friday or Saturday night, the area around the station is simply electric, like watching a perpetually moving tidal wave of humanity.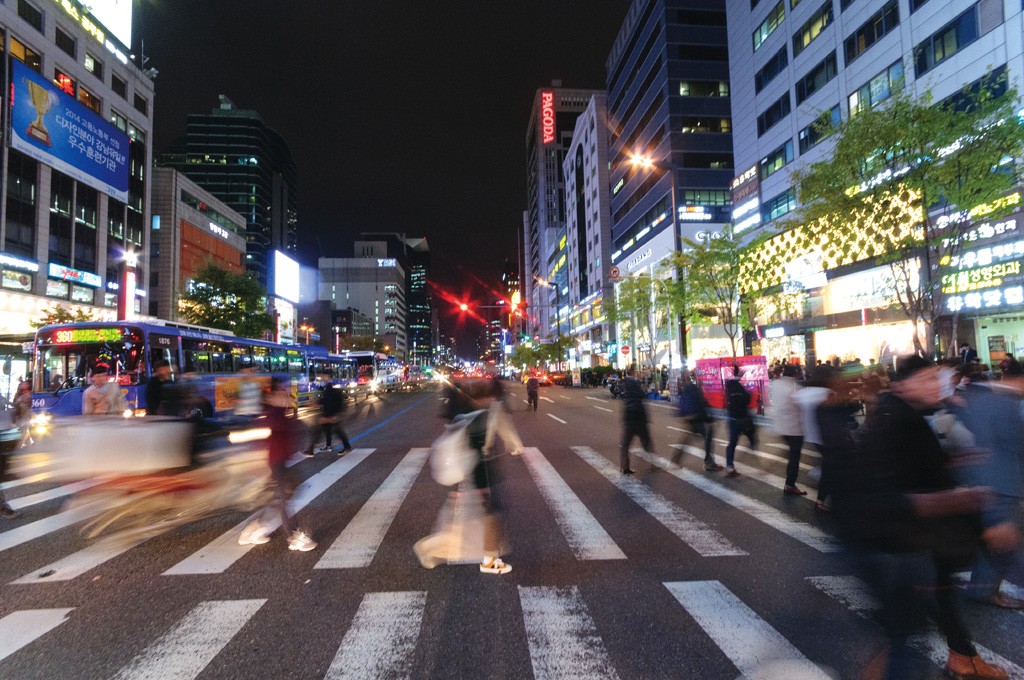 Much of the chase scene in "Avengers," with Black Window (played by Scarlett Johansson) zipping in and out of traffic as she follows the truck carrying Ultron's body, takes place along Gangnam-daero, the main boulevard that passes through Gangnam, and its alleyways near the CGV movie theater. The space has the look of a man-made canyon, lined as it is by towering skyscrapers. The more architecturally inspired structures include the futuristic Samsung campus, designed by U.S. firm Kohn Pedersen Fox, and the twin redbrick high-rises of Kyobo Tower, built by renowned Swiss architect Mario Botta. Between Gangnam Station and Kyobo Tower are 22 so-called "Media Poles," 12-meter-tall digital obelisks that dispense tourist information, display digital art and provide photo and email services, among other things. In addition to their practical value, the poles also serve to remind visitors that they are in the center of one of the world's most digitally ubiquitous cities.
TIP> The area around Gangnam Station is a popular nightlife spot – you'll be tripping over bars and restaurants.
From Gangnam Station, hop on the Seocho No. 3 bus and get off four stops later at Garosu-gil. With a name meaning "Tree-lined Street" in Korean, it was not so long ago that the pleasantly leafy road was lined by galleries, ateliers and unique cafés. Nowadays, the shops and restaurants have grown a bit more upscale, but the neighborhood is still a very charming place to walk around. Garosu-gil did not appear in "Avengers," but it did appear in actor Mark Ruffalo's Instagram feed – the man responsible for playing Dr. Bruce Banner/Hulk was apparently amused by a mascot in a foot costume hawking a foot massage joint at a Garosu-gil crosswalk. "Seoul sole," he called it.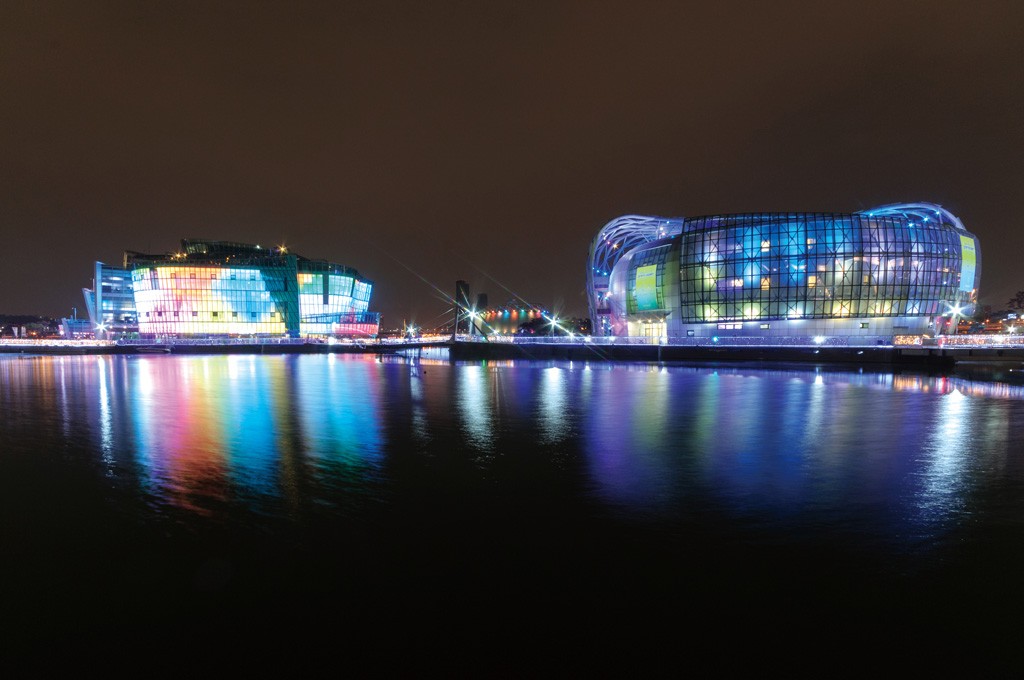 Finally, from Sinsa Middle School, get on Bus No. 143 and ride eight stops to the south end of the Banpo Bridge. This is where you'll find Banpo Hangang Park and the architecturally curious Some Sevit, three glass and steel islands floating on the Hangang River. The islands, which function as an event space and house restaurants and cafés, are in fact the first piece of Seoul that moviegoers see in the film, where they serve as the laboratory of geneticist Helen Cho (played by Kim Soo-hyun). Pleasant enough during the day, Some Sevit's floating islands are even more spectacular at night, when they are lit up by a fantastic, multicolor LED display. Make time to stop by the top of the biggest island, where there's an observation deck with great views of the river and the city beyond.
TIP> If you're visiting Some Sevit at night, be sure to also check out Banpo Moonlight Rainbow Fountain, which is just next door. The Banpo Bridge is lined by 380 water jets and LED lights that are used to produce a dazzling, music-accompanied water show.
Written and photographed by Robert Koehler
https://magazine.seoulselection.com/wp-content/uploads/2015/05/DSC_7430.jpg
680
1024
cyn
https://magazine.seoulselection.com/wp-content/uploads/2018/01/Seoul-logo.png
cyn
2015-06-15 16:31:51
2015-06-15 16:31:51
Avengers: Seoul