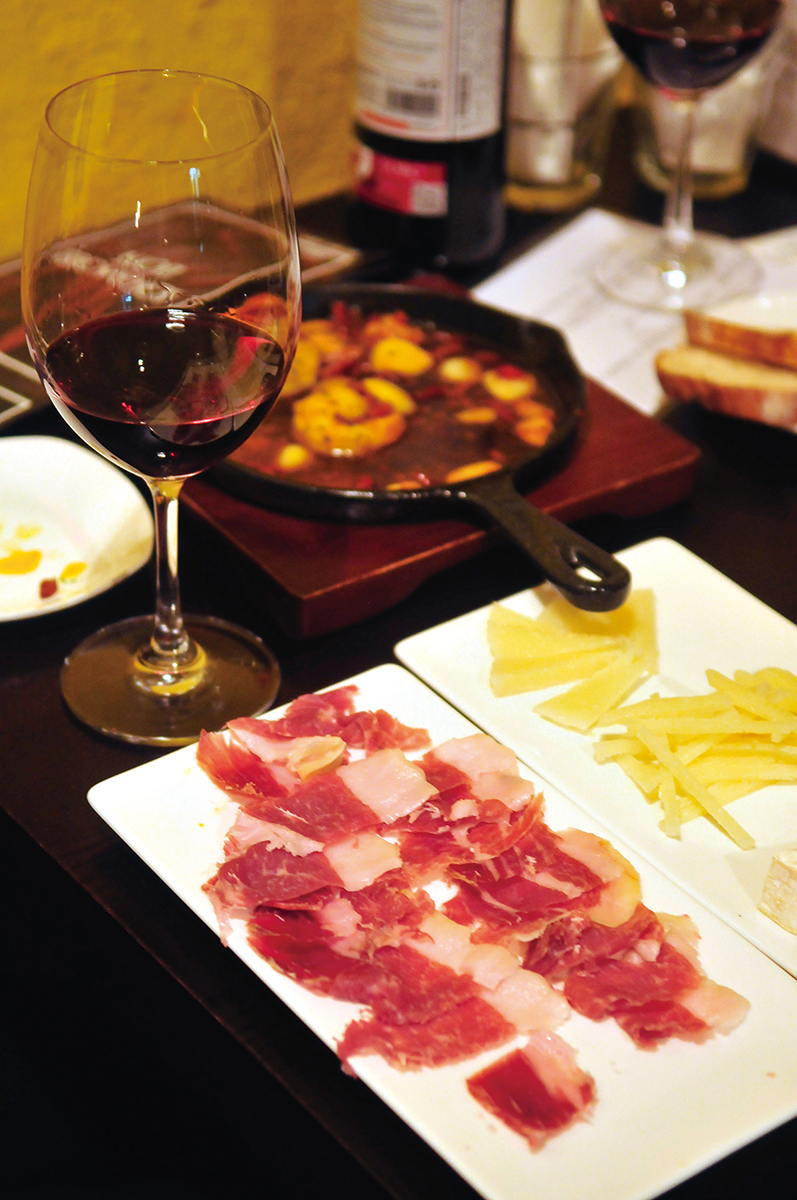 Raise a glass to everyone's favorite Spanish export
Tapas, or Spanish finger food, are said to have come into being when the ancient Andalucians shielded their wine glasses from fruit flies with a slab of bread … which was then eaten when they were feeling hungry. Whether or not this story is true, as the weather warms up here in Seoul and the proverbial bugs (and people) come out of hiding, tapas and wine are a perfect pairing for an early summer night.
Tapas Gourmet 따빠스 구르메
This tiny eatery is tucked into a remodeled hanok near Gyeongbokgung Palace. With high plaster ceilings, wooden beams and barely five tables inside, the establishment could almost pass as the foyer of a private residence. But don't let its size fool you –Tapas Gourmet packs a powerful punch in Spanish small plates.
Owner-chef Kim Moon-jung returned to Korea in 2013 after an 11-year stint in Barcelona that included the operation of Casa Gourmet, a restaurant specializing in Spanish cuisine. Her Seoul venture is an homage to both Casa and to the pleasure of good food, with each dish tailored to be enjoyed over drinks and good conversation. The unassumingly pretty tomato salad with marinated pork tenderloin, for example, is delightfully juicy and best savored slowly. The coca de esparragos is nearly buried under a generous helping of grated gruyere cheese – Ms. Kim is not stingy with her ingredients – and boasts spears large enough to be mistaken for cucumbers. Both dishes are the perfect accompaniment to the luscious house wine, which is a plummy Tempranillo.
If you'd prefer to wash down your tapas with a glass of Barcelona's Estrella Damm beer, try the huevo roto con chorizo, a ham and egg concoction heaped with a mountain of chives.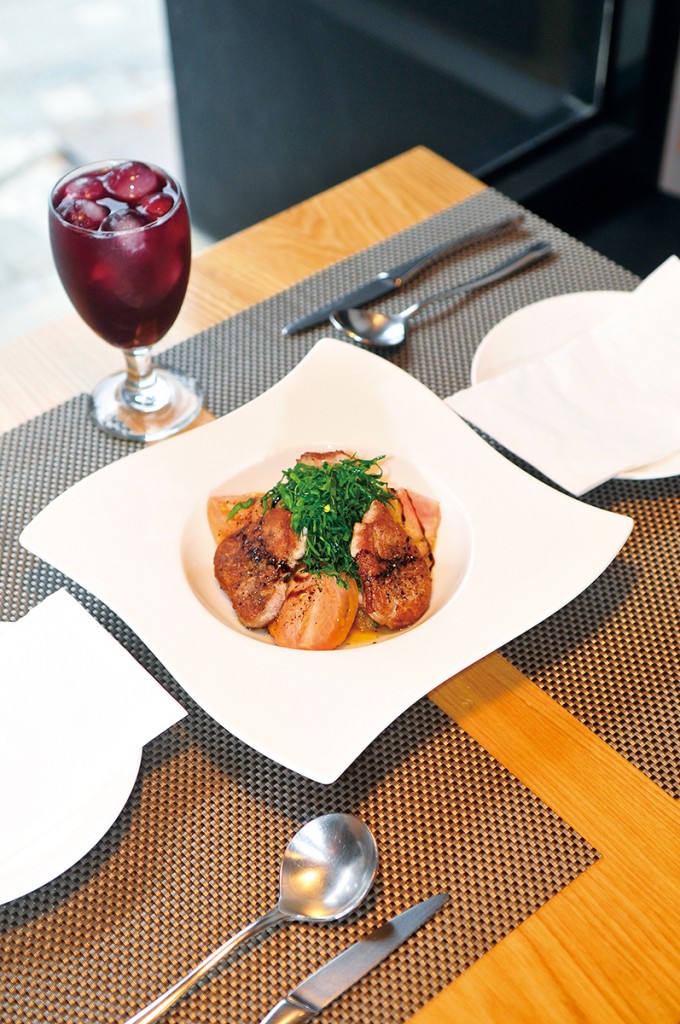 Cariño 까리뇨
Jamon aficionados worship the taste of jamon iberico. The fatty, premium version of Spain's famous dry-cured ham is made from rare black Iberian pigs fed a steady diet of acorns. The resulting nutty taste is the perfect complement to an earthy Spanish red wine.
In Seoul, jamon iberico may be best enjoyed at Cariño, a vibrantly colored tapas bar that floats among a sea of cafés in a Sangsu-dong alley. Given that Cariño is primarily a tavern, the menu is fairly minimal and its offerings are not likely to fill you up. But with a prime jamon leg on display near the register, often half-carved, the eats tend to steal the scene anyway.
Chef Gu-hyun "Jose" Kim is an oenophile who discovered the joy of tapas through his love of European wines. In 2014, he traveled to Spain to study the art of jamon carving, obtaining certification in the skill while there. He has also applied his passion to the exclusively Spanish drink list on Cariño's compact, beautifully designed menu.
Overall, the fare at Cariño looks and tastes indulgently authentic. You should, however, watch for two subtle (and tasty!) Seoul adaptations: First, only the least salty variety of jamon – that is, iberico – is served. Second, the juicy prawns of the gambas ajillo are garnished with tiny, innocent-looking peppers that will kick you in the mouth about ten seconds after you pop them in, so be careful. Or just order lots of wine to wash them down.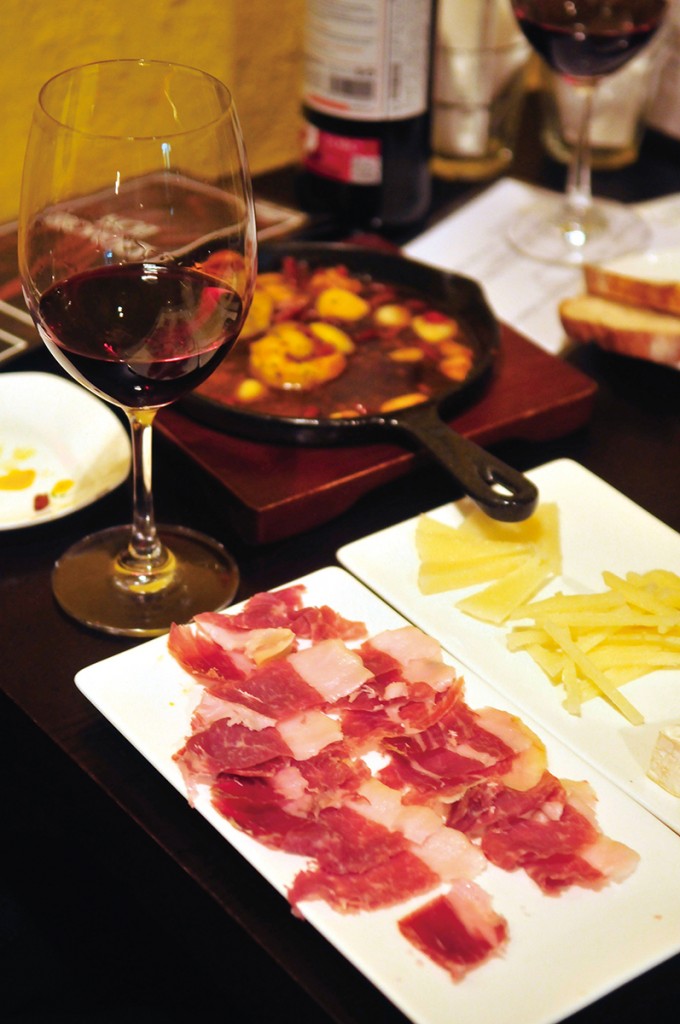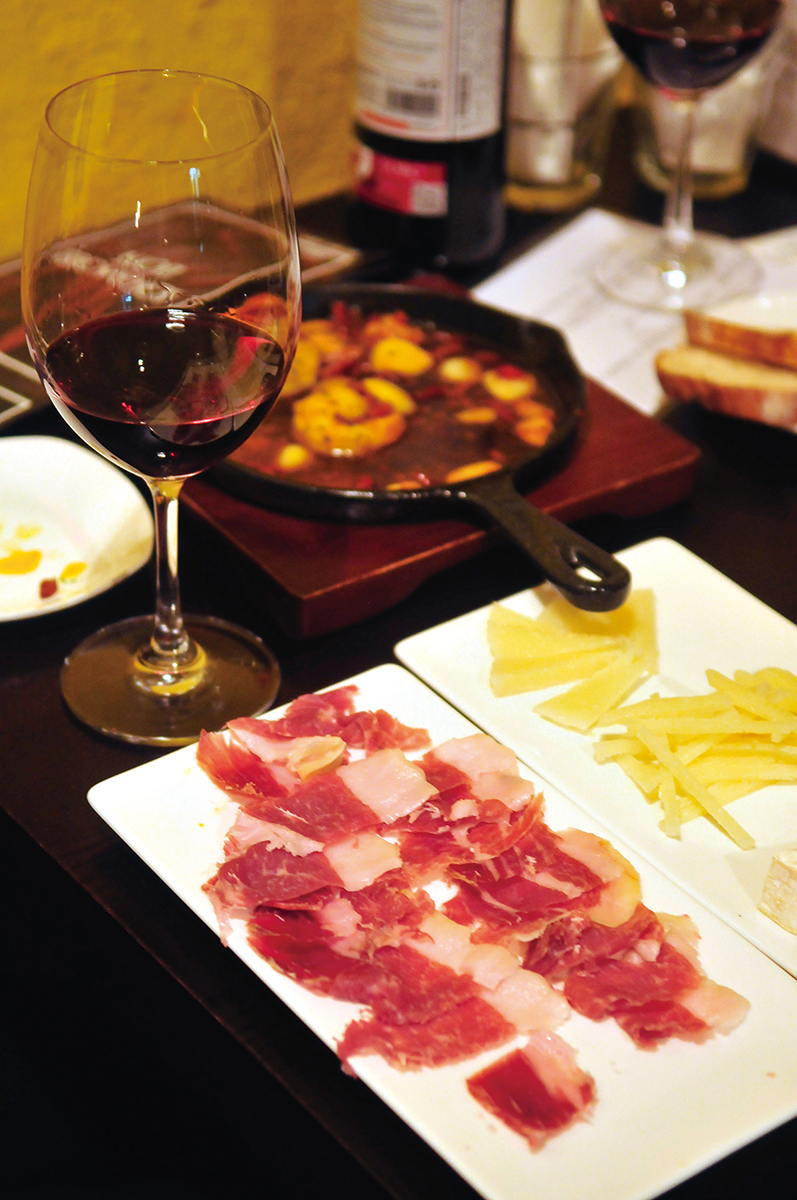 The Tapas 더 타파스
For tapas without the price tag, or a way to introduce Spanish finger food to a picky companion, check out The Tapas, a casual-fusion café on the quieter, western side of Hongdae Station. The quirky flag-themed decor, barstool-lined tables and outdoor terrace during the warmer months make this venue an easy choice for a casual date or a sangria-fueled gossip session with friends.
The food at The Tapas is also surprisingly filling. Chef Park Jiyoun's history as a fusion Japanese restauranteur in Tokyo accounts for the adventurous updates to dishes such as the salmon y queso crema, which is trimmed with sweet honey, or the ensalada de pasta, which switches pesto for fresh perilla sauce and almonds. It also explains the enormous portions; everything is sized up to accommodate Korean expectations of anju, or Korean bar food, the chef explained.
One other adjustment is the cost. The generous cold dishes start at the welcome sum of KRW 3,500, and the hot dishes such as gambas begin at KRW 8,000. The peppery wines are KRW 5,000-6,000 a glass – a rare find in pricey Seoul.
[separator type="thin"]
More info
Tapas Gourmet
GO> 137-9 Tongin-dong, Jongno-gu
Take Exit 2 of Gyeongbokgung Station. Walk 8 minutes and turn left after MG Credit Union. Tapas Gourmet will be on the left.
FYI> T. 02-6019-2369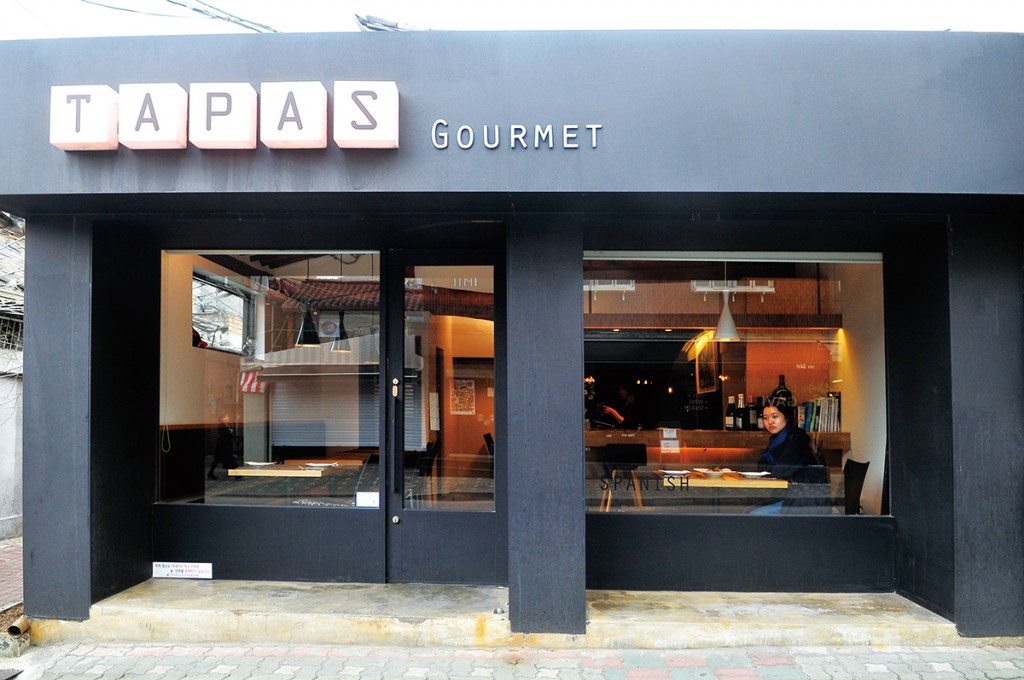 Cariño
GO> 336-16 Sangsu-dong, Mapo-gu
Take Exit 4 of Sangsu Station and make a sharp 180-degree turn out of the exit and walk south for about seven minutes, then turn right after the GS25. Walk another few minutes and Cariño will be on your right.
FYI> T. 02-338-1232 / 5 PM-1 AM /
www.facebook.com/carinokorea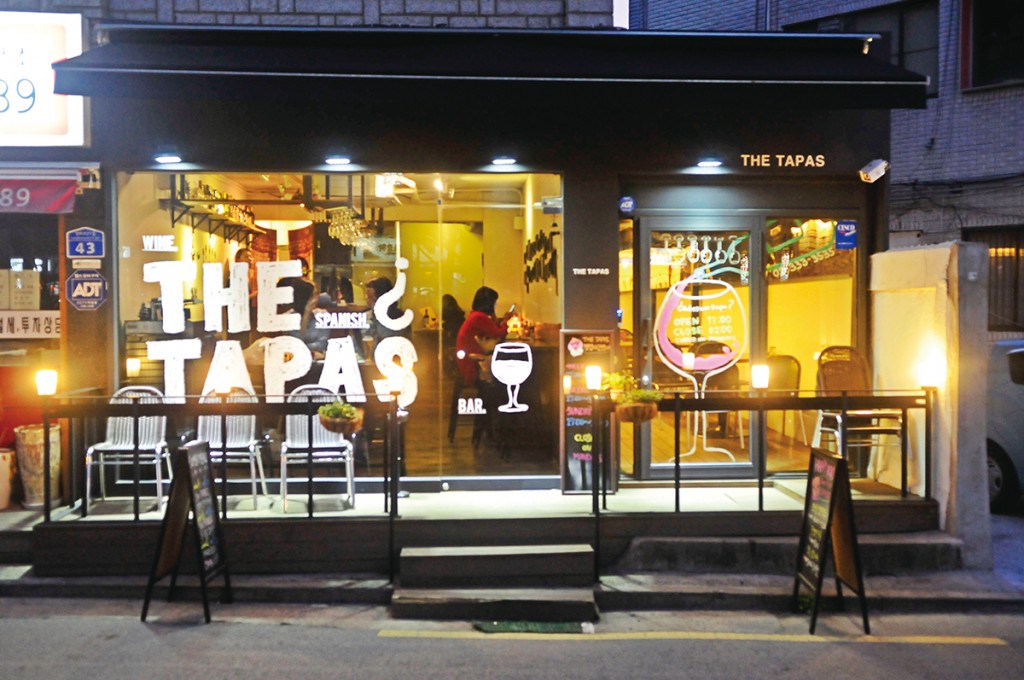 The Tapas
GO> 152-4 Deunggyo-dong, Mapo-gu
Take Exit 3 of Hongdae Station and walk straight for four short blocks. The Tapas will be on your left.
FYI> 02-333-3535 / 6 PM-2 AM /
Closed Mondays / blog.naver.com/thetapas
Written by Sonia Hensley
Photographed by Ryu Seunghoo
https://magazine.seoulselection.com/wp-content/uploads/2015/04/RYU4035.jpg
1200
797
cyn
https://magazine.seoulselection.com/wp-content/uploads/2018/01/Seoul-logo.png
cyn
2015-05-02 19:31:09
2015-05-02 19:41:39
Tapas de la noche