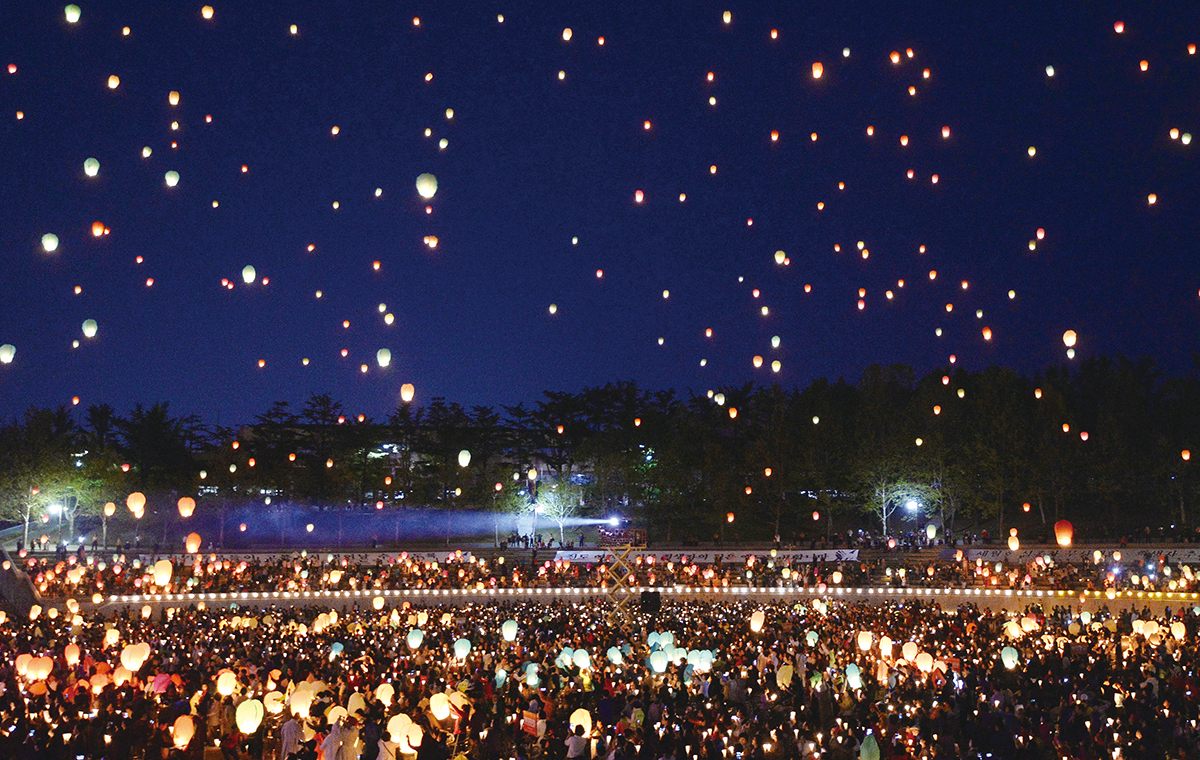 Lotus Lantern Festival
Dazzling lights adorn the streets of Seoul  연등회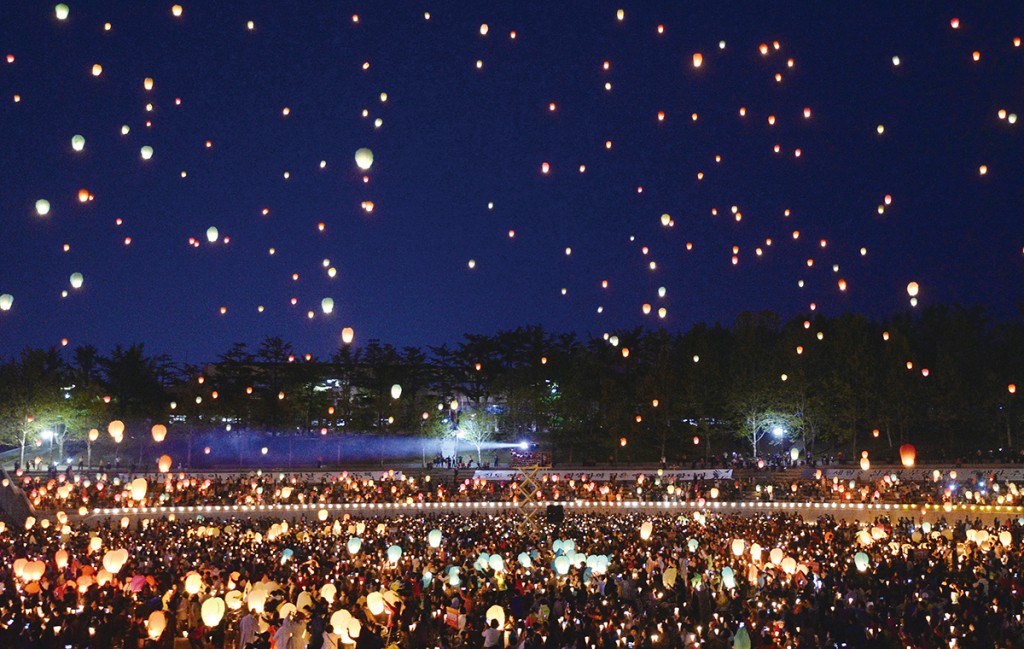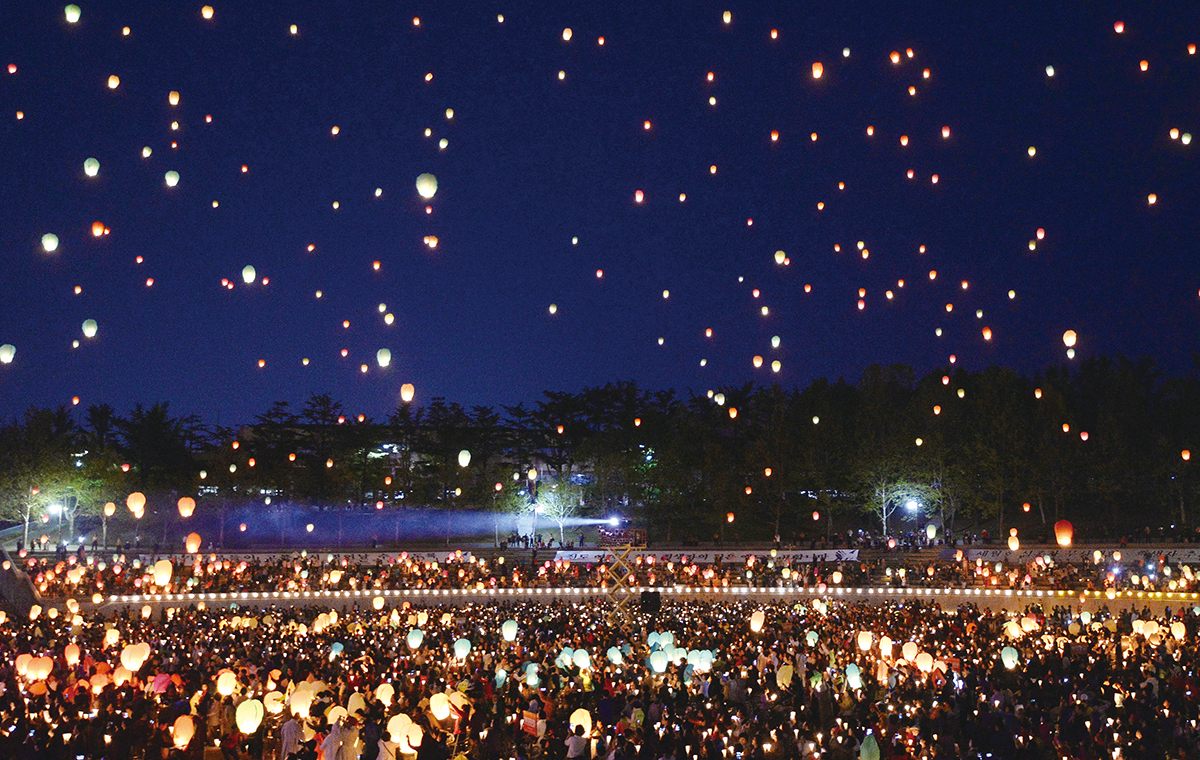 To commemorate Buddha's coming into this world, every year the Jogye Order of Korean Buddhism hosts the extravagant Lotus Lantern Festival (May 15-17). The festival is one of the major annual celebrations that take place in the heart of Seoul, drawing together travelers and residents, believers and non-believers alike. All programs are very family-oriented and can be enjoyed by people of any age and background. The festival's heading event is a lantern parade that showcases thousands of lights in various shapes and sizes. This year's procession starts at Dongdaemun Gate and ends at Gwanghwamun Square. It's not often that Jongno, the major thoroughfare of the city, is blocked for a parade, so don't miss the chance to partake in this special celebration.
FYI> Most programs will take place at Jogyesa Temple, Bongeunsa Temple, Cheonggyecheon Stream, Gwanghwamun Plaza and Dongguk University. The Lantern Parade will take place on May 16, 6 PM. For more info, T. 2011-1746, llf.or.kr
EAT> Balwoo Gongyang (T. 02-2031-2081, baru.or.kr) on the fifth floor of the Templestay Information Center serves fresh and delicate Korean temple cuisine, a perfect way to make your Zen Buddhism experience complete.
GO> Jogyesa Temple is accessible from Anguk Station 안국역 (Line 3), Exit 6. Walk straight ahead to the intersection and turn left at the corner. When you see the Templestay Information Center on your left, cross the street and you should see the entrance to the temple.
[separator type="thin"]
Gyeongbokgung Palace 경복궁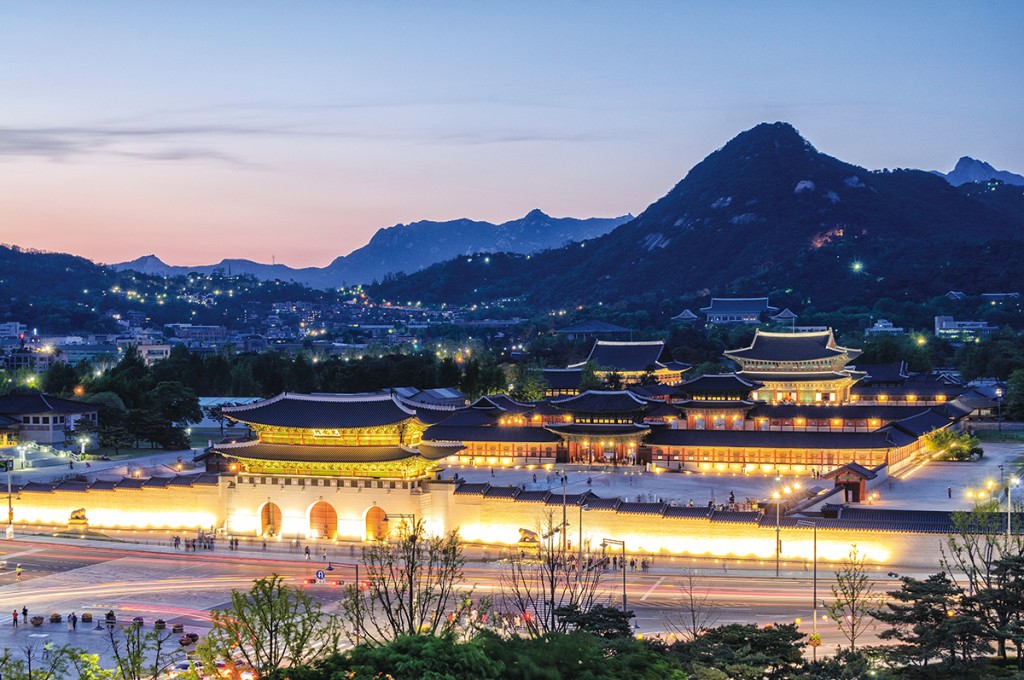 As the main royal residence of the Joseon Dynasty (1392-1910), Gyeongbokgung Palace is a testament to the richness of Korea's culture and architectural history. On select dates in the spring and fall the palace grounds are opened for public viewing during evening – an entirely different kind of experience from seeing the palace in daylight. This month, the royal monuments will be beautifully illuminated after dark from May 2 to 14 (7 PM to 9 PM).
FYI> Korean nationals can reserve tickets online and foreigners can purchase tickets at the door. For more info, T. 3700-3900, www.royalpalace.go.kr
EAT> If you didn't get to purchase the tickets, head to the rooftop garden on the eighth floor of the National Museum of Korean Contemporary History (T. 3703-9200, much.go.kr), which offers a stunning view of the palace grounds.
GO> Gyeongbokgung Station 경복궁역 (Line 3), Exit 5
[separator type="thin"]
Seoul Friendship Fair 2015  2015 지구촌 나눔 한마당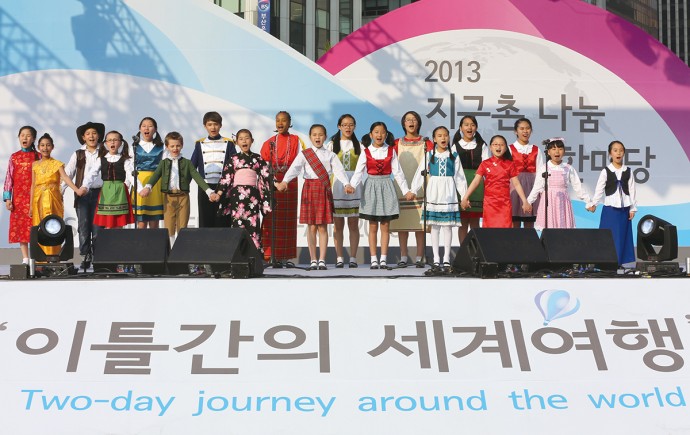 What's a more exciting way to spend the "Family Month" of May than taking your loved ones on a two-day journey around the world? Over 60 embassies and hundreds of international performers will be participating in this year's Seoul Friendship Fair (May 2-3), helping turn the annual event into a truly multicultural experience. At the fair, visitors can enjoy traditional performances and craft folk art and savor exotic flavors from around the globe.
FYI> The fair takes place in Seoul Plaza, Seoul City Hall, Mugyo-ro and Cheonggye Plaza. More information can be found at www.seoulfriendshipfair.org
GO> Seoul City Hall Station 시청역 (Line 1 or 2), Exit 5
[separator type="thin"]
MMCA, Gwacheon
High culture in the suburbs  국립현대미술관 과천관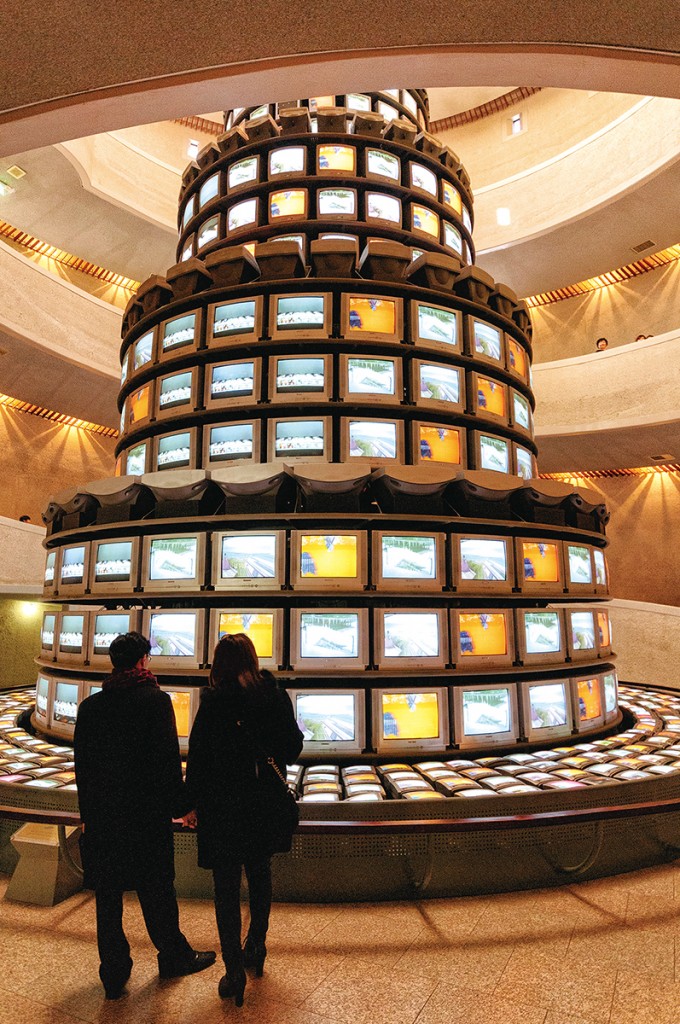 Surrounded by Seoul Grand Park in the city of Gwacheon, a suburb of Seoul, the National Museum of Modern and Contemporary Art (MMCA), Gwacheon, is the flagship campus of Korea's national modern art museum system. Since opening in 1986 the museum has accumulated a rich collection of about 7,000 works of modern art created by prominent artists from both Korea and abroad. The museum also hosts three or four special exhibits a month, providing a good cross-section of local and global artistic trends.
One piece of work that should not be missed is "The More, the Better," a pagoda created in 1988 by the late Korean video artist Paik Nam-june. The work, constructed of 1,003 television monitors stacked to a height of 22.8 meters, is housed in a special circular hall and is viewed from an ascending spiral ramp. The outdoor exhibit is also worth exploring, especially in warmer weather.
FYI> Admission is free, but special exhibits charge an entry fee. Hours: 10 AM to 6 PM, closed Mondays. For more info, call T. 2188-6000 or visit www.mmca.go.kr.
EAT> The museum has a cafeteria and an outdoor snack bar.
SEE> Be sure to see Paik Nam-june's "The More, the Better," the best-known work in the museum's collection.
GO> Exit 4, Seoul Grand Park Station (Line 4). To get to the museum, either walk or use Seoul Grand Park's tram.
You can also make use of the shuttle bus that takes museum-goers on round-trip tours of all the MMCA's locations. The service, which is free for museum visitors, departs four times a day (10 AM, noon, 2 PM and 4 PM) from in front of the MMCA Seoul (next to Gwanghwamun). Buses take you to the MMCA Deoksugung and MMCA Gwacheon before taking you back to the MMCA Seoul.
[separator type="thin"]
Olympic Park   올림픽 공원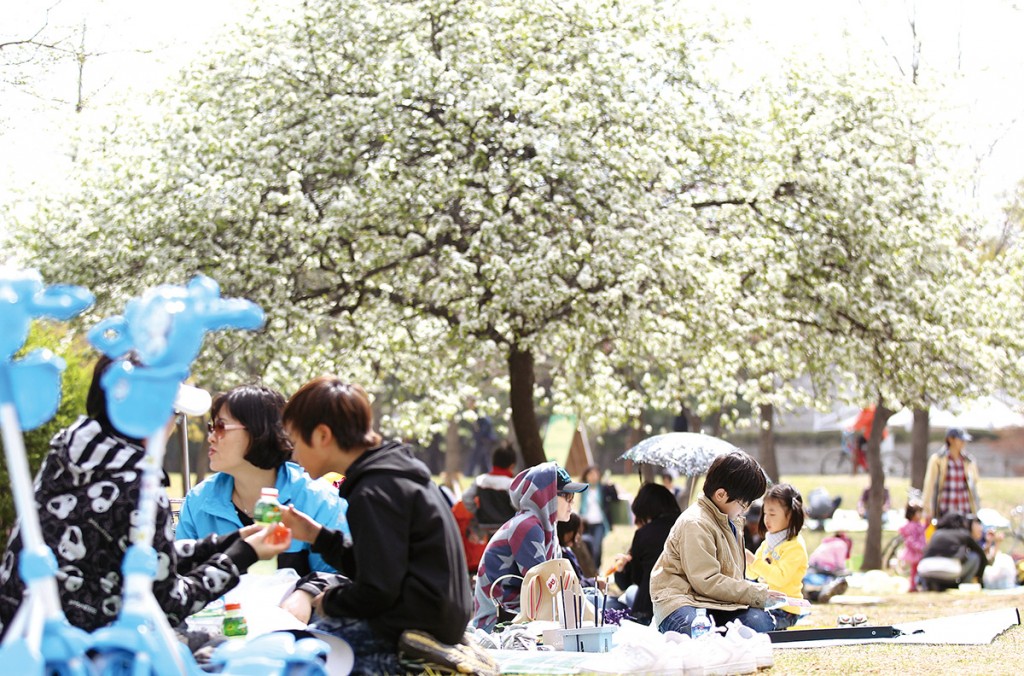 Though Seoul's many mountains provide an escape from the urban jungle of the capital, finding a large area of open green space in the city can be difficult. Fortunately, Olympic Park offers a vast meadow in which children can frolic freely, with grounds that include 1.5 square kilometers of grassland and many exquisitely themed gardens, as well as a lake. May and June are the prime times to see the flowers, particularly the roses, so take a visit before the summer heat hits them.
FYI> Make sure to familiarize yourself with the exits and entrance points to avoid getting lost. For more information, T. 02-410-1114, www.olympicpark.co.kr
EAT> Close to Exit 4 of Bangi Station 방이역 (Line 5) is Byeokje Galbi (T. 02-392-7892), a high-end Korean beef barbecue restaurant.
GO> Olympic Park Station 올림픽공원역 (Line 5), Exit 3. To get to the Rose Garden, walk straight for about 550 m to South Gate 1.
https://magazine.seoulselection.com/wp-content/uploads/2015/04/PYH2014042704470005300.jpg
760
1200
cyn
https://magazine.seoulselection.com/wp-content/uploads/2018/01/Seoul-logo.png
cyn
2015-05-02 19:39:32
2015-05-02 19:39:32
Seoul Travel Bits