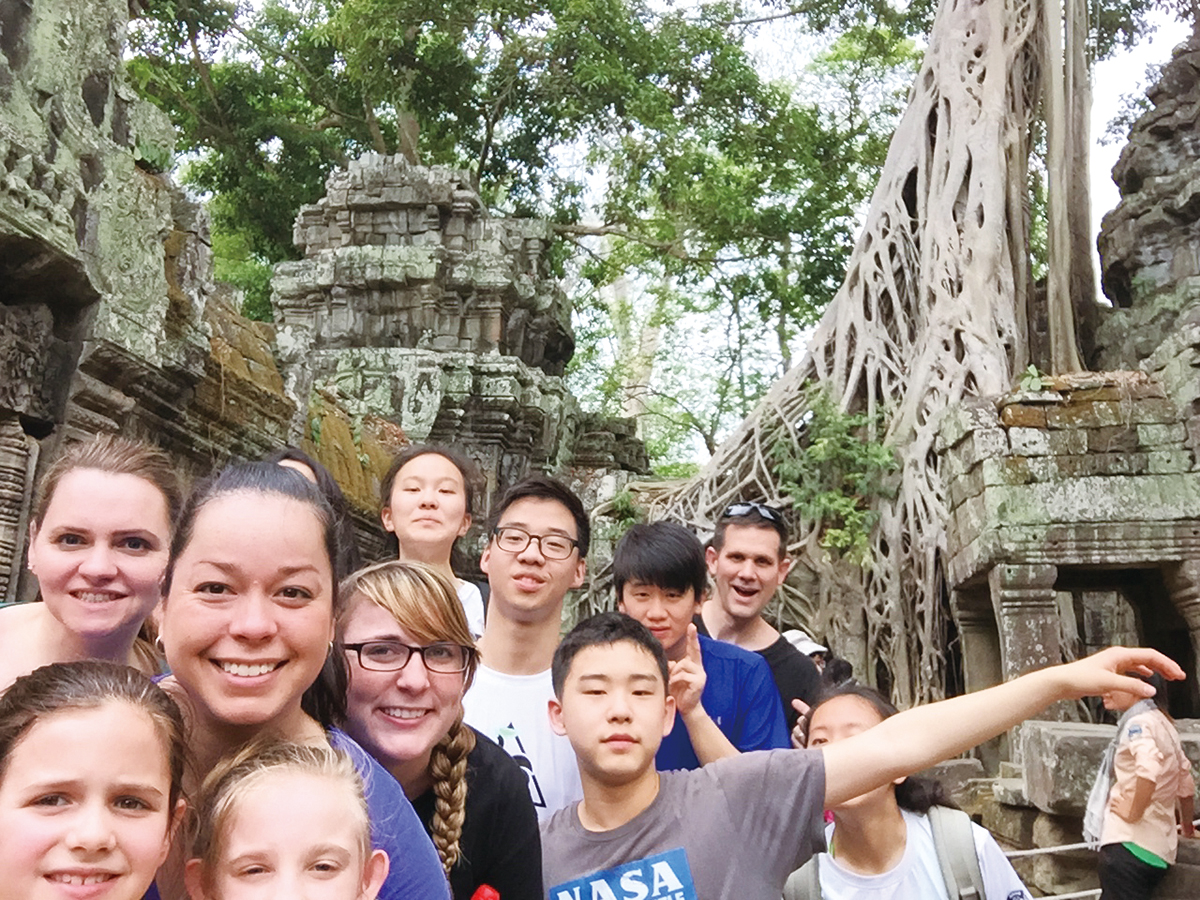 YISS's social responsibility programs teach students the importance, and joy, of giving
"As people we learn by books and lectures, but we also learn by experience. And when students can be exposed from a young age to the joy of giving to others and the excitement and fun it is to do something for a cause bigger than themselves, they will become well-rounded."
As headmaster Ray Johnson explains, one of the things that sets Yongsan International School of Seoul (YISS) apart from other international schools in the city is its emphasis on community and social responsibility. Through a wide variety of domestic and international programs, the school seeks to make a difference in the lives of its students and families by opening up students to the world around them and providing them with very real opportunities to discover how they can make a difference. Says Johnson, "When students get outside and engage with other people…it makes that connection in their brains and then they have memories of doing for and giving to others that they'll never forget."
'Walking in another's socks'
Every autumn, the elementary school hosts its WALKaSOCKathon, a symbolic walk from the school to Mt. Namsan designed to teach young students what it's like to "walk in another person's socks." The walk is preceded, however, by a year-long campaign to educate students about children in need. They gather up KRW 100 coins, which are collected, appropriately enough, in socks. "It was a convenient way to collect coins," says Carol Franck, Elementary School Chaplain and coordinator of the program. "It was colorful for children, not very expensive… and helped our students understand another way of life and what other children experience who live in poverty."
This year, YISS students collected a total of 474 kg of KRW 100 coins, or KRW 11,106,590. The money is distributed to a wide variety of reputable charitable organizations. Each year, a different central theme is chosen. One year, for instance, students participated in a World Vision program sponsoring livestock for needy families in the developing world. Another year, students learned about the hardships of children living in poverty around the world, sending shoes to students at a school in Honduras. Last year, students sponsored the International Justice Mission's efforts to free children from forced labor slavery.
The program makes a lasting impact on students.
Learning outside the classroom
The middle school's Week Without Walls program, meanwhile, extends the learning curriculum by taking students and teachers off campus to participate in activities to promote social, physical, mental, and spiritual development. "The program is designed to let students have the opportunity to engage in experiential learning," explains middle school principal Brian Remsburg.
Last year, students went to Incheon, Hong Kong and Indonesia's Telunas Beach. While on location, students not only do a great deal of hands-on and outdoors learning, but also engage in community service. During the Grade 8 trip to Telunas Beach, for instance, students went to a local village to help build a volleyball court. Mixing concrete, the students, working in groups of 25, were able to complete 80% of the court by the third day. "Most of them said that was the highlight of the trip, getting in there and seeing how happy the kids were to see them," says Remsburg.
Almost every student in the middle school participates. Safety is a top priority, of course.
The trips are a real character-building experience. "A lot of the students, especially from the eighth grade trip, talked about the impact that the village had on them, of going in and seeing kids who had so little but were still happy and content," says Remsburg. "I think they were overwhelmed by their generosity, even though they had so little."
Guardians with a Message
The high school's students get to reach out through Guardians with a Message (GWAM), a service program that takes students to destinations in Korea and overseas. For students and staff, this is a real labor of love – participation is purely voluntary, and participants not only give up their spring break holiday, but also participate in a lengthy preparatory period. Still, about half the high school student body participates. Samuel Pitts, who helps lead GWAM's trip to the ethnic Korean region of northern China, recalls, "One of the students on our team said her family had wanted to go over spring break to Thailand, but she told them she'd rather spend her spring break in the freezing cold of north China."
GWAM currently operates programs in three Korean sites and 10 overseas sites. Work includes helping single mothers in Gunsan, Korea, giving swimming lessons to street children in Manilla, Philippines, and learning about ethnic Koreans and North Korea in northern China. "We try to choose trips and locations that are sustainable," explains Ben Horne, the High School Chaplain and GWAM director. "We don't want a one-and-done sort of thing. We want to have an impact in the same location for a period of time."
The motto of the program is "explore, encourage and engage." Students are encouraged to discover new environments and culture, of course, but more importantly, they should engage with others. Many students participate in all four years of high school, often in the same location. Says Horne, "Our kids really do build relationships with the people who are there."
The program not only gives students an opportunity to help those in need, but it also opens their eyes to a world of service. Teacher Jeffrey Thomas, another GWAM coordinator, says, "They see people who have dedicated their lives and they say, wait a minute, I've never seen this." He adds, "It opens them up … It is life-changing for many of them."
Participants talk of the impact the program has made on their lives. June, a junior who worked in Cambodia with Asian Hope, realized she wants to do NGO work when she gets older. "If we were such a small part of this bigger mission but were able to have such a great impact, how much more could we impact others by being involved in actual NGO groups," she says. Eugene, a sophomore who taught music and helped the elderly in the rural Korean town of Taebaek, reflected on his life in Seoul and his relations with his own family. "Caring for the elders raised the question of how well I treat my own grandparents," he says. "It really gave me a sense to appreciate that and what they've been through… It really made us reflect on what we have in Seoul and the opportunity to interact with the people around us here."
[separator type="thin"]
More info
About Yongsan International School of Seoul
Centrally located in Hannam-dong, YISS is a K-12 international school that offers a rigorous college-preparatory program that equips students and prepares them to excel in college and beyond. YISS is a caring school community that welcomes families and students from more than 55 countries, providing a rich multicultural learning experience anchored in the core principles of truth, excellence, and diversity. Motivated from within and empowered to excel, YISS students matriculate to leading universities around the world.
FYI> www.yisseoul.org, T. 02-797-5104
GO> Exit 1 of Hangangjin Station (Line 6)
Written by Robert Koehler
Photographs courtesy of YISS
https://magazine.seoulselection.com/wp-content/uploads/2015/04/IMG_5945.jpg
900
1200
cyn
https://magazine.seoulselection.com/wp-content/uploads/2018/01/Seoul-logo.png
cyn
2015-05-02 19:49:20
2015-05-04 09:57:43
Molding well-rounded students who care