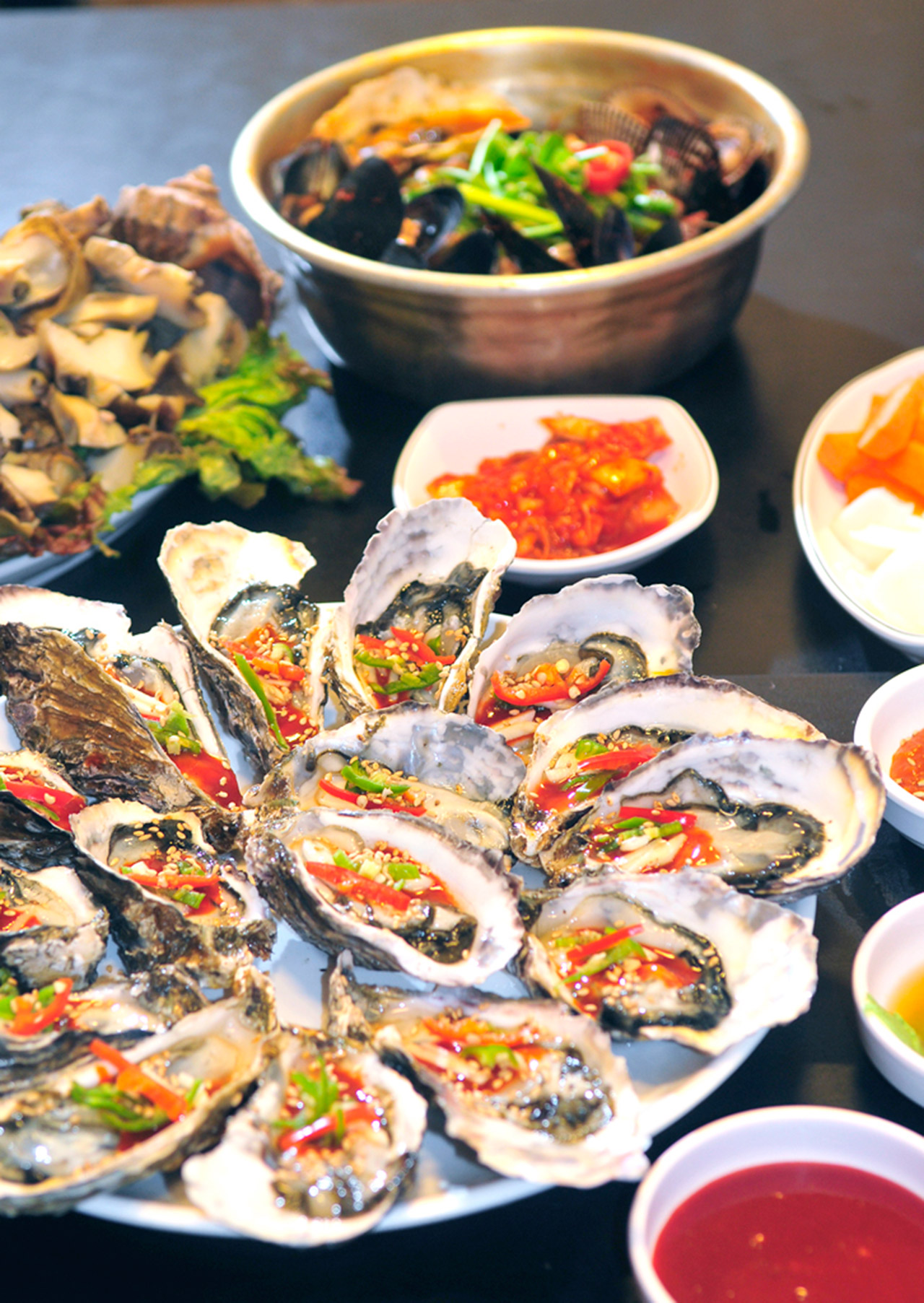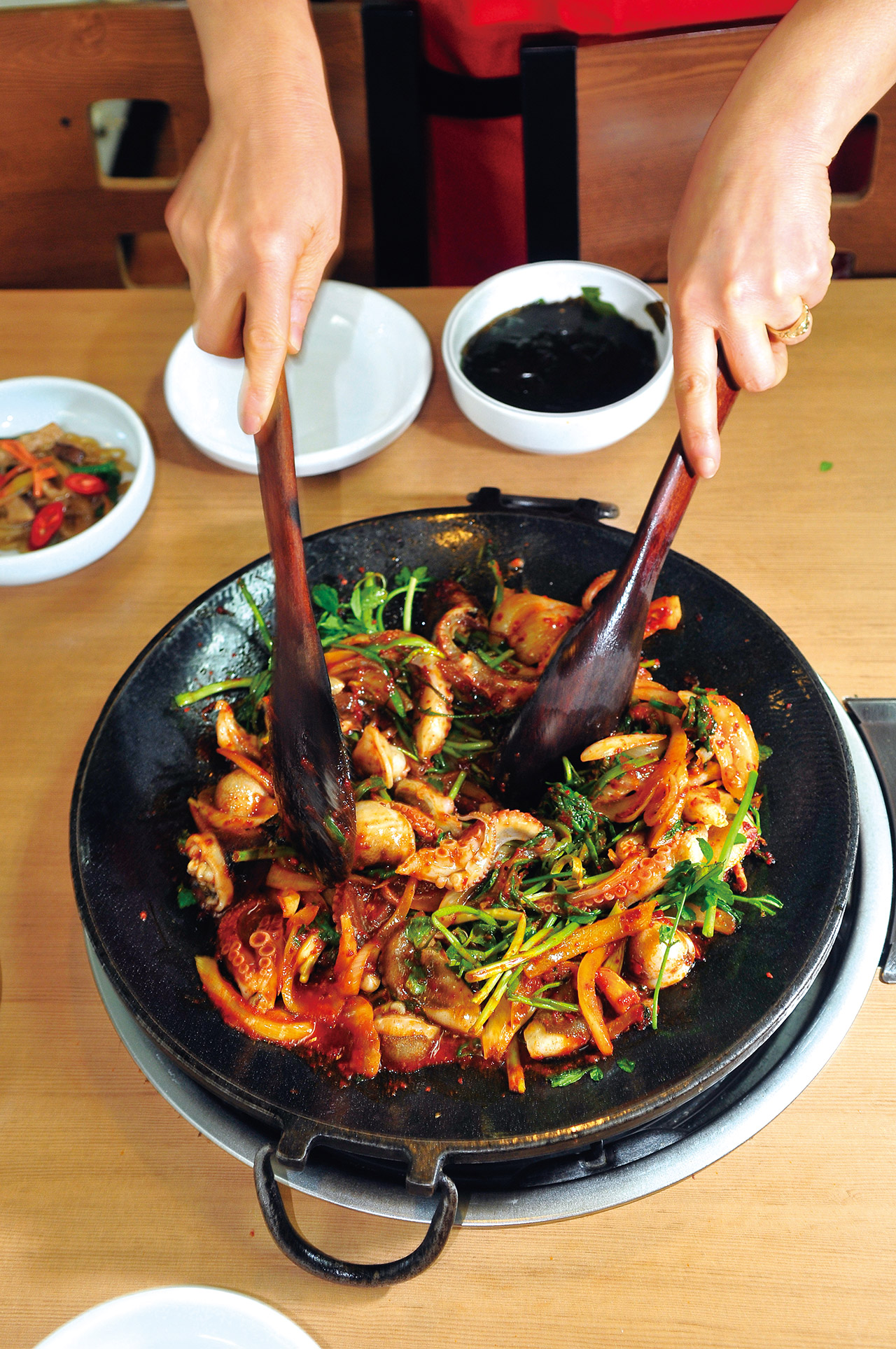 Awaken your taste buds with fresh seasonal dishes
[dropcap letter="W"]hile spring yawns, trying to wake itself up, winter sees the chance to overstay its welcome. On the traditional lunar calendar, spring actually started a month ago, even though the coldest day of the year in Korea has actually happened since then. One way that Koreans cope is by delving into seasonal dishes, whether it's some hardy herbs to stave off the chills or enjoying some of the seafood that's best harvested at this time of year. Keep your eyes peeled for naengi, a sharp, mustard-like herb with a hint of smokiness, or jjukkumi, a small, delicious octopus that, when it starts to appear in stores and restaurants, lets us know that warmer days are close ahead. It's also time to gorge on some winter favorites before they're gone. Here are some restaurants where you can do just that.
Hansik Olbaan Central City 올반 센트럴시티점 (Express Bus Terminal)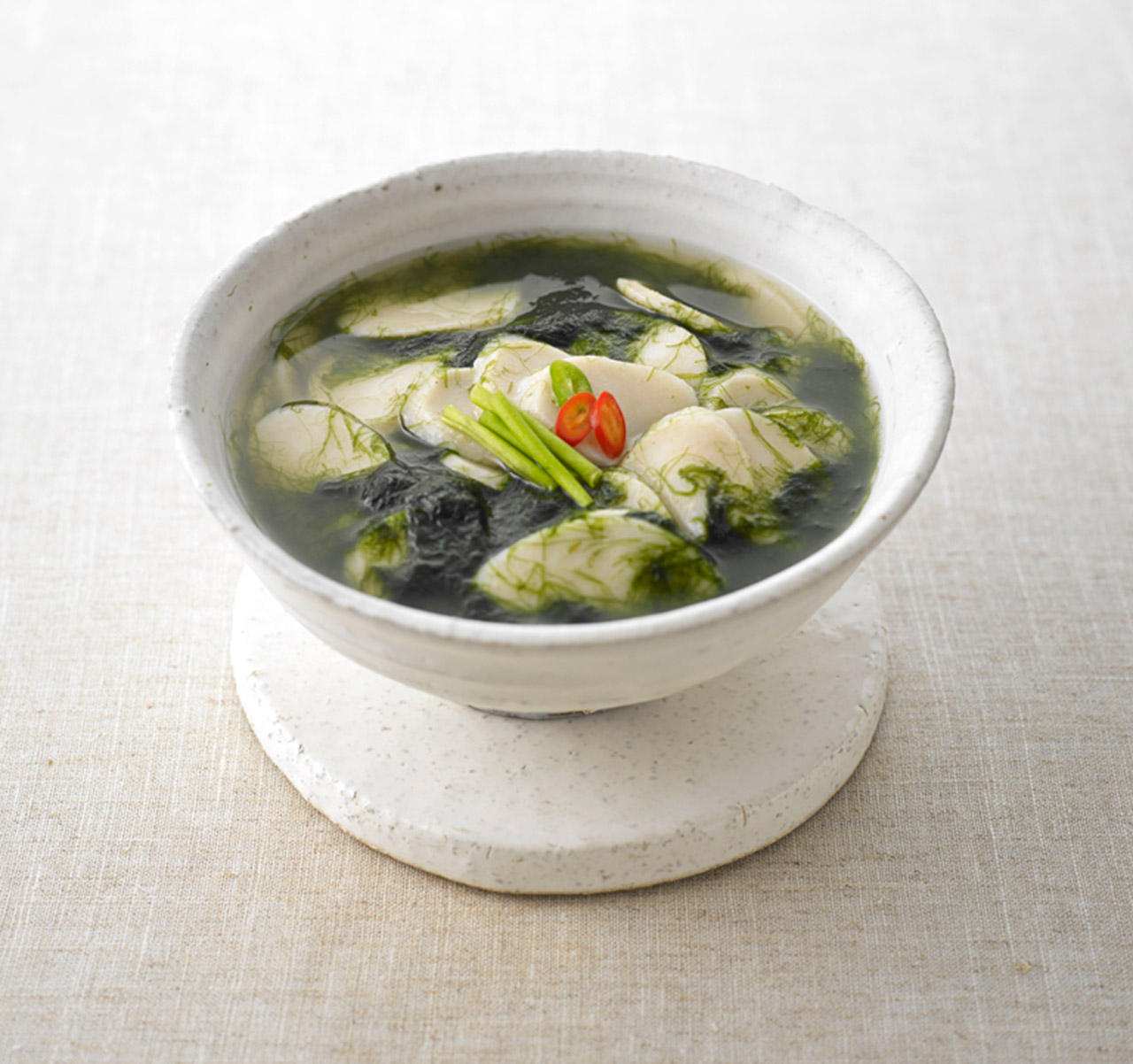 For those who truly intend to stuff themselves, Olbaan has ushered in one of the year's big food trends – the Korean buffet. There have always been Korean buffets, obviously, but Olbaan figured out how to get it right: high quality Korean dishes offered in plenitude. While other buffets are simply exercises in cutting costs, Olbaan's prices are on par with those at the popular Western steakhouse buffets, and locals are willing to pay for the quality.
The dishes on offer are highly seasonal and elegant, highlighting multiple styles of Korean cuisine, from Buddhist lotus leaf rice to fresh, steaming hot tofu to a modern take on okonomiyaki using kongbiji (creamy tofu) as its base. Items that are specific to late winter include spicy fried rice made with jjukkumi, as with a mayonnaise for dipping vegetables that incorporates naengi – quite the surprise find.
Olbaan was created with Koreans in mind first, which means no dumbed down food for foreigners. It also means that the names of the dishes don't have English translations, though that's half the fun of exploring new cuisines.
Gangchon Wonjo Jjukkumi 강촌원조주꾸미 (Yangjae)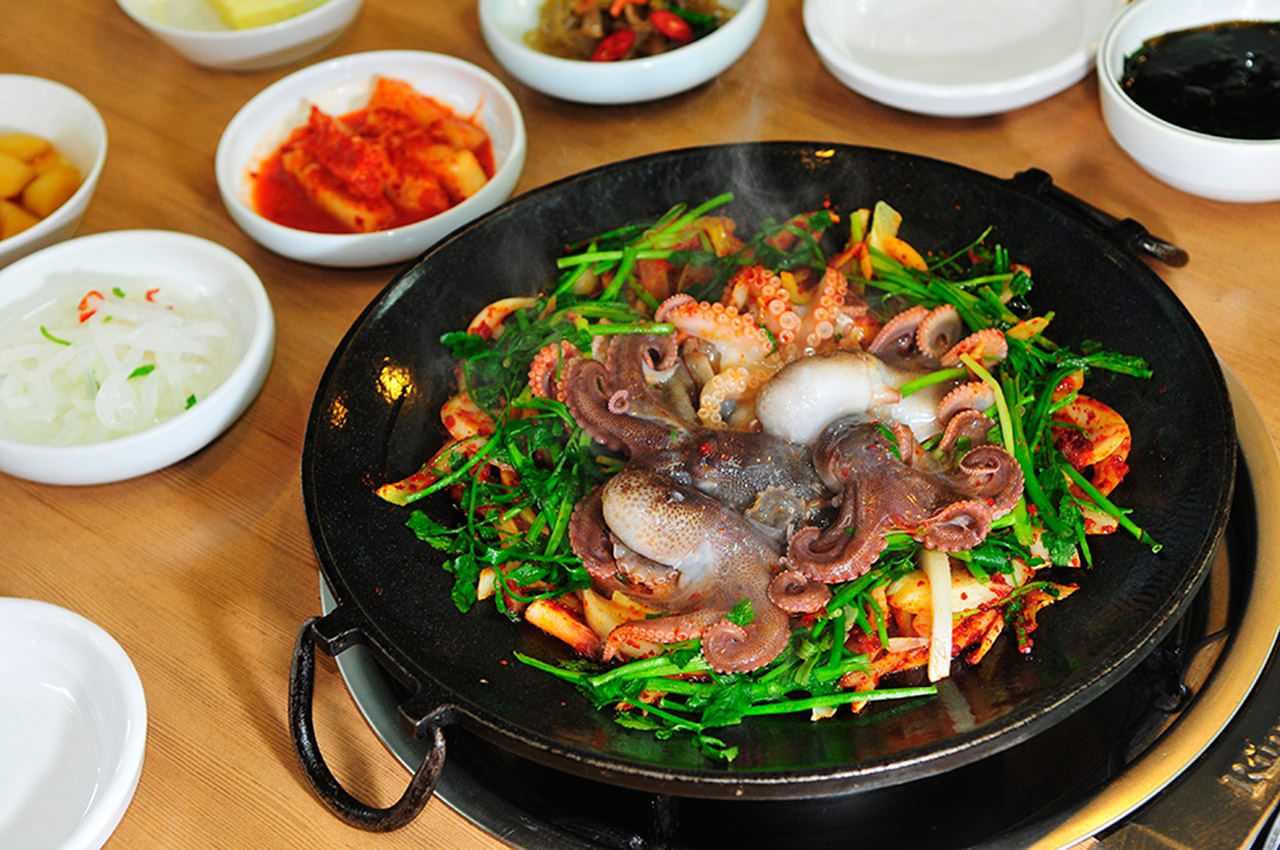 Being popular with the lunch crowd is always a good sign, and being popular in Yangjae-dong at lunch time – an area more known for its public park than its midday offerings – means Gangchon Wonjo Jjukkumi is the draw of the neighborhood. The restaurant's signature dish is jjukkumi bokkeum, or pan-fried octopus, caught from the water tank right outside the establishment. Jjukkumi comes to the table raw (and live) in a large pan, covered in gochugaru (chili powder) and minari (Chinese celery). Not only is the jjukkumi a spring ingredient but so is the minari, a regional green with the refreshing taste of celery and a slightly sharp bite that's a great compliment to the little octopi. When finished, enjoy fried rice made with the leftovers in the pan.
Seochon Gyedanjip 서촌 계단집 (Seochon)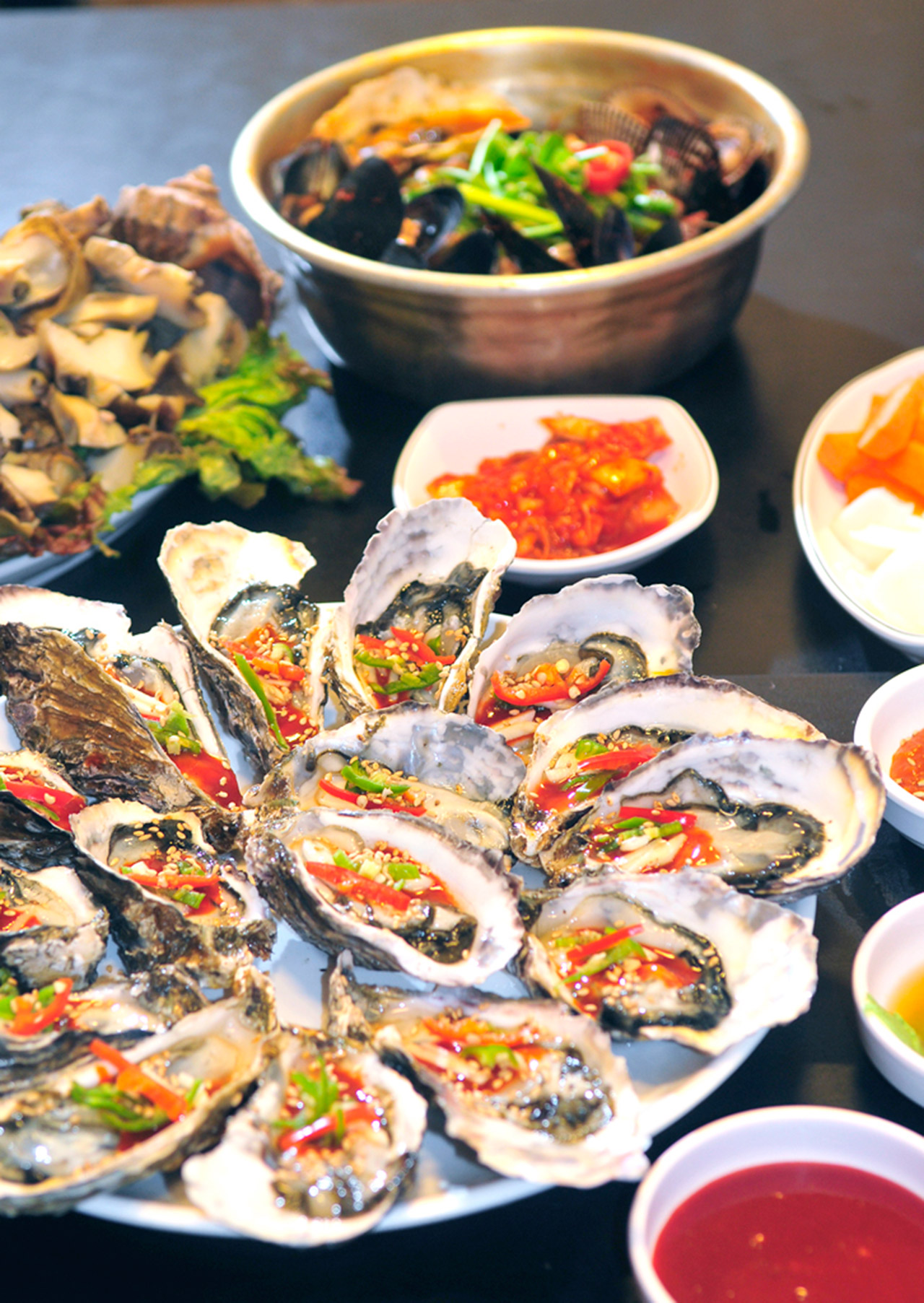 The neighborhoods west of Gyeongbokgung Palace still remain a secret to many food trend followers. They hit that sweet spot of gourmet authentic European restaurants, cozy mom-and-pop cafés and hidden gem traditional mainstays. A favorite in Naeja-dong is Seochon Gyedanjip, which looks like a pojang macha, or roadside stand, from the outside and specializes in shellfish, evidenced by the Styrofoam containers stacked out front.
The season when most shellfish are in their prime is winding down, so take advantage of their wide availability now. Order some sora (similar to a conch) and kkomak (cockles), typically prepared with simple sauces to accentuate their freshness. Next, indulge in a plate of some of the season's last fresh oysters, served on the half shell with little dashes of vinegared gochujang (red chili paste), sliced chilies and sesame seeds. They're seriously stacked, so arrive hungry.
[separator type="thin"]
More info
Hansik Olbaan Central City
GO> Express Bus Terminal Station
고속터미널역 (Line 3, 7 or 9), Exit 4
Famille Station, Banpo-dong 118-5, Seocho-gu, Seoul
FYI> 02-6282-2213
www.olbaan.com
Gangchon Wonjo Jjukkumi
GO> Yangjae Station 양재역 (Line 3 or Shinbundang Line), Exit 5. Turn right, walk for about 90 meters and when you see a GS25, turn left.
1F, Yangjae 1-dong 11-6, Seocho-gu, Seoul
FYI>  02-575-4458 (closed on Sunday)
Seochon Gyedanjip
GO> Gyeongbokgung Station 경복궁역 (Line 3), Exit 2. Turn right to the small alleyway when you see Paris Baguette. Walk about 70 meters and if you spot stacks of Styrofoam containers, you're at the right place.
Naejadong 11-1, Jongno-gu, Seoul, Korea
FYI> 02-737-8412
Written by Joe McPherson
Photographed by Ryu Seunghoo
https://magazine.seoulselection.com/wp-content/uploads/2015/03/RYU3054.jpg
1805
1280
cyn
https://magazine.seoulselection.com/wp-content/uploads/2018/01/Seoul-logo.png
cyn
2015-03-27 23:16:18
2015-04-01 21:12:19
Spring Delights