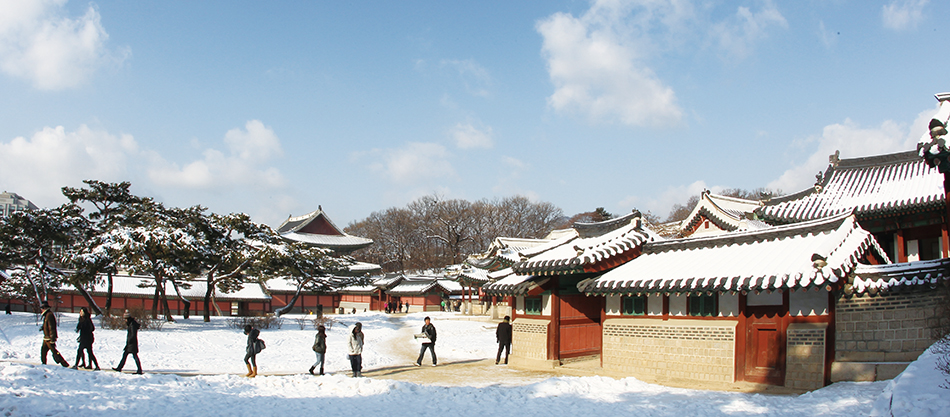 Spas in Seoul 서울의 스파
One of the best ways to escape winter's biting cold is to steep into a nice, hot Jacuzzi or bask in the steaming solace of a luxurious sauna.
››› Here are three of the best escapes you can reach by subway: 
The Banyan Tree Club and Spa Seoul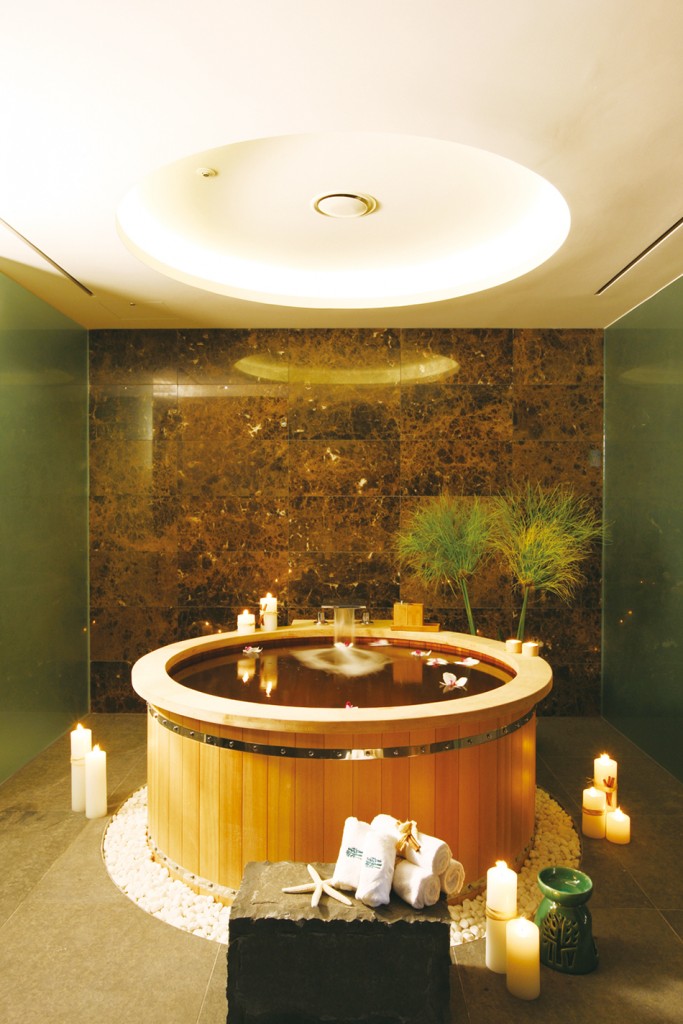 One of the city's most luxurious hotels, their indoor pool is neatly partitioned into areas for adults and children and toddlers. On-site swimming classes are available, as well as free aquarobic lessons. The deck is equipped with beds and Jacuzzis for relaxing after a refreshing dip. Saunas are divided into wet and dry, and also include sleeping/resting rooms for both men and women.
FYI> T. 02-2250-8000, www.banyantreeclub.com
EAT> The hotel features a few different restaurants, including the Festa Bistro and Bar (T. 02-2250-8170, 8080), which serves delectable European-style cuisine, but you won't find anything cheap here. Off-site, Myeong-dong Gyoja (T. 02-776-5348) specializes in dumplings and kalguksu, or hand-cut noodles in a mild broth.
GO> Dongguk University Station 동대입구역 (Line 3), Exit 6. Take bus No. 02, 03 or 05 and get off at the National Theater of Korea.
Dragon Hill Spa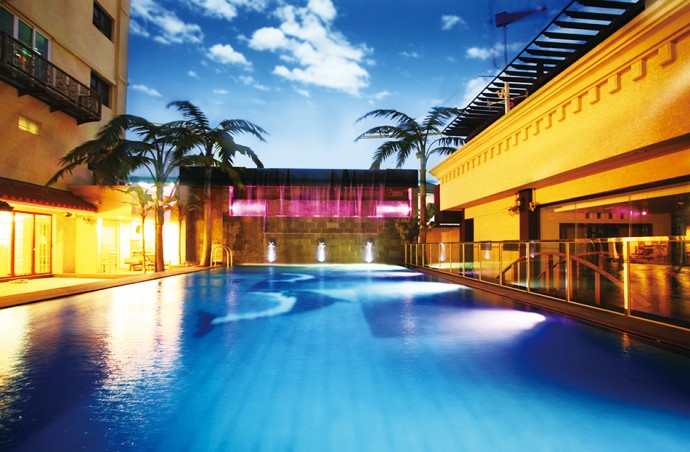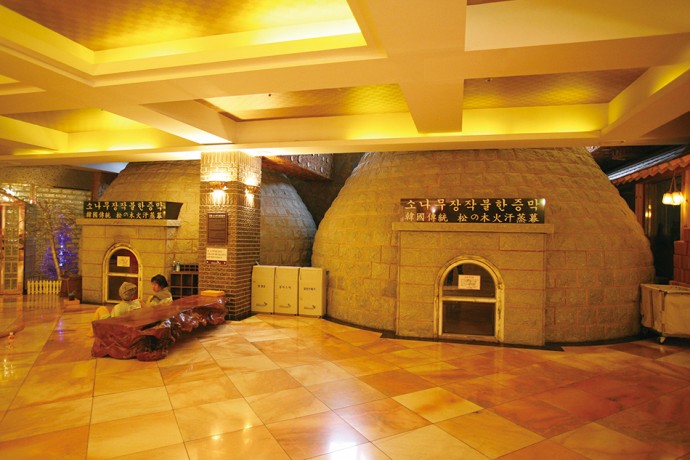 This location offers an almost overwhelming selection of saunas, with each and every one heated using traditional techniques. In addition to an open-air and seawater bath, there is also a salt room and an indoor swimming pool, as well as massage programs and a fitness center. The spa's main hall was designed to be especially luxurious, boasting royally inspired Chinese-style aesthetics.
FYI> T. 02-792-0001, www.dragonhillspa.com
EAT> Bulgogi Brothers (T. 02-2012-0674) in IPark Mall offers all your barbecue favorites. For more old-school flavor, try Hong Don (T. 02-706-0916).
GO>  Yongsan Station 용산역 (Line 1 or Gyeonghui Line), Exit 1
Spa Lei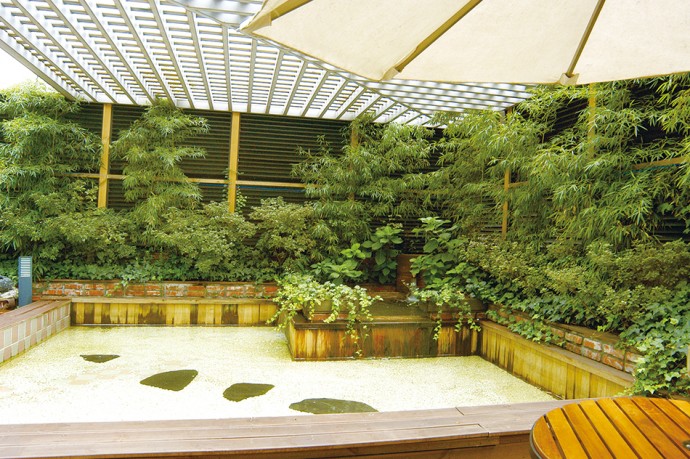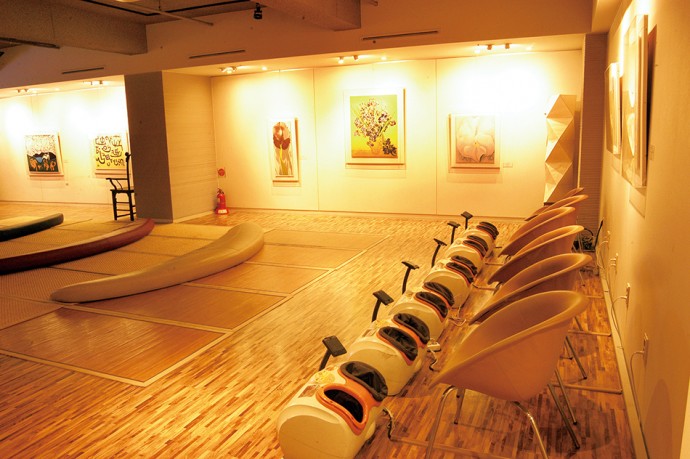 This spa is for ladies only. Modeled after the architecture of traditional spas in Hungary, Spa Lei offers anything and everything that's known for beautifying both your skin and your soul: mud baths, exfoliation procedures, specialized massages and more.
FYI> T. 02-545-4002, www.spalei.co.kr
EAT> Try Pan Asia (T. 02-541-7940) in the Garosu-gil area for some delightful Southeast Asian cuisine.
GO> Sinsa Station 신사역 (Line 3), Exit 5
[separator type="thin"]
Times Square 타임스퀘어
A true one-stop shop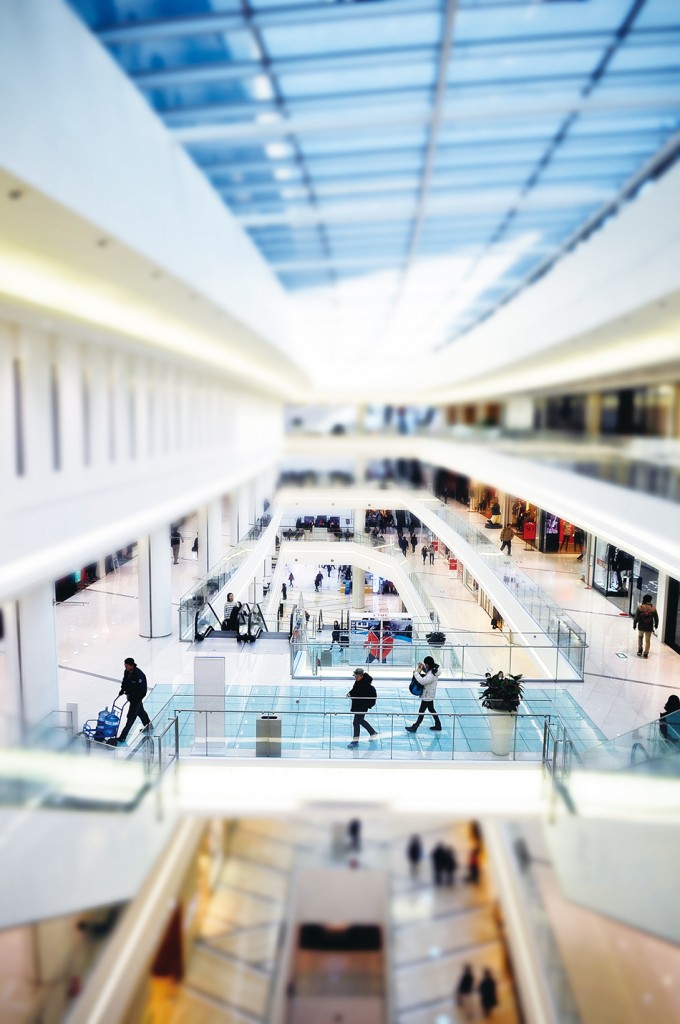 In Seoul, Times Square is the name of a giant shopping complex in the Yeongdeongpo area. It has seen continually increasing foot traffic since opening in 2009, and has already established itself as a major landmark of western Seoul. In addition to offering a great selection of shops and restaurants, Times Square is connected to branches of Shinsegae Department Store and Emart, making it the ultimate one-stop shop. It also has a CGV theater, and hosts musical performances by local artists year-round.
FYI> T. 02-2638-2000, www.timessquare.co.kr
EAT> Times Square is home to several restaurants, but Hanilgwan (T. 02-2638-2735) is among the best of them. Specializing in classic Korean cuisine that's always done the right way, using fresh ingredients. The quality of their bibimbap goes far beyond what is normally offered, as does that of their naengmyeon, or buckwheat noodles served in a chilled broth. For a good Western-style buffet, Seven Springs (T. 02-2638-2638) has one of the best selections around.
GO> Yeongdeungpo Station 영등포역 (Line 1). Upon exiting the station, follow the signs to Times Square using the underground passage.
[separator type="thin"]
Seoul Cinemas 서울의 아트하우스 영화관  
Movies are a good way to have fun while staying inside where it's warm. Here are three of Seoul's more unique cinemas:
Art Sonje Center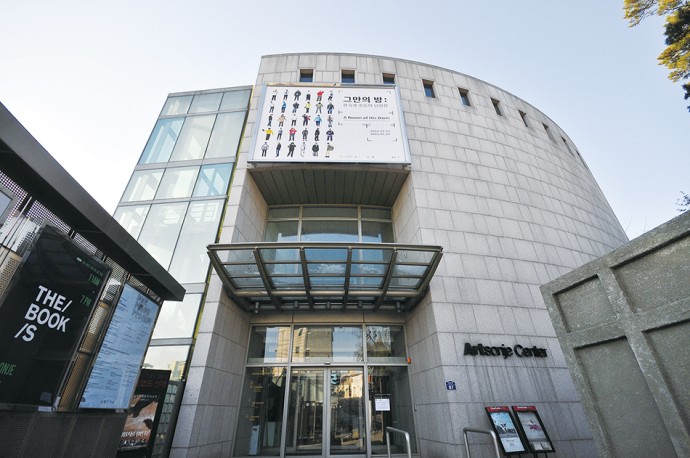 Built in 1998, Art Sonje Center is not only a theater that regularly screens independent and non-mainstream films but is also a private art museum that holds a variety of exhibitions. It also holds a number of dance and music performances throughout the year, making it the ultimate cultural complex.
EAT> Try some hotteok, a sweet, dessert-style pancake that's usually filled with honey, cinnamon and chopped peanuts. It's Korea's quintessential winter snack. Samcheong Hotteok (T. 02-732-0420) is a local hub for this treat.
GO> Anguk Station 안국역 (Line 3), Exit 1. Walk towards Gyeongbokgung Palace and turn right at Poongmoon Girl's High school. Go straight towards Jeongdok Library, and you should see the theater on your left.
FYI> T. 02-733-8945, artsonje.org
Spongehouse Gwanghwamun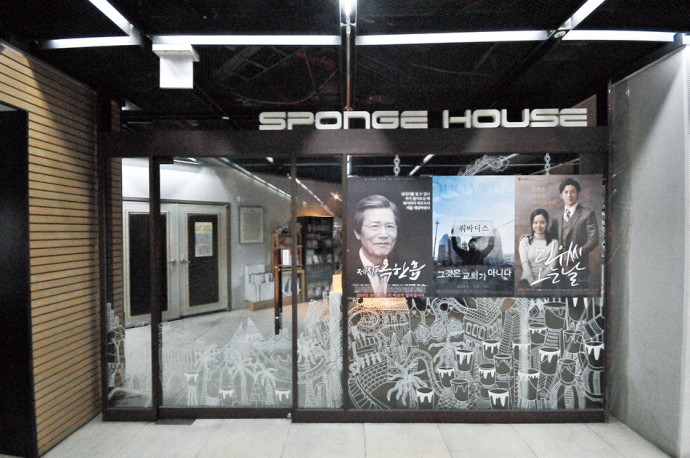 Resembling a coffee shop with glass walls more than it does a theater, Spongehouse Gwanghwamun is unique in that it sells alcoholic beverages that patrons can take into the theater. Run by a distributor that calls itself Sponge, this theater specializes in imported Japanese films and holds an annual Japanese Indie Film Fesitval.
EAT> Seoul Finance Center is nearby, and their basement is filled with high-class restaurants like Butcher's Cut (T. 02-318-0973), one of the city's finest steak houses.
GO> Gwanghwamun Station 광화문역 (Line 5), Exit 5. The theater is on the first floor of the C-Square Building, behind the Koreana Hotel.
FYI> T. 02-2285-2095
Cinecube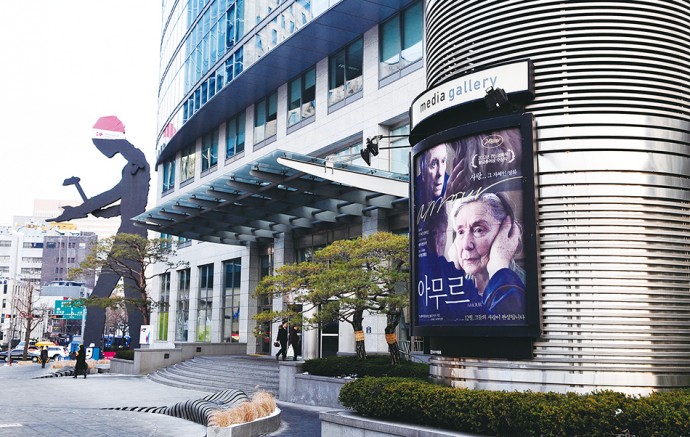 Cinecube is the perfect place if you can't stand all those people who walk into movies late. Plan on being punctual at Cinecube, for they prohibit entry 10 minutes after a screening starts. Aside from an eclectic selection of titles that span all genres, the space itself is full of architectural delights, such as its "sunken garden," a place to relax, or the many curious sculptures that enliven the interior.
EAT> Grab some dimsum at Quanxi (T. 02-723-8815). If you're ravenous, Om (T. 02-723-4848) offers a delicious selection of hearty Indian food.
GO> Gwanghwamung Station 광화문역 (Line 5), Exit 6. Walk straight for a few blocks until you see the Geumho Asiana Building. Cinecube is in the first building afterwards on your left. Look for a sculpture of a man hammering something.
FYI> T. 02-2002-7770, www.icinecube.com
[separator type="thin"]
Changdeokgung Palace 창덕궁
The smaller, quieter, more beautiful palace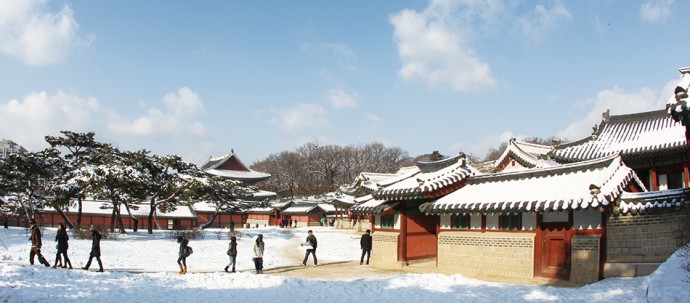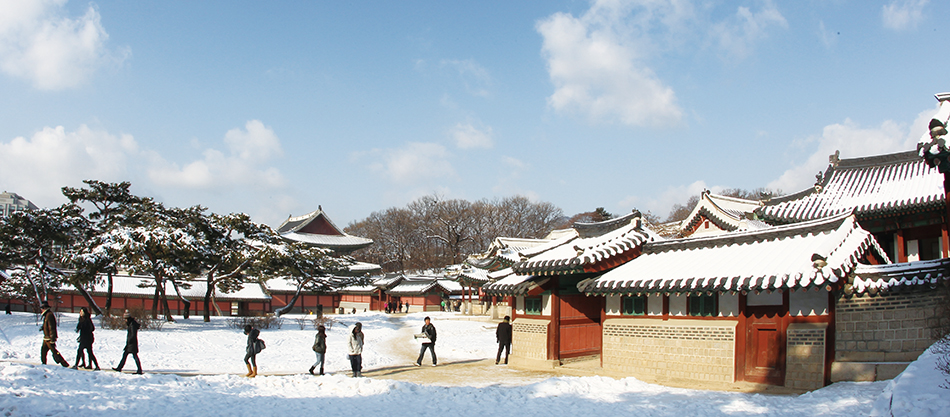 Gyeongbokgung is definitely Seoul's largest palace, and certainly the most famous among both tourists and locals alike. Many don't know, however, that Gyeongbokgung Palace was left in ruins for nearly 300 years. After it was burned down during the Japanese invasions of the 1590s, restoration efforts didn't begin until 1867, under the regent Heungseon Daewongun (1820-1898). For this reason, the official royal residence for most Joseon kings was actually Changdeokgung. With architecture that is commonly lauded for being rather sublime, Changdeokgung was constructed to conform to its natural environment instead of imposing itself upon its surroundings. The structure's design and beauty played a big role in earning the palace a registration as part of UNESCO's World Heritage List in 1997.
T. 02-762-8261, www.cdg.go.kr
Sick of Korean food? Try grabbing some delicious burgers at Farmer's Barn (T. 02-743-9233), one of Seoul's better burger chains. Don't worry, they use fresh ingredients, and their buns don't taste like they have a shelf-life of a Twinkie. If you are in the mood for Korean, try Bukchon Myeonok (T. 02-742-9997).
Anguk Station 안국역 (Line 3), Exit 3. Walk straight and turn left after the Hyundai building. You should see the palace on your right.
[separator type="thin"]
Sledding in Seoul Land 서울랜드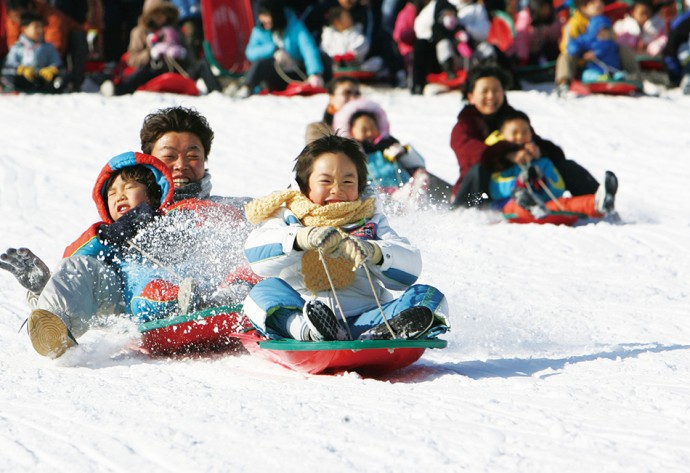 Rediscover your inner child
If you're adventurous and are willing to endure the biting cold, head to Seoul Land – not for the rides, but for the sledding. They have a miniature lift so you can get to the top of the hill as quickly as possible. Be prepared to encounter a lot of couples. Sledding facilities are usually open until late February, depending on conditions.
FYI> T. 02-509-6000, www.seoulland.co.kr
KRW 5,000
EAT> Try heading to the Museum of Modern and Contemporary Art, Gwacheon Branch, where the food is better than what the amusement park has to offer. Lounge D (T. 02-504-3931) serves decent pizza and pasta.
GO> Seoul Grand Park Station 대공원역 (Line 4), Exit 2. Walk straight out and follow the signs to Seoul Land.
https://magazine.seoulselection.com/wp-content/uploads/2015/01/PYH2010123006170001300.jpg
417
950
cyn
https://magazine.seoulselection.com/wp-content/uploads/2018/01/Seoul-logo.png
cyn
2015-01-28 15:58:29
2015-04-03 00:43:49
January Seoul Travel Bits