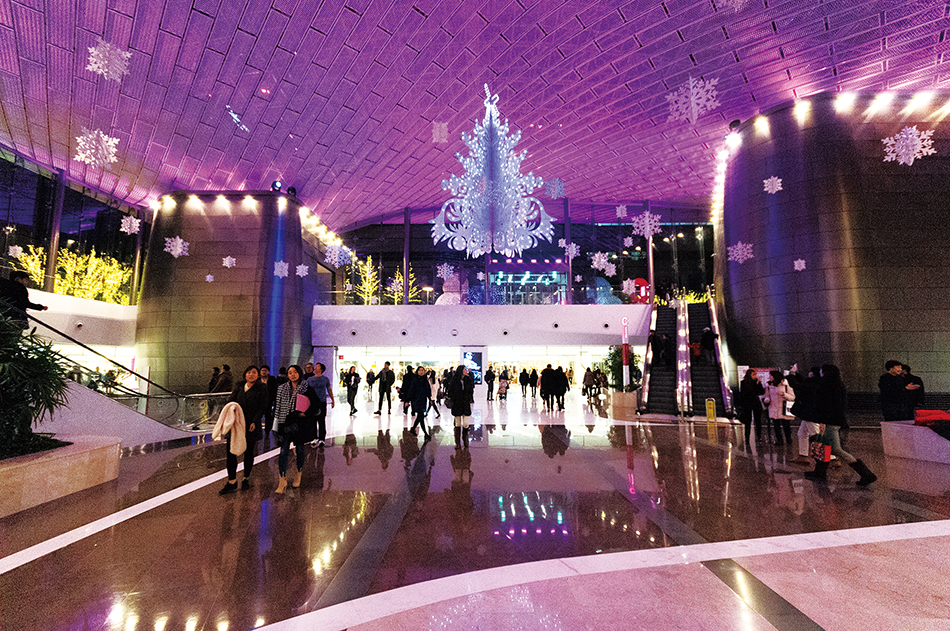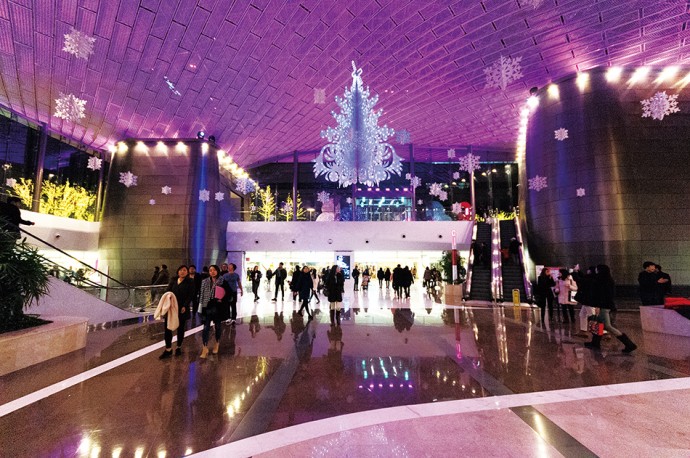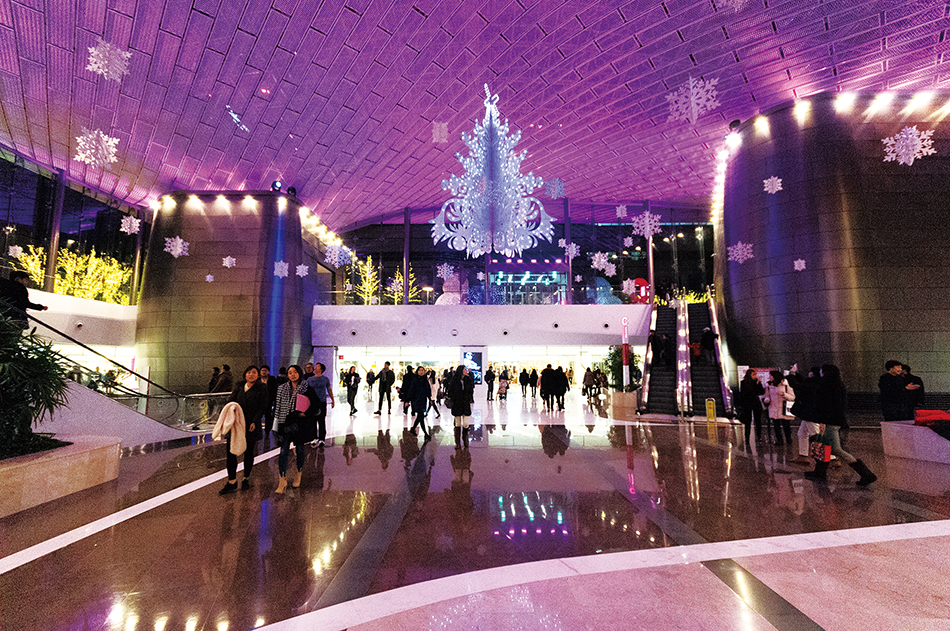 Come for the shopping, stay for the culture
[dropcap letter="T"]he COEX has gotten even sexier.
One of Seoul's most popular tourist destinations since it opened in 2000, the COEX Mall, Asia's largest underground shopping mall and a Gangnam icon, reopened on Nov. 27 following a 20-month-long renovation. What greeted the public when the doors were opened was a vibrant, user-friendly complex where shopping, culture, art, business and tourism are all wrapped into one slickly designed space. It's a shopper's paradise you could spend all day exploring and probably not see everything, which is just as well as since this is a place that warrants repeat visits.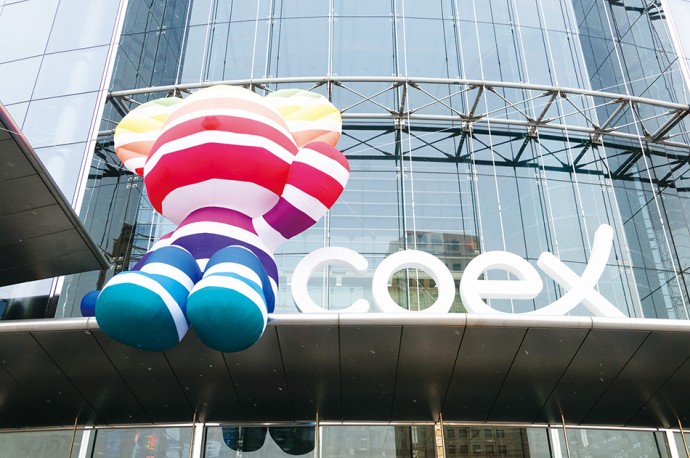 A cultural platform
At a press conference to mark the reopening of the mall, Coex Mall CEO Park Young-bae said, "The new Coex Mall was renovated to be transformed into a multi-purpose venue where shopping, business and culture come together. To set the new mall apart from others, it was designed to hold more cultural elements so that, ultimately, it can reposition itself as a cultural platform."
In order to transform the mall from a shopping center to a nexus of commerce and culture, the space was reorganized into five plazas.
Central Plaza is where you'll find mending shops and flagship stores for major beauty and lifestyle brands favored by younger female shoppers. Among the brands you'll find here is Asia's first branch of Burberry Beauty Box, British clothing label Burberry's new make-up, fragrance and fashion shop. You'll also find Korea's first branch of Zara Home, the home furnishings shop of famed Spanish fashion brand Zara.
The Live Plaza attracts a more gender- and age-diverse crowd with its mix of global sports brands like Nike and Adidas, electronic shops such as Apple distributor a# and Samsung D'light, and character shops like Kakao Friends and Pororo's Lounge P. There's also a staircase/stage which is both a performance venue and a popular place to rest.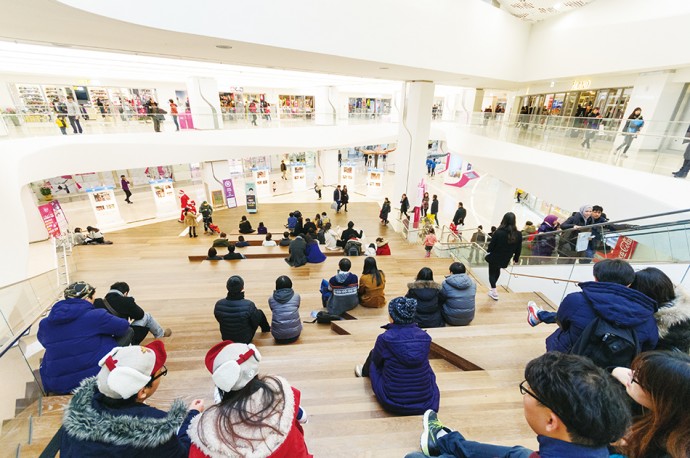 Millennium Plaza, meanwhile, connects Seoul Subway Line 2's Samseong Station and COEX Artium, a performing arts venue run by SM Entertainment, one of Korea's biggest music companies. The plaza is lined with casual and street fashion brands favored by younger shoppers. Asem Plaza is a dining area with plenty of trend eateries such as premium café Paul Bassett and U.S.-based Asian bistro P.F. Chang's. The fifth plaza, Airport Plaza, centers around fashion items like bags and shoes as well as beauty supply shops.
San Francisco-based architecture and design firm Gensler was brought on to design the new mall space. Gensler's vision, titled "The Unfolded Sky," opened many of the underground environments to light and air and transformed the fragmented and sometimes confusing spaces of the old mall into vibrant, connected whole.
Old favorites remain
The area around ASEM Plaza is still home to two of the old mall's two most popular destinations, Megabox COEX and COEX Aquarium.
Asia's biggest movie theater when it first opened in 2004, Megabox COEX is still Korea's biggest multiplex cinema, drawing over 4 million people a year for the last 14 years. Its 16 screens show a mix of Hollywood blockbusters and popular Korean films. There's also a 4D theater, the "Megaride," a 3D theater with moving chairs that takes the moviegoing experience to a whole new level.
COEX Aquarium, meanwhile, is one of Korea's largest aquatic vivariums with over 40,000 creatures from over 650 species displayed in 16 themed zones. The largest and most popular zone is the Sea Kingdom, a massive tank filled with some 40 sharks. An "undersea tunnel" takes you under the tank, too, in case you wanted to see the sharks from below. Be sure to check out the graceful manta ray, too. And in case you were wondering, the sharks get fed at 2PM.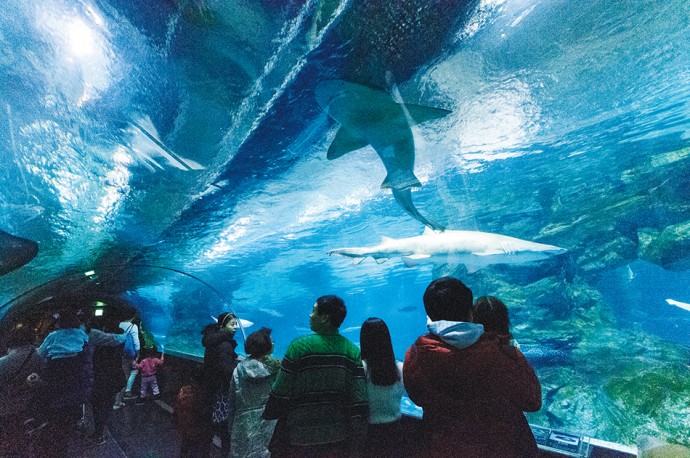 EAT> COEX Mall is home to over 90 restaurants and cafés, so finding something to eat shouldn't prove a problem. In fact, the most difficult thing will be choosing what to have. There's a great deal of diversity here—among the national cuisines here you'll find Korean (of course!), Chinese, Japanese, Vietnamese, Italian, American and Turkish. There's some good eating in the Parnas Mall, too.
GO> Samseong Station 삼성역 (Line 2), Exit 5 or 6
Parnas Mall
The COEX isn't the only mall on the complex. Located in the basement of the Grand InterContinental Seoul Parnas, the Parnas Mall mixes high-end shopping with some great dining options, including Seattle-based gormet popcorn maker KuKuRuZa and a branch of Dean & Deluca.
Written and photographed by Robert Koehler
https://magazine.seoulselection.com/wp-content/uploads/2015/01/DSC_9224.jpg
631
950
cyn
https://magazine.seoulselection.com/wp-content/uploads/2018/01/Seoul-logo.png
cyn
2015-01-28 15:56:52
2015-04-03 00:52:06
COEX Reborn