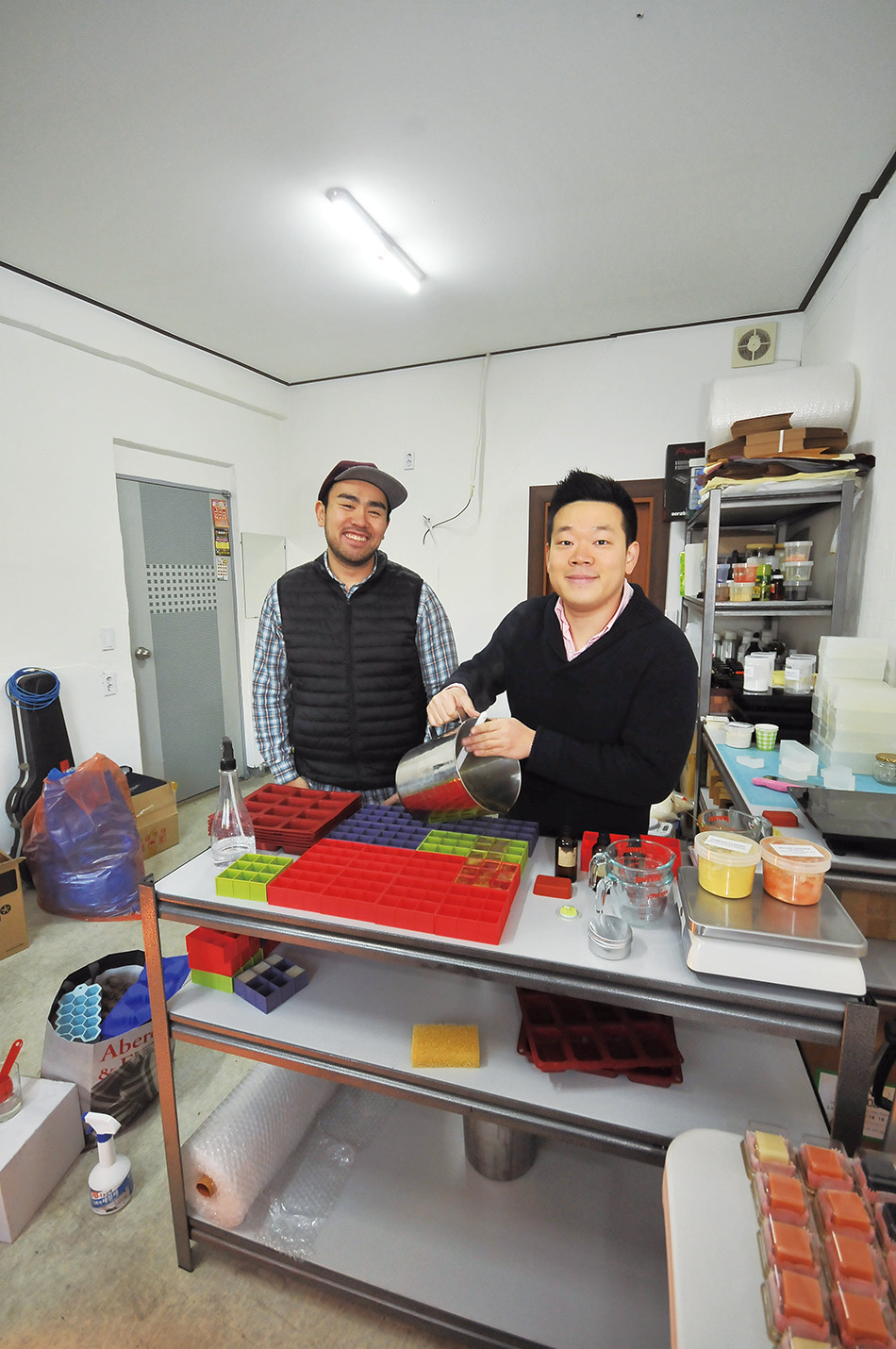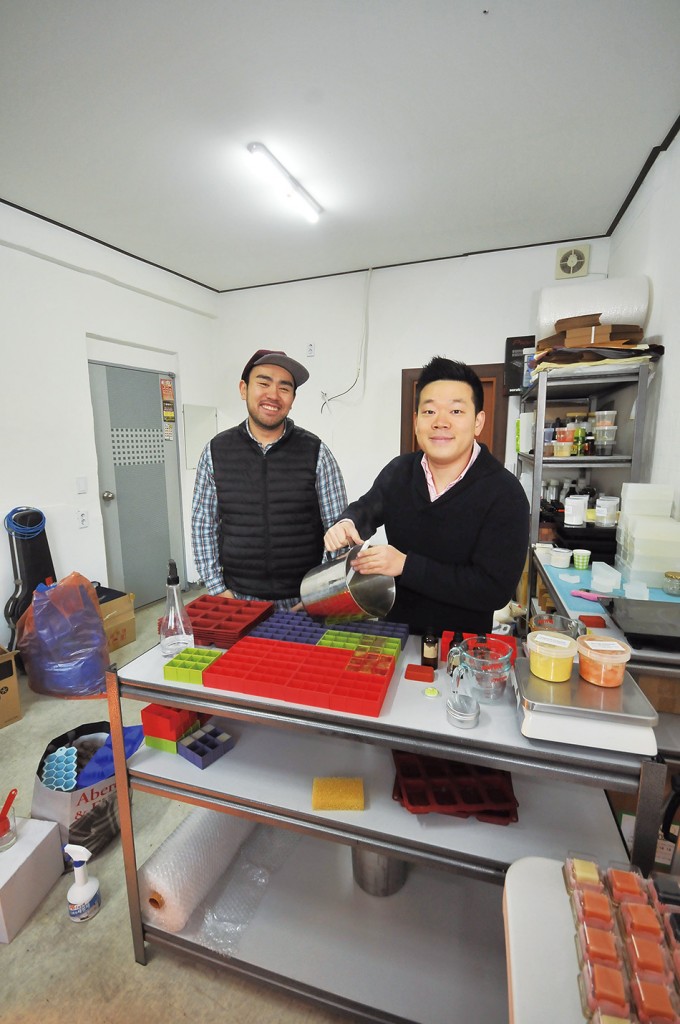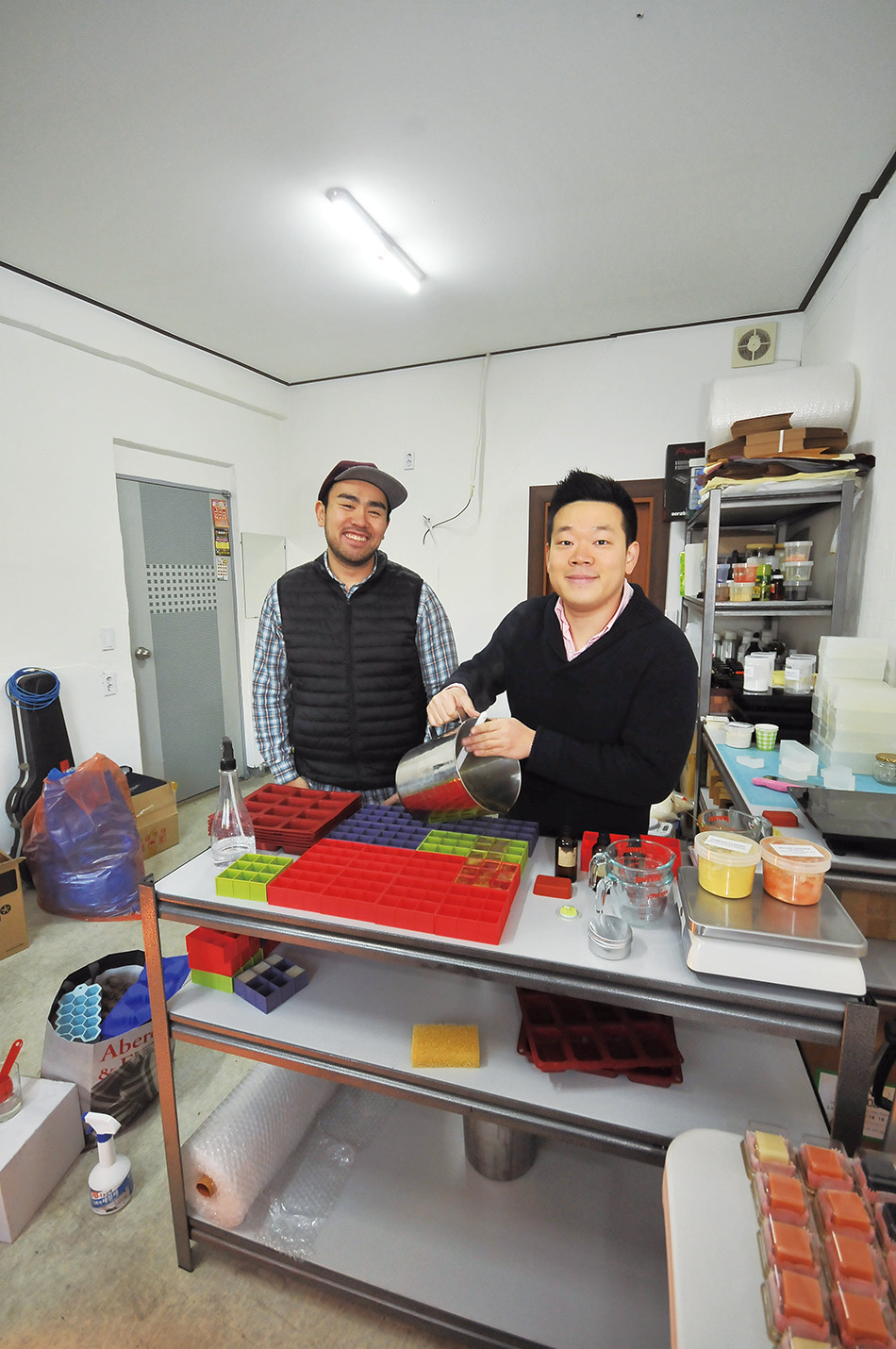 Entrepreneurs Jung Myong-jin and Sangmin Lee set out to change the world with bars of soap
On the streets of Seoul last summer, it was easy to spot a person wearing Toms, the minimalistic canvas shoes famous for the CEO's philanthropic work. For every shoe that a person purchases from Toms, another shoe is donated to someone in need. They were a big hit overseas and in Korea, where the Toms business model has inspired many social start-ups.
Soap Companion, or SoCo, is one of such ventures. Based out of Seoul, the company produces quality soaps with pleasant natural fragrances. They also donate their products to developing countries. For every bar purchased, another is donated to a child in need. SoCo is managed by two young entrepreneurs, Jung Myong-jin and Sangmin Lee. As stated in their company motto, they want to change the world one bar of soap at a time.
Soap's necessity
How can a bar of soap help people in developing countries? Many have asked SoCo's founders this exact question. Their story goes back to 2012 when Jung was serving as a diplomat for the Korean Embassy in the Dominican Republic. "I was really enjoying my life" says Jung. "Then the earthquake in Haiti pretty much changed everything."
At the time, Korea didn't have a diplomat in Haiti, so Jung was put in charge of helping out with the emergency relief. "Haiti was a new experience," he says. "I'd never seen people living in poverty in real life. I'd seen a lot of photos and videos, but right in front of my eyes people were trying to survive every day."
Things got progressively worse. There was a huge outbreak of cholera that killed thousands, mostly children. "Everyday, kids were dying in the streets," recalls Jung. At the end of 2012, he discussed relief measures with the staff from Red Cross International. When they told him that the priority was teaching children in the refugee camps how to wash their hands and brush their teeth, he was disappointed. "I was expecting them to do something like building clinics, building hospitals and saving lives, and they were planning on teaching kids how to wash their hands. I thought it was ridiculous," he says. The Red Cross staff explained how most children in Haiti never learn proper hygiene because their parents can't afford soap. "That conversation really opened my eyes."
I think it's healthier to stay humble and stay low, then slowly start developing your ideas.
Humble beginnings
Jung returned to Korea with his new experiences embedded in his memory. Intent on going to grad school, he one day visited a bookstore to buy textbooks. That's when he came across a book, "Start Something That Matters," by Blake Mycoskie, the founder of Toms Shoes.
While reading the book something clicked in Jung's head. "I thought, 'Wait, we wear shoes every day, we use soap every day. Maybe the principle of Toms Shoes is applicable to soap.'" He recalls. That day, instead of buying GRE material, he bought 12 books about soap-making. He started taking classes as well, and within several months he became an expert soap-maker.
SoCo has a strict philosophy regarding quality: Their products must be safe, diverse and fun. For product safety, they use high-grade ingredients, and maintain rigorous manufacturing standards. Their soap is purely vegan, containing essential oils that give it a deep but pleasant fragrance. It's even edible. "But it tastes horrible," Jung jokes. SoCo also offers a variety of fragrances and color. As far as "fun" goes, their soap lathers well, so children can make bubbles with it. Referring to Jung, Lee adds, "He wants to make good products and not only help people in need but help the people that buy our products."
Reality, however, often countered their altruistic ideas. Although people agreed with SoCo's vision, they didn't necessarily want to contribute. Regardless of SoCo's cause, people chose cheaper products from bigger companies. Sometimes, sales went down to only a few dozen bars a month.
The power of two
That's when Lee came in. He came to Korea in 2005 from the U.S., looking for business opportunities. A trip to Cambodia, however, changed his priorities. "Seeing people in Cambodia, living life with them, I was able to reasses what's important in life," says Lee.
When Lee came back to Seoul and met Jung, he initially tried to help him find a business partner, having no idea that the partner would end up being himself. "There's a TED talk about the power of two. You see a guy doing a crazy thing; he's a maniac. But if he can draw another person to do same thing, he's actually a leader," he explains. "So there is this guy doing a crazy thing. He's trying to save the world with soap. I thought he sounded pretty crazy, but I really liked his vision."
The two entrepreneurs decided to divide and conquer; they took roles that fit their personalities. Jung took over product management, and Lee took over the networking. They started targeting businesses rather than individual customers.
"We're changing our business model. We've worked with a lot of restaurants, coffeehouses and smaller companies," says Lee. They've received very interesting requests from their clients. One time, a notepad company requested a specialized soap that smells like ink. "It's a blend of cedar wood, pine and something citrusy like bergamot. It's very woody," explains Jung. "We created something that has this image of an antique library." A fitness company once requested a specialized soap for weight lifters whose hands get torn up. SoCo used lavender oil and rosewood to create a soothing effect. Recently, they collaborated with Han Bue-yeol, an artist with autism, and put his eye-catching drawings on their packaging.
Building a good story
SoCo recently extended their product line to include candles, collaborating with Vision Care, an NGO that provides cataract surgery to those in need around the globe. For every candle someone purchases, 10 percent of the profit is donated to pay for surgeries that restore vision.
Many people wonder why SoCo is not an NGO, or why they don't receive government support. "The thing about NGOs is that funding determines what they do. We'd be driven by funding, not by our vision or ideas," says Lee.
Many ventures come and go, but for SoCo, it took time and perseverance. "I think it's healthier to stay humble and stay low, then slowly start developing your ideas." says Jung.
Soap Companion is learning what their role can be as a social venture. "It took us a while to understand who we are, and it's still happening. We're learning what role we can play and what we can sell," says Lee. "But I do think we're building a story, and that's something that we always talk about. We want to build a good story."
Soap Companion
www.soapcompanion.com
Written by Claire Jang
Photographed by Robert Koehler
https://magazine.seoulselection.com/wp-content/uploads/2015/01/DSC_9810.jpg
1430
950
cyn
https://magazine.seoulselection.com/wp-content/uploads/2018/01/Seoul-logo.png
cyn
2015-01-28 16:02:23
2015-04-03 00:21:39
Cleanliness is godliness