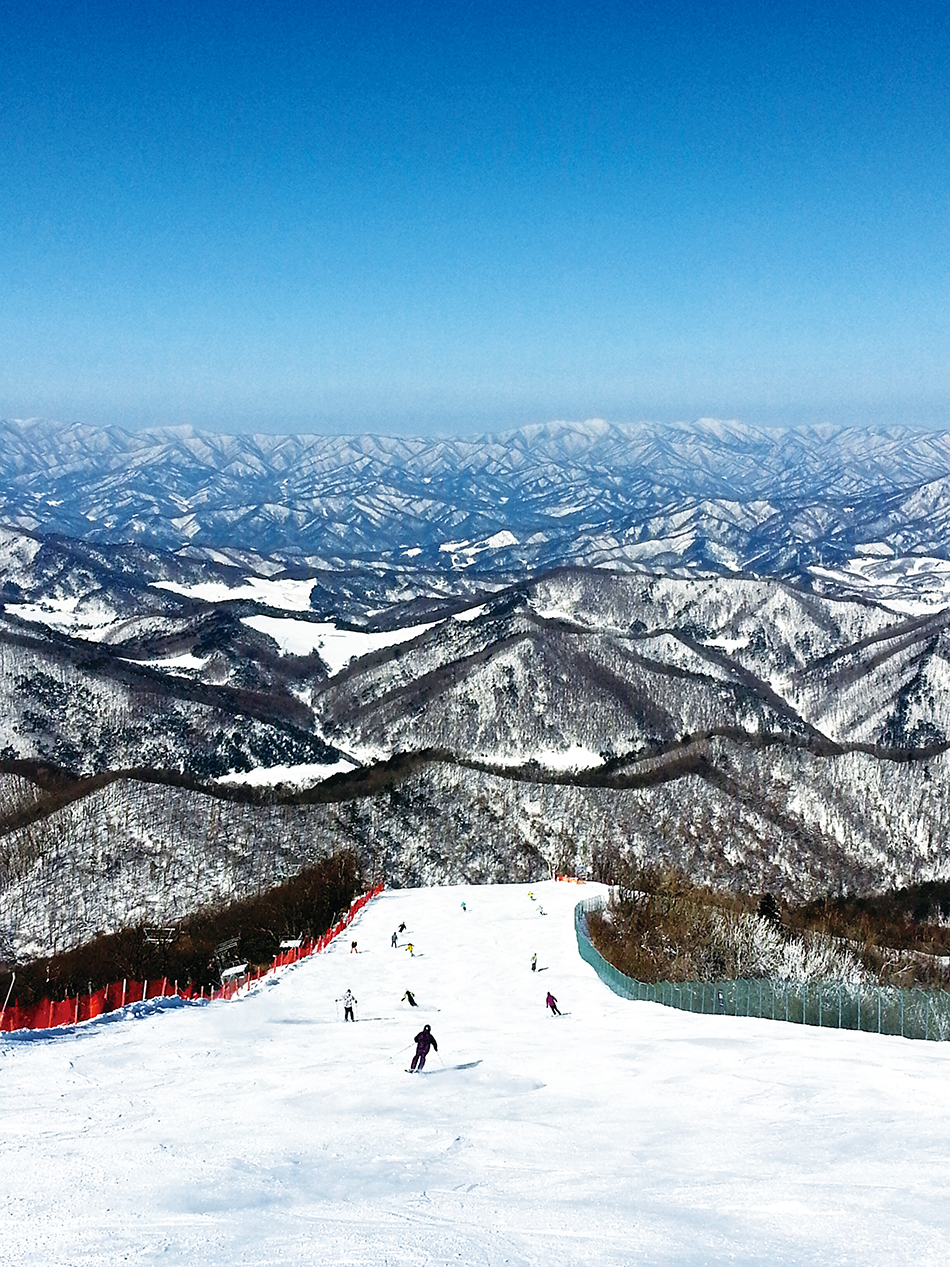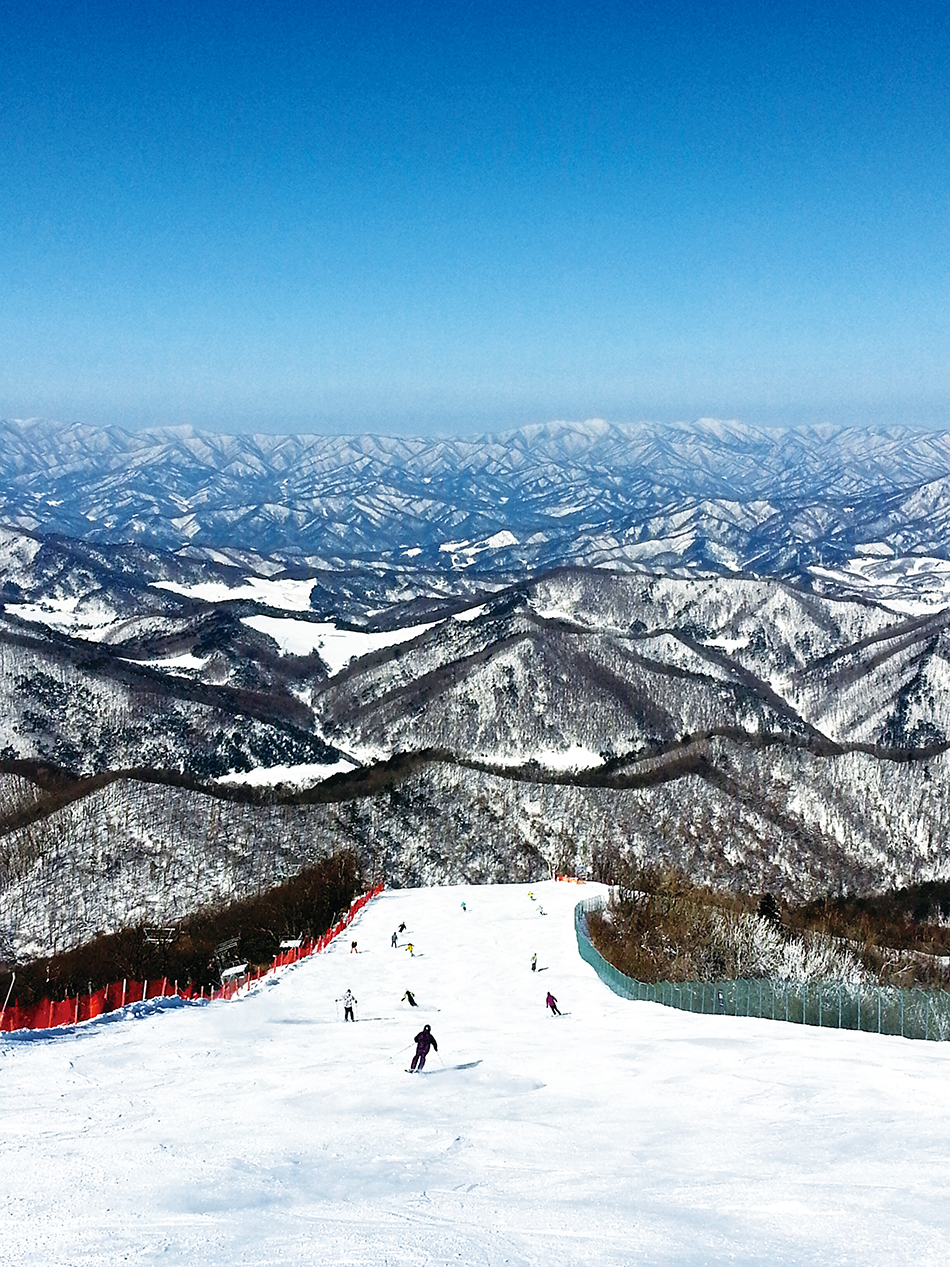 Snowy peaks of Gangwon-do have much to offer the ski enthusiast
Whether you're an avid snowboarder or die-hard skier, Korea's got plenty of steepness to cover. And with the upcoming 2018 Winter Olympics on the horizon, the pressure's certainly been on the country to up the ante in prepping its resorts with state-of-the-art facilities, comfortable lodgings, speedy lifts and all around challenging courses. Truth be told, it's remarkable just how fast Korea's been improving their ski facilities to accommodate the growing influx of skiers and snowboarders.
A good thing indeed, as the growing number of expats from Europe and North America now calling Korea home can push the standards up pretty high when it comes to skiing. Arguably three of Korea's best ski resorts are Phoenix Park, Hi 1 and Yongpygong. All three have gone to considerable lengths to expand and strengthen their appeal to winter enthusiasts. Granted, this may have something to do with the 2018 Olympic Winter Games. Still, a lot can be said for Korea taking an interest in what is arguably one of the world's most popular sports.
For newcomers and veterans alike, skiing in Korea is better than ever before, and a great deal more efficient in terms of transportation, lodging and booking. There are still buses lined up near Jamsil Station whisking alpine addicts off to Phoenix Park, High 1 Resort and Yongpyong. These days, the only challenge is making sure you wake up in time.
High 1 Resort
High 1 Resort has 18 slopes stretching over 21 kilometers, so there's enough variety here to accommodate beginners and advanced skiers alike. Add to this a mighty 403-room hotel, two ski houses together with two fully-equipped resting areas, and you're pretty much set for the day. There's even a nearby casino and an excellent traditional restaurant. Three of the resort's runs qualified for the recent World Cup Ski Competition, and in 2008 High 1 Resort hosted the IPC International World Cup for the disabled which pooled together over 100 athletes from 13 countries.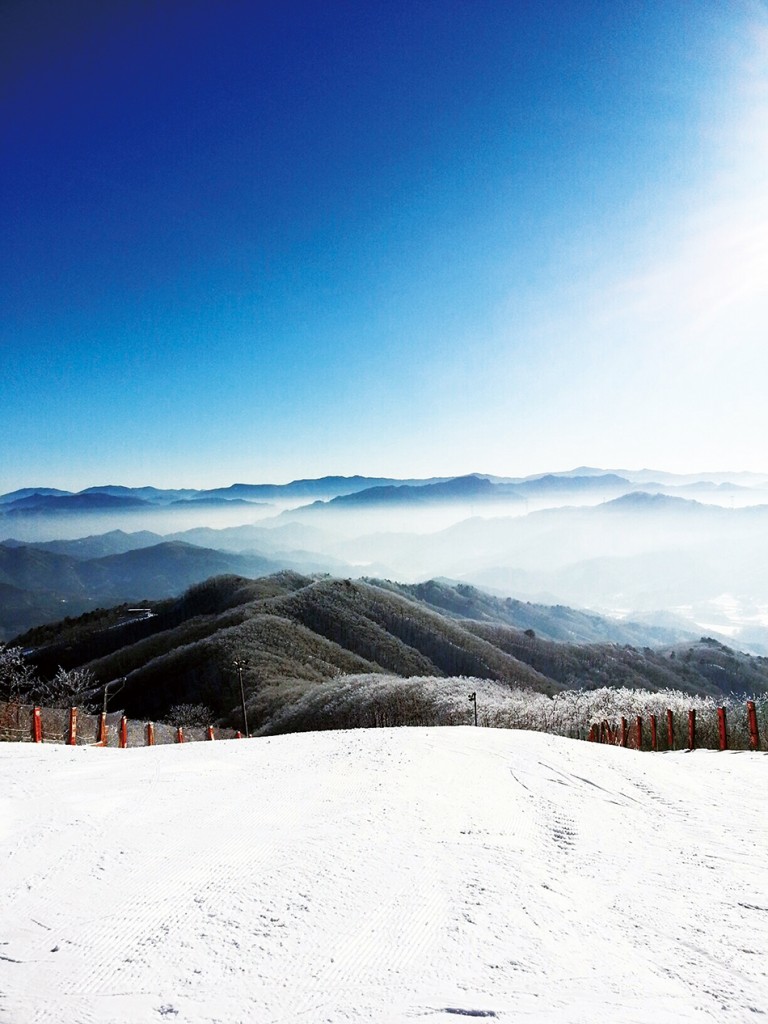 A full-day lift pass will cost you anywhere between KRW 54,000 to KRW 72,000.
GO> There are a number of shuttle buses making stops throughout Seoul. Fares are: KRW 30,000 (roundtrip), KRW 16,000 (one-way). For the full timetable visit Korea's Official Tourism Site. Alternatively, you can grab a bus from East Seoul Bus Terminal bound for Gohan Station (travel time three hours; first bus leaves at 6:10, the last leaves at 23:00). From Gohan Station take a taxi (10 minutes).
FYI> T. 02-1588-7789, www.high1.com
Yongpyong Resort
Yongpyong Resort is arguably the country's best offering for getting the most out of your skis and boards – no small wonder as it was chosen to host the technical alpine skiing events and giant slalom for the upcoming 2018 Winter Olympics and 2018 Winter Paralympics. Korea's largest ski and snowboard resort, it boasts 31 slopes, 15 different lift facilities, including a 3.7-kilometer cable car lift, and the country's largest ski house, Dragon Plaza.
Morning (8:30-12:30) and afternoon (12:30-16:30) passes are KRW 59,000, while evening (18:30-22:00) passes are KRW 53,000. You can also purchase combined passes: Morning + Afternoon or Daytime + Evening for KRW 72,000 and 96,000, respectively.
GO> Buses (KRW 13,900) leave from eastern Seoul Terminal near Gangbyeon Station 강변역 (Line 2) to Hwenggye, where Yongpyong Resort is located.
FYI> T. 02-3270-1231, www.yongpyong.co.kr
Phoenix Park
One of the country's most popular resorts, Phoenix Park has a 5-star hotel, world class golf courses, a host of recreational, and amusement facilities, and plenty of runs. Seventeen, in fact, including the popular 2.2-kilometer 'Panorama Slope'. Phoenix Park is roughly two hours outside of Seoul in Pyeongchang, the region soon to host the 2018 Inter Olympic Games.
GO> Half-Day (8:30 – 16:30) passes will run you 72,000 won. The new After-Night Pass (14:30 – 22:30) is the better way to go and can be had for 85,000 won.
FYI> There's an intercity bus to Jangpyeong that leaves from Dong Seoul Bus Terminal (11,600 won). Buses run from 6:30 to 20:00. From Jangpyeong Bus Terminal there's a free shuttle bus service to Phoenix Park.
Written and photographed by Gregory Curley
https://magazine.seoulselection.com/wp-content/uploads/2015/01/Phoenix-Park.jpg
1267
950
cyn
https://magazine.seoulselection.com/wp-content/uploads/2018/01/Seoul-logo.png
cyn
2015-01-28 16:03:20
2015-04-03 00:15:03
Hitting the slopes