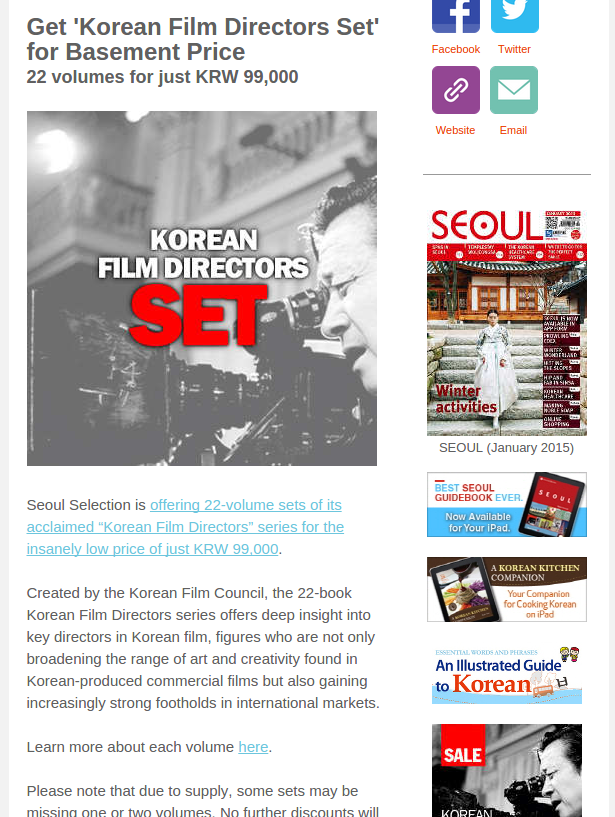 Jan. 8, 2014 / Issue No. 666

Get 'Korean Film Directors Set' for Basement Price
22 volumes for just KRW 99,000

Seoul Selection is offering 22-volume sets of its acclaimed "Korean Film Directors" series for the insanely low price of just KRW 99,000.

Created by the Korean Film Council, the 22-book Korean Film Directors series offers deep insight into key directors in Korean film, figures who are not only broadening the range of art and creativity found in Korean-produced commercial films but also gaining increasingly strong footholds in international markets.

Learn more about each volume here.

Please note that due to supply, some sets may be missing one or two volumes. No further discounts will be offered, however – KRW 99,000 is already a steal. If more than five are missing from the set, however, we may adjust the price.


---

AROUND THE WEB

A miscellany of high-quality hyperlinks from the week, courtesy of SEOUL editor-in-chief Robert Koehler.

---

EVENTS

Notre Dame de Paris French Original Tour

The French original team for the musical "Notre Dame de Paris" is visiting Korea for the second time since their first visit in 2005."Notre Dame de Paris" is a French musical debuted on 1998 in Paris. The musical is based on Victor Hugo's French novel, "Hunchback of Notre-Dame."The musical is known for its dynamic choreography that incorporates modern dancing, acrobatic, ballet and break dancing. The musical numbers were written by Ricardo Cocciante, a well-known Italian composer, and the lyrics were written by Luc Plamondon, a French Canadian lyricist. Musical numbers "Belle,""Le temps des cathedrals" and "Vivre" are some of the songs beloved by many. For this tour, the original cast Matt Laurent will star as Quasimodo, Richard Charest as Gringoire and Robert Marrien as Frollo.

VENUE: Grand Theater, Sejong Center for the Performing Arts
PERIOD: Jan. 15–Feb. 27
MORE INFO: T. 02-399-1111, www.sejongpac.or.kr
ADMISSION: KRW 60,000–200,000
GETTING THERE: Gwanghwamun Station 광화문역 (Line 5), Exit 8.

Prague, a Fortress in the Heart of Europe

Last year, the Museum of the City of Prague held an exhibition about the Seoul Fortress Wall, "Seoul has the City Walls." As a return visit, the fortress wall of Prague is coming into Seoul. The fortress walls of Prague date back to the 10th century, when the early establishments of the Czech (known as Bohemia at the time) began to develop. Since then, the city walls have expanded in their scope and thickness as the Czech grew to be one of the most prominent states in Central Europe. In the exhibition, films, miniature models, graphics, original weapons and other artifacts will show how the fortifications of the capital city of the Czech Republic have been constructed and developed over the years. The exhibition will also be a good chance to compare the fortifications and landscapes of Seoul and Prague.

VENUE: Seoul Museum of History
PERIOD: Thru Feb. 1
MORE INFO: T. 02-724-0274~6, www.museum.seoul.kr
ADMISSION: Free
GETTING THERE: Gwanghwamun Station 광화문역 (Line 5), Exit 7.

The Swell Season

Folk rock duo The Swell Season will hold a special performance for Korean fans. The Swell Season is a project duo formed by guitarist and songwriter Glen Handsard and Czech musician Marketa Irglova. The two artists starred together in the musical film "Once," playing the two main characters. Most of the songs from the film were composed by Glen Hansard, and "Falling Slowly," the title song of the original soundtrack, won many awards including an Academy Award for Best Original Song. The concert will take place around the same time as the premier for the musical "Once," which is a musical stage adaptation of the film. The project duo disbanded in 2009 after their last album, but have reunited once gain to hold this special performance for their Korean fans.

VENUE: Grand Theater, Sejong Center for the Performing Arts
DATES: Jan. 10–11
MORE INFO: T. 02-563-0595, www.sejongpac.or.kr
ADMISSION: KRW 66,000–132,000
GETTING THERE: Gwanghwamun Station 광화문역 (Line 5), Exit 8.

Home, Where the Heart Is

Exhibition "Home, Where the Heart Is" was inspired by a quote from a Korean architect, Chung Gi-young. He had once said, "We simultaneously live in three kinds of houses: a house of memories where we spent our childhood, a house that we live in right now, and the dream house that we hope to live in someday." Architects, installation artists, and painters inspired by the quote have interpreted "home" according to these three types. In the exhibition, artists explore the array of memories, emotions and concepts the word "home" brings about. At "Gallery 1: Home I lived," visitors will experience art that recalls home in our memory. At "Gallery 2: Home I live," visitors will encounter statistics and the reality of "home" today. At "Gallery 3: Home I dream," visitors will get to experience examples of alternative homes.

VENUE: Arko Art Center
PERIOD: Thru Feb. 15
MORE INFO: T. 02-760-4608, www.arkoartcenter.or.kr
ADMISSION: Free
GETTING THERE: Hyehwa Station 혜화역 (Line 4), Exit 2.

RASKB Excursion: Winter Break in Gwangneung & Sanjeong Lake

A favorite "break the winter blahs" excursion, this will help to cure that feeling of "cabin fever"! The RAS prescription is to get out into the countryside and back in touch with nature. This excursion will take us to Gwangneung, the tomb of King Sejo and his queen, located near Seoul in a picturesque National Forest Reserve, and then on to the enchanting Sanjong Lake.

VENUE: Gyeonggi-do
DATE: Jan. 25
MORE INFO: See this link.
ADMISSION: KRW 55,000–66,000
GETTING THERE: See link above.


---

EVERYDAY KOREANS

Golden sunset at Kkotji Beach, Anmyeondo, Taean. Photographed by Robert Koehler.

NOTIFICATIONS

Seoul Selection's Free Book Giveaway – Our free book give-away continues! Check out the list in last week's newsletter here.

Seoul Selection Offline Bookshop Sale – One of the greatest repositories of Korea-related English-language books anywhere, Seoul Selection is offering a 10% sale on any and all books published by Seoul Selection purchased from our OFFLINE bookshop next to Gyeongbokgung Palace.

Looking for Translators – Seoul Selection is looking for a few good translators (Korean to English) for general translation work. Those interested should send a resume and cover letter to Kyehyun at atoz@seoulselection.com. Experienced translators only.

Seoul Selection eBooks – You can purchase some Seoul Selection titles in ebook format via Amazon.com (for Kindle) and Apple's iBookstore. Titles include Ask a Korean Dude, Moon Tides, Doing Business in Korea, Once Around the Sun, and seven volumes of our Korean Film Directors series: BONG Joon-ho, IM Kwon-taek, KIM Jee-woon, LEE Chang-dong, LEE Man-hee, PARK Chan-wook, and SHIN Sang-ok.

Send Your Event Info – If you would like to advertise any upcoming events you are organizing, please send us the press release material at pubco@seoulselection.com by the preceding Friday in order for it to appear in the following Tuesday's issue.

Freelance Contributors Wanted – SEOUL Magazine needs writers who are fluent in both Korean and English. Writers should have a strong interest in Korean culture and be able to interview Koreans. Send your resume and writing samples to english@seoulselection.com.

We Buy & Sell Used Books – Seoul Selection buys and sells used books in English. Unlike our regular selection of publications that specialize in Korea-related topics, our Used Book section carries books on all subjects. It's all part of our effort to make life easier for the English-speaking community.

SEOUL (January 2015)


Buy Books at Seoul Selection's ONLINE Bookshop!




---

---

RECOMMENDED


Poems of Jooseok Seo-Jung

---

NEW BOOKS


Poems of Keum-Nyu Choi


Poems of Lee Gil-Won


Korea's Historic Clans


Korean Handicrafts

---

NEW DVDs


A Girl at My Door


Futureless Things


The March of Fools


B) The Housemaid


The Divine Move
Copyright © , All rights reserved.
Our mailing address is:
https://magazine.seoulselection.com/wp-content/uploads/2015/01/스크린샷-2015-01-13-140543.png
817
615
rjkoehler
https://magazine.seoulselection.com/wp-content/uploads/2018/01/Seoul-logo.png
rjkoehler
2015-01-13 05:08:52
2015-01-13 14:10:02
SEOUL Weekly: Get 'Korean Film Directors Set' for Basement Price