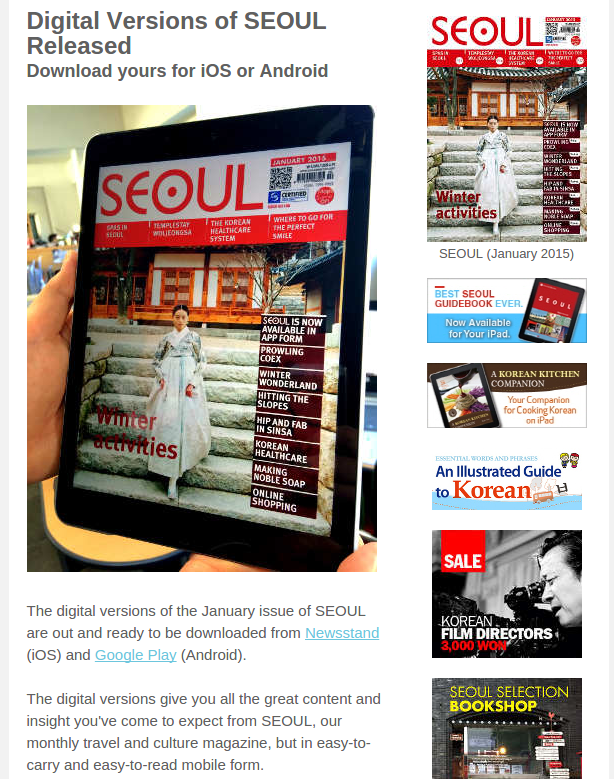 Jan. 2, 2014 / Issue No. 665

Panel Discussion Participants Needed

SEOUL is looking for people who can talk about love and dating in Korea for our February issue. If you are interested, send an email to Claire at english@seoulselection.com.

Digital Versions of SEOUL Released
Download yours for iOS or Android

The digital versions of the January issue of SEOUL are out and ready to be downloaded from Newsstand (iOS) and Google Play (Android).

The digital versions give you all the great content and insight you've come to expect from SEOUL, our monthly travel and culture magazine, but in easy-to-carry and easy-to-read mobile form.

In this issue of SEOUL, we visit the newly reopened COEX Mall, go skiing in Ganghwado, meditate at historic Woljeongsa Temple and talk with two very philanthropic soap-makers.


---

AROUND THE WEB

A miscellany of high-quality hyperlinks from the week, courtesy of SEOUL editor-in-chief Robert Koehler.

---

EVENTS

The Swell Season

Folk rock duo The Swell Season will hold a special performance for Korean fans. The Swell Season is a project duo formed by guitarist and songwriter Glen Handsard and Czech musician Marketa Irglova. The two artists starred together in the musical film "Once," playing the two main characters. Most of the songs from the film were composed by Glen Hansard, and "Falling Slowly," the title song of the original soundtrack, won many awards including an Academy Award for Best Original Song. The concert will take place around the same time as the premier for the musical "Once," which is a musical stage adaptation of the film. The project duo disbanded in 2009 after their last album, but have reunited once gain to hold this special performance for their Korean fans.

VENUE: Grand Theater, Sejong Center for the Performing Arts
DATES: Jan. 10–11
MORE INFO: T. 02-563-0595, www.sejongpac.or.kr
ADMISSION: KRW 66,000–132,000
GETTING THERE: Gwanghwamun Station 광화문역 (Line 5), Exit 8.

New Year Special: 'Wedding'

Take advantage of the music performance show "Wedding"'s special New Year's sale.

Head to the show's homepage (www.musicshowwedding.co.kr) to make a reservation – just click on "New Year Special" to get a 20% discount.

MORE INFO: Booking & Info T. 02-739-8288 / www.musicshowwedding.co.kr

High Street Market Online Event!

This year, healthy eating begins with healthy choices at High Street Market.

All New online customer signups in January receive a KRW 3,000 Bonus Coupon! To order, visit www.highstreet.co.kr.

MORE INFO: Call 02-2201-0652

David Nash

David Nash is a Wales-based wood sculptor. He works with trees that have reached the end of their time and gives them a second life as art pieces. Instead of using the usual tools like chisels and abrasives, he uses a chainsaw, axe and blowtorch to bring out different textures. He finds natural cracks in the wood and tweaks them to create unique monumental pieces that complement their surroundings. His works can be divided into two kinds: installations in an outdoor natural environment, and pieces for indoor architectural environments. In 2004, he received the Order of the British Empire for his service to the arts.

VENUE: Kukje Gallery
PERIOD: Thru Jan. 25
MORE INFO: T. 02-735-8449, www.kukjegallery.com
ADMISSION: Free
GETTING THERE: Anguk Station 안국역 (Line 3), Exit 1.

Home, Where the Heart Is

Exhibition "Home, Where the Heart Is" was inspired by a quote from a Korean architect, Chung Gi-young. He had once said, "We simultaneously live in three kinds of houses: a house of memories where we spent our childhood, a house that we live in right now, and the dream house that we hope to live in someday." Architects, installation artists, and painters inspired by the quote have interpreted "home" according to these three types. In the exhibition, artists explore the array of memories, emotions and concepts the word "home" brings about. At "Gallery 1: Home I lived," visitors will experience art that recalls home in our memory. At "Gallery 2: Home I live," visitors will encounter statistics and the reality of "home" today. At "Gallery 3: Home I dream," visitors will get to experience examples of alternative homes.

VENUE: Arko Art Center
PERIOD: Thru Feb. 15
MORE INFO: T. 02-760-4608, www.arkoartcenter.or.kr
ADMISSION: Free
GETTING THERE: Hyehwa Station 혜화역 (Line 4), Exit 2.

RASKB Excursion: The Natural History Museum of Kyunghee University

In January, the RASKB offers a series of indoor tours to escape the winter cold. The first of these is a trip to Kyung Hee University (KHU), a private comprehensive university renowned for its beautiful garden-like campus. However, it also has plenty of indoor attractions.
The KHU Natural History Museum is one of the oldest such museums on the Korean Peninsula, first opening in 1978 to fulfill the university's founding spirit of "creating a civilized world" through research in nature. Housing over 90,000 pieces, it includes displays of various wildlife found around the peninsula and abroad.

VENUE: Seoul
DATES: Jan. 10
MORE INFO: See this link.
ADMISSION: KRW 10,000–15,000
GETTING THERE: See link above.


---

EVERYDAY KOREANS

First sunrise of 2015, seen from Seonyudo Park. Photographed by Robert Koehler.

NOTIFICATIONS

Seoul Selection's Free Book Giveaway – Our free book give-away continues! Check out the list in last week's newsletter here.

Seoul Selection Offline Bookshop Sale – One of the greatest repositories of Korea-related English-language books anywhere, Seoul Selection is offering a 10% sale on any and all books published by Seoul Selection purchased from our OFFLINE bookshop next to Gyeongbokgung Palace.

Looking for Translators – Seoul Selection is looking for a few good translators (Korean to English) for general translation work. Those interested should send a resume and cover letter to Kyehyun at atoz@seoulselection.com. Experienced translators only.

Seoul Selection eBooks – You can purchase some Seoul Selection titles in ebook format via Amazon.com (for Kindle) and Apple's iBookstore. Titles include Ask a Korean Dude, Moon Tides, Doing Business in Korea, Once Around the Sun, and seven volumes of our Korean Film Directors series: BONG Joon-ho, IM Kwon-taek, KIM Jee-woon, LEE Chang-dong, LEE Man-hee, PARK Chan-wook, and SHIN Sang-ok.

Send Your Event Info – If you would like to advertise any upcoming events you are organizing, please send us the press release material at pubco@seoulselection.com by the preceding Friday in order for it to appear in the following Tuesday's issue.

Freelance Contributors Wanted – SEOUL Magazine needs writers who are fluent in both Korean and English. Writers should have a strong interest in Korean culture and be able to interview Koreans. Send your resume and writing samples to english@seoulselection.com.

We Buy & Sell Used Books – Seoul Selection buys and sells used books in English. Unlike our regular selection of publications that specialize in Korea-related topics, our Used Book section carries books on all subjects. It's all part of our effort to make life easier for the English-speaking community.

SEOUL (January 2015)


Buy Books at Seoul Selection's ONLINE Bookshop!




---

---

RECOMMENDED


Korea's Historic Clans: Family Traditions of the Jongga

---

NEW BOOKS


POEMS OF IN-HWAN BAE


STORYTELLING ASIA : Hongkong


Dishonored: K-Fiction Series 5


Handbook of Korean Vocabulary

---

NEW DVDs


My Boy


B) The Housemaid


The Divine Move


No Tears For the Dead


The Tunnel
Copyright © , All rights reserved.
Our mailing address is:
https://magazine.seoulselection.com/wp-content/uploads/2015/01/스크린샷-2015-01-13-140519.png
779
614
rjkoehler
https://magazine.seoulselection.com/wp-content/uploads/2018/01/Seoul-logo.png
rjkoehler
2015-01-13 05:03:08
2015-01-13 14:08:04
SEOUL Weekly: Digital Versions of SEOUL Released