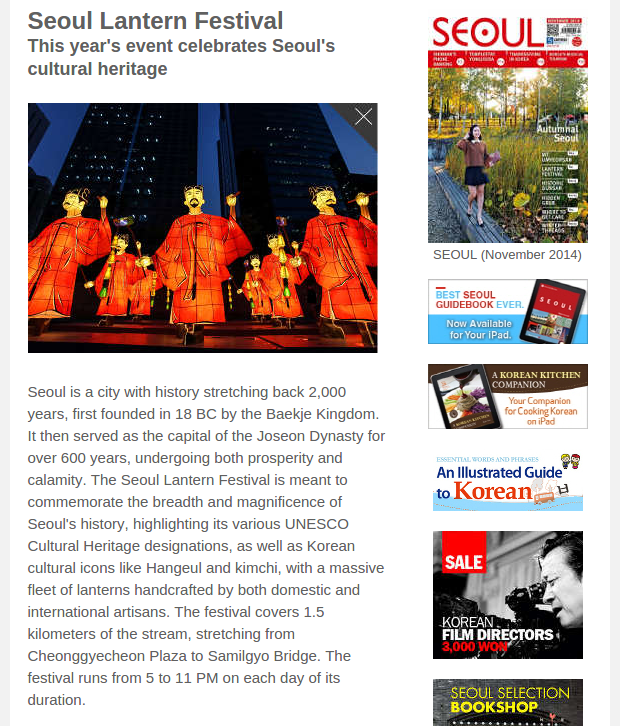 Nov. 12, 2014 / Issue No. 658

Writer for SEOUL Needed!

SEOUL Magazine is hiring a full-time reporter. Writers proficient in both Korean and English preferred. If this sounds like you, send a resume and cover letter to hankinseoul@gmail.com.

Seoul Lantern Festival
This year's event celebrates Seoul's cultural heritage



Seoul is a city with history stretching back 2,000 years, first founded in 18 BC by the Baekje Kingdom. It then served as the capital of the Joseon Dynasty for over 600 years, undergoing both prosperity and calamity. The Seoul Lantern Festival is meant to commemorate the breadth and magnificence of Seoul's history, highlighting its various UNESCO Cultural Heritage designations, as well as Korean cultural icons like Hangeul and kimchi, with a massive fleet of lanterns handcrafted by both domestic and international artisans. The festival covers 1.5 kilometers of the stream, stretching from Cheonggyecheon Plaza to Samilgyo Bridge. The festival runs from 5 to 11 PM on each day of its duration.

VENUE: Cheonggyecheon Stream
PERIOD: Thru Nov. 23
MORE INFO: T. 02-3788-0800, seoullantern.visitseoul.net
GETTING THERE: Gwanghwamung Station 광화문역 (Line 5), Exit 5. Cheonggyecheon Stream should be on your immediate left upon exiting the station.


---

AROUND THE WEB

A miscellany of high-quality hyperlinks from the week, courtesy of SEOUL editor-in-chief Robert Koehler.

---

EVENTS

A Taste of Lombardy



A resort tucked away in a nook of Mt. Namsan, the Banyan Tree Club & Spa Seoul is the perfect place for a serene getaway right in the heart of Seoul. From Nov. 11–22, the Banyan Tree will be teaming up with Italian chef Mirko Cappa to bring you A Taste of Lombardy, a special event offering guests the finest Italian cuisine, at The Festa Bistro & Bar, one of Seoul's most elegant European restaurants.
Located near the Swiss-Italian border, the Lombardy region of Italy is known for its wholesome grains, ripe olives and rich vegetables. Lombardy cuisine is also famous for its veal, some signature dishes being ossobuco, veal knuckle braised in white wine, and cotoletta, a fried veal cutlet. You may have also heard of Lombardy's famous gorgonzola and mascarpone cheeses.
The Festa Bistro & Bar, in honor of this special occasion, will be serving up plenty of other northern Italy delights, including Milano-style minestrone soup, pumpkin gnocchi, pumpkin soup, pheasant dumplings, lamb-stuffed pasta and much more. Individual items start at KRW 24,000, and full-course meals will be offered at either KRW 90,000 or KRW 110,000. In addition, lunch buffet courses will be offered at KRW 49,000 from Monday thru Thursday, and at KRW 85,000 on the weekend (tax included).

PERIOD: Nov. 11–22
MORE INFO: To make your reservation: call The Festa Bisto & Bar at T. 02-2250-8170

TempleStay Week

Don't miss this opportunity to experience inner-peace and self-discovery in one of Seoul's nine temples, all for free!
TempleStay Week, which will run from Dec. 1–7, offers residents and tourists the perfect opportunity to experience Korean Buddhist culture, completely free of charge. Guests can choose from up to nine temples located throughout Seoul, each one with its own unique experience, surroundings and history. From meditation and traditional rituals to tea and conversation with monks, all temples offer a variety of educational and spiritual experiences that will leave you feeling refreshed and calm.

PERIOD: Dec. 1–7
MORE INFO: Reservations for TempleStay Week can be made starting Nov. 17 at eng.templestay.com

Kim Kwang-bo Presents Henrik Ibsen's 'The Pillars of Society'

Although written in 1877 by Norwegian master playwright Henrik Ibsen, "The Pillars of Society" is being performed in Korea for the very first time, over 140 years after its inception. Nearly an instant hit, the original play sold over 10,000 copies soon after its release, an astronomical number for the time period. Its plot tells the story of Karsten Bernick, the dominant businessman in a small coastal town. Although he is seen as a hard-working and honest "pillar of society," he is actually a greedy conspirator who let his younger brother-in-law Johan take the blame for a scandalous affair he had with an actress. Things get complicated, however, when Johan returns after spending several years in the United States.

VENUE: LG Arts Center
PERIOD: Nov. 19–30
MORE INFO: T. 02-2005-0114, www.lgart.com
ADMISSION: KRW 30,000–50,000
GETTING THERE: GS Tower B1 floor is directly connected to Yeoksam Station 역삼역 (Line 2), Exit 7. Take the LG Arts Center elevator from there.

Food Week Korea 2014

Taste and drink your way around the world with Food Week Korea, the country's largest and food show. This year's event has six new special sections within its program: ASEAN Local Food; Health and Healing; Solar Salt and Low Sodium; Desserts and Delicacies; Trendy and Traditional Korean Food; and Single and Simple Food. Guests will now be able to explore every aspect of the food and beverage industry, from raw ingredients, machinery and appliances to packaging, drinks and desserts—all under one roof. Another key event will be the Great Korean Beer Festival. Visitors may sample various craft beers to savor a wide range of flavors and fragrances from a variety of handcrafted brews. The event will also offer a one-on-one business-matching program that pairs buyers with manufacturers. In addition, there will be food symposiums, vendor seminars, interactive workshops and demonstrations, as well as a live cooking show featuring star chefs. Last year's event saw 602 companies showcasing goods from 29 countries around the world to an estimated 75,000 buyers and visitors. This year, more than 1,000 domestic and overseas businesses in the food and beverage industry will exhibit across 1,800 booths.

VENUE: COEX Convention and Exhibition Center
PERIOD: Nov. 12–15
MORE INFO: T. 02-6000-8138, foodweek.info@coex.co.kr
GETTING THERE: Samseong Station 삼성역 (Line 2), Exit 6

RASKB Excursion: Geumsansa & the Eunjin Mireuk

This excursion will take you to Geumsansa Temple near Gimje, where there is a lot to see; on the way back you will visit Gwanchoksa Temple in Nonsan to admire the great Eunjin Mireuk statue.
Geumsansa (literally "Golden Mountain Temple") stands on the slopes of Moaksan in Gimje, Jeollabuk-do. It is one of the largest temple complexes of the region and contains many unique treasures. Like most other Korean temples, its buildings were completely destroyed during the Japanese invasion of the 1590s, then rebuilt in the decades that followed. And like many other temples, its stone monuments survived the Japanese attack unscathed.
Outstanding in Geumsansa is the 3-storied Mireukjeon hall containing a gigantic gilded statue of Mireuk (Maitreya, the Buddja of the future). The statue is the largest indoor standing Buddha in the world, reaching 11.82 meters in height. The two other statues standing on right and left of Mireuk are 8.8 meters tall. On the north side of the temple stands a 2-story platform, Songdae, on which stand a 5-story pagoda and the Bangdeunggyedan, a bell-shaped stupa of the kind usually designed to contain relics of the Buddha. This seems to date from the early years of the Goryeo dynasty. There are several other old stone monuments, some of them rather mysterious, and in all the temple contains 10 or more national treasures.

VENUE: Jeollabuk-do
DATES: Nov. 22
MORE INFO: See this link.
COST: KRW 70,000–84,000
GETTING THERE: See link above.


---

EVERYDAY KOREANS

Street food stall near Cheonggyecheon Stream, set up for the Seoul Lantern Festival. Photographed by Robert Koehler.

NOTIFICATIONS

Seoul Selection's Free Book Giveaway – Our free book give-away continues! Check out the list in last week's newsletter here.

Seoul Selection Offline Bookshop Sale – One of the greatest repositories of Korea-related English-language books anywhere, Seoul Selection is offering a 10% sale on any and all books published by Seoul Selection purchased from our OFFLINE bookshop next to Gyeongbokgung Palace.

Looking for Translators – Seoul Selection is looking for a few good translators (Korean to English) for general translation work. Those interested should send a resume and cover letter to Kyehyun at atoz@seoulselection.com. Experienced translators only.

Seoul Selection eBooks – You can purchase some Seoul Selection titles in ebook format via Amazon.com (for Kindle) and Apple's iBookstore. Titles include Ask a Korean Dude, Moon Tides, Doing Business in Korea, Once Around the Sun, and seven volumes of our Korean Film Directors series: BONG Joon-ho, IM Kwon-taek, KIM Jee-woon, LEE Chang-dong, LEE Man-hee, PARK Chan-wook, and SHIN Sang-ok.

Send Your Event Info – If you would like to advertise any upcoming events you are organizing, please send us the press release material at pubco@seoulselection.com by the preceding Friday in order for it to appear in the following Tuesday's issue.

Freelance Contributors Wanted – SEOUL Magazine needs writers who are fluent in both Korean and English. Writers should have a strong interest in Korean culture and be able to interview Koreans. Send your resume and writing samples to english@seoulselection.com.

We Buy & Sell Used Books – Seoul Selection buys and sells used books in English. Unlike our regular selection of publications that specialize in Korea-related topics, our Used Book section carries books on all subjects. It's all part of our effort to make life easier for the English-speaking community.

SEOUL (November 2014)


Buy Books at Seoul Selection's ONLINE Bookshop!




---

---

RECOMMENDED


Temple Stay: A Journey of Self-Discovery

---

NEW BOOKS


Remembering Koryo


Joseon Dynasty: The Message from Ancestors


Sun Mu-Zen Dance Technique and Therapy


An Encyclopaedia of Korean Culture


The Origins of the Choson Dynasty


---

NEW DVDs


The Fatal Encounter


Love Me Once Again


A Hard Day


Cheer Up, Mr. Lee


Shuttlecock
Copyright © , All rights reserved.
Our mailing address is:
https://magazine.seoulselection.com/wp-content/uploads/2014/11/스크린샷-2014-11-28-090057.png
726
620
rjkoehler
https://magazine.seoulselection.com/wp-content/uploads/2018/01/Seoul-logo.png
rjkoehler
2014-11-28 00:04:45
2014-11-28 09:07:10
SEOUL Weekly: Seoul Lantern Festival