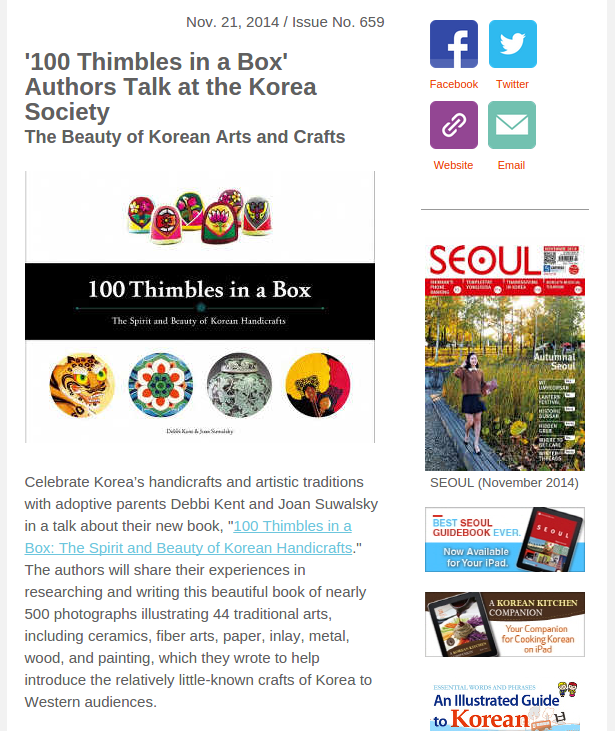 Nov. 21, 2014 / Issue No. 659

'100 Thimbles in a Box' Authors Talk at the Korea Society
The Beauty of Korean Arts and Crafts

Celebrate Korea's handicrafts and artistic traditions with adoptive parents Debbi Kent and Joan Suwalsky in a talk about their new book, "100 Thimbles in a Box: The Spirit and Beauty of Korean Handicrafts." The authors will share their experiences in researching and writing this beautiful book of nearly 500 photographs illustrating 44 traditional arts, including ceramics, fiber arts, paper, inlay, metal, wood, and painting, which they wrote to help introduce the relatively little-known crafts of Korea to Western audiences.

A holiday Korean craft fair follows, featuring beautiful and unique handicrafts and art work from local Korean artists working in many of the traditional arts depicted in 100 Thimbles in a Box.Purchase the perfect holiday gift or simply admire how today's artists are working in traditional art forms with innovative and contemporary results.

VENUE: Korea Society, New York, USA
DATE: Dec. 2, 6:30 PM
ADMISSION: Free for Korea Society members, US$10 for non-members
MORE INFO: See this link.
GETTING THERE: See here.

Views, Records, History
National Museum of Korean Contemporary History puts on exhibit of documentary photography

The National Museum of Korean Contemporary History is hosting a special exhibit of photographs that document Korean contemporary history. "Views, Records, History" features 35 photos by seven of Korea's leading documentary photographers.

The exhibit can be seen in the cloisters outside the rear entrance of the museum.

VENUE: National Museum of Korean Contemporary History
PERIOD: Thru Feb. 1
ADMISSION: Free
MORE INFO: http://www.much.go.kr/
GETTING THERE: See here.


---

AROUND THE WEB

A miscellany of high-quality hyperlinks from the week, courtesy of SEOUL editor-in-chief Robert Koehler.

---

EVENTS

Jekyll & Hyde, the Musical

Since its Korean debut in 2004, "Jekyll and Hyde" has continuously been performed to sold-out venues, and is now one of the nation's most popular musicals, starring the legendary Jo Seung-woo ("Tazza: The High Rollers," 2006). Based on the 1886 book "The Strange Case of Dr. Jekyll and Mr. Hyde" by Robert Louis Stevenson, this musical is a penetrating tale that explores the depth and complexity of the human psyche. The story follows the ambitions of Dr. Jekyll, who, while mourning over his comatose father, becomes convinced that it is the evil inside our souls that makes each of us sick. He becomes obsessed with his quest to discover the root of evil in human souls, as well as his ultimate goal to separate the good from the evil in human nature. What ensues is a journey into a dark world of despair, love and madness.

VENUE: Blue Square, Samsung Electronics Hall
PERIOD: Nov. 21–Apr. 5, 2015
MORE INFO: T. 02-1544-1591, www.bluesquare.kr
GETTING THERE: Hangangjin Station 한강진역 (Line 6), Exit 2

Sondre Lerche: Live in Seoul for the First Time

Sondre Lerche is a singer, songwriter and multi-instrumental artist from Norway. Although he started out being classically trained as a guitarist at age 8, a fascination with more eclectic genres led his teacher to introduce him to Brazilian music, particularly Bossa Nova. His recorded his first album "Faces Down" in 2000 after signing a deal with Virgin Norway, which Rolling Stone put on their list of Top 50 albums of 2002. He then went on a successful tour of the United States, and has since released several more hit records while experimenting with a variety of sounds and genres. He has been living in and out of Brooklyn, New York, for the past six years, and continues to experiment with his musical identity. His latest album "Please" was released this year.

VENUE: V-Hall
DATE: Nov. 22, 19:00
MORE INFO: T. 02-338-0958, club.cyworld.com/v-hall
ADMISSION: KRW 77,000
GETTING THERE: Hongdae Univ. Station 홍대입구 (Line 2 or Airport Railway Express Line), Exit 9

Jason Mraz: Live in Seoul

Jason Mraz has a big fan base in Korea, where the song "I'm Yours" was a major hit upon its release, and can still be commonly heard in coffee shops, restaurants and bars all around Seoul. "I experienced so much love and support from my Korean fans, even from the earlier stages of my career, which makes me want to come back again and again," Mraz said in an interview with a major local paper in 2012. Speaking of coffee houses, Mraz actually got his start as a musician in the San Diego coffee house scene, back in 1999–2000. He performed regular weekly gigs at local cafes<accent> for nearly three years before releasing his first studio album in 2002, "Waiting for my Rocket to Come."

VENUE: Sejong Center for the Performing Arts, Grand Theater
DATES: Nov. 24–25, 20:00
MORE INFO: T. 02-399-1111, www.sejongpac.or.kr
ADMISSION: KRW 88,000–143,000
GETTING THERE: Gwanghwamun Station 광화문역 (Line 5), Exit 1 or 8

RASKB Excursion: Geumsansa & the Eunjin Mireuk

This excursion will take you to Geumsansa Temple near Gimje, where there is a lot to see; on the way back you will visit Gwanchoksa Temple in Nonsan to admire the great Eunjin Mireuk statue.
Geumsansa (literally "Golden Mountain Temple") stands on the slopes of Moaksan in Gimje, Jeollabuk-do. It is one of the largest temple complexes of the region and contains many unique treasures. Like most other Korean temples, its buildings were completely destroyed during the Japanese invasion of the 1590s, then rebuilt in the decades that followed. And like many other temples, its stone monuments survived the Japanese attack unscathed.
Outstanding in Geumsansa is the 3-storied Mireukjeon hall containing a gigantic gilded statue of Mireuk (Maitreya, the Buddja of the future). The statue is the largest indoor standing Buddha in the world, reaching 11.82 meters in height. The two other statues standing on right and left of Mireuk are 8.8 meters tall. On the north side of the temple stands a 2-story platform, Songdae, on which stand a 5-story pagoda and the Bangdeunggyedan, a bell-shaped stupa of the kind usually designed to contain relics of the Buddha. This seems to date from the early years of the Goryeo dynasty. There are several other old stone monuments, some of them rather mysterious, and in all the temple contains 10 or more national treasures.

VENUE: Jeollabuk-do
DATES: Nov. 22
MORE INFO: See this link.
COST: KRW 70,000–84,000
GETTING THERE: See link above.


---

EVERYDAY KOREANS

The Seoul Kimchi Making and Sharing Festival brings together volunteers to reinvent Korea's kimjang tradition as a cultural event. Photographed by Robert Koehler.

NOTIFICATIONS

Seoul Selection's Free Book Giveaway – Our free book give-away continues! Check out the list in last week's newsletter here.

Seoul Selection Offline Bookshop Sale – One of the greatest repositories of Korea-related English-language books anywhere, Seoul Selection is offering a 10% sale on any and all books published by Seoul Selection purchased from our OFFLINE bookshop next to Gyeongbokgung Palace.

Looking for Translators – Seoul Selection is looking for a few good translators (Korean to English) for general translation work. Those interested should send a resume and cover letter to Kyehyun at atoz@seoulselection.com. Experienced translators only.

Seoul Selection eBooks – You can purchase some Seoul Selection titles in ebook format via Amazon.com (for Kindle) and Apple's iBookstore. Titles include Ask a Korean Dude, Moon Tides, Doing Business in Korea, Once Around the Sun, and seven volumes of our Korean Film Directors series: BONG Joon-ho, IM Kwon-taek, KIM Jee-woon, LEE Chang-dong, LEE Man-hee, PARK Chan-wook, and SHIN Sang-ok.

Send Your Event Info – If you would like to advertise any upcoming events you are organizing, please send us the press release material at pubco@seoulselection.com by the preceding Friday in order for it to appear in the following Tuesday's issue.

Freelance Contributors Wanted – SEOUL Magazine needs writers who are fluent in both Korean and English. Writers should have a strong interest in Korean culture and be able to interview Koreans. Send your resume and writing samples to english@seoulselection.com.

We Buy & Sell Used Books – Seoul Selection buys and sells used books in English. Unlike our regular selection of publications that specialize in Korea-related topics, our Used Book section carries books on all subjects. It's all part of our effort to make life easier for the English-speaking community.

SEOUL (November 2014)


Buy Books at Seoul Selection's ONLINE Bookshop!




---

---

RECOMMENDED


Korean Food 101: A Glimpse into Everyday Dining

---

NEW BOOKS


100 CULTURAL SYMBOLS OF KOREA


Readings in Korean Culture for Foreginers


Temple Stay: A Journey of Self-Discovery


Joseon Dynasty: The Message from Ancestors


An Encyclopaedia of Korean Culture


---

NEW DVDs


It's Time to Love


Confession


The Fatal Encounter


Love Me Once Again


A Hard Day
Copyright © , All rights reserved.
Our mailing address is:
https://magazine.seoulselection.com/wp-content/uploads/2014/11/스크린샷-2014-11-28-091617.png
731
615
rjkoehler
https://magazine.seoulselection.com/wp-content/uploads/2018/01/Seoul-logo.png
rjkoehler
2014-11-28 00:15:44
2014-11-28 09:17:56
SEOUL Weekly: '100 Thimbles in a Box' Authors Talk at the Korea Society