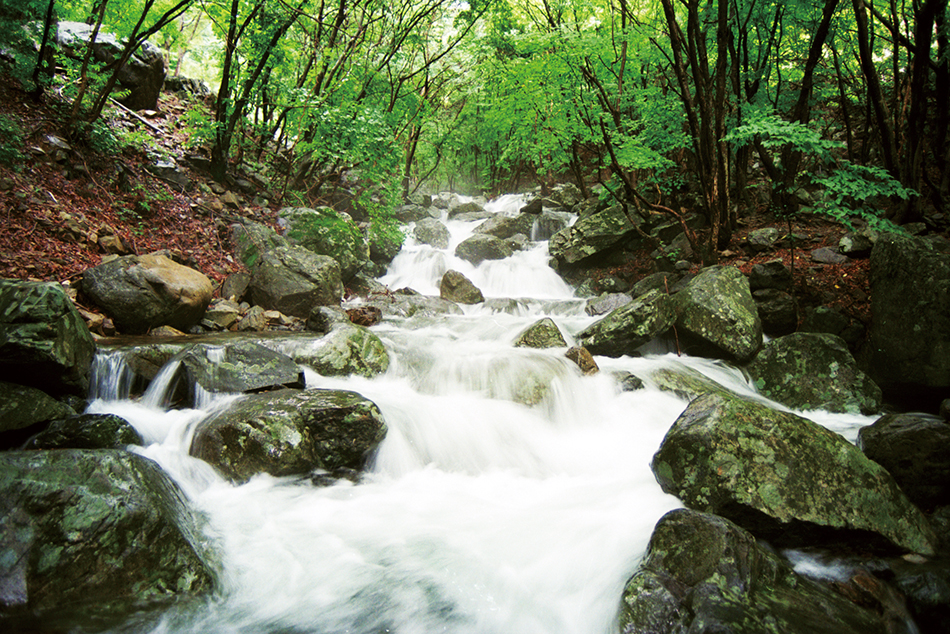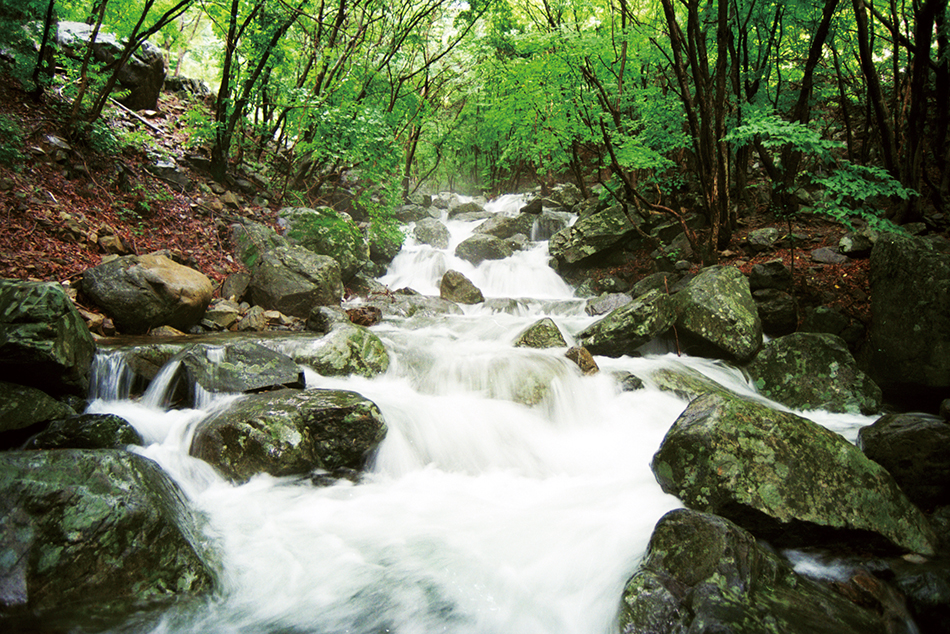 [box_light]July Getaways[/box_light]
Keeping Cool Underground: Danyang's Gosu Cave 단양 고수동굴
Danyang is also famous for its limestone caves, of which Gosu Cave is the most spectacular. This extensive cave system extends for a length of 1,300 meters and is full of pools, waterfalls and 120 fantastically formed stalactites and stalagmites. Stairs and lighting have been installed to give the non-spelunking masses access to this intriguing subterranean landscape. It's like strolling through a Dali painting, except colder—the temperature here stays at 15 degrees (Celsius) all year round. This makes it a very popular destination in summer, when the crowds can make the cave a very claustrophobic place. Still, if you're in the area, you'd be a fool to pass this place up.
EAT> Danyang's known for its garlic, and garlic cuisine is the local specialty. Doljip Sikdang (043-422-2842) is a good place to try maneul ssam jeongsik, a meal consisting of lettuce leaves, garlic rice cooked in a stone pot, and a plethora of garlic side dishes (KRW 10,000 a person). Another good place to try is the Jangdari Sikdang (043-423-3960), which has a variety of garlic-centric meals in the KRW 12,000—25,000 price range.
STAY> Being a resort town, Danyang's got plenty of places to stay. The snazziest establishment is the Daemyung Resort Danyang (T. 02-1588-4888; 043-420-8311), a condo that also operates Aquaworld, a large pool/bath complex using Danyang's very own natural mineral water spring. One particularly charming pension worth checking out—if you don't mind staying a bit out of town—is Gureum Wi-uei Sanchaek (T. 011-260-9708; 043-422-9708), or "Walk Above the Clouds," so named because it sits on a potato farm about 500 meters up a 700-meter mountain overlooking the Namhangang River.
SEE> There are some truly impressive stalactites and stalagmites down here.
DO> Take an hour and a half to explore the entire cave, including the recently opened B Course.
FYI> KRW 2,500 (Course A), KRW 4,000 (Course A+B) T. 043-422-3072
GO> Buses to Danyang run every hour on the hour from Seoul's Dongseoul Bus Terminal (travel time: 2 hours, 30 minutes). You can also take one of the frequent trains that pass through Danyang from Seoul's Cheongnyangni Station (travel time: 3 hours).
[divider]
The Korean Riviera: Haeundae Beach 해운대
With its magnificent stretch of beach, a strip of luxury apartments, condos and hotels, and a plethora of bars and clubs, Haeundae is sometimes lauded as the "Korean Riviera." OK, it's not Nice, but it's still Korea's most popular summertime holiday destination, and the throngs of holidaymakers lining the sand truly can be a sight to behold—on August 2, 2008, the beach set a Guinness World Record with 7,937 beach umbrellas set up in a single day. At the height of the summer vacation period (July–August), between 500,000 and 600,000 tourists visit the beach.
In addition to the sand, what makes Haeundae so popular is the facilities. Just behind the beach is a wall of restaurants, bars, nightclubs and hotels, making this a one-stop-shopping center for all your summer fun needs.
EAT> There are tons of things to eat and drink around Haeundae. And being a port, Busan is famous for its seafood—the best place to score it is the sprawling Jagalchi Market. Another popular dish is dwaeji gukbap, a hearty soup made with rice and chunks of pork. A very popular place for this is Ssangdungi Dwaeji Gukbap (T. 051-628-7020) near Daeyeon Station.
STAY> Busan has the best selection of hotels anywhere outside of Seoul. Most of the high-end places, including the Westin Chosun Beach Hotel, Park Hyatt Busan, and Paradise Hotel Busan, can be found in the Haeundae area. Cheaper accommodations can be found around Busan Station and Busan's major bus terminals.
SEE> Korea's best aquarium outside of Seoul, Busan Aquiarium is home to 35,000 species of fish and other aquatic life. The best part of the aquarium is the lowest level, an 80-meter (simulated) seabed tunnel.
DO> Explore the Shinsegae Centum City Department Store, named by the Guinness Book of World Records the largest department store in the world with 293,905 square meters of floor space.
GO> The KTX gets you to Busan from Seoul Station in less than three hours. From Busan, take Busan Subway Line 2 to Haeundae Station.
[divider]
Valley of Ice: Miryang's Eoreumgol Valley 밀양 얼음골
Located about an hour north of Busan, the Eoreumgol Valley in the town of Miryang is a freak of nature. In midsummer, the temperatures in this high mountain valley are so cold the water freezes. In autumn, the valley thaws and the waters remain unfrozen in winter. There are a number of theories as to why this seemingly unnatural phenomenon takes place, including theories of unusual airflow patterns.
EAT> There are a number of good places to eat near the entrance of the valley, including the Wonjo Hwanggeum Sikdang (T. 055-356-2288), which serves a mean chueotang (loach soup).
STAY> Minbak (homestay) facilities are available at Eoreumgol Pokpo Gwangwang Nongwon (T. 055-356-2684).
SEE> The lovely Hobakso Pond, where the emerald water harmonizes with the white granite of its surroundings.
DO> Listen to the wind blow at nearby Pyochungsa Temple.
GO> Take the KTX from Seoul Station to Miryang (travel time: 2 hours, 18 minutes). From Miryang Station, take a taxi to the bus terminal on the other side of town and take a local bus to Eoreumgol.
[divider]
Two Great Tastes that Go Great Together: Daegu Chicken and Beer Festival   대구 치맥축제
The Daegu Chicken and Beer Festival (July 17–20) celebrates the fine city of Daegu's most recent contribution to global cuisine. In the words of the Korea Times, "Korea honestly doesn't have the world's best beer. That's exactly why we pair it with the world's best chicken (yeah, we said it)." The popular Korean drama "My Love From the Star" has sparked a chimaek ("chicken and beer") boom in China, too. Needless to say, there will be plenty of booths selling chicken and beer, as well as lots of cultural performances.
EAT> Chicken. With beer. All of Korea's chicken and beer manufacturers will be there, and expect some creative takes on fried chicken, too.
STAY> As befitting a city of over a million people, Daegu has a wide range of accommodations.
SEE> There will be exhibits describing the history of Daegu's chicken industry.
DO> Bring proper ID!
GO> Take the KTX from Seoul Station to Dongdaegu Station (travel time: 1 hour, 42 minutes). From Dongdaegu Station, take Line 2 to Duryu Park.
 [divider]
 In Search of Celadon: Gangjin 강진 청자축제
This quiet rural town on the Gangjin Bay doesn't get that many tourists, which is a shame, really, because it's a charming little part of the country with a rich and colorful past. Between the 10th and 14th centuries, Gangjin was Korea's foremost ceramics-producing region, its kilns producing the beautiful blue-green celadon for which Korea was famous throughout the Far East. Even today, the town's master craftsmen continue to produce some of Korea's highest quality ceramics. "Dasan" Jeong Yak-yong, one the greatest intellectuals in Korean history, spent 18 years in exile in the town, leaving behind a fascinating legacy.
Hendrick Hamel, the 17th century Dutch sailor who spent 13 years in Korea after he was shipwrecked on Korean shores, lived seven years in Gangjin, an experience he documented in detail in his journal, providing the West with its first introduction to Korea.
EAT> As is the case throughout Jeollanam-do, you'll find plenty of good places to eat. One good place near the Hamel Memorial Hall is Suingwan (T. 061 432-1027), a 50-year-old eatery known for its dwaeji bulgogi baekban—marinated pork, rice and lots of yummy side dishes. If some Namdo jeongsik (rice, soup and more side dishes than you can count) is what you're after, one place you'll want to try is Myeongdong Sikdang (T. 061 433-2147), near Gangjin Bus Terminal.
STAY> Up the coastal road from Gangjin Celadon Museum is Gangjin Oemeonison Doenjang Minbak (T. 061 432-3372), a hanok minbak whose owner is a well-known maker of doenjang, or Korean bean paste. You'll find plenty of bean paste jars in the courtyard.
SEE> Dasan Chodang, where late Joseon Dynasty intellectual and scholar Jeong Yak-yong lived in exile from 1801 to 1818. Shaded by trees, it's a simple wooden cottage, next to which there's a small pond, a water well and a stone upon which Jeong used to sit and drink tea, a habit he picked up from his neighbors on the mountain, the Buddhist monks of Baengnyeonsa Temple.
DO> Take in the Gangjin Celadon Festival (July 26–Aug 3)
GO> From Seoul, buses to Gangjin depart from Central City Bus Terminal (travel time: 4 hours, 50 minutes).
https://magazine.seoulselection.com/wp-content/uploads/2014/06/얼음골계곡.jpg
634
950
cyn
https://magazine.seoulselection.com/wp-content/uploads/2018/01/Seoul-logo.png
cyn
2014-10-06 11:57:49
2014-10-06 11:57:49
Korea Travel Bits