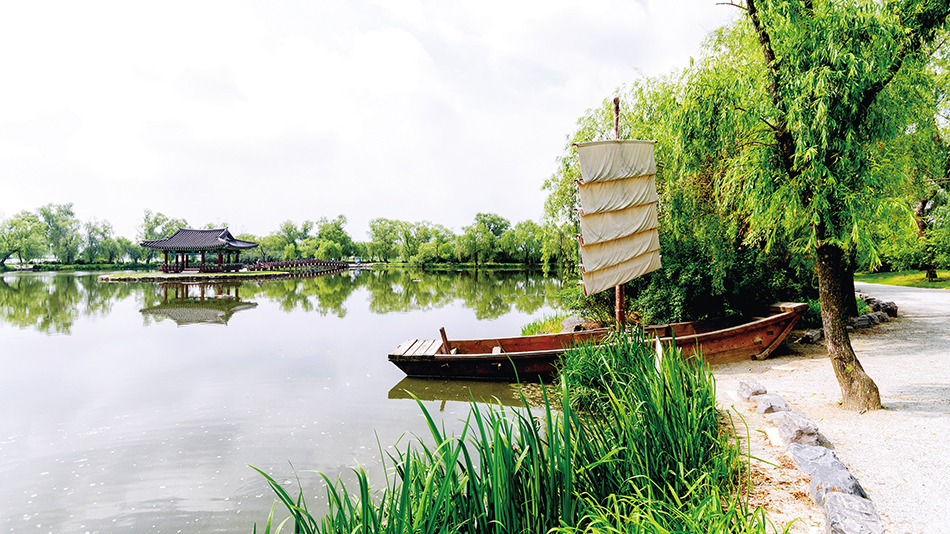 [box_light]Buyeo 부여
Ancient treasures hidden amidst bucolic charm[/box_light]
Written and photographed by Robert Koehler
Sometimes it's hard to imagine the delightfully rustic town of Buyeo was once the glimmering capital of an illustrious kingdom. The local esprit de corps could be best summed up with a lazy cruise on the Baengmagang River or sitting under the island pavilion of Gungnamji Pond, watching the willow trees sway in the summer breeze. Life moves at a blissfully glacial pace in this sleepy market town.
And yet, as recently as the seventh century, Buyeo—or Sabi, as it was called back then—was the royal seat of power of Baekje (18 BC–AD 660), a Korean kingdom renowned for its cultural sophistication and extensive commercial and political ties with China and Japan. It was a bustling metropolis of grand palaces, richly adorned Buddhist temples and enchanting pleasure gardens. And indeed, as you explore the dusty alleyways of today's town, evidence of past greatness is not hard to find.
In recent years, the town has grown increasingly famous for its lotus blossoms, extensive fields of which can be found in the south part of town. The annual Lotus Blossom Festival (July 18–20) makes the perfect excuse to visit this under-appreciated piece of Korean history.
Buso Sanseong Fortress
At the north of town is a wooden hillock overlooking a bend in the slow-moving Baengmagang River. It was in front of this easily defended hillock that King Seong relocated his capital from the nearby town of Gongju, Baekje's first capital, in 538. The hill was turned into a royal garden and emergency fortress where the king could escape in times of emergency.
One such emergency came in 660, when an army composed of troops from the rival Silla Kingdom and their Tang Chinese allies laid siege to the city in a bid—ultimately successful—to snuff out the Baekje Kingdom once and for all. As the end neared, 3,000 ladies of the court climbed to the top of the hillock and, choosing suicide over capture, threw themselves off a cliff overlooking the river. A mural of the event, recounted in the 13th century Korean history book "Samguk Yusa," can be seen at Goransa, a small Buddhist temple below the cliff famous for its mineral spring.
Near Goransa is a pier where you can board boats which will take you on a leisurely cruise along the Baengmagang River.
Jeongnimsa Temple Site
In the heart of downtown Buyeo is the former site of Jeongnimsa, a Buddhist temple that was once one of Baekje's finest. The monastery has long since disappeared, but a grand five-story stone pagoda still stands at the spot. The pagoda, one of only two surviving Baekje pagodas, was defaced in 660 by Chinese general Su Dingfang, who commanded the Chinese troops who sacked the city and brought the kingdom to a close. His graffiti, bragging of his victory, can still be seen on the pagoda's base.
Gungnamji Pond
In the sound end of town, surrounded by endless paddies of lotus blossoms, is Gungnamji Pond, which bills itself as Korea's oldest man-made garden. Embraced by wistful willows, the pond has an artificial island in the center with a simple pavilion and is connected to the shoreline by a narrow wooden bridge. You could spend hours here relaxing in the shade, taking in the bucolic landscape.
Surrounding the pond are fields upon fields of lotus blossoms, quite possibly the town's biggest tourist draw. As you stroll amidst the fields, you'll discover the rich diversity of the lotus world, finding blossoms of all shapes and sizes.
Buyeo National Museum
Home to 13,000 items, mostly from the Baekje Kingdom, Buyeo National Museum makes for a fascinating and educational visit. Its pride and joy, a stunning gilt-bronze incense burner from the sixth century, is more than worth the price of admission.
Baekje Culture Land
While most of Baekje's treasures have long since disappeared, visitors wishing to get a glimpse of what the royal capital of Buyeo must have looked like can visit Baekje Culture Land, a massive cultural complex that opened in 2006. There's a museum, resort, shops, cultural spaces and much, much more out here, but the real draw is the architectural reconstructions of Baekje landmarks like the old royal palace and a Baekje Buddhist temple. The temple, based on the temple that maintained the royal tombs, is especially picturesque, with its towering five-story wood pagoda. Such wooden pagodas, while exceedingly rare in Korea, are common in Japan, where Baekje monks and scholars had a profound cultural impact.
EAT> A specialty of Buyeo is yeonipbap, sticky rice steamed in a lotus leaf. Try the very popular Baekje-ui Jip (T. 041-834-1212) near Buyeo Fortress.
STAY> The nicest place to stay by far is the architecturally spectacular Lotte Buyeo Resort (T. 041-939-1000), a spa resort in Baekje Culture Land. Another good place to stay is Baekjegwan (T. 041-832-2722), an 18th century Korean aristocrat's home near Gungnamji Pond now used as a guest house.
GO> Buses for Buyeo depart from Seoul's Nambu Terminal (travel time: 2 hours).
https://magazine.seoulselection.com/wp-content/uploads/2014/06/dsc_4844.jpg
534
950
cyn
https://magazine.seoulselection.com/wp-content/uploads/2018/01/Seoul-logo.png
cyn
2014-10-06 11:56:45
2014-10-06 11:56:45
Buyeo