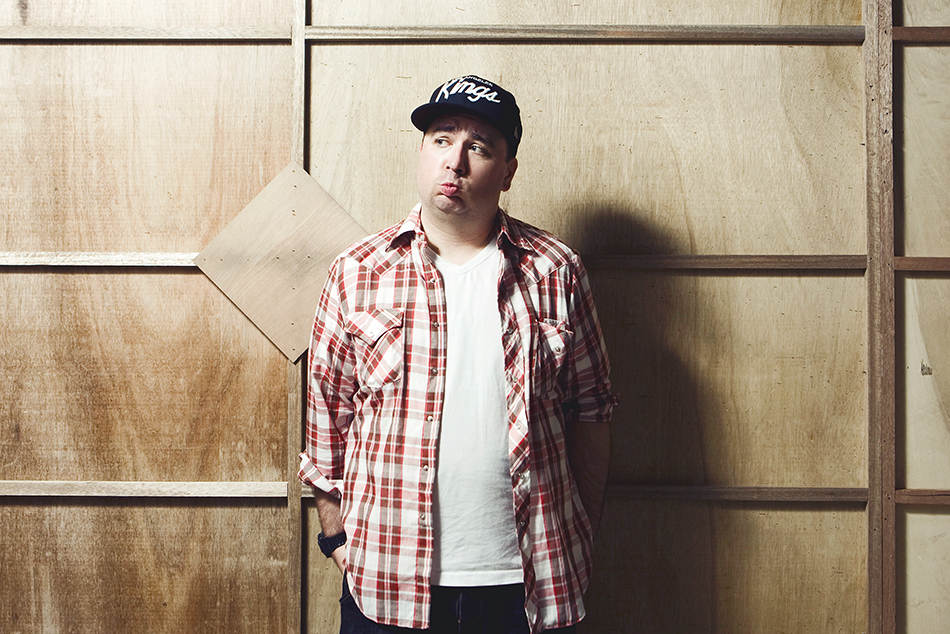 [box_light]A Funny Story
Comedian Sam Hammington Gets Serious [/box_light]
Written by Felix Im
Photographed by Chae Giwon
Sam Hammington had no idea that a career in comedy would one day lead him to serving in the Korean military.
"We get no special treatment. We're living the same way all the other kids do," Hammington explains. "You know, if I had done this 15 years ago it would have been a hell of a lot easier," he jokes. Over a cup of coffee in Gyeongnidan, Hammington sits down with SEOUL and shares the story of how he got into this mess.
Hammington has spent the last year overcoming some grueling experiences, all on public display via national television: Rappelling from helicopters, driving around in multimillion dollar tanks, blowing up claymore mines, jumping into frozen rivers—just another day on the job. Why would he put himself through such trials? It's all part of an extremely popular television series titled "Real Men" (진짜 사나이) in which celebrities serve as voluntary recruits in the Korean military. The results are sometimes inspiring and sometimes jaw-dropping, but regardless of the context, each episode can always be counted on for a few laughs.
"I'd never even fired a gun before in my life!" says the former newcomer to military life. "I was starting completely from scratch."
Soldier for Hire
Before "Real Men" got started in April 2013, MBC's producers had been eyeing Korea's first foreign comedian for some time. He was comfortable in front of the camera, spoke fluent Korean and had proven himself a hit on what is arguably the nation's most acclaimed comedy show, "Gag Concert." MBC decided to offer him a chance to be on their show "Radio Star," but Hammington was occupied then with hosting his own radio show on TBS eFM. From 2008 to 2012, that's all he had time for.
"I passed up a lot of opportunities while doing that show. I even missed out on a chance to be in a Korean drama," he recalls. "Finally, I decided it was time to move on."
Upon hearing he was available, MBC offered Hammington another chance to be on "Radio Star" in February 2013. He gladly accepted and jumped back into the world of television—but when the filming was over, he was disappointed with himself. He thought he hadn't been funny enough. Luckily, the folks at MBC disagreed: When a producer from "Real Men" approached the staff at "Radio Star" and asked for some casting recommendations, Hammington was the first name mentioned. By April 2013, Hammington was in uniform with his own set of dog tags, wondering if this was all going to work out.
"One year later,"' he reflects, "and the show's going strong. I had no idea it would get this big." He takes a sip of his coffee, his eyes calm and thoughtful, his countenance composed—quite the opposite from the energetic persona he usually portrays on camera. "It's pretty cool because now I can relate to my male Korean friends on a much deeper level, whereas before, whenever they talked about their experiences in the army, I couldn't relate."
Gambling with Education
Yet Hammington wasn't always so well-versed with Korean culture. In fact, before delving into Korean studies as a second major alongside marketing, he admits he couldn't have picked out Korea on a map. As an Australian, he decided that European languages weren't as useful to him as Asian languages, given his geographic situation. His peers in the industry had already started to learn Japanese and Mandarin Chinese on a wide scale, convincing Hammington that he needed to find another niche, one in which he could specialize.
"Basically, it was me gambling with my education," he recalls. "I wanted to do some sort of international marketing, and I figured that if I didn't know anything about Korea, there's a good chance that a lot of other people didn't."
That's how Hammington first came to Seoul as an exchange student in 1998, a time when foreign-born residents were a lot less common. Locals would stare at him shamelessly. "I'm quite hairy by nature, and a lot of people would come up to me in the subway and just touch my arm." Fortunately, Hammington wasn't squeamish about it; he understood that he was most likely the first foreigner they'd ever seen.
What began as a practical interest evolved into a fascination with in the country's culture, language and society. Coming from a nation as young as Australia, Hammington was mesmerized by a place with thousands of years of history. Before visiting Seoul, he'd only wanted to travel to places like the United States, which was mainly to feed his interest in basketball and American football. He didn't even want to visit Europe. His time in Korea, however, transformed the way he viewed the world. This respect for Korean culture is what inspired him to have a very traditional ceremony when he got married last October, a rarity in an era where Western-influenced, express-style ceremonies in pre-assembled "wedding halls" are the norm.
"In Australia, we fight really hard to protect whatever history we have—old buildings, anything," he explains. "But here, it's almost taken for granted."
Funny Friends
After returning to Australia to receive treatment for an illness, Hammington returned to Korea in 2002 when the country co-hosted the FIFA World Cup with Japan. It was this event that brought him into the world of Korean media: an opportunity to work as a foreign reporter covering the World Cup. "They needed foreign-born Korean speakers, and I was lucky enough to get on," he says. "To be honest, though, I don't really even remember how all that happened."
Things didn't explode from there, however. In 2003, he started working for a British marketing company based in Seoul. Although operating under an English name, the workforce was almost entirely Korean. Needless to say, Korean corporate culture didn't suit him: "When I'm finished working, I want to go home and do my own thing, not hang out and drink with people from the office I've seen all day."
So the business world was out; he needed another plan. He considered working for an English hagwon, and was about to sign the contract before he got a call from a friend who also happened to be a comedian. The call led him being on "Gag Concert" (1999), a long-running sketch-comedy show that boasts a very loyal audience, with fans often memorizing key lines and chanting them during filming sessions.
But a career in comedy didn't necessarily mean a full departure from Korean workplace culture. "Comedians are actually notorious for being the most hierarchical in the Korean entertainment business," Hammington divulges. In other words, longstanding comedians still expect a great deal of respect from those new to the scene. Fortunately, however, Hammington has been more than willing to pay his dues. After four years of "Gag Concert" and four years of hosting a radio show, Hammington still jumped at the chance to don dog tags and blow up claymore mines—all for the sake of getting a few laughs.
So first, the world of Confucian comedians; next, Korean corporate life; now, it's the military. And who said comedy wasn't serious?
https://magazine.seoulselection.com/wp-content/uploads/2014/06/샘해밍턴-copy.jpg
634
950
cyn
https://magazine.seoulselection.com/wp-content/uploads/2018/01/Seoul-logo.png
cyn
2014-10-06 11:38:40
2014-10-06 11:38:40
A Funny Story