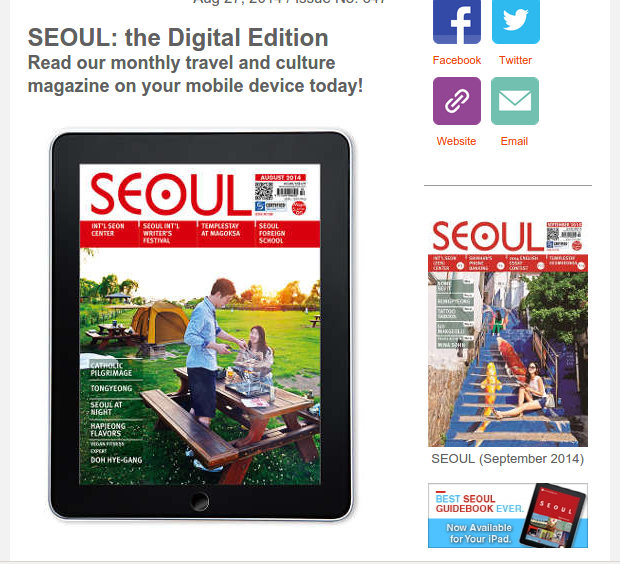 Aug 27, 2014 / Issue No. 647

SEOUL: the Digital Edition
Read our monthly travel and culture magazine on your mobile device today!

Smartphone and tablet users, rejoice—Seoul Selection has just launched the digital edition of SEOUL, our monthly travel and culture magazine!

The digital version is currently available at Google Play—just search for "Seoul Mag" or click here.

The August issue is available for free, but we'll go over to a paid subscription from the September issue, which will be released shortly. A single issue is KRW 1,900, while a one-year subscription is KRW 11,900.

A version for iOS (i.e., Apple's iPad and iPhone) will be released shortly, too!


---

AROUND THE WEB

A miscellany of high-quality hyperlinks from the week, courtesy of SEOUL editor-in-chief Robert Koehler.

---

EVENTS

Rebecca, Das Musical

"Rebecca" is an originally German-language musical that was adapted from the novel of the same title written by Daphne du Maurier, an English novelist and playwright. The musical version was written by Michael Kunze, a musical theater lyricist from Germany. It took him two years to write the libretto, and another two years for production's composer, Sylvester Levay, to write the music. The book was also made into a film in 1940 by Alfred Hitchcock, which won two Academy Awards in 1941, including Best Picture. In fact, despite the fame of thrillers like "Psycho," "Rebecca" is the only film that ever earned Hitchcock an Academy Award. The musical's premier performance was in 2006, in Vienna, with the Korean production premiering in 2013, and with much success. Be warned, however: the story is dark and gothic, with ominous notes of horror. It follows an Englishman named Maxim who marries an anonymous woman from Monte Carlo. Life seems great until the couple start their new life in England, where the woman notices that Maxim's widow, Rebecca, still exercises a gloomy influence over the entire household. What ensues is a tale of mystery, murder and deceit.

VENUE: Samsung Electronics Hall, Blue Square
PERIOD: Sep. 6–Nov. 9
MORE INFO: T. 02-6391-6333, www.musicalrebecca.co.kr
ADMISSION: KRW 60,000–130,000
GETTING THERE: Hangangjin Station 한강진역 (Line 6), Exit 2

Edvard Munch and the Modern Soul

Often credited with being the father of 20th Century Expressionism, Edvard Munch was a Norwegian painter who explored the depths of human psychology. He used vivid colors and unconventional patterns to express the inner realm of human thought, and is considered to have a great influence on modern art in Germany. His most well-known work is "The Scream," a captivating depiction of a moment of horror that is both striking and dreamlike. Although he originally enrolled in technical college to become an engineer, Munch eventually dropped out to become a painter—much to the dismay of his father. He always enjoyed drawing in his free time, although he excelled in subjects such as physics, chemistry and even math. He once wrote in his diary that his art was simply to explore life's purpose and meaning. He lived in Paris and Berlin for a time, and created four versions of "The Scream": two pastel works and two paintings. Although he was eventually very troubled with psychological illness and anxiety, as well as a variety of other ailments, he spent the remainder of his years in a secluded estate in Oslo, Norway. This exhibition at the Hangaram Museum of Art presents to the Seoul public 99 of Munch's works, a chance to see what else he painted besides "The Scream." The answer, in short, is a lot.

VENUE: Hangaram Art Museum, Seoul Arts Center
PERIOD: Thru Oct. 12
MORE INFO: T. 02-580-1300, www.sac.or.kr
ADMISSION: KRW 10,000–15,000
GETTING THERE: Nambu Bus Terminal Station 남부터미널역 (Line 3), Exit 5. Transfer to shuttle bus, or green bus No. 4429.

Landscapes: Seeking the Ideal Land

This exhibition will offer a retrospective look at the form and function of East Asian landscape painting, a genre not only used as a method to record natural scenes but also as a way to express one's highest ideals. The showing will feature 109 works from various museums across the globe, including many from Korea herself. Significant donors on the list include the Metropolitan Museum of Art, the Shanghai Museum and the Kyoto National Museum. The most famous painting on display is the Yi Inmun's (1745–1824) "Mountains and Rivers Without End," an 18th-century masterpiece that conveys an ideal world through scenes of peaceful mountains and charming people, with occasional buildings scattered about in a seemingly random way. Some scholars claim that Yi was trying to convey a utopia where Confucian scholars and civil leaders carried out their duties responsibly and with conviction, and in return the common folk would remain obedient and respectful. Plenty of other thought-provoking works are also on display, with 42 of them brought in from China and Japan.

VENUE: National Museum of Korea
PERIOD: Thru Sep. 28
MORE INFO: T. 02-2077-9499, www.museum.go.kr
ADMISSION: Free
GETTING THERE: Exit 2, Ichon Station, Line 4

Templestay Program at Geumseonsa

You don't need to venture deep into the provinces to enjoy a Templestay program. Located in the heart of Seoul in a beautiful valley hidden in Bukhansan National Park, Geumseonsa offers several Templestay programs, including a weekend Experiential Templestay that is popular with local and international participants alike.
Geumseonsa's history is, quite literally, as old as that of Seoul itself. It was founded six centuries ago when the great Buddhist monk Ven. Muhak, as he was surveying the location to establish a capital (i.e., Seoul) for the newly established Joseon Dynasty (1392–1910), and was impressed by the spiritual energy of this valley on the slopes of Mt. Samgaksan. The reformist King Jeongjo (r. 1776–1800) came here to pray for the birth of a crown prince. The temple disappeared during the Japanese colonial era (1910–1945), but was rebuilt in 1955, and colorful murals on the temple walls recount the monastery's past.
What Geumseonsa lacks in historical architecture and national treasures it makes up for in location. The temple masterfully follows the contours of the narrow valley, the windows of the halls affording views of the surrounding peaks, cliffs and forests. From the upper floor of one of the halls, you can get a panoramic view of downtown Seoul, including Mt. Namsan. In the back of the temple, a mineral spring tumbles forth into a stream that cuts a path through the granite and earth of the valley below. Forests of craggy pines form a surreal canopy over this space of inspiration.

MORE INFO: This link and T. 070-4242-9913. You can also send them an email at geumsunsa@templestay.com.

RASKB: Chuseok Holiday Excursion: Inner Seoraksan & South Seoraksan

Spend the weekend in the countryside with the RAS, enjoying the fantastic, unspoiled natural scenery of Inner and South Sorak Mountain. Most tourists visiting Seoraksan National Park go only to the more frequently visited sights of Outer Sorak, and are unaware of the beautiful and remote Inner Sorak range. Inner Sorak is wilder, more natural, and little touched by man– truly an undiscovered natural paradise.

Spend your Saturday outside of Seoul, enjoying the green countryside and relaxing atmosphere of the area around Cheongpyeong Lake. Today's excursion will be quite leisurely, and offers a choice of activities; the RAS therefore recommends this as an excursion for the whole family.

VENUE: Seoraksan, Gangwon-do
DATE: Sep 7–8
MORE INFO: See this link
COST: KRW 258,000—298,000
GETTING THERE: See link above.


---

EVERYDAY KOREANS


Ewha Campus Complex, designed by French architect Dominique Perrault. Photographed by Robert Koehler.

NOTIFICATIONS

Seoul Selection's Free Book Giveaway – Our free book give-away continues! Check out the list in last week's newsletter here.

Seoul Selection Offline Bookshop Sale – One of the greatest repositories of Korea-related English-language books anywhere, Seoul Selection is offering a 10% sale on any and all books published by Seoul Selection purchased from our OFFLINE bookshop next to Gyeongbokgung Palace.

Looking for Translators – Seoul Selection is looking for a few good translators (Korean to English) for general translation work. Those interested should send a resume and cover letter to Kyehyun at atoz@seoulselection.com. Experienced translators only.

Seoul Selection eBooks – You can purchase some Seoul Selection titles in ebook format via Amazon.com (for Kindle) and Apple's iBookstore. Titles include Ask a Korean Dude, Moon Tides, Doing Business in Korea, Once Around the Sun, and seven volumes of our Korean Film Directors series: BONG Joon-ho, IM Kwon-taek, KIM Jee-woon, LEE Chang-dong, LEE Man-hee, PARK Chan-wook, and SHIN Sang-ok.

Send Your Event Info – If you would like to advertise any upcoming events you are organizing, please send us the press release material at pubco@seoulselection.com by the preceding Friday in order for it to appear in the following Tuesday's issue.

Freelance Contributors Wanted – SEOUL Magazine needs writers who are fluent in both Korean and English. Writers should have a strong interest in Korean culture and be able to interview Koreans. Send your resume and writing samples to english@seoulselection.com.

We Buy & Sell Used Books – Seoul Selection buys and sells used books in English. Unlike our regular selection of publications that specialize in Korea-related topics, our Used Book section carries books on all subjects. It's all part of our effort to make life easier for the English-speaking community.

SEOUL (September 2014)


Buy Books at Seoul Selection's ONLINE Bookshop!




---

---

RECOMMENDED


Conservation and Management of the World's Petroglyph Sites

---

NEW BOOKS


Korean Phrase Book for Travelers


Essentials of Korean Culture


The Dawn of Modern Korea


TOPIK Essential Vocabulary 1000 – intermediate

---

NEW DVDs


Venus Talk


A Devilish Homicide


Madame Freedom


Thread of Lies


A Public Cemetery of Wolha
Copyright © , All rights reserved.
Our mailing address is:
https://magazine.seoulselection.com/wp-content/uploads/2014/09/스크린샷-2014-09-04-181856.png
564
620
rjkoehler
https://magazine.seoulselection.com/wp-content/uploads/2018/01/Seoul-logo.png
rjkoehler
2014-09-04 09:18:26
2014-09-04 18:21:23
SEOUL Weekly: SEOUL: the Digital Edition