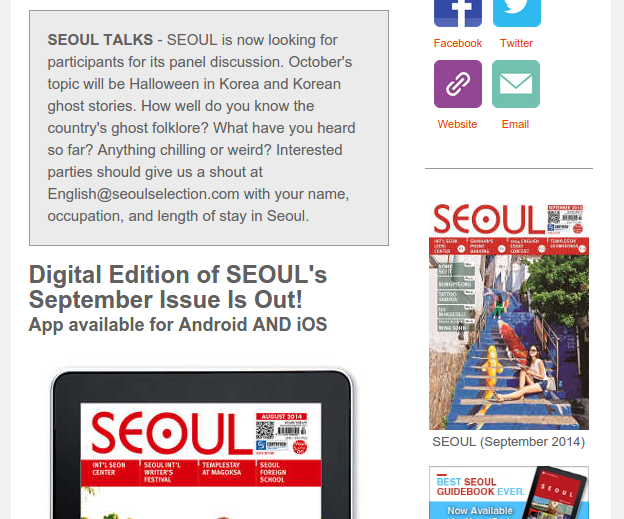 Sep. 3, 2014 / Issue No. 648

SEOUL TALKS – SEOUL is now looking for participants for its panel discussion. October's topic will be Halloween in Korea and Korean ghost stories. How well do you know the country's ghost folklore? What have you heard so far? Anything chilling or weird? Interested parties should give us a shout at English@seoulselection.com with your name, occupation, and length of stay in Seoul.

Digital Edition of SEOUL's September Issue Is Out!
App available for Android AND iOS

The digital version of the September issue of SEOUL is now available at Google Play AND Apple's App Store.

The app gives you all of SEOUL's great content, but in an easy-to-read, digital format for your smartphone or tablet of choice.

Be advised, though, the app is optimized for tablets.

COST

ANDROID: A single issue is KRW 1,900, while a one-year subscription is KRW 11,900.

iOS: Single issue: $1.99; Three months: $3.99; Six months: $6.99; One year: $11.99


---

AROUND THE WEB

A miscellany of high-quality hyperlinks from the week, courtesy of SEOUL editor-in-chief Robert Koehler.

---

EVENTS

Happy Chuseok!

Next week is Chuseok, one of Korea's two biggest holidays. For the uninitiated, the KTO has posted an introduction to the holiday as well as information on what to do and see during the long holiday.

Jordan Matter Presents: Magical Moment

The photographer that brought you "Dancers Among Us," a vivacious series of photographs that captured dancers performing aesthetically beautiful movements amidst plain scenes of daily life, Jordan Matter returns to Korea—this time, to focus specifically on Seoul. "Magical Moment" is a project that combines dancers from the Korea National Contemporary Dance Company and master practitioners from the World Taekwondo Federation. Incredibly athletic bodies and dedicated athletes come together to perform visually stunning movements and stunts that are captured perfectly amidst scenes of everyday Seoul: Taekwondo sparring in a traditional marketplace; dancers standing on their heads on a bridge over Cheonggyecheon Stream; a beautiful young woman balancing delicately in the grime and grease of an auto-repair shop, and a plethora of other fascinating moments depicted through Matter's lens. Jordan Matter is a master of juxtaposing the extraordinary with the prosaic; he chooses the perfect spots and combines them with the perfect people to turn an ordinary scene into a fantastic one. Originally an aspiring actor from New York City, Jordan Matter dedcided to become a photographer almost by accident. A chance encounter with a Henri-Cartier Bresson exhibition excited an interest that soon developed into a casual hobby. Another chance encounter with a friend led to an opportunity to photograph her: From that moment, he was hooked. Don't miss this chance to see where his travels in Seoul have taken him.

VENUE: Savina Museum of Contemporary Art
PERIOD: Thru Oct. 26
MORE INFO: T. 02-736-4371, www.savinamuseum.com
ADMISSION: KRW 7,000–9,000
GETTING THERE: Anguk Station 안국역 (Line 3), Exit 1. Turn left at the exit. Turn left in front of the post office.

be happy! b vocal!

Hailing from Spain, b vocal is one of the world's most beloved acapella groups, having performed in front of Spanish royals and in sold-out venues on Broadway. They have been developing their innovative style for the last 15 years. Using just their voices, these Aragonese artists can practically recreate the sounds of just about any musical instrument, whether it's the drums, a guitar, brass or whatever! They also combine their music with a quirky sense of humor, crossing cultural boundaries to bring entertainment around the world. They have often appeared on Spanish television and have made several appearances on major Spanish radio stations. In October of 2005, they played in Zaragoza before 100,000 people as the supporting act for Bonnie Tyler. In 2006, they performed for Their Majesties the King and Queen of Spain during the gala presentation of the King of Spain International Journalism Awards, organized by the EFE Agency and held in Madrid. In March of 2010, they received the Jury and Audience Award at the Harmony Sweepstakes Festival in New York City, thus cementing their international fame.

VENUE: Sejong Center for the Performing Arts, Grand Theater
DATE: Sep. 11, 19:30
MORE INFO: T. 02-523-5391, www.sejongpac.or.kr
ADMISSION: KRW 33,000–110,000
GETTING THERE: Gwanghwamun Station 광화문역 (Line 5), Exit 8

Banyan Tree Club & Spa: Special Korean food buffet & Going home… (Part II)

Special Korean food buffet: The Club Member's Restaurant is introducing a Special Korean food buffet for the Chuseok season. You can enjoy a variety of 70 kinds of Korean food and skewered food. Enjoy a special moment with your family on Chuseok. Dates: Sep. 7–8. Cost: KRW 85,000.
More Info: T. 2250-8157

Going home…: Please come and enjoy the Festa Bistro & Bar's "Family Homemade Dinner." The European homemade plates will be served or cooked directly on a wheeled side table, or gueridon. Experience the "French Gueridon Service" so you can watch and enjoy European Bruschetta, Classic caeser salads, Seafood soup, and Wagyu steak right next to the table. Dates: Thru Nov. 30. Cost: KRW 69,000.
More Info: T. 2250-8170

GETTING THERE: See here.

RASKB: Chuseok Holiday Excursion: Inner Seoraksan & South Seoraksan

Spend the weekend in the countryside with the RAS, enjoying the fantastic, unspoiled natural scenery of Inner and South Sorak Mountain. Most tourists visiting Seoraksan National Park go only to the more frequently visited sights of Outer Sorak, and are unaware of the beautiful and remote Inner Sorak range. Inner Sorak is wilder, more natural, and little touched by man–truly an undiscovered natural paradise.

Spend your Saturday outside of Seoul, enjoying the green countryside and relaxing atmosphere of the area around Cheongpyeong Lake. Today's excursion will be quite leisurely, and offers a choice of activities; the RAS therefore recommends this as an excursion for the whole family.

VENUE: Seoraksan, Gangwon-do
DATE: Sep. 7–8
MORE INFO: See this link
COST: KRW 258,000–298,000
GETTING THERE: See link above.


---

EVERYDAY KOREANS

Gyeongbokgung Palace on a beautiful late summer day. Photographed by Robert Koehler.

NOTIFICATIONS

Seoul Selection's Free Book Giveaway – Our free book give-away continues! Check out the list in last week's newsletter here.

Seoul Selection Offline Bookshop Sale – One of the greatest repositories of Korea-related English-language books anywhere, Seoul Selection is offering a 10% sale on any and all books published by Seoul Selection purchased from our OFFLINE bookshop next to Gyeongbokgung Palace.

Looking for Translators – Seoul Selection is looking for a few good translators (Korean to English) for general translation work. Those interested should send a resume and cover letter to Kyehyun at atoz@seoulselection.com. Experienced translators only.

Seoul Selection eBooks – You can purchase some Seoul Selection titles in ebook format via Amazon.com (for Kindle) and Apple's iBookstore. Titles include Ask a Korean Dude, Moon Tides, Doing Business in Korea, Once Around the Sun, and seven volumes of our Korean Film Directors series: BONG Joon-ho, IM Kwon-taek, KIM Jee-woon, LEE Chang-dong, LEE Man-hee, PARK Chan-wook, and SHIN Sang-ok.

Send Your Event Info – If you would like to advertise any upcoming events you are organizing, please send us the press release material at pubco@seoulselection.com by the preceding Friday in order for it to appear in the following Tuesday's issue.

Freelance Contributors Wanted – SEOUL Magazine needs writers who are fluent in both Korean and English. Writers should have a strong interest in Korean culture and be able to interview Koreans. Send your resume and writing samples to english@seoulselection.com.

We Buy & Sell Used Books – Seoul Selection buys and sells used books in English. Unlike our regular selection of publications that specialize in Korea-related topics, our Used Book section carries books on all subjects. It's all part of our effort to make life easier for the English-speaking community.

SEOUL (September 2014)


Buy Books at Seoul Selection's ONLINE Bookshop!




---

---

RECOMMENDED


The Dawn of Modern Korea

---

NEW BOOKS


The Mountain Rats


Conservation and Management of the World's Petroglyph Sites


Korean Phrase Book for Travelers


Essentials of Korean Culture


TOPIK Essential Vocabulary 1000 – intermediate


---

NEW DVDs


God's Gift – 14 Days


Her Lovely Heels


A Devilish Homicide


Madame Freedom


Thread of Lies
Copyright © , All rights reserved.
Our mailing address is:
https://magazine.seoulselection.com/wp-content/uploads/2014/09/스크린샷-2014-09-04-182351.png
519
624
rjkoehler
https://magazine.seoulselection.com/wp-content/uploads/2018/01/Seoul-logo.png
rjkoehler
2014-09-04 09:23:10
2014-09-04 18:25:18
SEOUL Weekly: Digital Edition of SEOUL's September Issue Is Out!