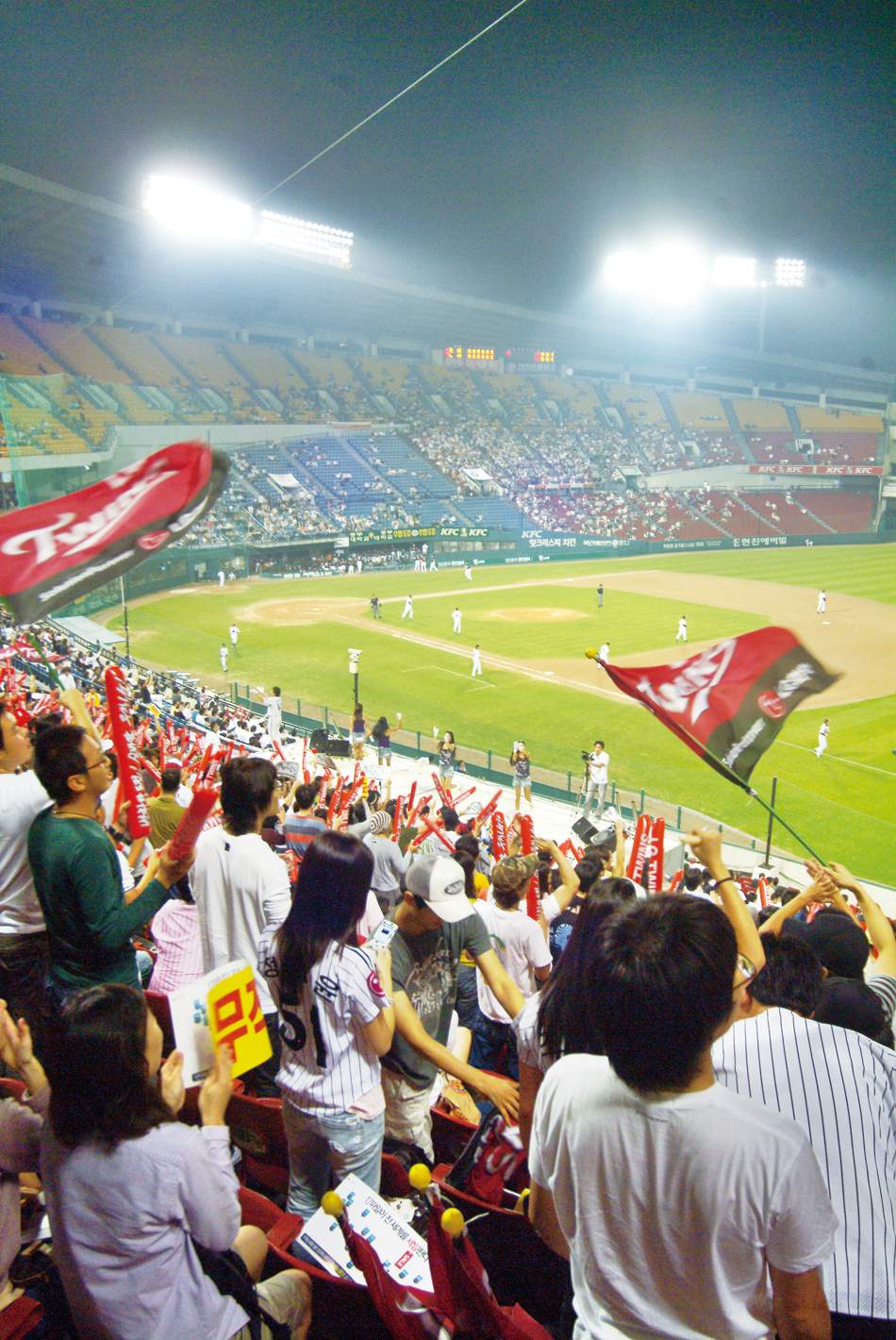 [box_light] Take Me Out to the Ballgame
Navigating the world of baseball …Korean-style
한국식 야구 관람[/box_light]
Written by Thomas St. John
Background
Koreans have been playing baseball of some form for over 100 years, and professional baseball in its present incarnation since 1982. At that time, former president Chun Doo-hwan instructed six Korean conglomerates to create baseball teams in different cities as a way to help start a professional league. They did and, as expected, the public's attention began to shift away from the political problems that Korea was facing in the early 1980s and focus more on the performance of their hometown teams. Things have changed considerably since the early days of professional leagues, which has given a distinctly Korean character to America's favorite pastime.
 What to Expect
Newbies to the scene can look forward to an exciting experience that is probably unlike any baseball game you have seen before. In Korea, crowd participation is a given, and most fans hope for a spot in front of the cheerleaders, who are there to entertain between innings. If skirts aren't your thing, keep your eyes peeled for the "yell leader," a man (usually) who leads short songs tailored for each player from a small stage near the stands. Fans who attend games often know the songs and are keen to sing along.
While at the game, you may see a future Major Leaguer or even a familiar face from a Western team. With the huge success of LA Dodgers pitcher Ryu Hyun-jin, MLB is constantly watching for the next big sports star to come from Korea. According to local newspapers, there could be up to four players who, after this season, might opt to play in the Majors. Each team can have up to three foreigners, and many of such players have gone on to become quite famous in Korea. Some are former Major Leaguers, while others are up-and-coming players from the Minor Leagues who hope to make a name for themselves abroad. Each foreign player can expect a starting salary of about $250,000 or more per season, an amount that is substantially higher than the few thousand dollars per month that a Minor League player could hope for. Aside from adapting to the dramatic change in off-field culture, foreign players and fans alike must also embrace a few key differences from American baseball.
 Some Major Differences
One of the biggest surprises that visitors will find at a Korean baseball game is money left in their pockets after the final inning. Tickets start at just under KRW 9,000 for general admission, and while box seats and VIP treatment might cost more, the average family of four could expect to spend about KRW 25,000 to 35,000 on the outing, including snacks and drinks. The main reason is that, contrary to most Western venues, eating and drinking at the stadium is shockingly affordable. This feat is possible for a couple of reasons. The first has to do with patrons being allowed to bring their own refreshments into the stadium, with some attendees taking advantage of the many vendors selling fried chicken on the sidewalks leading into the event. But the majority of fans just head to one of the many businesses on site, where everything is very reasonably priced, especially compared to an MLB game.
Beer, soft drinks, chips and instant noodles are the staples, but for the more adventurous fan, you can always grab a few dried squid that will be roasted especially for you, or even some gimbap.
There is also a difference in the way the teams are organized. In MLB, each team is owned by an individual or group of owners, but in Korea, each team is sponsored by a chaebol or conglomerate. It's a great way for the company to get exposure on TV and in newspapers, and fans often build loyalty to certain companies through their teams. There will always be those baseball devotees who don't care about the sponsorship, but each franchise still has diehard fans who pledge allegiance based on their location. One's hometown is extremely important in Korea, and when it comes to baseball teams, there is a fierce rivalry that could easily challenge the Yankees-Red Sox any day.
Summer is here and you're in Korea, so why not take in a game? Don't forget your camera!
 Take Me Out to the Ball Game
There are nine teams in the Korea Baseball Organization (KBO), with a tenth set to join the league in 2015. Every major city in the country is represented, and Seoul boasts the luxury of having three teams of its own, plus another within reach of the subway. Let's have a look at the teams in the Seoul area.
→ Doosan Bears
Formerly known as the OB Bears, this member of the original six-team league has remained popular, despite changing its sponsor company. The Bears play at the Olympic Sports Complex (Line 2) along with their fierce rivals, the LG Twins.
→LG Twins
The Twins share the Olympic baseball stadium with the Bears and, between the two teams, there is usually a game here on weeknights and every weekend. The team is sponsored by the LG group and is one of the hottest tickets in the city.
→Nexen Heroes
Playing out of Mok-dong Stadium, the Heroes are a newer team but have shown a lot of promise. Their home stadium, located at Omokgyo Station (Line 5), is smaller than the Olympic stadium, but still has a very fan-friendly atmosphere with nearly all seats close to the action.
→SK Wyverns
For the visitor with a little more time on their hands, a trip to see the Wyverns in Incheon is a great way to get outside of Seoul without getting plagued by traffic on the way home. By subway, you can take Line 1 west and transfer at Bupyeong Station before heading south to Munhak Sports Complex Station. From downtown Seoul, the trip will take approximately 1.5 hours.
https://magazine.seoulselection.com/wp-content/uploads/2014/05/baseball-stadium4.jpg
1420
950
cyn
https://magazine.seoulselection.com/wp-content/uploads/2018/01/Seoul-logo.png
cyn
2014-06-02 18:12:41
2019-11-04 15:17:16
Take Me Out to the Ballgame