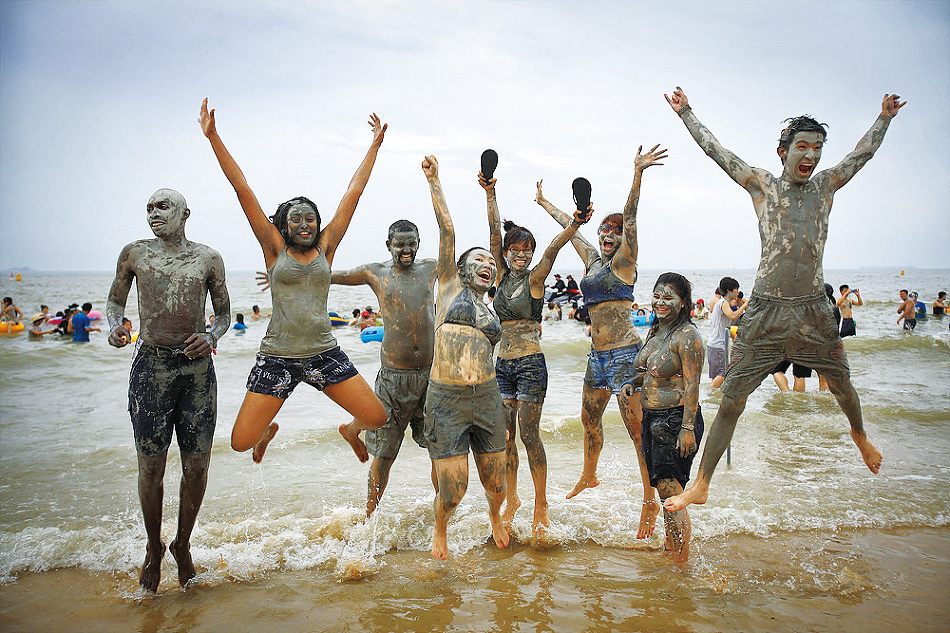 [box_light]June GETAWAYS[/box_light]
Wild River Rafting:
Yeongwol's Donggang River
영월 동강
Nestled in the wilds of Gangwon-do, the Donggang River—a tributary of the great Hangang River—is one of Korea's most pristine waterways thanks to its lush and rugged surroundings. Sometimes compared to China's famous Li River, this is a landscape of white water rapids, weather-beaten limestone cliffs, fields of wild flowers, rare animals such as otters and Mandarin ducks and rustic villages hidden behind the river's sharp bends.
The Donggang's powerful currents and the scenic shores are also what have made it Korea's top rafting destination. The best stretch of the river is the Eorayeon Valley, where you'll find stretches of white water (especially around the Doen Kkokkari Rapids), as well as dramatic mountain vistas. In the village of Geoun-ri, you'll find a ton of tour companies offering rafting trips along the Donggang River. Those inexperienced in rafting needn't worry—all tours are accompanied by experienced guides. Most companies offer 10 km (3 hours), 13 km (4 hours) and 30 km (8 hours) courses (or comparable distances), with most ending at Geoungyo Bridge. Look to spend about KRW 30,000—90,000 per person, depending on the distance. The two-hour Munsan-naru—Geoungyo Bridge (Seopsae) course is the most popular.
EAT> The Donggang River is famous for its marsh snails, or daseulgi. Donggang Daseulgi (T. 033-374-2821), in downtown Yeongwol, does a variety of marsh snail dishes, including yakseontang (a hangover soup), bibimbap and sundubu.
STAY> Try the Hanbando River Pension (T. 033-375-0099), a bed and breakfast across the river from Eorayeon. The pension has a small museum with local artifacts and old log rafts of the type that used to ply these waters—the pension owner can take you out on one and show you the sights while belting out old boatmen songs, including the Jeongseon Arirang.
SEE> Eorayeon is a well-known geographical attraction—a sharp bend in the river that, when seen from above, looks like the Korean Peninsula in miniature.
DO> Aside from rafting, there are plenty of hiking and biking opportunities along the river, too.
GO> First, you need to get to the small town of Yeongwol. From Seoul, buses to Yeongwol depart from Dongseoul Terminal (Travel time: 2 hours). From Yeongwol Bus Terminal, take a bus to Geoungyo.
[divider]
Keeping the Mountains Happy: Gangneung Danoje Festival (May 31—June 7)
강릉 단오제
The beautiful east coast city of Gangneung hosts the annual Gangneung Danoje Festival, a fascinating piece of Korea's folk culture. Designated a Masterpiece of the Oral and Intangible Heritage of Humanity by UNESCO in 2005, the Gangneung Danoje Festival is held all over Gangneung and on Daegwallyeong Ridge, and people pay homage to the mountain deity and male and female tutelary deities. The festival features folk music and dancing, shamanist rites, parades, ssireum wrestling and other folk games, the brewing of sacrificial wine, the washing of hair with iris-infused water, and much, much more. There's a traditional market as well. This is a truly special event, and if you're in Korea at this time, do yourself a favor and go.
EAT> Gangneung is best known for chodang sundubu 초당순두부, a tofu dish prepared with sea water. Near Gyeongpo Beach there's a whole village dedicated to the dish.
STAY> The spectacular Seongyojang House (T. 033-646-3270) has rooms for rent, and you'll find plenty of beachfront hotels near Gyeongpo Beach.
SEE> Gangneung has some spectacular examples of Joseon Dynasty architecture, including historic Ojukheon House and Seongyojang House.
DO> See the sunrise from nearby Jeongdongjin, one of Korea's best sunrise spots.
FYI> www.danojefestival.or.kr
GO> Buses to Gangneung depart from Seoul Express Bus Terminal (travel time: about 3 hours).
[divider]
The Original K-Fashion:
Hansan Ramie Fabric Cultural Festival  한산 모시문화제
The hamlet of Hansan in the West Sea town of Seocheon is renowned for its ramie, one of the world's oldest and strongest natural fibers. The Hansan Ramie Fabric Cultural Festival (June 6–10) pays tribute to the city's ramie tradition with fashion shows, ramie exhibits and even hands-on weaving programs. Don't forget to stop by the Museum of Hansan Ramie Fabric while you're in town, too.
EAT> During the festival participants can enjoy foods made from ramie, including rice cakes and ice cream.
STAY> Overlooking the port of Maryang-po is the pleasant Seocheon Beachtel (T. 041-952-9566), a motel with wonderful sunsets.
SEE> Through a quirk of geography, the port of Maryang-po offers both inspiring sunrises and sunsets.
DO> Try your hand at weaving some ramie fabric of your own.
FYI> www.hansanmosi.kr
GO> Take a bus from Seoul's Nambu Bus Terminal to Seocheon (Travel time: 3 hours), and from there take a bus for Hansan (Travel time: 20 minutes).
[divider]
Good, Dirty Fun:
Boryeong Mud Festival  보령 진흙축제
Rising from humble beginnings in 1998, the Boryeong Mud Festival is now Korea's best-known summer festival. In theory, the main attraction is Daecheon Beach's extensive mud flats, which produce a high-quality, medicinally efficacious mud that is much sought after by cosmetics firms. In actuality, however, most people come here for the fun. The festival is essentially just one big and very muddy beach party, with mud wrestling, mud dancing, mud spas, a Marine Corps training program and much, much more. The festival is particularly popular with Korea's international community and overseas tourists. Be forewarned, though: Things can get a bit wild, which is not necessarily a bad thing.
EAT> Like other coastal towns, Boryeong is a good place to score seafood. Give Daecheon Gaja Jogae Gui (T. 041-933-8882) a try for some good broiled clams and other shellfish.
STAY> There are many hotels, pensions and other accommodations along Daecheon Beach.
SEE> Lots and lots of very muddy people, many of them scantily dressed. If this appeals to you, this is your place.
DO> The Mudflat Extremes program borrows heavily from the ROK Marine Corps' training program.
FYI> T. 010-5438-4865, www.mudfestival.or.kr
GO> Take a train from Yongsan Station to Daecheon. From Daecheon Station, there are local buses for the beach (Travel time: 2 hours, 30 minutes).
[divider]
Celebration of Light:
Muju Firefly Festival
무주 반딧불 축제
The mountain town of Muju is known for two things—its fantastic winter sports scene and its summer firefly festival (June 7–15). As the name of the festival would suggest, the fireflies are the stars of the show here. While agriculture and urbanization have largely wiped them out in much of Korea, relatively pristine Muju is still home to a healthy population of lightning bugs that light up the summer sky. In addition to watching the fireflies, visitors can enjoy a wide range of other hands-on activities and cultural events, including opportunities to catch river trout with their bare hands.
EAT> Muju is especially known for eojuk, a spicy fish stew. Geumgang Sikdang (T. 063-322-4672), near Muju County Office, is a good place to try.
STAY> The nicest place to stay by far is Deogyusan Resort on Mt. Deogyusan. You can find plenty of more humble places to stay in downtown Muju, too.
 SEE> The fireflies, of course.
DO> Muju makes its own wine from wild grapes, and the tastings are worth checking out. It's aged in a renovated tunnel originally built for the construction of a nearby hydroelectric plant. The tunnel is about 5 km outside of town. Call T. 063-320-2761 for more info.
FYI> T. 063-324-2440, english.firefly.or.kr
GO> Buses to Muju depart from Seoul's Nambu Bus Terminal (Travel time: 2 hours, 30 mininutes).
https://magazine.seoulselection.com/wp-content/uploads/2014/05/18.jpg
633
950
cyn
https://magazine.seoulselection.com/wp-content/uploads/2018/01/Seoul-logo.png
cyn
2014-06-02 18:11:52
2014-06-02 18:11:52
Korea Travel Bits