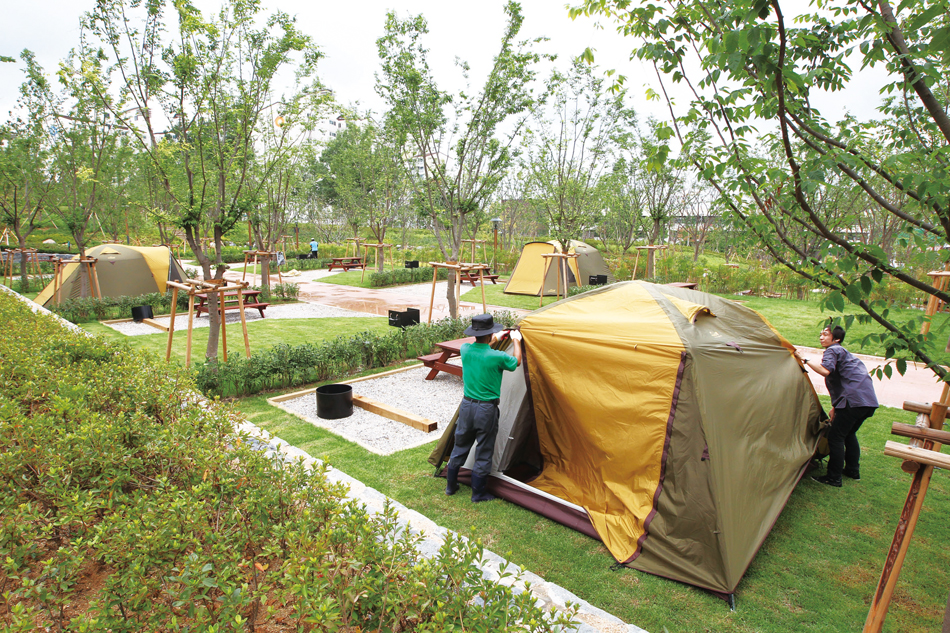 The New Hongdae: Mangwon, Hapjeong and Sangsu
합정, 상수, 망원
Hongdae was once a corner of the city claimed by aspiring artists, musicians and creative types. This still holds true in many ways, with its occupants remaining as young and trendy as ever. But when areas of the city become popular, big corporations are never slow to capitalize on the buzz of increased foot traffic. What starts off as a cool yet affordable place for creative souls eventually turns into a mecca of franchise shopping and chain restaurants, followed by a surge in rent prices and an atmosphere more geared towards consumerism than creative work. The result is an indie exodus as the beatniks and hipsters search for a new base. In this instance, however, they didn't have to look far. To escape the loudness of the newly glamorized Hongdae, many free spirits have migrated to nearby areas such as Mangwon, Hapjeong and Sangsu. Although not known for being visually spectacular, Mangwon offers a more classic Seoul: cheaper rent, fewer high-rise apartments and more meandering alleyways. The area also offers its own unique marketplace, the Mangwon Traditional Market, which is sometimes called the World Cup Market for its proximity to World Cup Stadium. The Hapjeong and Sangsu areas are located just a quick walk from Hongdae and contain enough exotic eateries to satisfy any true foodie who is sick of Korean-foreign fusion. Being closer to Hongdae, Hapjeong tends to be a little more lively and offers plenty of watering holes. Sangsu, by contrast, is where you go if you're in the mood for a cup of slow-drip coffee and a nice, quiet read. It also offers some interesting street art if you're in the mood for wandering.
EAT> Spacca Napoli (T. 02-326-2323) in Hapjeong does great pizza, brick-oven style. Slunch Factory (T. 02-6367-9870) in Sangsu serves flavorful vegetarian cuisine. Mangwon eats should be plentiful in the traditional market.
BUY> Unique craft shops in all three areas. Try shopping for something that's handmade.
SEE> Seonyudo Park is accessible from Hapjeong Station.
GO> Hapjeong Station 합정역 (Line 6 or 2), Sangsu Station 상수역 (Line 6) and Mangwon Station 망원역 (Line 6) are all next to each other. Walking in between neighborhoods is often rewarding for those with a taste for urban exploration.
[divider]
Life in Cycles: 2014 Hi Seoul Bicycle Parade 2014  하이 서울 자전거대행진
The Hi Seoul Bicycle Parade was started in order to jump-start the city's movement towards a cleaner environment and a more active lifestyle. With carbon emissions from automobiles both polluting our air and causing significant harm to human health, the parade is a great way to integrate cycling into your daily life. The massive pedaling migration will begin at Gwanghwamun Square and conclude at Peace Plaza in Seoul World Cup Park. A 21-kilometer journey in total, its 5,000 participants will pass Seoul Station (a helpful local landmark) and cycle along a good portion of the Hangang River. The parade will be held on June 15 and starts at 8 AM.
EAT> There are restaurant facilities at World Cup Stadium.
SEE> Don't forget to enjoy the Hangang River! Sky Park is also near World Cup Stadium.
FYI> T. 02-2031-8488, www.hiseoulbike.com
GO> Gwanghwamun Station 광화문역 (Line 5), Exit 2
[divider]
A Story in Stone: Bukhansanseong Fortress
북한산성
First erected during the Baekje period in 132 A.D., Bukhansanseong Fortress has since endured several invasions, with enemies ranging from the Goguryeo army to Mongol marauders. Today, what still stand are the remnants of Joseon-era fortifications that were installed in the 1700s. The space was intended to be a royal refuge during national crises, as history had proven Namhansanseong to be insufficient in providing proper protection to the king during serious wars. As a result, Bukhansanseong Fortress was designed to operate independently from the rest of the city. For modern Seoulites, this means that it's an excellent place to hike. The trail starts at the Bukhansanseong Hiking Support Center and leads to the top of the mountain, known as Baegunbong, the most popular spot.
You'll pass key points like Harujae and Baegun Shelter before reaching your final destination. The hike is not too strenuous and covers about two kilometers.
EAT> There are plenty of restaurants near the Bukhansanseong Hiking Support Center. Yaetgoltoseong (옛골토성, T. 02-385-3064) serves excellent barbecue, including a delightful roasted duck. If you don't eat meat, Manseokjang (만석장, T. 02-385-2093) serves a variety of tofu dishes.
SEE> The numerous gates built into the fortress wall
FYI> T. 02-909-0497, english.knps.or.kr
GO> Gupabal Station 구파발역 (Line 3), Exit 1. Take Bus No. 704 bound for Bukhansanseong Fortress (북한산성). Get off at the Bukhansan Mountain entrance bus stop.
[divider]
Looking at Yourself: Seoul Temple Stay   도심 템플스테이
If you're stressed out and need a chance to escape the pressures and chaos of the city, perhaps you just need to a chance to rediscover yourself. Seoul Temple Stay experiences are designed to help give the average person a glimpse of the lifestyle of Buddhist monks. Those who sign up should be ready to stay the night and partake in a variety of rituals and ceremonies. You'll practice meditation, dine on monastic meals and set off on a path to learning about yourself in an entirely new way. The program started in 2002 and has exhibited great popularity with both tourists and locals alike. Be warned, however: You will have to get up very early and go to bed at a designated time. All guests are expected to follow the basic rules of the temple and observe all modes of monastic etiquette. Those who are wildly disobedient or disruptive will not be allowed to finish their temple visit. More than just a "cool experience," the temple stay program is a genuine attempt to help people get a better understanding of Buddhist culture and rituals.
EAT> Monastic meals–meat- and egg-lovers beware
BUY> Souvenirs or books
SEE> Look deep into your own Self.
FYI> www.templestay.com, T. 02-2031-2070
[divider]
The Great Urban Outdoors:
City Camping in Seoul's Parks  서울공원 캠핑
Early summer is a great time to get outdoors for camping, as spring's chill is all but gone and the sweltering humidity of peak summer is still dormant. Despite the obvious draw, however, many city slickers still have a hard time setting aside a weekend for a camping trip in the mountains. That's where city camping comes into play, along with one of the Seoul's best-kept secrets: the massive green space near World Cup Stadium. World Cup Park is actually divided into five separate parks, two of which offer amazing camping grounds. The first is Nanji Hangang Park, which, as one might deduce from its name, is situated right along the banks of the great Hangang River. Individual camp sites are neatly marked and a system of bridges and walking paths provide easy access to nearby parks. You can either bring your own tent or rent one at the campground. Barbecue facilities are available for those in the mood for a picnic feast, available to both overnight campers and daytime visitors. In addition to the campground, Nanji Park also offers a soccer field, basketball court and an area specially constructed for nature studies.
Just next door is Noeul Park, named for the area's prime views of sunrises and sunsets that color the sky and river in a marvelous display of spectral beauty. This park does not offer tent rentals, unfortunately, so come prepared with all your own equipment. What makes this park unique is that it features a nine-hole golf course.  If you're located in the eastern part of the city, try Jungnang Camping Forest with its 47 different camping sites designed for family outings. Each space includes an outdoor table, barbecue grill and outlets for electronics. Are you someone who loves camping but hates not being able to bathe? Jungnang Camping Forest offers shower facilities just for people like you! Its camping grounds are divided into four separate "zones" based on the activities available: the Family Camp Zone, Youth Culture Zone, Ecology Learning Zone and Forest Experience Zone. In case that's not enough, you can also enjoy other amenities such as an outdoor spa, a café, a giant plaza lawn, a pond with fountain, a farm experience center, a playground, resting spots, observation decks and exercise equipment.
EAT> Bring your own BBQ.
SEE> Sunrises and sunsets over the Hangang River
FYI> parks.seoul.go.kr/eng
https://magazine.seoulselection.com/wp-content/uploads/2014/05/PYH2010072104470001300.jpg
633
950
cyn
https://magazine.seoulselection.com/wp-content/uploads/2018/01/Seoul-logo.png
cyn
2014-06-02 18:13:25
2014-06-02 18:13:25
Seoul Travel Bits-June