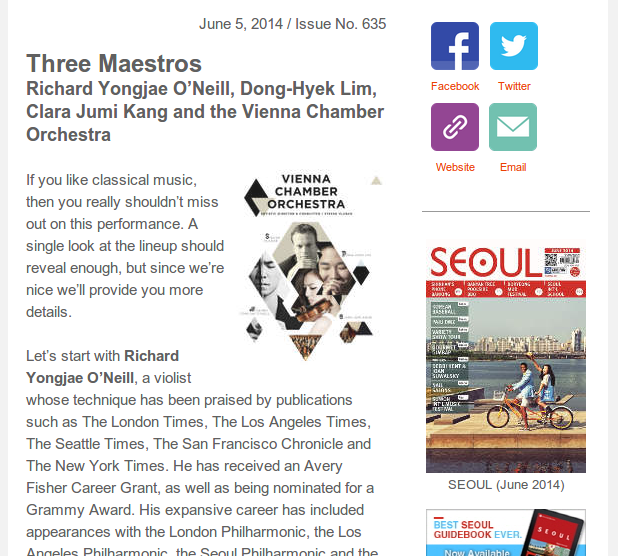 June 5, 2014 / Issue No. 635

Three Maestros
Richard Yongjae O'Neill, Dong-Hyek Lim, Clara Jumi Kang and the Vienna Chamber Orchestra

If you like classical music, then you really shouldn't miss out on this performance. A single look at the lineup should reveal enough, but since we're nice we'll provide you more details.

Let's start with Richard Yongjae O'Neill, a violist whose technique has been praised by publications such as The London Times, The Los Angeles Times, The Seattle Times, The San Francisco Chronicle and The New York Times. He has received an Avery Fisher Career Grant, as well as being nominated for a Grammy Award. His expansive career has included appearances with the London Philharmonic, the Los Angeles Philharmonic, the Seoul Philharmonic and the Moscow Chamber Orchestra, among others. On top of being extremely talented, he's also kind-hearted. As portrayed in the documentary film "Hello?! Orchestra" (2013), O'Neill led a multicultural orchestra for children from low-income families in Korea.

The next talented performer on the bill is Dong-hyek Lim, a pianist who has shone from a very early age. Lim was named the best young pianist by the Korean Children Association at age 9. He went on to study at the Moscow Central Music School, after which point he moved to the Moscow State Tchaikovsky Conservatory. When he was 11, he gave a recital to then-Russian President Boris Yeltsin. Further affirming his status as a piano genius, he has won prizes from the International Busoni Piano Competition in Italy, the Marguerite Long-Jacques Thibaud International Piano Competition in Paris, the 15th International Frederick Chopin Piano Competition in Warsaw—and many more.

The final soloist is Clara Jumi Kang, a German-born multi-instrumentalist who entered the Juilliard School at age 7. A prodigy who began playing piano and violin at age 3, she was impressing the likes of Daniel Barenboim before she hit her teen years. The June 15 performance should be seen as an opportunity to sample the best of the new generation of world-class musicianship from Korea.

VENUE: Seoul Arts Center, Concert Hall
DATE: Jun. 15, 14:00
MORE INFO: T. 1577-5266, www.sac.or.kr
ADMISSION: KRW 40,000–150,000
GETTING THERE: Nambu Bus Terminal Station 남부터미널역 (Line 3), Exit 5. Transfer to shuttle bus, or green bus No. 4429.


---

EXPAT LIVING

Deanne is still on vacation. Her column will restart when she returns.


---

AROUND THE WEB

A miscellany of high-quality hyperlinks from the week, courtesy of SEOUL editor-in-chief Robert Koehler.

---

EVENTS

Goran Bregovic and his Wedding and Funeral Orchestra

Goran Bregovic is a Balkan musician and composer born in what was once the Socialist Republic of Bosnia and Herzegovina. After dropping out of university and a launching a chaotic musical career with several bands, Bregovic started his Wedding and Funeral Orchestra, which ranges in size from 10 to 37 members. The ensemble features an authentically Balkan sound, a curious mix of gypsy brass music and Bulgarian polyphonies. Add to this an electric guitar, a plethora of traditional percussion instruments and the deep sounds of a male choir, and you may begin to understand why the Los Angeles Times called them "part celebratory and part spellbindingly soulful" after their American debut at L.A.'s Royce Hall in 2009. Their 2012 album "Champagne for Gypsies" is supposedly a musical reaction to the way gypsies have been treated across Europe.

VENUE: LG Arts Center
DATE: Jun. 7, 19:00
MORE INFO: T. 02-2005-0114, www.lgart.com
ADMISSION: KRW 40,000–80,000
GETTING THERE: Yeoksam Station 역삼역 (Line 2), Exit 1

The Opera Gala with Hei-kyung Hong

Hei-kyung Hong is the Metropolitan Opera's longest-running female lead, having performed in every season for over 25 years. She made her debut at the Met in 1984, being the first Korean to do so. After losing her husband to cancer in 2008, she withdrew from the stage for two years. Her return to the opera was a return to passion for Mozart, playing Violetta in "La traviata" on April 13, 2010. She has performed the composer's pieces frequently throughout her career, in spite of her diverse repertoire. Longstanding patrons have witnessed her voice mature beautifully over the years, something Hong attributes this to careful planning and not overworking her vocal cords. In addition to careful practice, this also involves turning down pieces that she considers outside her range, not wanting to overextend herself by taking on roles not designed for someone with her abilities. Thirty years after her debut, with three children, she is still going strong. Her performance in Seoul this month will be part of her celebration of her three decades in the world of opera. It will be her first recital in Korea in four years.

VENUE: Seoul Arts Center, Concert Hall
DATE: Jun. 12, 20:00
MORE INFO: T. 1577-5266, www.sac.or.kr
ADMISSION: KRW 40,000–120,000
MORE INFO: Nambu Bus Terminal Station 남부터미널역 (Line 3), Exit 5. Transfer to shuttle bus, or green bus No. 4429.

David Garrett Live in Seoul

David Garrett is a German-born violinist who started playing at age 4, signing with Deutsche Gramophone when he was only 13. After first being kicked out of the Royal College of Music in London, he graduated from the Juilliard School in 2004 and has since been producing his own brand of fusion music that mixes classical elements with pop and rock. He has worked hard to draw young people back to classical music, combating the labels of "old" and "boring" being assigned by younger generations. Garrett is not afraid to experiment, rarely taking the traditional, safe approach to interpreting classical pieces of music such as Beethoven's Ninth Symphony. If your musical tastes are traditionalist, demanding a strict adherence to original scores and the composers' original intentions, Garrett may not be your cup of tea. However, if you're open to seeing classical music reborn through the eyes of a modernite who wants to refuel the genre for fresh audiences, then tune in.

VENUE: Olympic Park Olympic Hall
DATE: Jun. 18, 20:00
MORE INFO: T. 02-410-1114, www.olympicpark.co.kr
ADMISSION: KRW 50,000–120,000
GETTING THERE: Olympic Park Station 올림픽공원역 (Line 5), Exit 3

Ultra Korea 2014

Have you heard enough about classical music and operas? If you like outdoor music festivals and loud, electronic music played at maximum volume, then ULTRA KOREA might be for you. ULTRA is an outdoor electronica concert that was first started in Miami in 1999. It has since expanded all across the globe, with Korea being the only Asian city on the tour. A concert's lineup will make or break its success, and this year's offering includes the following acts: Above & Beyond, Afrojack, Alesso, Armin Van Buuren, Avicii, Carl Cox, Cirez D, David Guetta, Diplo, Hardwell, Kaskade, Krewalla, Loco Dice, Luciano, Marco Carola, New World Punx, Nicky Romero, Solomun, Steve Angello, Tiesto and Zedd.

VENUE: Jamsil Sports Complex Main Stadium
DATES: Jun. 13–14
MORE INFO: T. 1566-6668, www.umfkorea.com
ADMISSION: KRW 150,000
GETTING THERE: Sports Complex Station 종합운동장역 (Line 2), Exit 6 or 7

Madame Ong

Director Ko Seon-woong has made his first attempt at directing a Korean traditional opera. Madame Ong is a compilation of the Pansori stories of "Choonhyang-ga" and "Simcheong-ga" written by Pansori theorist and sponsor Shin Jae-hyo. Its explicit content, however, has often led it to being shunned by mainstream media. Director Ko revived the work, transforming into an elegant portrayal of the characters' sorrow, all without focusing on the sexual innuendos. This is no small task, given that the plot revolves around two people who are extremely interested in sexual affairs. The original story focuses on the male protagonist, Byeongang-soe, but Director Ko decided to shift the story's narrative to Madame Ong, a woman whose appetite is so insatiable that no man can handle her—that is, until she meets Byeongang-soe.

VENUE: National Theater
PERIOD: Jun. 11–July 6, 20:00 on weekdays, 15:00 on weekends
MORE INFO: T. 02-2280-4114, www.ntok.go.kr
ADMISSION: KRW 20,000–50,000
GETTING THERE: Dongguk Univ. Station 동대입구 (Line 3), Exit 2

SIWA: Paju Outlet Shopping

Paju Premium Outlets is the second luxury premium outlet introduced in Korea. The outlet was established by Korean conglomerate 'Shinsegae' in partnership with Simon Property Group, a forerunner in the US outlet market. With currently 220 designer outlet stores in a three-story building, this outlet offers discounts from 25% to 65% every day, and sometimes the discounts can be more. Discounted items include everything from clothing to jewelry and housewares.

The following are some brands that can be found at Paju Premium Outlets: Le Crueset, Royal Albert, Aigner, Armani, A. Testoni, Bean Pole, Calvin Klein Collections, Ermenegildo Zegna, Jil Sander, Jill Stuart, Marc Jacobs, Max Mara, Vivienne Westwood, Coach, MCM, Gucci, Tory Burch, Nina Ricci, Fissler, Bassetti, Lenox, Adidas, Nike, Guess, Club Monaco and many more. Paju Premium Outlets also features a food court, several restaurants, and a garden with sitting area.

VENUE: Paju, Gyeonggi-do
DATE: June 7
MORE INFO: See this link.
COST: KRW 15,000 (non-members), KRW 5,000 (members)
GETTING THERE: See link above.

RASKB Excursion: Daehangno and Hyehwa-dong: An Architectural Walk

During this excursion of Daehangno and Hyehwa-dong, participants will look at a variety of styles of Korean architecture in the 20th century. The tour will begin in around the Marronnier Park, which were Seoul National University and its Japanese colonial forerunner, the Gyeongseong Imperial University were located. Several university buildings built during the colonial period still stand, including the former headquarters building which was designed by Park Kil-yong (1898-1943), a noted Korean architect during the colonial period.

VENUE: Hyehwa-dong, Seoul
DATE: June 8, 1PM to 4:30PM
COST: KRW 20,000 (members), KRW 25,000 (non-members)
MORE INFO: Click here.


---

EVERYDAY KOREANS

Dramatic skies above Gwanghwamun Gate. Photo by Robert Koehler.

NOTIFICATIONS

Translators Needed (not only English) – Seoul Selection is looking for part-time translators to translate material from Korean into several languages, including French, German, Dutch, Hindi and Japanese. If you're interested, please send a resume and cover letter to atoz@seoulselection.com.

Seoul Selection Offline Bookshop Sale – One of the greatest repositories of Korea-related English-language books anywhere, Seoul Selection is offering a 10% sale on any and all books published by Seoul Selection purchased from our OFFLINE bookshop next to Gyeongbokgung Palace.

Looking for Translators – Seoul Selection is looking for a few good translators (Korean to English) for general translation work. Those interested should send a resume and cover letter to Kyehyun at trans@seoulselection.com. Experienced translators only.

Seoul Selection eBooks – You can purchase some Seoul Selection titles in ebook format via Amazon.com (for Kindle) and Apple's iBookstore. Titles include Ask a Korean Dude, Moon Tides, Doing Business in Korea, Once Around the Sun, and seven volumes of our Korean Film Directors series: BONG Joon-ho, IM Kwon-taek, KIM Jee-woon, LEE Chang-dong, LEE Man-hee, PARK Chan-wook, and SHIN Sang-ok.

Send Your Event Info – If you would like to advertise any upcoming events you are organizing, please send us the press release material at book@seoulselection.com by the preceding Friday in order for it to appear in the following Tuesday's issue.

Freelance Contributors Wanted – SEOUL Magazine needs writers who are fluent in both Korean and English. Writers should have a strong interest in Korean culture and be able to interview Koreans. Send your resume and writing samples to book@seoulselection.com.

We Buy & Sell Used Books – Seoul Selection buys and sells used books in English. Unlike our regular selection of publications that specialize in Korea-related topics, our Used Book section carries books on all subjects. It's all part of our effort to make life easier for the English-speaking community.

SEOUL (June 2014)


Buy Books at Seoul Selection's ONLINE Bookshop!




---

---

RECOMMENDED


Folk Tales from Korea

---


Easy Talk in Korean


한국어 수업 어떻게 하는가?


Korean Grammar as a Foreign Language


Sasang Constitutional Typology: A Beginner's Guide to Sasang Constitutional Medicine


---

NEW DVDs


The Fake


Friend, The Great Legacy


INGtoogi: The Battle of Internet Trolls


Lazy Hitchhikers' Tour de Europe
Copyright © , All rights reserved.
Our mailing address is:
https://magazine.seoulselection.com/wp-content/uploads/2014/06/스크린샷-2014-06-05-142828.png
556
618
rjkoehler
https://magazine.seoulselection.com/wp-content/uploads/2018/01/Seoul-logo.png
rjkoehler
2014-06-05 05:32:50
2014-06-05 14:35:32
SEOUL Weekly: Three Maestros