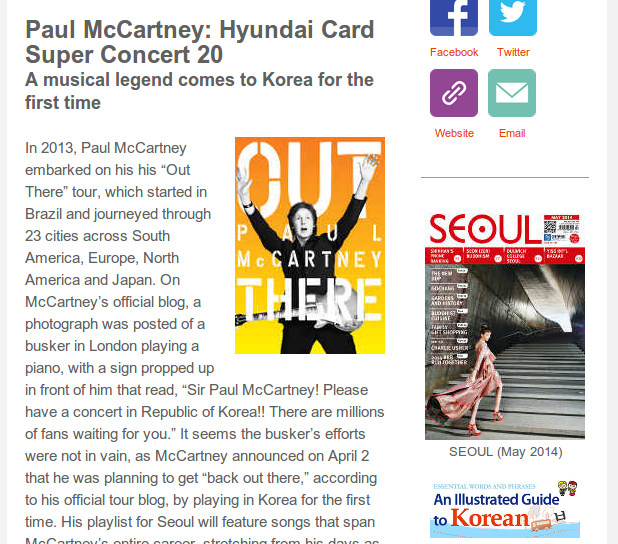 May 7, 2014 / Issue No. 631

Paul McCartney: Hyundai Card Super Concert 20
A musical legend comes to Korea for the first time

In 2013, Paul McCartney embarked on his his "Out There" tour, which started in Brazil and journeyed through 23 cities across South America, Europe, North America and Japan. On McCartney's official blog, a photograph was posted of a busker in London playing a piano, with a sign propped up in front of him that read, "Sir Paul McCartney! Please have a concert in Republic of Korea!! There are millions of fans waiting for you." It seems the busker's efforts were not in vain, as McCartney announced on April 2 that he was planning to get "back out there," according to his official tour blog, by playing in Korea for the first time. His playlist for Seoul will feature songs that span McCartney's entire career, stretching from his days as a Beatle to his solo days, and even his time as member of Wings, a band he formed in 1971 with his first wife, Linda McCartney. He will also feature songs from his most recent studio album "New," released last year. Paul McCartney is one of the highest-selling musicians of all time. He has 60 gold discs and boasts album sales of over 100 million. His song "Yesterday" is one of the most famous titles in the world, with over 2,200 covers, the most of any copyrighted song in history.

VENUE: Main Stadium, Jamsil Sports Complex
DATE: May 28, 20:00
MORE INFO: T. 02-2240-8809, ticket.interpark.com
ADMISSION: KRW 55,000–300,000
GETTING THERE: Sports Complex Station 종합운동장역 (Line 2), Exit 6 or 7


---

EXPAT LIVING

Shower Drill

Written by Deanne Nguyen

Dermatologists insist that losing around 100 hairs a day is normal; however since coming to Korea, my naturally thick, strong Asian hair has taken a hit. Not just lose, but full-on breakage and split ends, damage that is slow and unapologetic. Something is in the water I tell you.

Korea's water filtering system, if you can call it that, jets out "hard water," stuff loaded with minerals like Calcium and Magenesium. While not life threatening if consumed, it does dry out the hair and skin. The solution is simple: a ë…¹ë¬¼ì œê±° (nongmul jegeo), or water filter. Find ones conveniently stocked at any Emart (not always online). If you are lacking in Emarts, a simple search through Gmarket.com will yield similar products. Select 샤워용 ones or other varieties made especially for a spout in your home. Just attach to the base of the showerhead and you're set for a happy clean hair day.


---

AROUND THE WEB

A miscellany of high-quality hyperlinks from the week, courtesy of SEOUL editor-in-chief Robert Koehler.

---

EVENTS

Dongguk University Seon Center: 'Korea's Best Stone Buddhas: Seokguram and Borisa'

In this Dharma Talk, Prof. David Mason will explain the architecture, spiritual significance and artistic motifs of the Seokguram Grotto Shrine and the Borisa Seated Sakyamuni Statue, regarded as the best ancient stone Buddha statues in Korea. Their identity as Hwaeom School artworks will be discussed, and plenty of photos will be shown.

VENUE: Dongguk University International Zen Center
DATE: May 17, 2PM
MORE INFO: T. 2260-3891 / ysoo@dgu.edu
GETTING THERE: Location: 3 minute walk from Exit 6, Dongguk Univ. Station, Subway Line 3

Dulwich College Seoul

Dulwich College Seoul (DCSL) was the first British independent school to be established in Korea when it opened its Banpo campus in September 2010. With direct links to the 400-year-old Dulwich College in London, the College now provides an enhanced English National Curriculum to well over 500 students from 40 different nationalities across the Toddler to Year 10 age groups (2–15 years old). The Dulwich family also extends to other international schools in Shanghai, Beijing, Suzhou and, as of August 2014, Singapore. This network of Colleges has proven to be very popular with parents transferring within the region at a time when it is increasingly difficult to find available spaces at top-quality international schools.

Learn more about Dulwich College Seoul here and here.

Seoul Jazz Festival 2014

The Seoul Jazz Festival has been a hit since its first appearance in 2007, with more artists and bigger names being featured every year. The two-day party will feature artists from all over the globe as well as a good mix of local talent. It's the perfect chance for jazz fans who live in Seoul to get away from the usual K-pop frenzy and club scene. This year's festival has some huge names on the lineup, including Jamie Cullum and Damien Rice. Also featured will be the Eddie Palmieri Latin Jazz Band, Joshua Redman Quartet and many more. Local names include Kiha and the Faces, Lee Dong-woo, Salon de Oh, Eric Nam and others. Those who want more can attend the Special Opening Night on Friday, May 16, a special pre-festival performance featuring Chris Botti and Michael Camilo and Tomatillo.

VENUE: Olympic Park
DATES: May 17 & 18
MORE INFO: T. 02-563-0595, www.seouljazz.co.kr
ADMISSION: KRW 170,500–244,500
GETTING THERE: Olympic Park Station 올림픽공원역 (Line 5), Exit 3

Explosions in the Sky in Seoul

Explosions in the Sky is a Texan post-rock band that focuses almost entirely on instrumentals. They're known for elaborate guitar work that seems to formulate musical narratives, what they refer to as "cathartic mini-symphonies." In response to the lyric-heavy pop anthems of mainstream music, where the chorus is often repeated gratuitously with limited melodies, Explosions in the Sky offers a refreshing alternative: music based on actual melodies that develop their complexity throughout the song; music based on what music was originally based on before mass-produced pop came along: sound. Each song is its own story, filled with the progressions and climaxes that people usually associate with classical music. The group is also notorious for its live performances, highly energetic frenzies of musical consumption. They will be performing in Seoul for the first time as part of their Asian tour.

VENUE: UNIQLO AX-HALL
DATE: May 10, 19:00
MORE INFO: T. 02-457-5114, www.lasrevinu.org
ADMISSION: KRW 70,000–78,000
GETTING THERE: Gwangnaru Station 광나루역 (Line 5), Exit 2. Cross the road, turn left and walk 5 minutes. The hall is located behind the youth center.

Maxim Vengerov & the Polish Chamber Orchestra

Born in 1974 under Soviet Russia, Maxim Vengerov is a Jewish violinist, violist and conductor who started playing music at only five years old. He has since gained a reputation as one of the world's foremost and dynamic violinists, a true virtuoso and prodigy. He has earned accolades such as a Grammy Award, a victory at the International Carl Flesch Competition in London, an Artist of the Year Award from "Gramophone" magazine and much more. In addition to his remarkable technique, he is also known for being able to fluidly transition between a variety of musical styles. After a crippling shoulder injury, however, he was forced to take three years off from playing, a hidden opportunity he used to acquaint himself with conducting. That is how he met the Polish Chamber Orchestra, with whom he embarked on a nine-city European tour in 2013 as both a conductor and soloist. Vengerov and the Polish Chamber and Orchestra will continue their musical tour around the world by performing in Seoul this May. The program will feature Mozart's third and fifth violin concertos and Tchaikovsky's "Serenade Melancolique."

VENUE: Concert Hall, Seoul Art Center
DATE: May 20, 20:00
MORE INFO: T. 02-1577-5266, www.sac.or.kr
ADMISSION: KRW 50,000–180,000
GETTING THERE: Nambu Bus Terminal Station 남부터미널역 (Line 3), Exit 5. Transfer to shuttle bus, or green bus No. 4429.

Italy in SongEun : We Have Never Been Modern

SongEun ArtSpace and the Italian Cultural Institute in Seoul will be hosting "Italy in SongEun: We Have Never Been Modern." SongEun ArtSpace selects one country each year with the aim to present not only a group exhibition of promising young contemporary artists showing for the first time in Korea but also a program related to visual creativeness. This year's exhibit features work by Italian artists Giorgio Andreotta Calò, Meris Angioletti, Francesco Arena, Elisabetta Benassi, Rossella Biscotti, Tomaso De Luca, Ettore Favini, Chiara Fumai, Piero Golia, Francesca Grilli, Adelita Husni-Bey, Margherita Moscardini, Valerio Rocco Orlando, Adrian Paci, Giulia Piscitelli, Paola Pivi, Moira Ricci, Marinella Senatore, Alberto Tadiello, Diego Tonus, Luca Trevisani and Nico Vascellari.

VENUE: SongEun ArtSpace
PERIOD: May 8–Aug 9
MORE INFO: See link here.
GETTING THERE: See this link.

The Suffering Grasses

Amnesty International Korea will screen Korean Brazilian film director's documentary "The Suffering Grasses" at Cafe On Air in Mapo.

From "Cultures of Resistance":

Filmed in early 2012, The Suffering Grasses captures the competing impulses among opponents of the Assad regime at the onset of the Syrian revolution. While conditions in the country are continually changing and evolving, the film serves as an early, intimate view of Syria's refugee crisis, and it highlights important strategic debates that are still playing out among groups resisting the regime.

VENUE: Cafe On Air
DATE: May 10, 2PM
MORE INFO: See this link.
GETTING THERE: Exit 8 of Hapjeong Station, Line 2 or 6. Walk seven minutes in the opposite direction of the exit. The cafe is in the basement of the Well Being Center.

Art Events at Jankura

Budding artists should check out the wide range of Fine Art lessons and drawing sessions at Itaewon's Jankura Artspace. are conducted in English, giving students a chance to gain, practice or improve art skills with an American style curriculum. Classes are open to both Korean students who can understand a small bit of English and to Native English speakers who want to practice/ gain art skills in a fun environment.

SIWA Coffee Morning: Dana R. Kapelian

SIWA's guest for May is Dana R. Kapelian. She is a Jewish-French artistic photographer who has lived in Korea the past 5 years. During this time, she has come to love many aspects of Korean life, though her passion is clearly for the people of Korea. She was intrigued to learn how Korean women have found a way to coexist with patriarchal yet modern values. Dana recently released a beautiful photo book with a compilation of her interviews of nearly 60 women called "My Korean Women".

VENUE: Conrad Hotel
DATE: May 14, 9:30–11:30
ADMISSION: KRW 20,000 (member), KRW 25,000 (non-member)
MORE INFO: See here.

RASKB Excursion: Sajik Park and Inwangsan Shamanic Shrines Walking Tour

This is an interesting guided visit to unusual but fascinating sites very close to busy and modern downtown, including the Sajik Joseon-Dynasty Altars to the Earth and Harvest, the tall statues of a great Neo-Confucian philosopher and his mother, the large shrine for King Dan-gun (mythical founder of Korea, grandson of the Lord of Heaven) just up behind the park, great views by the old Seoul City Wall.

VENUE: Seoul
DATE: May 18
COST: KRW 20,000 (members), KRW 25,000 (non-members)
MORE INFO: Click here.


---

EVERYDAY KOREANS

The green tea plantations of Boseong County. Photo by Arnab Sen.

NOTIFICATIONS

Translators Needed (not only English) – Seoul Selection is looking for part-time translators to translate material from Korean into several languages, including French, German, Dutch, Hindi and Japanese. If you're interested, please send a resume and cover letter to atoz@seoulselection.com.

Seoul Selection Offline Bookshop Sale – One of the greatest repositories of Korea-related English-language books anywhere, Seoul Selection is offering a 10% sale on any and all books published by Seoul Selection purchased from our OFFLINE bookshop next to Gyeongbokgung Palace.

Looking for Translators – Seoul Selection is looking for a few good translators (Korean to English) for general translation work. Those interested should send a resume and cover letter to Kyehyun at trans@seoulselection.com. Experienced translators only.

Seoul Selection eBooks – You can purchase some Seoul Selection titles in ebook format via Amazon.com (for Kindle) and Apple's iBookstore. Titles include Ask a Korean Dude, Moon Tides, Doing Business in Korea, Once Around the Sun, and seven volumes of our Korean Film Directors series: BONG Joon-ho, IM Kwon-taek, KIM Jee-woon, LEE Chang-dong, LEE Man-hee, PARK Chan-wook, and SHIN Sang-ok.

Send Your Event Info – If you would like to advertise any upcoming events you are organizing, please send us the press release material at book@seoulselection.com by the preceding Friday in order for it to appear in the following Tuesday's issue.

Freelance Contributors Wanted – SEOUL Magazine needs writers who are fluent in both Korean and English. Writers should have a strong interest in Korean culture and be able to interview Koreans. Send your resume and writing samples to book@seoulselection.com.

We Buy & Sell Used Books – Seoul Selection buys and sells used books in English. Unlike our regular selection of publications that specialize in Korea-related topics, our Used Book section carries books on all subjects. It's all part of our effort to make life easier for the English-speaking community.

SEOUL (May 2014)


Buy Books at Seoul Selection's ONLINE Bookshop!




---

---

RECOMMENDED


Botanical Art of Korean Rare Plants

---

NEW BOOKS


Trade Winds of Change: Korea in World Trade


Korean History: A Beginner's Guide


Complexity of Korean Unification Process: Systems Approach


500 Basic Korean Verbs


Taekwondo Grappling Techniques: Hone Your Competitive Edge for Mixed Martial Arts (DVD Included)


---

NEW DVDs


Hello?! Orchestra


The Five


Miss Korea


Novel Meets Movie (Short! Short! Short!)
Copyright © , All rights reserved.
Our mailing address is:
https://magazine.seoulselection.com/wp-content/uploads/2014/05/스크린샷-2014-05-07-181550.png
544
618
rjkoehler
https://magazine.seoulselection.com/wp-content/uploads/2018/01/Seoul-logo.png
rjkoehler
2014-05-07 09:27:03
2014-05-07 18:28:42
SEOUL Weekly: Paul McCartney: Hyundai Card Super Concert 20