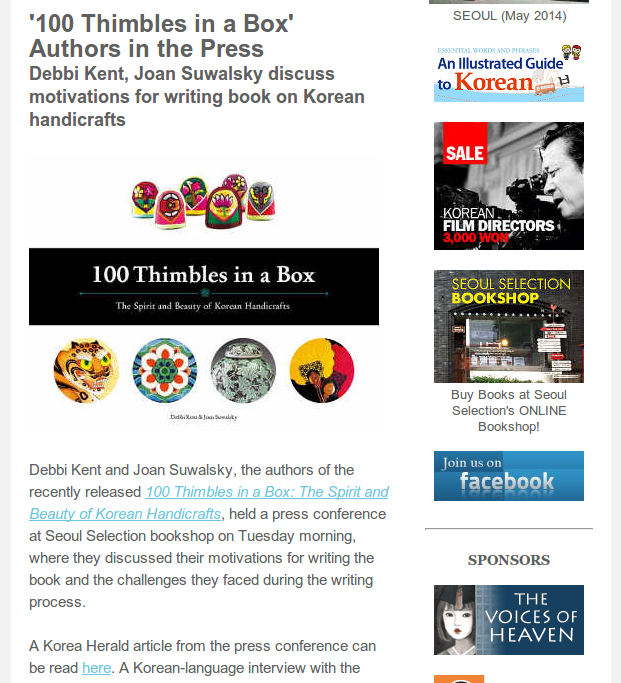 April 30, 2014 / Issue No. 630

English-to-Arabic Translator Needed URGENTLY

Seoul Selection needs an English-to-Arabic (i.e., Modern Standard Arabic) translator for a government project, and we need him/her TODAY. If this sounds like you, send a resume and your contact number to atoz@seoulselection.com

YISS International Bazaar Cancelled

The Yongsan International School of Seoul's International Bazaar (mentioned in last week's newsletter), originally scheduled for May 10, has been cancelled this year out of respect to grieving families and the national period of mourning.

'100 Thimbles in a Box' Authors in the Press
Debbi Kent, Joan Suwalsky discuss motivations for writing book on Korean handicrafts

Debbi Kent and Joan Suwalsky, the authors of the recently released 100 Thimbles in a Box: The Spirit and Beauty of Korean Handicrafts, held a press conference at Seoul Selection bookshop on Tuesday morning, where they discussed their motivations for writing the book and the challenges they faced during the writing process.

A Korea Herald article from the press conference can be read here. A Korean-language interview with the authors, too, can be found here at the Hankyoreh, one of Korea's major daily newspapers. The authors will also appear on TBS eFM radio's "Bookend" program next Saturday (May 10) at 7:30 PM.

100 Thimbles in a Box is an expertly written and beautifully photographed volume that explores the fascinating and utterly charming world of Korean handicrafts. For those who missed the press conference, you can download our English-language press release on the book here. You can also download a 30-page sample of the book here.


---

EXPAT LIVING

Allergy Alleviation

Written by Deanne Nguyen

Unlike the gorgeous flora of spring, the spring fever we can all do without. I'm talking heaps of tissues chasing your nose, acid-itchy eyes, that dry scrape in your throat, all culminating into sleepless conflicts between your body and the seasonal change. Exaggerations? I wish.

A trip to the 약국, pharmacy, should've happened weeks ago. They carry at least two kinds of allergy medication that you can get right on the spot: 액티페린, Actiperin, a generic brand, but also 클라리틴, or Claritin, the favorite abroad for non-drowsy relief. Both come 10 to a box, though the prices vary. Actiperin is only KRW 2,500 per box; Claritin is KRW 4,000 or 5,000 depending on the swankiness of the seller.

Claritin often works on just one pill three times a day for most folks, while the generic brand usually takes two to be as effective (though only one pill per intake is also advised). Either way, may you breathe easy this May and forget the allergies of April.


---

AROUND THE WEB

A miscellany of high-quality hyperlinks from the week, courtesy of SEOUL editor-in-chief Robert Koehler.

---

EVENTS

Hyundai Culture Project 14: John Mayer

Multi-Grammy winner John Mayer will perform in Seoul for the first time this May, as part of his International Spring Tour that spans Northern Europe, Japan, Australia and New Zealand. John Mayer is a musician and producer originally from Connecticut, USA, but has since expanded his career to include graphic design and writing, most notably for publications such as "Esquire." Although he attained fame through his own brand of acoustic rock, he has also collaborated with blues artists such as BB King, Buddy Guy and Eric Clapton. Mayer's first album "Room for Squares," featuring singles like "No Such Thing" and "Your Body Is a Wonderland," won him a Grammy Award for Best Male Pop Vocal Performance in 2003. His concert in Seoul is the 14th installment of the Hyundai Card Culture Project series, which has included acts such as The Killers, Jason Mraz and others. Aside from his skills as a guitarist and writer, Mayer has recently received much attention from the press for his break-up with Katy Perry. The popularity of John Mayer can be easily seen in Korea, where his songs are often played in coffee houses and shops. In connection with his upcoming concert in Seoul, a certain local shoe retailer announced that amongst the people who sign up for the retailer's customer membership program, 50 lucky winners will be given free tickets. Mayer fans may want to go shopping for shoes soon.

VENUE: Jamsil Indoor Stadium
DATE: May 6, 19:00
MORE INFO: T. 02-2240-8809, ticket.interpark.com
ADMISSION: KRW 110,000–132,000
GETTING THERE: Sports Complex Station 종합운동장역 (Line 2), Exit 6 or 7

Dongguk University Seon Center: The Dharma Mirror

One who has difficulties in daily life surely wants to be free from them. We're all waiting for help, wanting to ask someone. That is our nature. According to Buddha's teachings, to be free from suffering, or the circle of rebirth, to not be reborn in the hell, you should know how to live. When can one declare "I am a stream-enterer (Sotapanna)" as one wishes? When can one by declare "I am finished with hell" when one wishes? What kinds of animosity will subside when one becomes Sotapanna, the first noble disciple? To become Sotapanna, what qualifications does one need? To know who you are, you need to have the Dhamma Mirror. In this talk you may get the Mirror to check yourself.

VENUE: Dongguk University International Zen Center
Speaker: Venerable Suvanna (Myanmar)
DATE: May 3, 2PM
MORE INFO: T. 2260-3891 / ysoo@dgu.edu
GETTING THERE: Location: 3 minute walk from Exit 6, Dongguk Univ. Station, Subway Line 3

TGI FRIDAYS 20% Discount for Expat

Turn to SEOUL Magazine's Maps & Guides section to find a coupon that will get expats 20% off at TGI Fridays' Hongdae branch (good through May 24). Alcoholic beverages not included. Call T. 322-6322 for more information.

2014 Bolshoi on Ice

"Bolshoi on Ice" is immensely popular in Korea. It was the first foreign-produced show to attract over one million viewers. The show blends figure skating and ballet, often called a "figure skating show," combining brilliant athleticism with stunning aesthetics. Figure skaters and ballet athletes from this year's Winter Olympics host country will come to Seoul to once again to dazzle audiences with an extravagantly prepared show. The exhilarating speed of the performances makes them unique from other concerts or musicals, an event that everyone in the family can enjoy. This year's performance will feature variations of "Swan Lake," "Snow White" and an assortment of other popular pieces. Special performances have also been prepared exclusively for Korean fans.

VENUE: Mokdong Ice Rink
PERIOD: Thru May 18
MORE INFO: T. 02-2643-3057, www.mdicerink.co.kr
ADMISSION: KRW 60,000–100,000
GETTING THERE: Omokgyo Station 오목교역 (Line 5), Exit 3.

Beyond Impressionism: The Birth of Modern Art

This is an exciting event for art fans. The National Museum has acquired more than 70 drawings and sculptures on loan from the Musee d'Orsay in Paris. Some of the most revered works of late impressionism and postimpressionism will be available for art fanciers to admire, analyze and critique all throughout the summer. The works will help people get a sense of the aesthetic and cultural transformations that swept through the Parisian art scene during the late 19th century. Among the lineup will be Monet's "Woman with an Umbrella Turned to the Right," painted in 1886. It is one of the few figurative paintings Monet produced after his wife's death. Also featured will be works from the likes of Manet, Degas, Renoir, Cezanne, Seurat, Gauguin and Van Gogh.

VENUE: The National Museum of Korea
PERIOD: May 3–Aug. 31
MORE INFO: T. 02-2077-9000, www.museum.go.kr
ADMISSION: KRW 8,000–12,000
GETTING THERE: Ichon Station 이촌역 (Jungang Line, Line 4). Take the underpass to the museum.

The Treasures of Kansong

Countries that have never been invaded or pillaged don't seem to realize how precious a country's cultural artifacts are. During Japanese colonization (1910–1945), Korea had many of its artworks and cultural treasures removed from the country and placed in Japan. The Kansong Art Museum was founded in 1938 by Jeon Hyeong-pil (1906–62), an antiquarian who started collecting Korean relics in his late 20s, traveling outside of Korea to recover as much as possible. Among many other precious items, he was able to track down a painting by Shin Yun-bok, now a symbol of national pride. Jeon continued collecting for many years and worked to stop cultural items from being taken out of Korea until the country's independence in 1945. Normally, the Kansong Art Museum opens only twice a year for a fortnight each time. Now, on this rare occasion, the Kansong Collection will be available for public viewing all summer long in Dongdaemun's recently opened Design Plaza.

VENUE: Dongdaemun Design Plaza
PERIOD: Thru Sept. 28 (Exhibition material to be changed after June 15)
MORE INFO: T. 02-2153-0000, www.ddp.or.kr
ADMISSION: KRW 8,000
GETTING THERE: Dongdaemun History and Culture Park Station 동대문역사문화공원역 (Line 2,3,4,5) Exit 1.

RASKB Excursion: Color and Pageantry in Seoul's Temples on Buddha's Birthday

This afternoon and evening will be especially memorable. As well as helping to commemorate this special day, you will witness all the color and pageantry which the Koreans lavish on the celebration of the birth of Buddha. The lanterns, costumes, and celebratory dances are colorful and joyful. Don't forget your camera!

VENUE: Several temples in Seoul
DATE: May 6, 1PM to 9PM
COST: KRW 33,000–39,000
MORE INFO: See this link.
GETTING THERE: See link above.


---

EVERYDAY KOREANS

Public mourning at Seoul City Hall.. Photo by Robert Koehler.

NOTIFICATIONS

Translators Needed (not only English) – Seoul Selection is looking for part-time translators to translate material from Korean into several languages, including French, German, Dutch, Hindi and Japanese. If you're interested, please send a resume and cover letter to atoz@seoulselection.com.

Seoul Selection Offline Bookshop Sale – One of the greatest repositories of Korea-related English-language books anywhere, Seoul Selection is offering a 10% sale on any and all books published by Seoul Selection purchased from our OFFLINE bookshop next to Gyeongbokgung Palace.

Looking for Translators – Seoul Selection is looking for a few good translators (Korean to English) for general translation work. Those interested should send a resume and cover letter to Kyehyun at trans@seoulselection.com. Experienced translators only.

Seoul Selection eBooks – You can purchase some Seoul Selection titles in ebook format via Amazon.com (for Kindle) and Apple's iBookstore. Titles include Ask a Korean Dude, Moon Tides, Doing Business in Korea, Once Around the Sun, and seven volumes of our Korean Film Directors series: BONG Joon-ho, IM Kwon-taek, KIM Jee-woon, LEE Chang-dong, LEE Man-hee, PARK Chan-wook, and SHIN Sang-ok.

Send Your Event Info – If you would like to advertise any upcoming events you are organizing, please send us the press release material at book@seoulselection.com by the preceding Friday in order for it to appear in the following Tuesday's issue.

Freelance Contributors Wanted – SEOUL Magazine needs writers who are fluent in both Korean and English. Writers should have a strong interest in Korean culture and be able to interview Koreans. Send your resume and writing samples to book@seoulselection.com.

We Buy & Sell Used Books – Seoul Selection buys and sells used books in English. Unlike our regular selection of publications that specialize in Korea-related topics, our Used Book section carries books on all subjects. It's all part of our effort to make life easier for the English-speaking community.

SEOUL (May 2014)


Buy Books at Seoul Selection's ONLINE Bookshop!




---

---

RECOMMENDED


Korean History: A Beginner's Guide

---

NEW BOOKS


Complexity of Korean Unification Process: Systems Approach


500 Basic Korean Verbs


Taekwondo Grappling Techniques: Hone Your Competitive Edge for Mixed Martial Arts (DVD Included)


Botanical Art of Korean Rare Plants


Sogang Korean Reading 6 (Student's Book 6)


---


The Five


Miss Korea


Novel Meets Movie (Short! Short! Short!)


Jeju Prayer
Copyright © , All rights reserved.
Our mailing address is:
https://magazine.seoulselection.com/wp-content/uploads/2014/04/스크린샷-2014-04-30-184240.png
683
621
rjkoehler
https://magazine.seoulselection.com/wp-content/uploads/2018/01/Seoul-logo.png
rjkoehler
2014-04-30 09:42:05
2014-04-30 18:49:04
SEOUL Weekly: '100 Thimbles in a Box' Authors in the Press