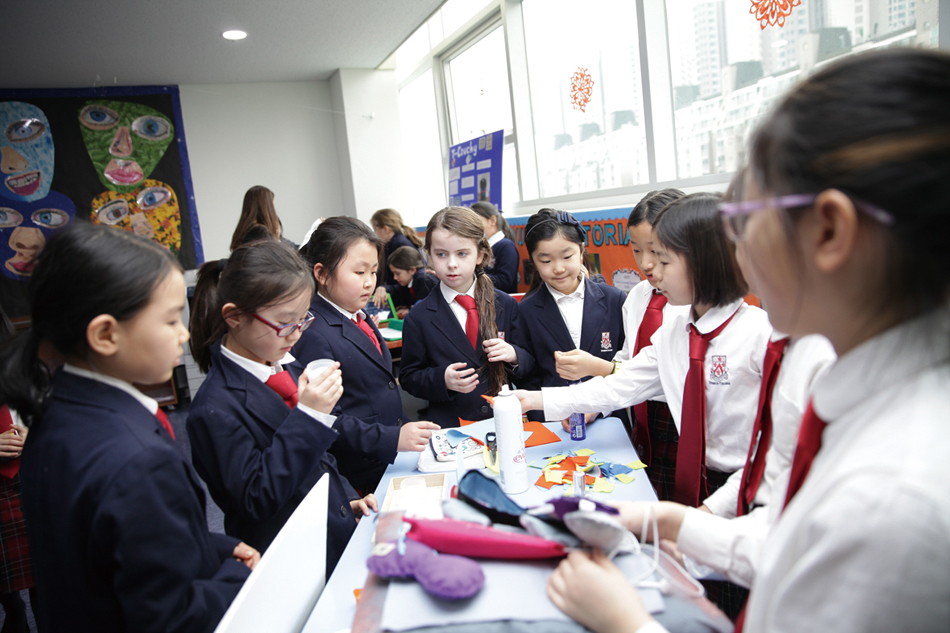 [box_light]Dulwich College Seoul[/box_light]
Dulwich College Seoul (DCSL) was the first British independent school to be established in Korea when it opened its Banpo campus in September 2010. With direct links to the 400-year-old Dulwich College in London, the College now provides an enhanced English National Curriculum to well over 500 students from 40 different nationalities across the Toddler to Year 10 age groups (2–16 years old). The Dulwich family also extends to other international schools in Shanghai, Beijing, Suzhou and, as of August 2014, Singapore. This network of Colleges has proven to be very popular with parents transferring within the region at a time when it is increasingly difficult to find available spaces at top-quality international schools.
 The Primary Years
Dulwich College Seoul believes in educating the whole child. They are proud of their commitment to holistic education, where academic excellence, creativity, leadership, sporting and musical abilities are nurtured and encouraged. The rich and broad curriculum begins to equip the students with the skills, knowledge, understanding and attitudes they will require to take on the challenges facing them in an ever-changing world. As they move through the Primary phase of education from Toddlers (2 years old) to Year 6 (11 years old), the College develops internationally minded students who celebrate diversity and see a world of infinite possibilities, keeping all doors to the future wide open.
Leadership is seen as an important part of a Dulwich College education and students have many opportunities to develop their leadership skills while at school. The school develops compassionate and caring individuals, children who actively think about ways to help people less fortunate than themselves in the local and wider community.
The Senior School
Since its inception in 2011, the Senior School at DCSL continues to go from strength to strength in both its outstanding academic curricula provision and the extra-curricular enrichment programmes on offer. The International General Certificate of Secondary Education (IGCSE) examination programme is now firmly imbedded in the school with over 22 academic subjects currently offered to their students—the widest range available in any international school in Seoul. The first external IGCSE examinations will be sat in May 2014 through the Cambridge University International Examinations Board (CIE). In addition, the school is in its candidacy period for the implementation of the International Baccalaureate Diploma Programme (IBDP) that is targeted to commence in August 2015 for its future Year 12 (16 years old) students. This academically prestigious curricula is already offered at all Dulwich College sister schools across Asia, and students from across these schools achieved a points average of 36 in 2013 compared to the world average of 29.8—a trend that they are confident will continue at DCSL.
 While academic success in external examinations no doubt opens doors to the world's best colleges and universities, at DCSL they also ensure that the students are developed and enriched through their extra-curricular programme. The range of activities on offer is vast, with musical, sporting and academic programmes available. The College's Senior School Debating Team is currently the Dulwich College schools group champion, having recently won the annual debating competition in Shanghai. In addition, our Model United Nations (MUN) team recently returned from a competition in Beijing with a number of accolades including "Best Committee Chair" award.
In short, Dulwich College Seoul has achieved a tremendous level of success within less than four years of opening and stands on the threshold of even greater success as continued interest in its prestigious education continues to grow throughout the region.
https://magazine.seoulselection.com/wp-content/uploads/2014/04/IMG_7018.jpg
633
950
cyn
https://magazine.seoulselection.com/wp-content/uploads/2018/01/Seoul-logo.png
cyn
2014-05-07 17:49:04
2014-05-07 17:49:04
Dulwich College Seoul